Editorial: How Gene Block can best conclude his tenure as UCLA chancellor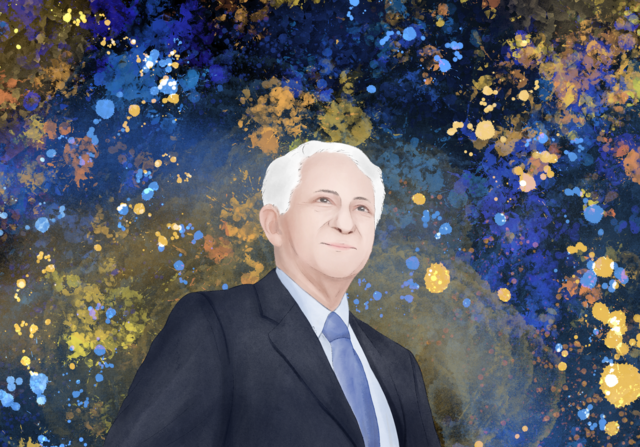 (Biona Hui/Daily Bruin) Photo credit: Biona Hui
As the new academic year rolls around, the UCLA community has been faced with Chancellor Gene Block's retirement announcement after 16 eventful years of serving the University.
The chancellor has made notable strides in advancing UCLA's campus on multiple fronts, which has contributed to maintaining the school's ranking as No. 1 public university in the nation for six consecutive years, according to U.S. News and World Report. This news comes at a fruitful time in UCLA's development, with the possibility of meeting its 2025 goal to become a Hispanic Serving Institution, the proposal of affordable housing initiatives, the athletics program's transition to the Big Ten and more.
In his final year of service, the Board calls on Chancellor Block to implement measures to improve campus programming in six different focuses: academics; equity, diversity and inclusion; student life and housing; accessibility and campus safety; athletics; and transparency.
While it is important to celebrate the chancellor's successes throughout the years, he must be held accountable so UCLA can continue progressing in this upcoming year.
With the help of all Bruins – students, faculty and staff – the possibilities for UCLA's future are endless.
Academics
In the 16 years since Gene Block became chancellor, UCLA's academic prowess helped turn it into the top public university in the country, a title it has retained for six straight years. In hindsight, it's clear that UCLA has reached these heights with the help of the tireless work of the entire UCLA community, but especially through the efforts of graduate students and faculty.
In September of 2008, one year into Block's tenure, U.S. News and World Report ranked UCLA No. 25 nationally among all universities and third among public universities behind UC Berkeley and the University of Virginia, the latter being where Block had previously served as vice president and provost.
In September of 2022, UCLA was ranked No. 20 overall and No. 1 among public universities, sharing the top spot with UC Berkeley. College rankings like these are reductive and should be treated with skepticism, but if anything can be taken away from them, they show a remarkable consistency for an institution that has changed dramatically since the end of the Bush era.
On the other hand, the rankings also show how so much of college academics has become a game of inches between major institutions, particularly because an improved national rank can often lead to boosts in admissions and enrollment.
Sometimes, the criteria of these ranking systems align with policies that improve the university experience. For instance, UCLA under Block has achieved some substantial advances in research funding and student graduation rates. The dollar value of UCLA's research grants from outside sources has risen by nearly $800 million since 2007, reaching a record of $1.7 billion this year.
At the same time, graduation rates have risen substantially. Less than 70% of UCLA undergraduates admitted as freshmen in 2007 graduated in four years. Similarly, only 55.5% of transfer students in 2007 graduated in two years.
Today, UCLA's graduation statistics show that, for students who were admitted as freshmen in 2018, 85.1% graduated in four years. The rates of graduation in five and six years has also risen by about 3% and 2%, respectively, from where they stood among students admitted in 2007.
For transfer students, the statistics similarly show a sharp rise in students from the class of 2020 who graduated in two years, with 73.7% achieving that goal. The three-year and four-year graduation rates among transfer students in recent years have also climbed, with both now firmly over 90%.
For comparison, the average four-year public university has a six-year graduation rate of 60%, according to the National Center for Education Statistics.
Assessing academic success through statistics can be challenging, but the trends in research grants and graduation rates are promising. Clearly, UCLA's academic programs are showing improvement, especially in ensuring that students are on track to graduate on a schedule that works best for them. Undoubtedly, Block's leadership has contributed to these evident improvements.
Entering Block's final year as chancellor, UCLA needs to build on these successes by investing more in academic counseling resources. The university must also rework course logistics to make required classes available to students who need them and hire more faculty and staff to bring down class sizes while continuing UCLA's planned expansion of its student body.
However, it's also clear that these advances have come with a substantial human burden, mostly carried by the overworked and underpaid graduate students whose service as TAs, researchers, graders and tutors have been wholly underappreciated. Last year, those issues exploded into the largest strike of academic workers in U.S. history, with over 48,000 graduate students across the UCs leaving the classroom for the picket line.
In the months since their historic victory, which secured better pay, paid leave and other central demands, many UCs, including UCLA, have begun cutting graduate student enrollment. This is allegedly due to the increased costs behind the new union contracts that the strikers fought so hard for.
The fact of the matter, however, is that UCLA's graduate students have paved the foundations for many of the accolades that this institution uses to advertise itself. This year, if UCLA wants to be the kind of university that ensures its students have the environment they need for success, that conducts the kind of research worthy of Nobel prizes and MacArthur Fellowships, that seeks to make the world a better place, then the concerns of graduate students need to be recognized and addressed.
This year marks the end of a long hike for our institution, a journey to the mountaintop. But as you sit and reflect at the summit, Chancellor, never forget the people who put you up there.
Equity, Diversity and Inclusion
In late 2020, Chancellor Block set the ambitious goal of UCLA becoming a Hispanic Serving Institution by 2025.
A goal that is long overdue.
Currently, five out of the nine UC campuses have been designated as HSIs – with UC Davis' HSI designation is currently pending – while UCLA and the remaining campuses are considered to be "emerging," or close to becoming an HSI.
The initiative is part of a larger federal effort to increase grant funding for higher education institutions that serve 25% or more Latino or Hispanic full-time students.
The Los Angeles metropolitan area is home to the one of largest Latino populations in the country, and it continues to grow. According to 2022 Census data, close to 50% of Los Angeles County is estimated to identify as Latino or Hispanic, with two neighboring counties, Kern and San Bernardino, each surpassing the 50% margin.
Historically, UCLA student enrollment has not reflected the demographics of the area that the institution intends to serve. According to the latest released student demographic report from 2020-2021, 22% of UCLA's overall undergraduate student population identified as Latino or Hispanic, a figure that has remained constant since the 2016-2017 academic year.
To become an HSI, federal laws require Hispanic or Latino enrollment to reach a minimum of 25% of the overall undergraduate student population.
Some have been skeptical of Block's aim for UCLA to become an HSI by 2025. A Daily Bruin investigation found that UCLA is currently on track to become an HSI by the year 2029.
However, this is not to say this goal is impossible to achieve by 2025. On the contrary, this is a pivotal opportunity for Block to utilize his final year as chancellor to strategize ways to significantly increase the Hispanic and Latino student enrollment in ways that adhere with the legal parameters of Proposition 209.
Bolstering Latino enrollment through meaningful outreach initiatives will be one of the crucial ways to secure federal funding by 2025 to support the university's further commitment to Latino student retention in the future.
Student life and housing
It goes without question that the cost of living in LA is absurdly high, even more so than most other cities across the nation.

Westwood in particular has some of the highest rent prices in the U.S. This leaves many Bruins – both students and staff – with the burden of having to work multiple jobs to make ends meet or even take out loans for housing, which further places them into the endless cycle of student debt.
There has been noticeable progress recently, with UCLA becoming the first UC campus to guarantee four-year housing for first-year students and two years for transfer students. Nevertheless, there are still steps that need to be taken to alleviate rent burden and financial insecurity beyond this housing guarantee.
The Board called on the UC Board of Regents to accept the proposal to redevelop Gayley Towers as an affordable housing option for low-income students. In his final year at UCLA, Chancellor Block must take the initiative to make this proposal, which will be presented to the board in September, a reality so students can focus more on their education instead of high rent prices.
Along with affordable housing, food insecurity is faced by many Bruins, especially those living off campus in both university and non-university-affiliated apartments. Although resources like CalFresh and the Emergency Meal Program are present to alleviate food insecurity, this still remains a prevalent issue for students and staff who may not have the time or means to spend hundreds of dollars monthly to grocery shop.
UCLA students and the Board have called for the reinstatement of off-campus meal plans, which were discontinued during the COVID-19 pandemic. These efforts garnered no response from the chancellor.
There is no excuse to deprive students of this convenient option since the campus has been operating in-person for the past two years. While the university has claimed that the delay is due to staffing shortages, this dilemma could be quickly solved if wages were increased for dining hall workers and their food service.
Chancellor Block must implement a plan in his remaining time to relaunch the off-campus meal plan to mitigate the constant issue of food insecurity.
Housing and food are basic human rights, not luxuries. Chancellor Block has the opportunity to pave the way for a more equitable distribution of resources in the future.
Accessibility and campus safety
With its many hills and lengthy staircases, UCLA's campus has posed navigational challenges for students – especially those with physical disabilities.
The Board has called for improvements to campus resources such as the BruinAccess van service and UCLA SafeRide that assist students with daily transportation. Despite the tireless advocacy of students with disabilities expressing their frustration, the chancellor has historically dedicated little effort or funding to upgrade these services and meet their specific needs.
In an April 2023 BruinPost, however, Chancellor Block emphasized his commitment to making UCLA more accessible for all students and employees by reviewing and improving the accessibility of physical spaces.
He announced the development of the Working Group on Advancing Physical Accessibility for Individuals with Disabilities at UCLA. This new group's mission seeks to identify and resolve physical accessibility issues on the UCLA campus. With its collaboration with the UC's systemwide Advisory Workgroup on Students with Disabilities, this underscores a broader, more unified effort across the nine UC campuses.
It is essential to acknowledge that these early initiatives must be backed up with concrete action. As the working group develops, it must take into account disabled students' demands that have gone unanswered for far too long.
In January 2022, UCLA community members – namely a coalition between the Disabled Student Union, Mother Organizations coalition and the Undergraduate Students Association Council – made university history during the 16-day Murphy Hall sit-in in front of the chancellor's office.
Calling for hybrid options amidst the swift return to in-person learning, these groups finally reached an agreement with Chancellor Block and the vice chancellor of student affairs.
While this victory made strides in the right direction, the progress since has been far from clear. In the aftermath of the sit-in, faculty members were still not required to provide remote options, posing a risk to the health of immunocompromised and disabled students.
As COVID-19 cases seem to be on the rise again in the U.S., it is imperative that Chancellor Block takes the necessary safety measures to keep community members healthy. The chancellor must work with the Infectious Diseases Management Team to evaluate the potential need for increased restrictions like mask mandates and social distancing to prevent the spread of COVID-19.
Along with the university's consistent failure to protect and support the needs of disabled students, the chancellor must also further advance the Threat Response Task Force to efficiently respond to campus emergencies.
The campus cannot bear a repeat of the poor response during the January 2022 shooting threats from former lecturer Matthew Harris, which caused preventable distress amongst UCLA community members due to the lack of communication from the chancellor and administrators.
The Board calls on Chancellor Block and the various task forces to establish effective safety measures for UCLA community members and uphold its commitment to protect all Bruins while cultivating an equitable and inclusive environment for everyone.
Athletics
Last June, Block and UCLA Athletics announced one of the most monumental changes to the program to date.
UCLA would be joining the Big Ten.
With UCLA's final year in the Pac-12 conference and final year under Block's leadership simultaneously upon us, the outgoing chancellor has a responsibility to ensure a smooth transition from the conference the university has called home for decades.
Since the announcement, concerns have been raised over its effect on student-athletes – particularly those on teams other than football and basketball. The new media rights deal with the Big Ten will undoubtedly be a huge boon to the debt-ridden athletics program, but moving to the midwestern conference means further travel for road games.
And while football only plays once a week and men's basketball might charter flights, other teams might have to play multiple times a week while relying on commercial travel – resulting in extended road trips, additional school missed, more jet lag and increased stress on student-athletes.
It's clear that UCLA Athletics prioritized its legitimate financial concerns, but the Big Ten move affects 19 other UCLA programs besides football and men's basketball – sports that have long been overlooked but are nevertheless growing. In their last seasons, women's soccer and men's volleyball won the Bruins' 120th and 121st national championships, respectively. The gymnastics program is the most-followed NCAA women's team of any sport.
But regardless of these accomplishments, every program at UCLA's storied athletics department is worthy of consideration and respect for its student-athletes – especially in such a monumental moment for collegiate athletics.
In his final year with UCLA, Block must make sure the program is set up to adhere to UC Board of Regents' guidelines by supporting athletes' academics, nutrition and mental health. The regents also have required UCLA to conduct an annual survey of student-athletes regarding these mitigation measures, and it is Block's responsibility to build a culture wherein those needs will be properly addressed.
Aside from conference realignment, college athletics are still adjusting to the new realm of name, image and likeness legislation.
In order to remain a competitive program amid this changing recruitment landscape, Block must work with Director of Athletics Martin Jarmond to develop new and innovative ways to recreate an NIL reputation to match UCLA's existing athletic and academic prowess.
Transparency
Without transparency, trust is lost.
Throughout the 16 years of Block's tenure, UCLA has had continuous problems with full transparency – despite students calling on the administration to take accountability. The final year of Block's leadership, then, marks an opportunity for the chancellor to satiate the long-standing desire for more transparency among the university's executive leadership. Although the Board acknowledges that not all of UCLA's past issues can be attributed solely to Block, as chancellor, his example and sway cannot go understated.
In July 2022, UCLA professor and ecologist Priyanga Amarasekare faced suspension for violating multiple sections of the Faculty Code of Conduct, according to emails obtained by Nature and the Chronicle of Higher Education. Many suspect Amarasekare was being unjustly punished for her vocal criticism toward what she alleged were the department's discriminatory and racist practices.
Initially, the Academic Senate Committee on Privilege and Tenure recommended Amarasekare be placed on a five-year probation. Despite these recommendations, the chancellor – who has final decision-making authority over the disciplining of faculty members charged with misconduct – imposed much harsher penalties than the committee's recommendation.
Block, who began his professional academic career as a biologist, has stayed silent on the reason behind the dramatic increase in penalties.
Still, there are other general issues that could benefit from a more concerted communication effort from Block before his departure. The UCLA community – students and faculty alike – are entitled to know about efforts to refine campus services, enhance campus-wide accessibility and create an atmosphere that leaves no room for gross misconduct.
A piece by the Daily Bruin Enterprise team outlined shortcomings of UCLA's Title IX department. In 2020-2021, UCLA had the largest number of Title IX cases relative to its population among various UCs while also holding the second-lowest formal investigation rate for each case. The Board is hopeful that changes will be made; however, it is absolutely within the chancellor's purview to update students and faculty about how these concerns will be addressed.
The university's long-standing accessibility crisis is yet another issue in which Block can increase transparency as well. From the lack of accessible structures to the inconsistency of BruinAccess and SafeRide, it's evident that physically disabled students are at a systemic disadvantage. To uphold the values of inclusivity that Block has proclaimed throughout his career, there must be more clarity on how these concerns can be ameliorated by the university's administration, along with the difficulties that arise in the process.
Block must also continue to emphasize zero tolerance for abusive or predatory behavior at every level of the university. While it is the chancellor's final year, he must be no less ferocious in his efforts to speak out about cases of misconduct. There should be no question where our administration stands, for instance, on the outstanding charges of sexual exploitation, penetration of an unconscious person and battery against former UCLA gynecologist James Heaps that LA prosecutors are seeking to retry after a jury deadlocked on them in Heaps' first trial. Though a condemnation of Heaps' actions may go without saying, it will be important for Block to voice these sentiments nevertheless.
This is by no means an exhaustive list of Block's legacy of transparency at UCLA: We haven't yet begun to touch on the hours-late response from UCLA to former philosopher lecturer Matthew Harris' shooting threats or the refusal to explain what knowledge UCLA had prior to the anti-semitic shootings by former dentistry student Jaime Tran.
And, of course, Block's relationship with the Daily Bruin has fallen short of reasonable communication and transparency – with a particular instance being that upon the announcement of Block stepping down as chancellor, his staff was reluctant to grant and organize an interview with The Bruin but did so with other non-student news outlets.
Over the next year, before Block officially retires, the Board hopes to see the outgoing chancellor truly be transparent with the Bruin community, past his vague email newsletters.