Editorial: UCLA's lack of accessible structures does disservice to students with disabilities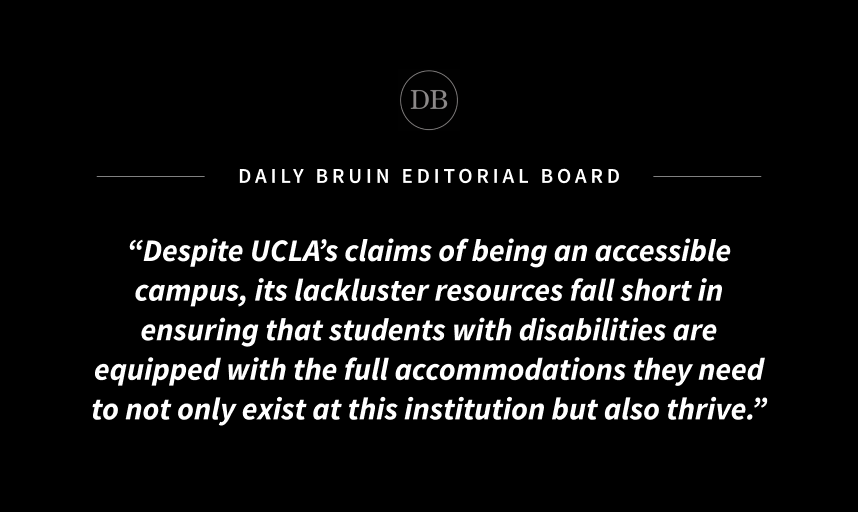 Editor's note: Editorials do not represent the views of the Daily Bruin as a whole. The board encourages readers to respond to our editorials at dailybruin.com/submit.
UCLA has failed the disabled community time and time again.
With the overwhelming presence of steep hills, uneven pavement and long staircases, the campus can be incredibly difficult and unsafe to navigate, especially for students with disabilities. Despite the tireless advocacy of the Disabled Student Union and other community members calling on UCLA to provide more accessible resources, the university has done far too little to accommodate their needs.
Put simply, this is a human rights issue. It's about time that the demands of the disabled community are not only heard, but acted upon.
The safety of students with physical disabilities is placed at risk every day as they commute extensive distances to and from campus as well as between classes, which requires taking longer routes to reach the limited accessibility ramps.
The recent California storms and record-breaking rainfall emphasize the dire need for disability justice. While able-bodied students were presented with the challenge of trekking to campus amid poor weather conditions, this safety risk was significantly exacerbated for students with disabilities who were confronted with additional dangers.
Despite UCLA's claims of being an accessible campus, its lackluster resources fall short in ensuring that students with disabilities are equipped with the full accommodations they need to not only exist at this institution but also thrive.
The implementation of BruinAccess, a paratransit van service, aims to make it easier for students with disabilities to navigate campus by driving them to destinations around UCLA and in the surrounding Westwood area. While BruinAccess has undeniably benefited students by providing a specialized mode of transportation, the service seems to be understaffed, which significantly limits its ability to efficiently supply the high demand of students.
BruinAccess previously allowed scheduled rides for passengers who used the service on a daily basis, but they suspended this convenient feature until further notice. This consequently means students must request a ride on demand using an app, which typically results in longer wait times, unexpected delays and late arrivals to classes. This not only inconveniences students by wasting time, but places them at an educational disadvantage as well.
In addition, BruinAccess is only available on weekdays during the limited hours of 7:30 a.m. to 6 p.m., leaving students who rely on the service with no reliable mode of transportation on weekends or after evening classes.
While UCLA SafeRide provides evening transportation for all students from Mondays to Thursdays, this service requires passengers to arrive at specific areas for pickup, which may be difficult for students with physical disabilities.
In addition to the evident underfunding of accessible transportation, it is imperative that UCLA construct more elevators on campus that students with disabilities can easily access. With the campus infrastructure being built primarily on steep hills, students have been given the short end of the stick as it becomes increasingly challenging to maneuver around their own school.
As a multibillion-dollar institution, UCLA can and must do better.
There is no valid justification for the university not to take action to solve such a critical issue that disproportionately affects the health and well-being of students with disabilities students. UCLA has all the necessary resources and funds to make effective change, but it chooses to remain complacent.
The ableist practices and policies that UCLA follows must come to an end. Students with disabilities deserve to be treated with humanity, not as an afterthought. It's about time the university keeps its promise to be a welcoming space of diversity, equity and inclusion.
This plea has become a broken record – a response is long overdue. The university cannot continue to sit idly by and ignore the demands of a struggling community as it's always done.
Disability justice should have been at the forefront when constructing this institution and must be a priority now.