After a serious motorcycle accident in April 2022, Ty Wells needed to find a new way to navigate UCLA's hilly campus. Traveling between classes in their wheelchair proved difficult, but the fourth-year sociology student then discovered they were eligible for BruinAccess.
BruinAccess is a free van service that helps UCLA students with disability-related mobility issues travel across campus and Westwood. Running weekdays from 7:30 a.m. to 6 p.m. according to the service's website, BruinAccess is operated by UCLA Transportation in partnership with the UCLA Center for Accessible Education and Employee Disability Management Services. Students can schedule rides through the third-party app TripShot.
Wells initially hoped BruinAccess would make it easier for them to get to class. However, their excitement to use the van service faded as soon as they started using it. They said they quickly grew frustrated because of frequent delays.
Wells is not the only student who has experienced issues with BruinAccess. The Daily Bruin spoke with nearly a dozen BruinAccess users who alleged issues with unreliable van service, oftentimes unfairly impacting their education.
According to an emailed statement from UCLA spokesperson Katherine Alvarado, BruinAccess averages around 60 rides per day across a fleet of three vans. She said the vans have a 90% chance of arriving within five minutes of their scheduled pickup, although a majority of interviewed students reported chronic delays of at least half an hour.
"I could literally wheel in my wheelchair and get to there (class) faster than it would be for me to wait for a ride," Wells said. "After 40 minutes pass, I'm like, f— it."
Unlike ride-hailing services such as Lyft and Uber, students cannot communicate with drivers directly through TripShot. This disconnect means students are unable to text or call a driver for help when problems arise.
"You never hear anything," Wells said. "You're at the mercy of this app that keeps telling you it (the ride) got pushed back."
Multiple students said the van has even departed without them aboard. According to guidelines set by UCLA Transportation, a driver can leave a scheduled stop if a student doesn't make it to the pickup location within two minutes of their pickup time. For students with limited mobility, this time limit is often too tight.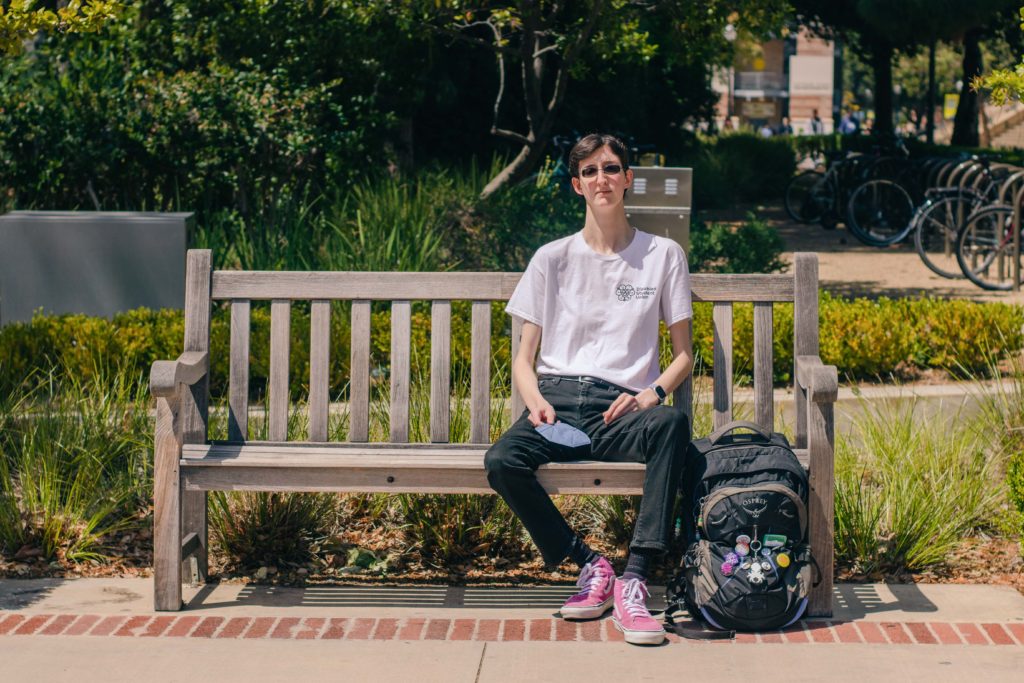 Fourth-year communication student Christopher Ikonomou, who has been using BruinAccess since 2019, said he has been left behind before because he didn't get down his apartment stairs fast enough. According to data provided by UCLA Transportation, nearly 750 scheduled rides in the past academic year – about one in every five – ended in a no-show, meaning the van left without a student boarding it or the student canceled the ride last minute.
"The wait times are really difficult to navigate," Ikonomou said. "Although they (the drivers) might delay your ride by 20 to 30 minutes, if you aren't in the van within two minutes of them arriving, they'll leave you behind."
Because of glitches with the TripShot app, Ikonomou said he also is not always notified when his driver arrives. In one instance, he recalled chasing after a departing van because TripShot alerted him of a pickup time after the van had already arrived.
In the case of a missed ride or extreme delays, oftentimes the only alternatives are taking an expensive ride-share or walking, which Ikonomou said can be physically exhausting with his disability.
"I find myself having to spend a lot of money on Ubers because a ride will keep getting pushed and pushed, or won't pick me up in time," said second-year theater student Emma Maloney, who uses the service because of a reconstructive foot surgery that makes walking difficult.
Several students said BruinAccess' unreliable service has also impacted their educational experiences by preventing them from fully engaging in their UCLA classes.
"Once I learned how unreliable BruinAccess is, then I was like, 'Oh, I'm not going to be able to ever get to any of my classes,'" Wells said. "So I actually had to drop two of my classes that were in person."
For first-year molecular, cell and developmental biology student Thomas Tran, delays in the service have repeatedly resulted in him being tardy to class and missing course material. He said, for example, he may schedule a ride at 8:30 a.m. to get to a 9 a.m. class but won't be picked up until five minutes before the class starts. Tran began scheduling his morning rides for 8 a.m. because of the frequent delays, he said, which doubled the time he allocates for his morning commute.
"As a college student, time is one of my greatest resources," Tran said.
Third-year biology student Natasha Paago said BruinAccess pales in comparison to the transportation service for students with physical disabilities at UC Irvine – the school she previously attended before transferring to UCLA. At UCI, students were driven in golf carts to and from their classes, which she said was an efficient way to avoid tardiness.
When Paago came to UCLA, she thought that the transportation system for Bruins would be just as timely. But on her first day of class, the BruinAccess van was thirty minutes late.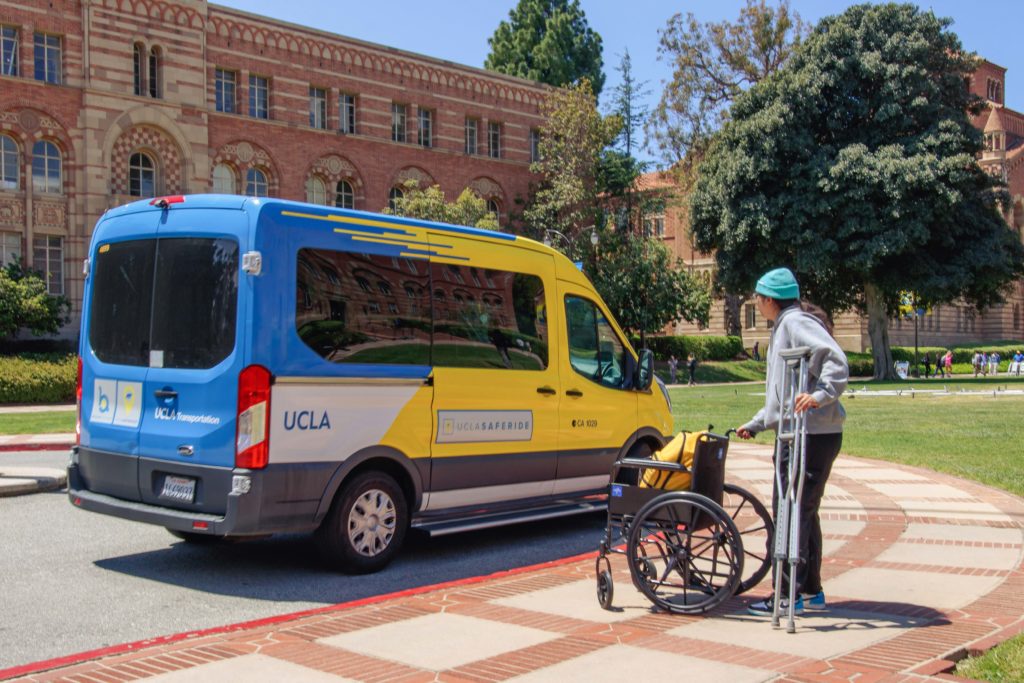 One reason for BruinAccess' performance issues may be a spike in demand this academic year. According to Alvarado's emailed statement, there has been a 130% increase in scheduled rides from last year's average of 26 rides per day.
Although the number of drivers has also increased this year, the staff is still several drivers short of its budget's capacity. Alvarado said all BruinAccess drivers are part-time employees, with a majority being student workers.
Repeatedly, BruinAccess users said they felt overlooked by the university because of how long service issues have persisted.
"(I'm) disappointed the school doesn't have a better system in place … to help with people that need accommodations like this," Maloney said.
This neglect can feel frustrating, Ikonomou added, especially as UCLA continues to vocally advocate for diversity, equity and inclusion.
"You would think with a campus that just sent out an email wanting us to do another diversity, equity, inclusion training, that they would include disability in their mission for DEI and literally putting their money where their mouth is," Ikonomou said.
Alongside students, disability rights experts have also raised concerns about the lack of adequate transit services for physically disabled students on campus.
Disability studies lecturer Beth Ribet said issues with accommodations like BruinAccess prevent students from receiving the same opportunities as able-bodied students to participate fully in their education.
"If we think that learning matters, and we think that academic rigor matters, then it should matter a great deal that students with disabilities are missing out on parts of the experience," Ribet said. "Barriers to access means less learning."
Students are protected under Title II of the Americans with Disabilities Act, said Sara Pezeshkpour, a senior associate at The Harrison Law Group who specializes in disability law. This law, alongside Section 504 of the Rehabilitation Act, requires public entities such as UCLA to comply with architectural standards for accessibility and to make appropriate modifications to policies and procedures when necessary for students.
Alvarado did not respond directly to questions about van rider allegations uncovered by the Bruin, instead only providing an eight-page compilation of past media statements sent to reporters in recent months.
"UCLA Transportation works diligently to fulfill the vision of providing world-class services that support a vibrant, diverse campus community," she said. "Students who experience issues with BruinAccess may contact a UCLA Transportation customer service representative."
Beyond hiring more drivers, both students and accessibility experts pointed to remote learning as a way to mitigate alleged BruinAccess service issues because students would then be less reliant on the vans.
Calls for greater remote learning access erupted in late January 2022 after UCLA transitioned back to in-person instruction. The 16-day Murphy Hall sit-in, led in part by the Disabled Student Union, protested in support of a hybrid learning model to maintain educational accessibility for disabled and immunocompromised students hit harder by the pandemic.
"The university should invest in the equipment and the technology and the training of something like hybrid learning because it benefits many of us who are part of the campus community," said gender studies assistant professor Juliann Anesi.
Ikonomou, who also serves as DSU president, suggested increasing BruinAccess funding so the service can acquire more vans and drivers. According to Alvarado's emailed statement, UCLA Transportation has already earned a grant to help support BruinAccess in the 2023-2024 academic year.
However, as students wait for the impacts of the increased funding, they continue to experience inequities spurred by BruinAccess and demand more immediate improvements to the service.
"Non-disabled students can schedule their days however they see fit, but if you're a disabled student who relies on this service, you're at the whim of somebody else," Ikonomou said. "And that's just not equitable."