Editorial: UCLA must reinstate off-campus meal plan to prevent poor living conditions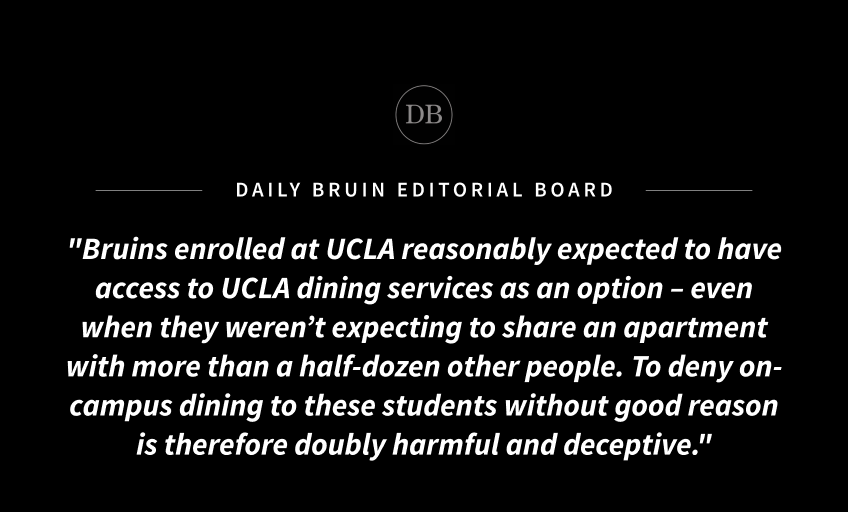 This post was updated Aug 21. at 8:53 p.m.
Editor's note: Editorials are intended to serve as the jumping-off point, not the conclusion, to discussion. As part of the Daily Bruin's commitment to its readers, the board hopes to present a responsible and clear analysis of relevant events and news items affecting the lives of those we serve, but our editorials are not representative of the Daily Bruin's views on issues as a whole. We encourage all readers to reach out to our board members and to respond to our editorials.
UCLA boasts the highest ranked campus dining in the United States, but the university falls short in food accessibility for its apartments.
In years past, off-campus students could purchase meal plans, join friends on the Hill who purchased premier meal plans or purchase residential restaurant meals a la carte. For two years since the pandemic, none of these options have been reinstated.
The loss of this resource was already a significant problem for students – but now, UCLA is making things worse by cramming students into new eight-person university apartments. Since students in university apartments are no longer allowed to purchase meal plans, this setup provides only one modest kitchen to feed all of them.
Eight students – many of whom won't meet one another until move-in day – trying to cook three meals per day in one small space while navigating the demands of UCLA life sounds like a setup for disaster, not a high-quality education.
Bruins on Reddit – especially transfer students – describe receiving offers of eight-person apartments despite putting only Hill residential housing as a preference. Many, including a Reddit user who said they went to culinary school, expressed frustration that no meal plans are available to students who live in university apartments with only one kitchen for eight people.
Putting students in a position to share their home with seven or eight strangers is a significant burden; however, given the immense cost of housing in Westwood, it's unsurprising that our high-demand university has begun treating us like sardines.
What is surprising is that the university has asked its students to live in high-density housing without providing the resource which would make it more feasible: meal plans.
Our university cannot continue making excuses for food inaccessibility. At a minimum, UCLA must offer all its former dining options to Bruins in its high-density housing: the off-campus Bruin Meal Plan, premiere accountholder swipe-in opportunities and a la carte meal access. Failure to do so would indicate a lack of concern for these students, food insecurity and general campus cohesion.
UCLA dining offers a healthy and affordable alternative to eating meals out while saving time compared to shopping for groceries and cooking. Bruins enrolled at UCLA reasonably expected to have access to UCLA dining services as an option – even when they weren't expecting to share an apartment with more than a half-dozen other people. To deny on-campus dining to these students without good reason is therefore doubly harmful and deceptive.
Food insecurity is a real concern among the Bruin community. While some resources exist, they often do not target more common and subtle forms of food insecurity such as skipping meals or choosing unhealthy, cheaper options due to serious concerns about budget and the cost of food. Access to UCLA dining halls can add consistency and nourishment to students' diets.
The editorial board is not alone in its concerns about campus dining access. A change.org petition calling for off-campus meal plans to be reinstated has already gotten over 1,000 signatures.
At the very least, off-campus meal plans must be reinstated for our community members with the fewest resources.
The university has continued to claim as of fall 2022 that staffing shortages prevent it from offering an off-campus meal plan. While this may be so, the rationale loses defensibility by the quarter. After all, UCLA can always increase dining hall staff wages and improve working conditions to attract more workers – just like the University increased our own Chancellor Block's salary this year.
As stated in the Office of the President's justification for that raise, "Compensating personnel fairly at all levels is essential to maintaining the excellence of UC's workforce, and to meeting the commitments to those the University serves."
Compensating workers fairly to meet UCLA's commitments is exactly what we need to solve the approaching food crisis.
Offering dining plans to the 2,300 eight-occupancy university apartment residents, even in the unlikely case that all residents accepted the offer, would amount to less than a 16% increase over the roughly 14,500 Hill residents who had meal plans last year.
From the university's standpoint, this would be a small, yet necessary step toward reoffering the Bruin Meal Plan rather than a drastic demand shock to the residential restaurant system. Meanwhile, for university apartment residents, a meal plan could easily be the difference between a successful year and a painfully difficult one.
We urge the administration to consider the expressed needs of its students, especially when so many transfer students are spending their first year as Bruins in these eight-student university apartments. Show them that you care.
Enough is enough. UCLA must step up to save its students from potentially nightmarish living conditions.