Opinion: UCLA must follow through on its mission to gain HSI designation by 2025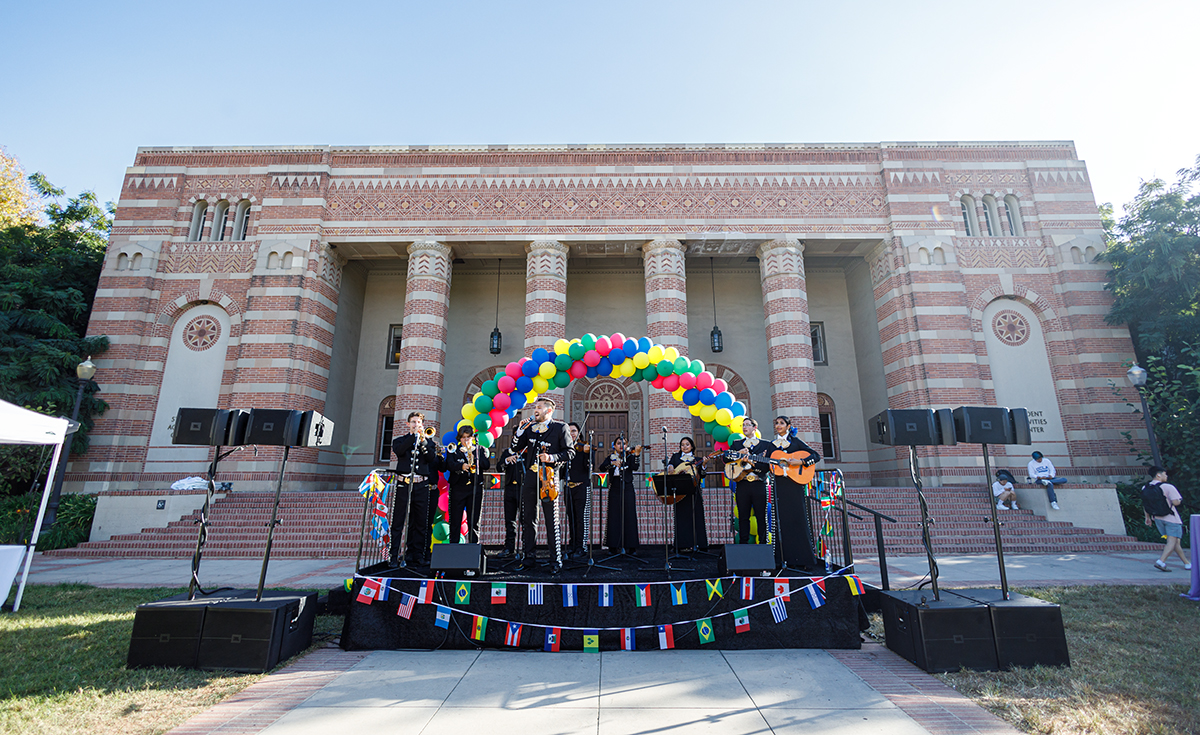 A mariachi band performs in Wilson Plaza at UCLA's Latinx Welcome event during Hispanic Heritage Month. UCLA must do more to support Hispanic and Latino students to become a Hispanic-serving institution by 2025. (Shengfeng Chien/Daily Bruin staff)
This post was updated Oct. 14 at 12:12 a.m.
Hispanic Heritage Month is a time to celebrate the traditions and past achievements of the Hispanic and Latino communities.
However, it is just as important to critically reflect on how institutions can best support Hispanic and Latino Americans in the near and distant future.
In late 2020, Chancellor Gene Block and Executive Vice Chancellor and Provost Emily Carter announced UCLA's intention to become a Hispanic-serving institution by 2025. Since this announcement, UCLA has described its updated plans to reaffirm its commitment to its goal, including adding 15 new faculty lines for those with work ties to Latinx experiences and creating a new faculty advisory position, Special Advisor to the Chancellor on Latina/o/x Affairs. UCLA's Hispanic-Serving Institution Task Force also published its final report this summer.
To be federally designated as an HSI by the U.S. Department of Education, at minimum 25% of the university's undergraduate enrollment must be from Hispanic or Latinx-identifying students. But at its current rate of growth – 0.41% increase per year – UCLA won't reach the requisite 25% until 2029, despite its projected target of becoming an HSI by 2025.
[Related: The Stack: Exploring UCLA's journey to becoming a Hispanic-Serving Institution]
According to the 2020 census, Los Angeles County is home to over 10 million individuals, with half of the total population identifying as Hispanic or Latino, surpassing any other racial or ethnic group in the region.
When Hispanic residents comprise close to 50% of LA County, it is concerning that getting the Hispanic student population to reach even half of that proportion on campus in a timely manner seems to be quite a difficult task.
In addition, out of nine University of California campuses, six are already designated or have designation pending as an HSI, including both UC Santa Barbara and UC Irvine. As the No. 1 public university in the nation, UCLA should set the precedent for diversity, yet it remains one of the last UCs to be without an HSI designation.
UCLA's aim to become an HSI is commendable, but it is long past time to wholly and truly dedicate itself to the task – and not just to receive the pool of grant money it is expected to collect upon designation as an HSI.
Denise Ramos-Vega, a fourth-year Chicana and Chicano studies and geography student, said she expected that a greater number of delegates from Hispanic student organizations would be tapped to join UCLA's HSI task force. As the Latinx Greek Council President, Ramos-Vega has attempted to become directly involved in the committee but has yet to hear back.
"I would also expect that they would contact somebody – at least a representative from LGC," Ramos-Vega said. "They've (LGC) got 150 students, like Latinx students at UCLA, which is a pretty good population."
After all, the least UCLA can do when trying to serve its Hispanic and Latino students is consult them.
Ramos-Vega added that there are still conversations UCLA needs to be having in order to improve resources for Hispanic students. For instance, she has been advocating for culturally aware and relevant mental health assistance, noting that a therapist who comes from a different background than her may not be able to properly empathize with her own experiences.
That isn't to say UCLA hasn't done anything substantial to begin reaching its goals. The HSI task force's final report provided a respectable and well-grounded action plan, with seven recommendations in the write-up to achieve HSI status, ranging from improving curricula to being accessible for first-generation and low-income Hispanic students to inaugurating a new Latinx Student Resource Center.
Cesar Pacheco, president of the UCLA Latino Alumni Association, said out of the seven suggestions the HSI task force formulated in its report, the idea to improve financial aid for Latinx students to increase affordability resonated with him.
"Highly skilled, really intelligent students are going to other schools because other schools are offering them more financial aid," Pacheco said. "Their dream school is UCLA, and they would go to UCLA, but they just don't get enough financial aid and therefore, they're not able to attend UCLA. So I think one of the big pushes is providing more scholarships."
Ramos-Vega added that she hopes to see some of the additional funding UCLA will receive from its HSI status go toward scholarships for Latinx students – but emphasized that overall transparency from UCLA about where that money goes is also crucial.
Receiving designation as an HSI also holds benefits for the university as a whole.
Chicana/o and Central American Studies professor Raúl Hinojosa-Ojeda said an HSI designation has the potential to launch the city of LA, as well as UCLA specifically, into a position to problem-solve and thoughtfully analyze transnational relations with Mexico and Central American countries.
With environmental and immigration issues becoming some of the most prominent political issues for the next decade, Hinojosa-Ojeda said an HSI-designated UCLA would hold a unique position of leadership from both an educational and policy point of view.
"It makes perfect sense that UCLA and the Chancellor's office and the entire UCLA community are making all the efforts necessary to fulfill the requirements to be designated as a Hispanic-Serving Institution," Hinojosa-Ojeda said.
Becoming an HSI by 2025 is just the first step in paving the way for future generations of Hispanic and Latino Americans at UCLA.
But the university still has a long way to go in implementing further action to accommodate Hispanic and Latino students.
Wang is the 2022-2023 Opinion editor and an Arts, Enterprise, News, Photo, Quad and Sports contributor. She was previously an assistant Opinion editor.
Wang is the 2022-2023 Opinion editor and an Arts, Enterprise, News, Photo, Quad and Sports contributor. She was previously an assistant Opinion editor.