Editorial: UC system must fix exploitative policies amid lack of affordable housing options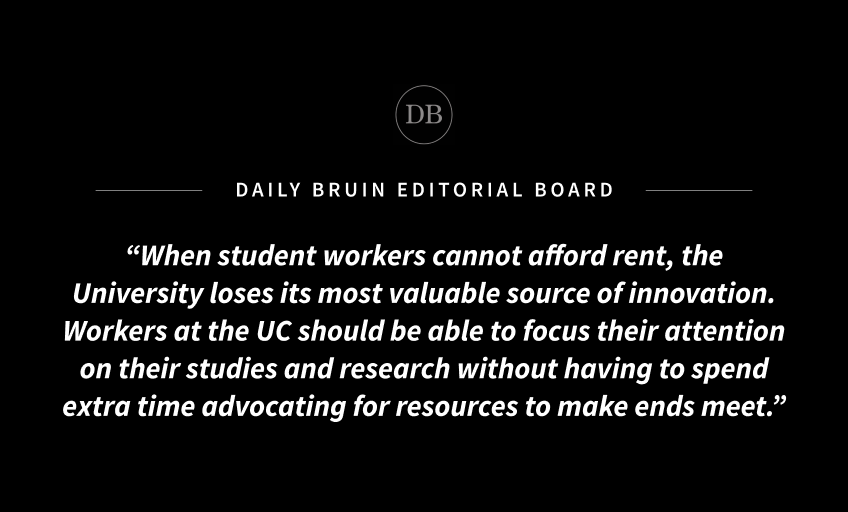 Correction: The original version of this article incorrectly referred to the United Auto Workers Local 2865 as United Auto Worker 2865.
This post was updated March 14 at 6:45 p.m.
Editor's note: Editorials are intended to serve as the jumping-off point, not the conclusion, to discussion. As part of the Daily Bruin's commitment to its readers, the board hopes to present a responsible and clear analysis of relevant events and news items affecting the lives of those we serve, but our editorials are not representative of the Daily Bruin's views on issues as a whole. We encourage all readers to reach out to our board members and to respond to our editorials.
The University of California seems to be making a habit out of exploiting its workers.
As one of the largest employers in California and one of the world's best research institutions, the UC should be a pioneer in progressive labor policies.
Yet, this board finds itself time and time again calling on the University to fix its regressive and exploitative policies. In 2021, the University initially refused to recognize a systemwide student researcher union and stalled on negotiations with lecturers for better job security and higher wages until finally reaching an agreement in November.
Old habits die hard.
Just this past month, graduate student workers and UC labor unions rallied outside of Murphy Hall to protest rent burdens on student workers due to the University's low stipends and lack of affordable housing options.
Unfortunately, costly rent and scarce affordable housing units are a harsh reality – especially in Westwood – a neighborhood that has consistently boasted some of California's highest rent prices. This year, a one-bedroom apartment costs nearly $3,000 each month, representing a 28% increase over the last year.
For graduate student researchers who make anywhere between $5,000 and $10,500 each quarter and academic student employees such as teaching assistants who receive, on average, $47,000 in funding and earnings per year, affordable housing is squarely out of reach.
According to a United Auto Workers Local 2865 press release, 90% of academic workers and more than 70% of postdoctoral researchers pay a third or more of their income on rent. Landlords often further compound the problem, since many require tenants to show that they make at least three times the rent.
These problems echo those brought up by graduate students who participated in cost-of-living adjustment strikes before the start of the pandemic. Fast forward two years and students are still demanding higher wages and affordable housing.
The University cannot simply look away again.
A policy that underpays student workers amid skyrocketing rent prices is dehumanizing and unsustainable. This is especially true after the pandemic has caused financial instability for many.
When student workers cannot afford rent, the University loses its most valuable source of innovation. Workers at the UC should be able to focus their attention on their work and research without having to spend extra time advocating for resources to make ends meet.
In addition, measly wages and lack of affordable housing are likely to disproportionately affect student workers of color, those with disabilities and those from lower-income households. The negative effects of this are paramount – the UC could shut out many who deserve a place at the University and have crucial perspectives to contribute.
Therefore, the UC must make it a priority to raise stipends for graduate student workers and provide housing subsidies for workers who do not make enough to afford rent.
The University should also continue building low-cost housing projects around its campuses to increase affordable housing options. Constructing new living spaces on and off campus can be a sustainable way to reduce housing costs for students and other community members.
For an education system that is supposedly leading the way toward a better future, it's only right that the UC helps its own.