Editorial: UC system remains inflexible, inequitable in its treatment of workers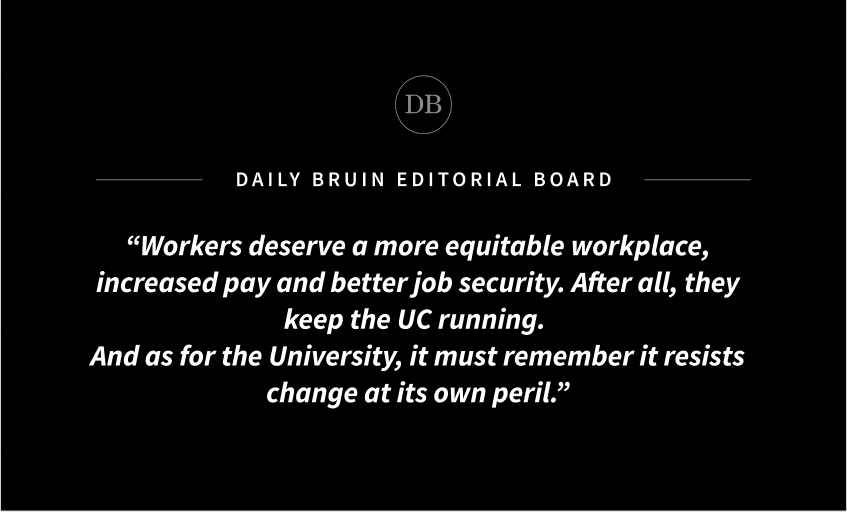 Correction: The original version of this article incorrectly stated that a month after October 2020, organizers submitted over 10,000 union authorization cards to the California Public Employment Relations Board. In fact, the organizers submitted these cards in May 2021.
This post was updated Nov. 19 at 12:39 p.m.
The University of California is a globally renowned public research university system.
Its unethical treatment of thousands of faculty and staff seriously calls that title into question.
Case in point: The Student Researchers United-United Auto Workers is jumping hurdles to get the University to recognize its efforts.
As early as October 2020, graduate student researchers across the UC have campaigned to form a union to address poor working conditions and increase students' collective bargaining power.
In May, the organizers submitted over 10,000 union authorization cards to the California Public Employment Relations Board, which certified the union had secured a majority of support in August.
Instead of allowing student researchers to be fully represented, the UC claimed it recognized the union but sought to exclude fellows and trainees from the group. The University asserted that students who receive external fellowships and traineeship grants are not classified as employees under the Higher Education Employer-Employee Relations Act – the law establishing collective bargaining rights of UC employees – despite these researchers facing the same conditions in the workplace.
Because the University cannot partially recognize the union, PERB declared it had failed to recognize SRU-UAW. Rather than making a good faith effort to initiate negotiations, the UC used a technicality to force graduate student researchers to choose between gaining recognition for only part of the union or prolonging the fight for recognition for all its members.
Researchers have chosen to fight. Starting Nov. 10, SRU-UAW began a strike authorization vote, which would give student researchers across UC campuses the option to suspend research if over two-thirds of student researchers vote in favor.
The board supports SRU-UAW in its effort to gain full recognition for student researchers and secure better pay and safer working conditions.
But it shouldn't have come to this.
The SRU-UAW's challenges in gaining recognition reflect the negligence and inflexibility with which the University has treated its workers, many of whom are bargaining for better working conditions.
The University Council-American Federation of Teachers, the union that represents more than 6,800 lecturers and part-time faculty at the UC, planned on striking Wednesday and Thursday after failing to reach an agreement with the University since negotiations over pay and job security began in 2019.
But just shy of six hours before the start of the strike, UC-AFT announced it had reached a tentative agreement with the UC that gives lecturers more opportunities for salary increases, better job stability and greater access to paid medical leave.
Why the UC waited until the eleventh hour to extend basic protections to its laborers is mystifying.
Meanwhile, too many UC campuses are seeing a shortage of dining hall staff, which has put strains on existing workers.
Besides dining hall workers being underpaid and overworked, those hoping to be hired directly by the UC must work through language barriers, application issues and travel costs to attend in-person interviews.
Although some UC campuses are currently working to recruit more campus workers, hiring staff without improvements to current standards and processes is not sustainable.
Workers deserve a more equitable workplace, increased pay and better job security. After all, they keep the UC running.
And as for the University, it must remember it resists change at its own peril.