UC lecturers cancel planned strike after reaching new contract agreement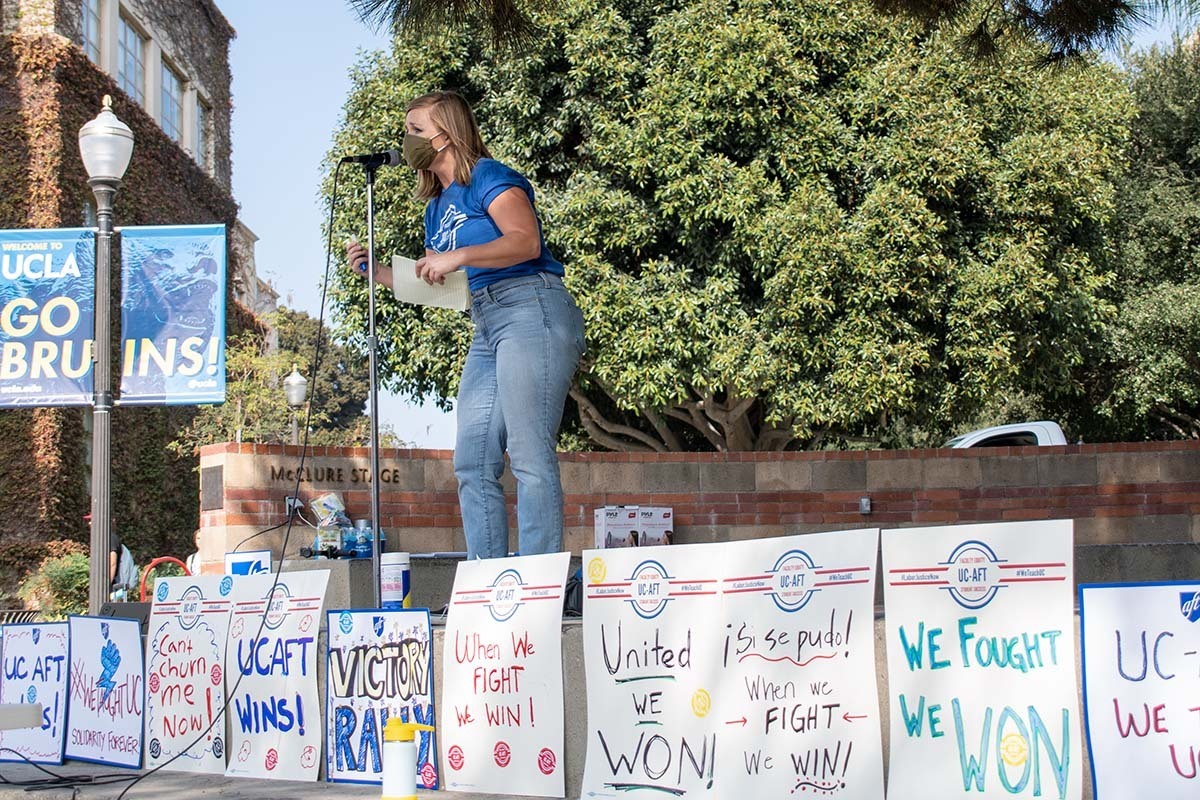 Caroline Luce, a history lecturer and member of the University Council-American Federation of Teachers spoke about celebrating the union's new contract agreement. University of California lecturers canceled their plans to strike after settling negotiations with the UC. (Lauren Man/Daily Bruin senior staff)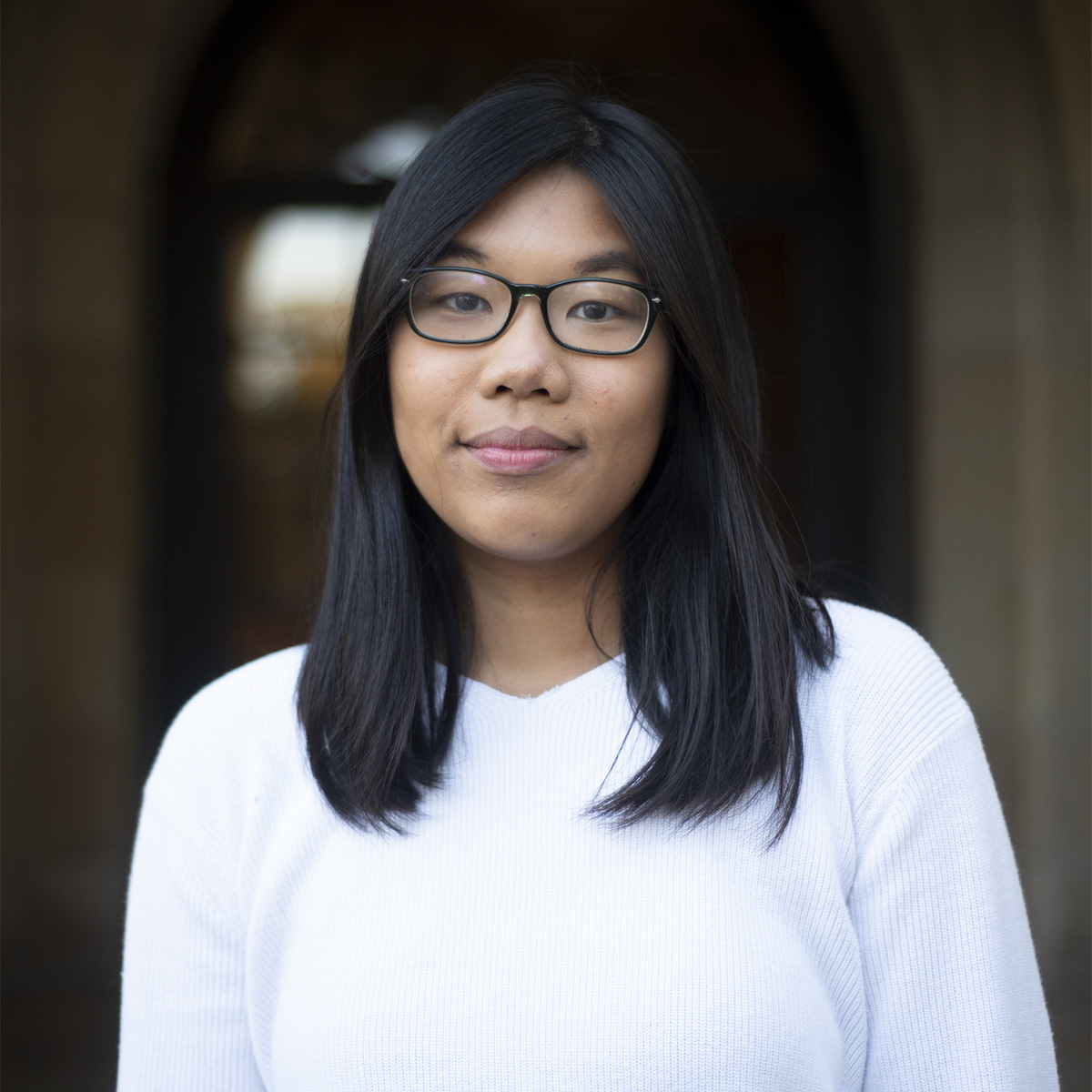 This post was updated Nov. 17 at 11:33 p.m.
University of California lecturers will no longer strike after coming to a tentative agreement with the UC on contract negotiations Wednesday.
The University Council-American Federation of Teachers and the UC held two days of bargaining sessions Monday and Tuesday to continue discussions on reaching a five-year contract agreement.
At 4:48 a.m. Wednesday, UC-AFT announced that the union reached an agreement with the UC and canceled planned strikes for Wednesday and Thursday. It added that classes are expected to go on as previously scheduled.
According to a UC-AFT press release, the UC will offer one-year, two-year and three-year contracts that include a written evaluation process. First-year hires will receive preference over new hires and will be granted a 3% raise with a two-year contract if they are deemed effective during the review process. At the end of a lecturer's third year, they can now obtain another 3% pay increase with reappointment to a three-year contract after receiving a positive evaluation, according to the press release.
In addition, faculty members can also now apply for promotions to senior continuing lecturer positions that include a 9% pay increase at their third merit review, with reviews now being conducted at the end of each contract.

"This contract revolutionizes the first six years of a lecturer's career at the UC," the press release said. "This contract provides a robust system for moving lecturers from initial hire to continuing appointment."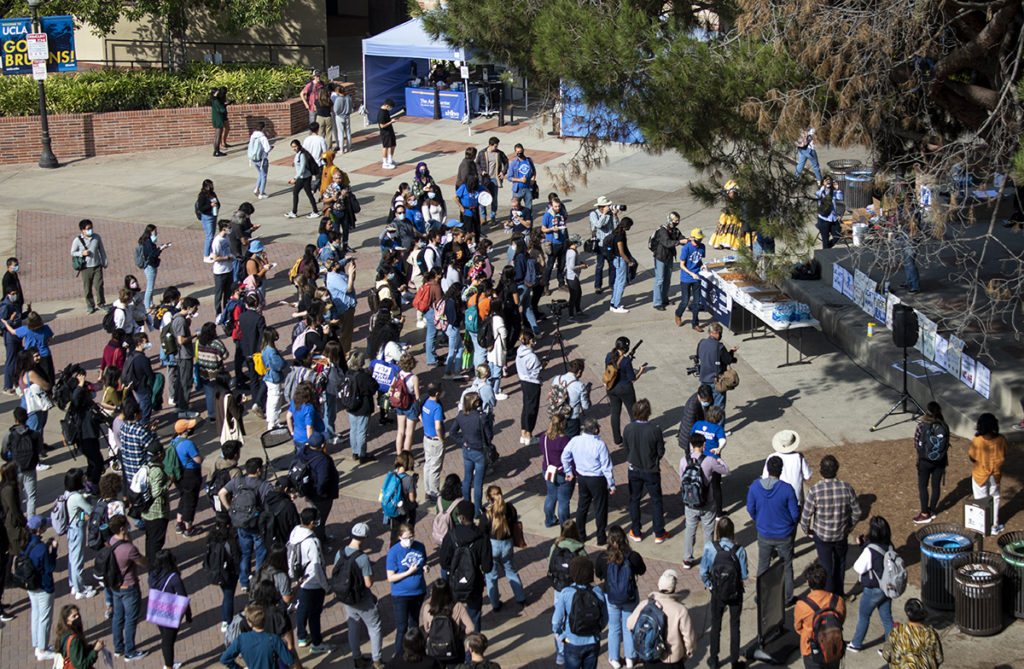 UC-AFT also secured a $1,500 signing bonus, an improved salary scale, more timely appointment letters with specific details about pay, guaranteed training for teaching faculty on how to teach online courses, and improved retirement and health benefits for summer session lecturers, according to the UC-AFT press release.
The UC Office of the President said in a press release that the new contract provides greater transparency and fair assessment of workload assignments, including creating a panel to address workload issues.
The union also stated that it came to a resolution on the two Unfair Labor Practices it filed against the UC that originally prompted the strike authorization. Earlier in November, UC-AFT alleged that UC management refused to bargain in good faith over paid family leave.
Now, the UC has agreed to grant all UC-AFT teaching faculty four weeks of fully paid leave and extended paid medical leave to all bargaining unity faculty with appointments of 66% or more.
"This is an improvement from the 100% eligibility threshold in previous contract language," the UC-AFT press release said. "We still believe this threshold is too high. UC admin's pervasive use of part-time and unbenefitted appointments means that most UC-AFT members may never be eligible for paid medical leave, even under this improved provision."
This contract agreement comes after more than two years of bargaining between UC-AFT and the UC. In June, the University and the union entered state-mediated negotiations after 48 bargaining sessions with 21 issues remaining unresolved.
According to the UCOP press release, UC-AFT members will have the opportunity to vote on the new agreement over the next few weeks. Once ratified, the job stability provision will take effect starting July 1, 2022, and the contract will continue until March 2026.
"This is a positive development for our entire community, especially for our students," the UCOP press release stated.
Tran was the 2021-2022 national news and higher education editor in addition to being a contributor for Enterprise. She was also a fourth-year political science student at UCLA.
Tran was the 2021-2022 national news and higher education editor in addition to being a contributor for Enterprise. She was also a fourth-year political science student at UCLA.