Editorial: Prolific labor activism across UC should raise concerns about worker treatment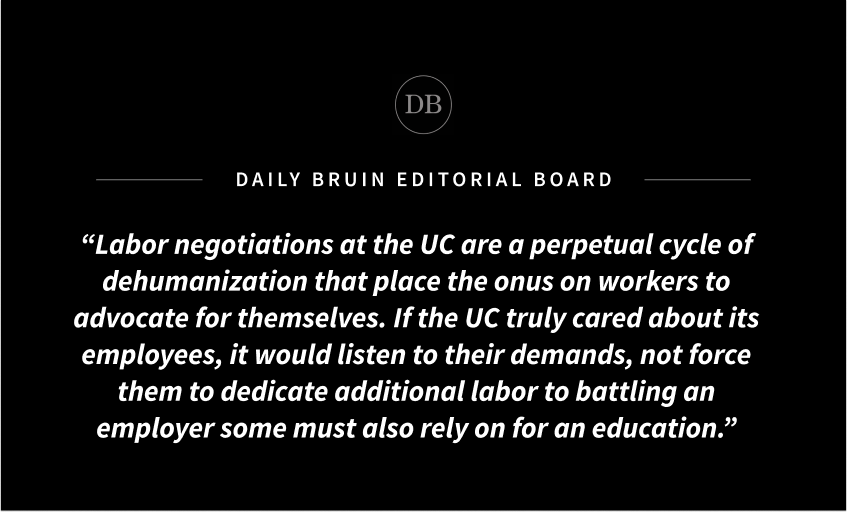 This post was updated June 28 at 1:14 a.m.
Editor's note: Editorials are intended to serve as the jumping-off point, not the conclusion, to discussion. As part of the Daily Bruin's commitment to its readers, the board hopes to present a responsible and clear analysis of relevant events and news items affecting the lives of those we serve, but our editorials are not representative of the Daily Bruin's views on issues as a whole. We encourage all readers to reach out to our board members and to respond to our editorials.
The University of California has an important responsibility to the more than 185,000 employees who make the University what it is: a renowned institution of higher education at the cutting edge of research.
But time and again, these same employees must fight for basic protections the UC should eagerly provide.
We've seen this story play out repeatedly. Workers strike, enter bargaining sessions with the UC and receive unsatisfactory contract proposals that force them to return to stage one. Case in point, the University's service and patient care workers staged six strikes in two years before receiving a contract that adequately addressed concerns about outsourcing and low wages.
Graduate student researchers are the newest laborers to come into the fold. In late May, a committee of researchers petitioned the California Public Employment Relations Board to certify a union that would advocate for better and more consistent pay, greater protections for international graduate student researchers and a formal procedure for workplace grievances. CalMatters reports that 60% of the UC's graduate student researchers have already submitted signed authorization cards in support of the petition.
This is welcome news, but the UC shouldn't create – or enable – working conditions that give its employees no other choice but to unionize. Workers deserve to have high-paying jobs without sacrificing the time and energy to defend them. Unfortunately, if history teaches us anything, it's that the UC is not a fair employer.
Just ask the thousands of employees who have struggled to be heard by their University.
The University Council-American Federation of Teachers, which represents non-Senate faculty and librarians across the UC, is more than two years into negotiations for better job security and higher wages. What's more, it took the UC four months after the pandemic forced classes online to begin bargaining with the union about COVID-19 working protocols. UC-AFT reached an agreement with the UC at the beginning of March – nearly one year into the pandemic – but continues to discuss working conditions for the fall.
It's the same story for academic student employees.
Graduate students at UC Santa Cruz went on strike for better pay in February 2020 after months of withholding grades. Former UC president Janet Napolitano threatened to terminate strikers for witholding their labor without union approval – all in the name of defending a contract that has done little to help students meet basic needs. UCSC dismissed 54 teaching assistants and eventually rehired 41 of them, but it still doesn't erase the fact that the UC was more willing to catapult its employees into economic precariousness than raise their monthly stipends.
Labor negotiations at the UC are a perpetual cycle of dehumanization that place the onus on workers to advocate for themselves. If the UC truly cared about its employees, it would listen to their demands, not force them to dedicate additional labor to battling an employer some must also rely on for an education.
The pandemic has certainly made it hard to guarantee workers wage increases and job security when the University itself has lost billions in revenue. But that's no excuse to perpetuate this history of negligence, especially after Gov. Gavin Newsom announced plans to allocate more than $800 million in state funding to the UC.
The University carries an immense responsibility to its workers. It's a responsibility that cannot be taken lightly – now and well into the future.