Second Take: Diverse influencers make it to the red carpet; Hollywood should take them farther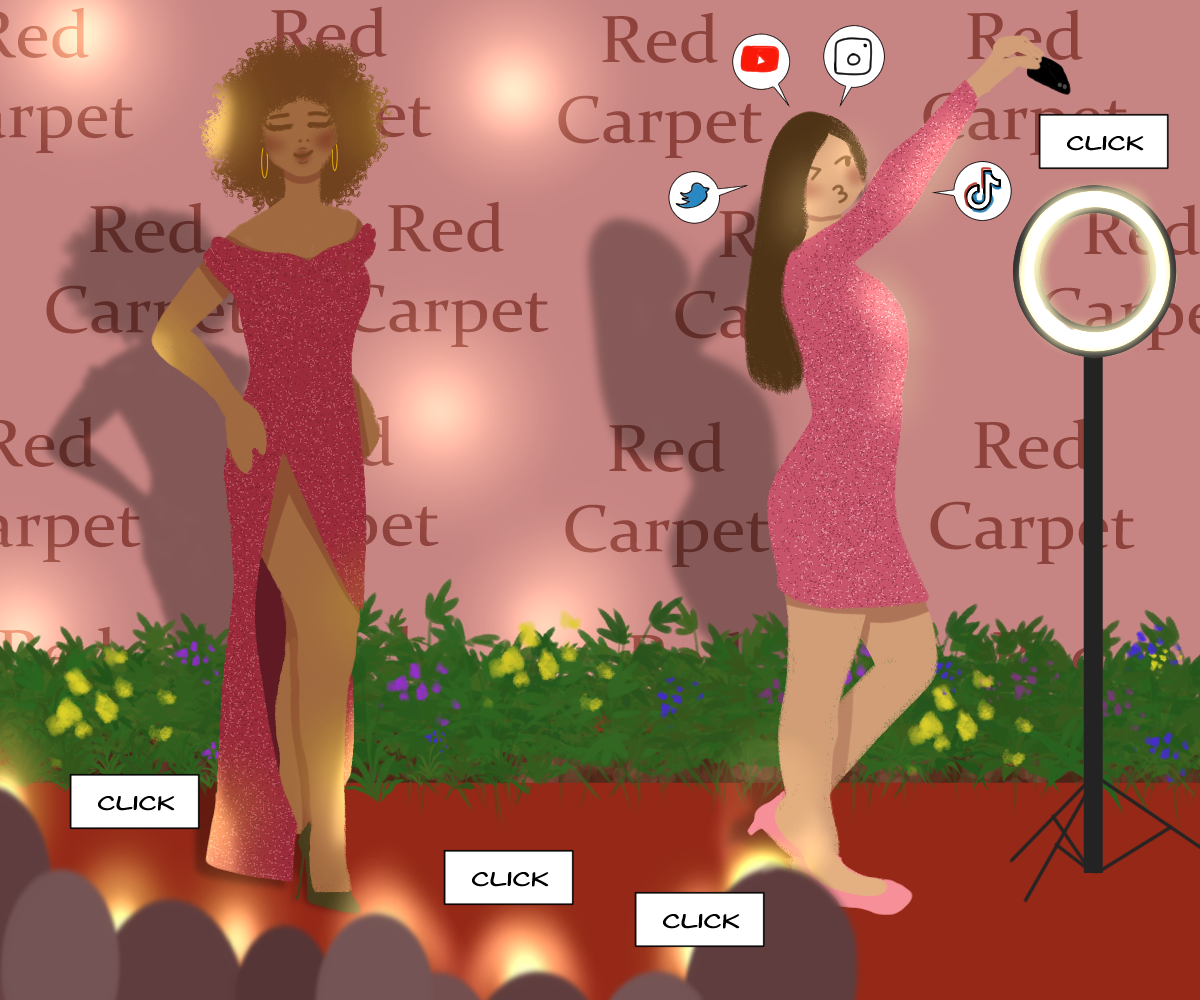 (Alicia Caldera/Daily Bruin)
Hollywood's red carpets are widening to welcome the celebrities of the digital age, and yet there is still not enough room.
Social media's exponential growth in the past two decades has given rise to a new kind of star: the influencer. Most recently, the surge in TikTok's traction over the course of the COVID-19 pandemic concurrently launched an extensive group of influencers into the ring-shaped spotlight. As content creators have established their impact in this evolving digital space, major entertainment studios have placed them on the guest lists of some of the industry's most important occasions – from star-studded Marvel movie premieres to the prestigious Academy Awards. While the rise of influencer attendance at these red carpet events demonstrates Hollywood's keen understanding of the rapidly changing media landscape, it still fails to signal a fully inclusive route into the notoriously restrictive entertainment industry.
Influencers' participation can range from simply being photographed along the carpet to conducting interviews with the night's guests of honor. For instance, TikTok creator Drew Afualo, who first gained traction on the app for her reaction content, recently hosted press before the Academy Awards, speaking to celebrities such as Jamie Lee Curtis and Dwayne Johnson. While viewers may initially question the involvement of influencers at these historic industry events, their presence seems to be a well-calculated move by their organizers, as evidenced by the 1.5 million views Afualo amassed on just one of her aforementioned Oscars videos alone. Social media stars have a vast comprehension of their platforms and audience interests, making their role as mainstays on the red carpet an effective way to promote projects to their ardent fanbase.
[Related: Second Take: Uncovering the washed out, white-centered world of BookTok]
A common critique among viewers is that the influx of influencers at these events has diminished the concept of celebrities. However, creators such as Reece Feldman prove that their involvement can actually transform the connection between movie stars and fans. Feldman gained popularity on TikTok by posting behind-the-scenes footage during his time as a production assistant on "The Marvelous Mrs. Maisel," but now creates content for several premieres and award shows. By encouraging celebrities to participate in the platform's biggest trends, he has gathered over 70 million likes and shown users a more lighthearted side of the seemingly intimidating industry. The newfound relatability displayed by Hollywood's stars helps to captivate audiences, highlighting the allure of increased influencer participation at these events.
While the inclusion of influencers on these major red carpets is an evidently successful method for major studios to engage a young and dedicated audience with an otherwise disconnected side of show business, the phenomenon is still indicative of flaws in the entertainment industry as a whole. The expansion of content creators beyond social media represents a new path toward the glamour of Hollywood, but it is still not a completely accessible one.
On one hand, longtime fans of influencers like Juju Green have certainly found joy in following their careers' progression from living room TikToks to events as distinguished as the Oscars. But while the involvement of content creators is meant to bring a sense of relatability and connection to these prestigious occasions, they remain marketing events at their core. Therefore, it is hard to fully detach their invitations from Hollywood's roots in exclusion and view them solely as a victory for the underdog.
[Related: Second Take: TikTok's algorithmic madness forces artists to focus on short-lived virality]
Platforms like TikTok and YouTube have played a major role in launching the careers of creators who would otherwise be underrepresented, but Hollywood fails to demonstrate the same level of investment in accessibility. Their recruitment of influencers for red carpet content is driven more by advertising prospects than a desire to uplift marginalized voices across fields, as most attendees are already established powerhouses on their platforms. While this is not necessarily an issue in its own right, Hollywood's history of discrimination leaves it responsible for increased inclusion, which has not been fully achieved by the opportunities it has provided.
Ultimately, the success of content creators on promotional red carpets at movie premieres and award shows is illuminating a new relationship between the entertainment industry and viewers in the digital age. The rise of platforms like TikTok brings new meaning to celebrity culture, as conveyed by the effective expansion of influencers into major media spaces. However, this new trend still points toward the famously closed doors of Hollywood, indicating a need for further inclusivity.
As studios continue to find success by bringing stars from the "For You" page to the Walk of Fame, they should also seek to expand the narrow road to Hollywood.