Restaurant review: Egg Tuck's new location scrambles to meet expectations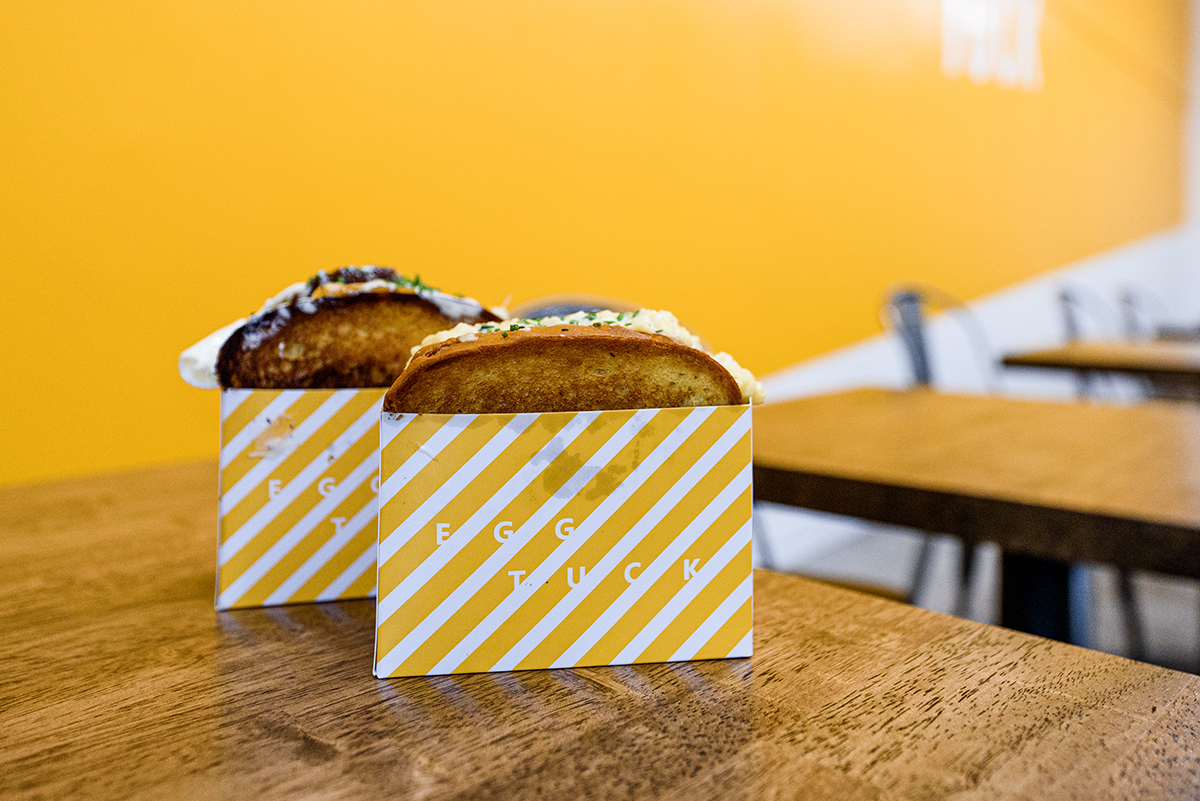 The egg sandwiches pictured strike a tasty textural balance with crispy brioche buns, but the runny egg yolks are at risk of making a mess. (Megan Cai/Assistant Photo editor)
"Eggtuck"
1049 Gayley Ave. 
Los Angeles, CA 90024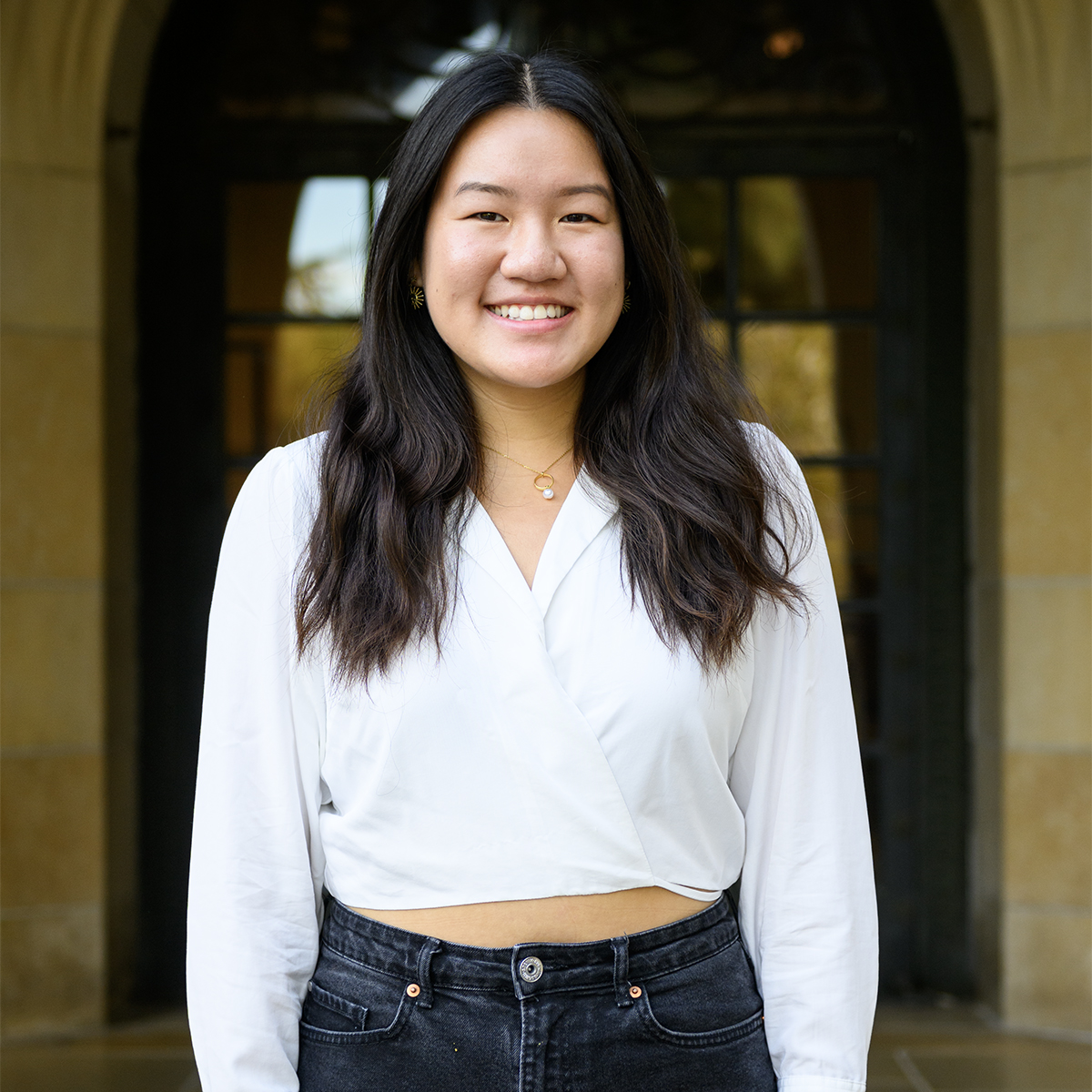 Westwood's newest breakfast joint is taking its time to get tucked in.
Sandwiched between Westwood Village and UCLA, Egg Tuck officially cracked open its doors with a grand opening on Gayley Avenue in the first week of November. At the breakfast chain's third location, Egg Tuck continues to carve out its niche in the Los Angeles brunch scene by serving up a novel spin on a classic: the egg sandwich. Egg Tuck serves a short and specialized menu featuring just 10 items, advertising Korean-style egg sandwiches on house-made brioche buns and galbi breakfast burritos. But while the sandwiches look excellent at first glance, they ultimately fall short of the expectations they cook up.
The interior design of Egg Tuck draws inspiration from its Koreatown origins, bringing a distinctly urban feel to the Westside with industrial concrete floors and angular LED lighting. The inside of the restaurant toes the line between minimalist and monotonous with eggshell walls, gray floors and barren shelves, but ultimately falls flat as the space feels largely impersonal. While the use of self-ordering kiosks is efficient, it eliminates face-to-face interactions between employees and patrons, adding to the hollow atmosphere.
[Related: Restaurant review: Shokugeki BBQ features diverse, affordable Asian cuisine in Westwood]
Simply put, there is nothing interesting to look at while one waits for their eggs to be beaten or for their brioche to be buttered. The restaurant's only spot of color is a stripe of yellow paint on the wall opposite the bar. The yolky pigment only takes up the middle portion of the wall, referencing Egg Tuck's star ingredient. But with the overall desolate decor, the ambience lacks personality and feels like a shell of every other trendy-turned-trite LA eatery.
Despite the drab interior, Egg Tuck's flagship sandwich brightens up the experience. The sandwich arrives in a hefty slice of brioche that is partially split down the middle, creating the perfect pocket for the restaurant's signature protein. With a golden egg-saturated brioche that carries an abundance of scramble, Egg Tuck stays true to its name.
Its sandwiches strike an enjoyable texture and flavor balance – the toasted brioche has a satisfyingly crispy exterior and imparts a subtle sweetness that complements the egg's tender umami flavor. Taking a favorable turn away from the spongy hard scramble, Egg Tuck's scrambled eggs are closer in texture to that of a delicate custard. But the messy eater should be forewarned: The egg takes the form of small curds which, paired with the sheer volume, risk a yolky eruption at the slightest bit of pressure.
For those who are craving more than the classic egg and toast, Egg Tuck offers accouterments in the form of bacon, ham, cheese and avocado. In particular, the bacon and cheese additions elevate the breakfast item with a crunch that contrasts nicely with the soft egg. Egg Tuck's scrambled eggs also come in the form of breakfast burritos that trade in brioche for a flour tortilla and tater tots.
[Related: Head in the Clouds 2022: Diverse food options bring savory, sweet flavors to festivalgoers at a sour price]
Though well-balanced in flavor and texture, Egg Tuck's sandwiches tip the scale where richness is concerned. Each component of the sandwich is heavy in its own right – the brioche is oversaturated with butter, and the eggs are closer to a liquid than solid. The first two bites make for a decadent brunch experience, but the combination of dense ingredients and spicy sriracha aioli quickly becomes overindulgent.
With egg sandwiches ranging from $8 to $10, Egg Tuck will surely attract regulars who want fairly priced meals that can keep them full well past lunch, for better or worse. The use of kiosks, online ordering and a quick turnaround time create a near-frictionless experience and make it easy for the busy Bruin to take their sandwich on the go – but the heavy sandwich might slow them down on their uphill walk to campus.
Only time will tell if the eatery's future is sunny side up.
Cai is a 2022-2023 assistant Photo editor on the Arts beat and an Arts, Sports and Podcasts contributor. She is a second-year communication student minoring in food studies.
Cai is a 2022-2023 assistant Photo editor on the Arts beat and an Arts, Sports and Podcasts contributor. She is a second-year communication student minoring in food studies.