Restaurant review: Shokugeki BBQ features diverse, affordable Asian cuisine in Westwood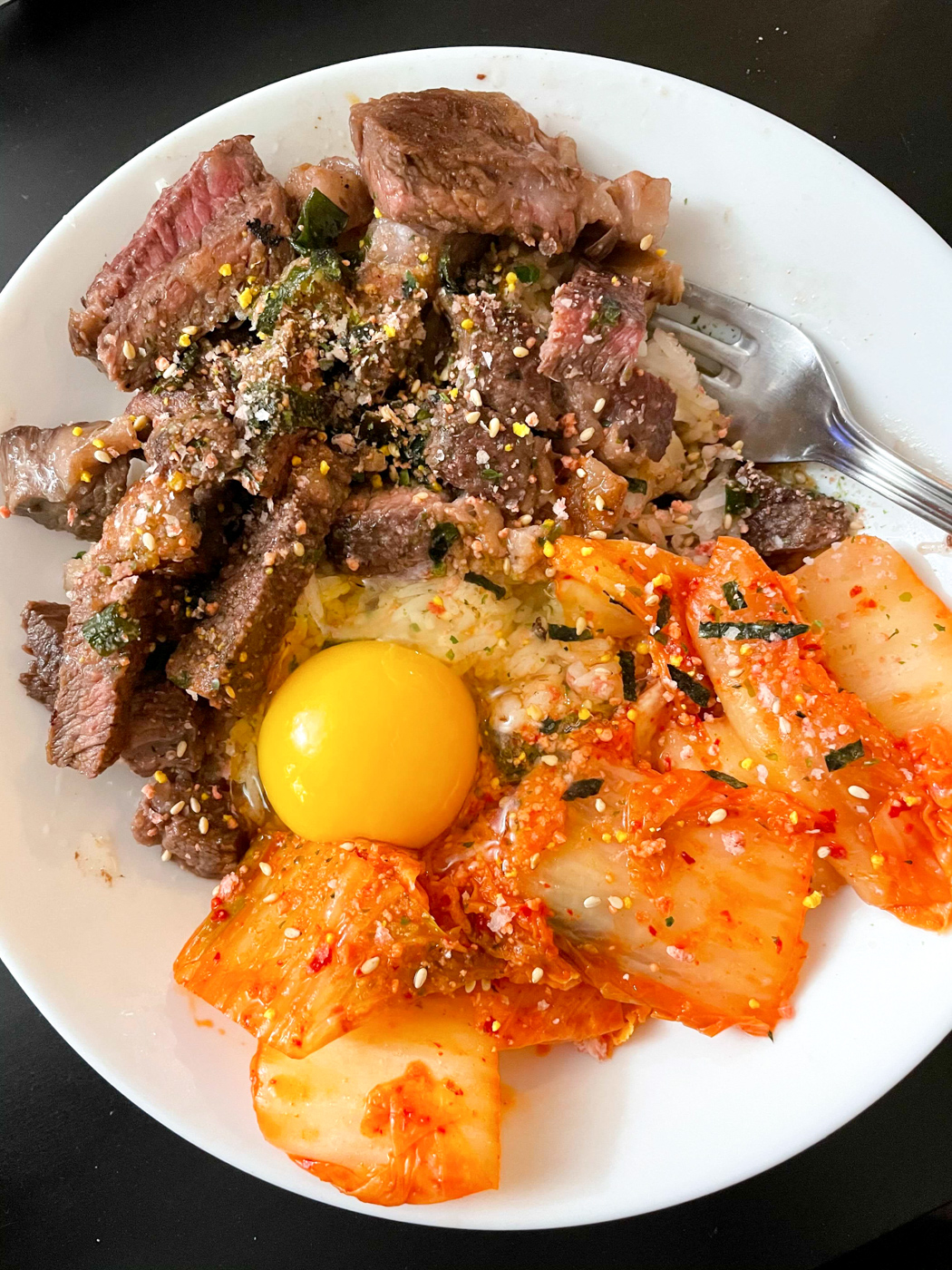 Operated by UCLA students out of an apartment building on Veteran Avenue, Shokugeki BBQ had its second pop-up event on Sunday. With reasonable prices and large portions, the restaurant brings Bruins home-cooked Asian cuisine. (Courtesy of Phoebe Chan)
Shokugeki BBQ
512 Veteran Avenue
Los Angeles, CA 90024
Shokugeki BBQ takes the term "friendly neighborhood barbecue" to a whole new level.
Named after a word for a food war in a Japanese show, Shokugeki BBQ had its second pop-up event on Sunday in Westwood. Operated by UCLA students, the restaurant changes its menu with every opening to feature new dishes from various Asian cuisines. This weekend's event featured three classic Japanese, Filipino and Vietnamese dishes – including sute-ki donburi, spamsilog and gỏi cuốn – to fuel students' Asian food cravings. The restaurant also donates a portion of its profits to a different organization with each pop-up – this week's focused on Partnership LA, an organization that supports underprivileged K-12 public schools.
The apartment building on Veteran Avenue that houses Shokugeki BBQ is unassuming, with only a handmade sign taped to the entrance to denote the business concealed inside the unit. Westwood apartments are notoriously drab, yet the wafting scents of fried eggs and spices made this one more welcoming.
[Related: Restaurant review: Prince of Venice's authentic Italian food makes it a soon-to-be local staple]
For those seeking a lighter meal, Shokugeki BBQ's gỏi cuốn – spring rolls made with translucent rice paper – is its best entree. The Vietnamese rice paper rolls are packed to the brim with the dish's classic ingredients: shrimp, pork, noodles, bean sprouts, basil and cilantro.
Though authentic, the rolls themselves are subtle, meaning the filling's natural tastes have to fight a little harder to come through. Having to pause to pick out bits of chewy fat from the pork distracts from the ingredients as well. The tastes inside the rolls are overwhelmed when paired with the dipping sauce as its delicious sweet and salty peanut flavor dances over taste buds. Though, customers will be pleased with the number of ingredients used in the $8 rolls.
On the opposite side of the spectrum is the spamsilog – the heartiest and grubbiest menu item at Shokugeki BBQ. For $10, customers have the option of a spam fried rice dish with a generous portion size and a variety of fixings. The foundation of the meal is a bed of fried rice that provides a garlicky aromatic quality in the mouth.
And although the dish's main attraction is spam – which by itself is very salty – when paired with rice and various toppings like tomato and crispy fried eggs, the flavors play out nicely. Two sauces are also included with the dish, one sweet soy dip that could overpower the meal if used too much and an onion gravy that helps balance the saltiness of the spam.
The true highlight of the menu, however, is the sute-ki donburi, a Japanese rice-bowl dish with steak. For $12, customers receive a dish with a balanced range of flavors – sweetness from the marinade and sourness from the kimchi – that does not tire no matter how many bites are taken. The steak was cooked medium well and marinated in a sweet yet savory sauce that Shokugeki BBQ should absolutely sell individually one day.
[Related: Restaurant review: Nick the Greek brings authentic Mediterranean flavors to Westwood]
Shokugeki BBQ seems to have figured out the ideal sauce to rice ratio in their sute-ki donburi. Pouring sauce over rice is a dangerous game to play as too little yields dry and unevenly flavored rice but too much results in a soupy and soggy mess. However, the sute-ki donburi rice's texture was not lost on the dish, ensuring each bite is packed with the right amount of flavor.
Kimchi on the side also offers a nice contrast to the donburi, providing some crunch, heat and tang in between bites of the steak. Mixing in the raw egg on top further provides some stickiness and richness to the dish. However, issues with meat quality do persist, as sections of fat needed to be trimmed in order to have this dish check all the right boxes.
Overall, Shokugeki BBQ's big flavors make it a great option for students who eat meat, especially with the excitement of its pop-up nature. The restaurant no doubt wins customers over with its neighborly charm, bringing Bruins home-cooked meals while donating to a different cause for each opening.
With reasonable prices and generous portions, Shokugeki BBQ makes gathering friends to try every item on the menu hard to resist and easy to do.