Head in the Clouds 2022: Diverse food options bring savory, sweet flavors to festivalgoers at a sour price
Head in the Clouds Music & Arts Festival attendees were treated to a wide range of food and drink options, curated by the 626 Night Market in San Gabriel Valley. (Megan Cai/Assistant Photo editor)
"Head In The Clouds Music and Arts Festival"
Pasadena, CA
Aug. 20-21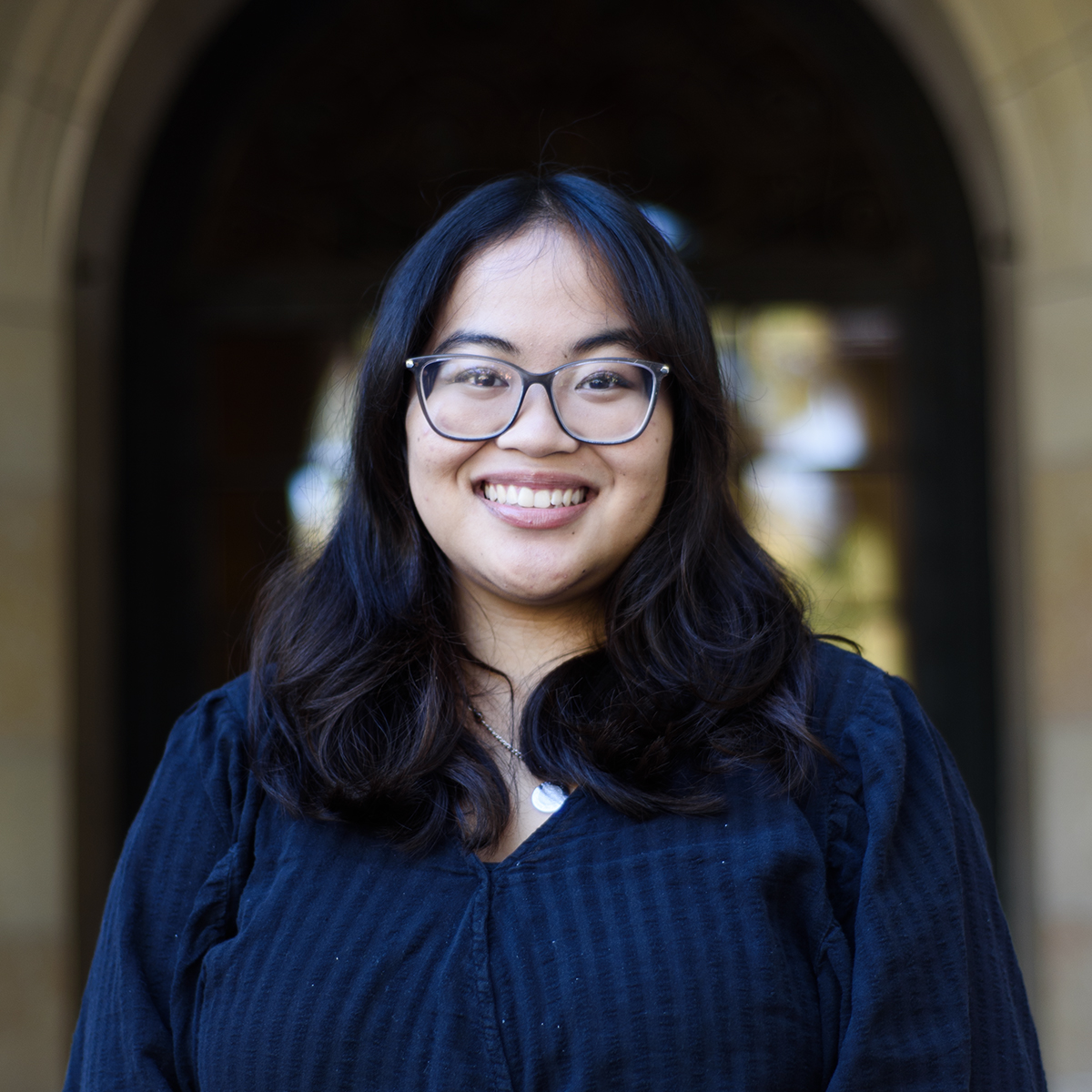 This post was updated Aug. 28 at 9:04 p.m.
Culinary options drifted far and wide for Head in the Clouds festivalgoers.
Featuring a selection of vendors curated by the 626 Night Market in the San Gabriel Valley, the Head in the Clouds Music and Arts Festival presented attendees with several food and drink stalls scattered throughout the venue, from specialty merchants like Temaki Time to classic carnival staples such as funnel cake and frozen lemonade. With a wide range of enticing food and drinks, guests had an impressive number of inclusive options to choose from sandwiched between the 88rising and Double Happiness stages – be it sweet, umami, vegan, gluten-free or all of the above.
However, Head in the Clouds fell victim to stormy skies in terms of pricing, quality and wait times. Options were overpriced for the diminutive portions provided, a concern that surely hit famished festival attendees and their pockets once the sensory overload of scents, sounds and sun wore off. Given the popularity of certain stalls, people in those lines sprawled on the ground and at times looked more like the crowds by the stages than for food. Festival organizers attempted to relieve the blazing rays of daytime heat with standing-only tables tucked under scattered tents, but a majority of the crowd instead took to clustering under the limited shade from sparse trees to enjoy their meals.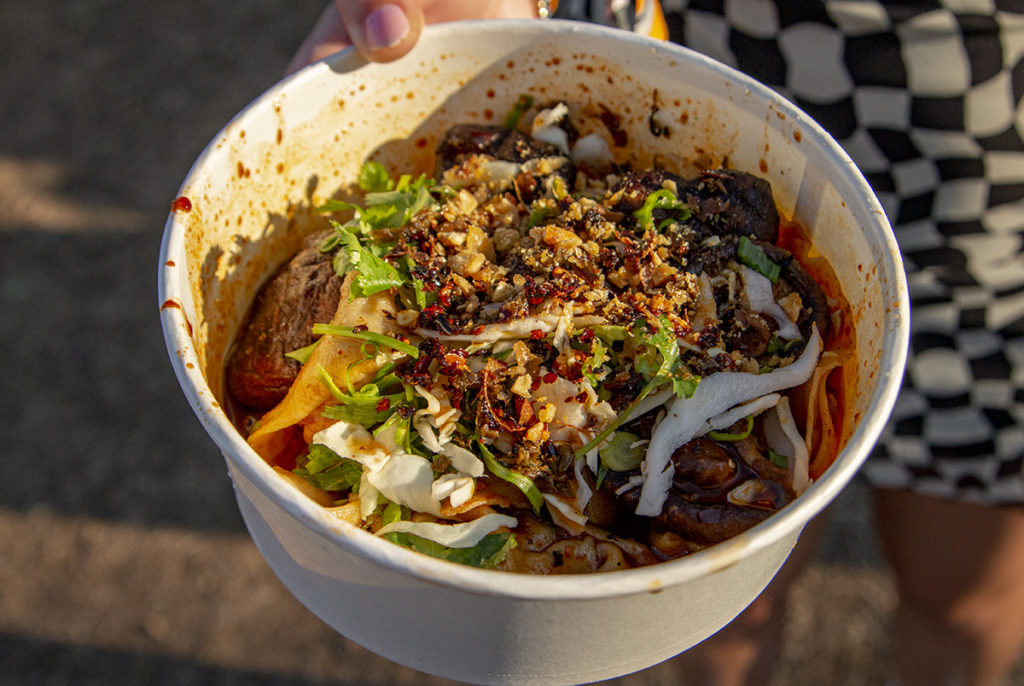 [Related: Head in the Clouds 2022: Returning, new artists captivate crowds at Day 1 of festival]
Noodles were in particular abundance, which came as no surprise given the prevalent Asian and Asian-American pride at the 88rising function. Bang Bang Noodles, a 626 Night Market staple, offered VIP attendees spicy-hot takes on Chinese cuisine. Boasting a line that stretched longer than any others in the VIP-exclusive area, guests were free to watch as a skilled chef made noodles from scratch in an adjoining tent, verifying Bang Bang's advertised "hand-pulled" noodles as they waited in line. But it was an experience that arguably did not live up to the inflated price of the VIP passes.
Clocking in at a hefty $25 for a medium-sized bowl, the Szechuan garlic noodles packed an explosive punch that leaned overwhelmingly on the garlic flavor. Although the noodles toed the line of being too thick, they provided a unique contrast to the crispy thin onion garnish. Topped with a tasty chili sauce, Bang Bang Noodles was filling, even if it rapidly sent taste buds into savory overdrive.
The Drunken Dumpling was another popular option, located at the opposite end from Bang Bang Noodles, closest to the Double Happiness stage. With a selection of four different dumplings and a vegan mushroom alternative, the stall's quick service was a respite compared to Bang Bang Noodles' 30-minute wait. However, the price for disproportionately tiny dumplings – $14 for 6 minuscule pork and chive xiao long bao – was certainly steep. Mighty in tenderness despite an overtly glutinous skin that nearly overpowered the filling's flavor, the dumplings were compact enough to be treated as a one-bite wonder.
However, where the dumplings stopped just short of greatness, the sauce made up for tenfold. Freely doused in both chili oil and a sesame dumpling sauce, the condiment combination struck the perfect balance of spicy and tart, highlighting the minimal flavors of the filling without being too heavy. Much like the crowd of festival visitors after a cocktail too many, these dumplings could not stand on their own. Instead, they were better off as a costly appetizer to more worthwhile choices.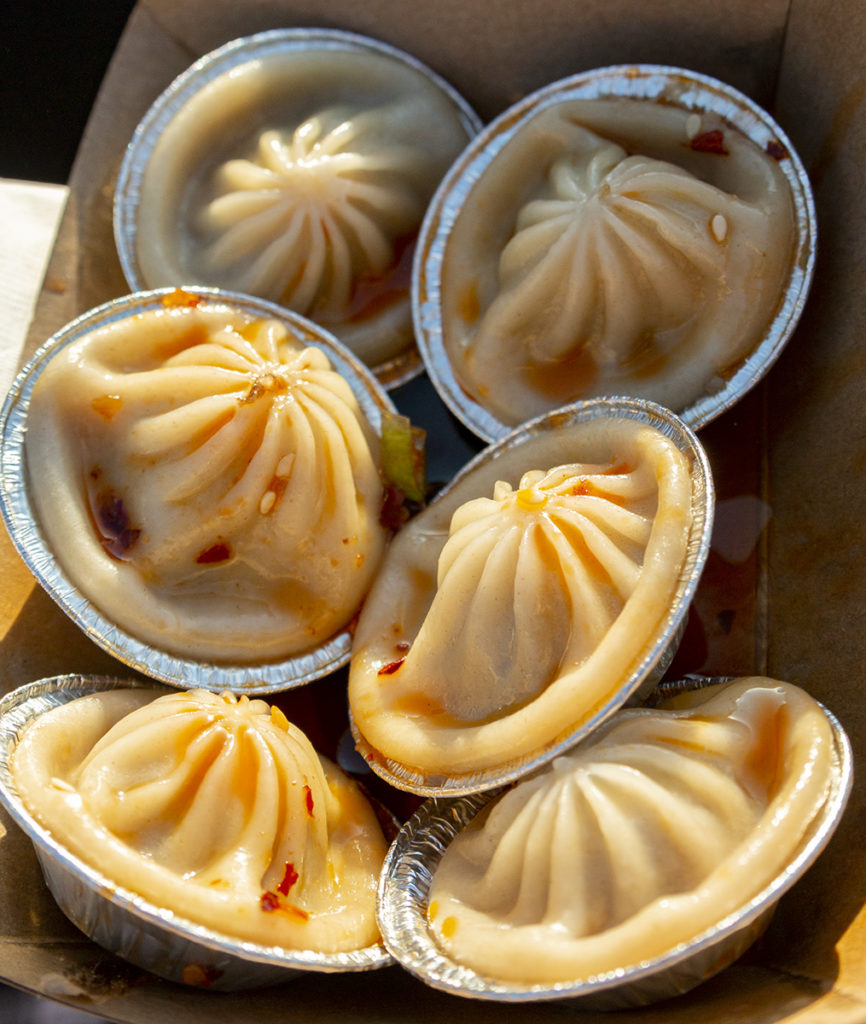 [Related: Head in the Clouds 2022: Stage visuals, effects add flair to Day 2 festival performances]
Among the festival's sea of delectable food choices, Boba Guys offered a sweet, refreshing take with their drink options. The popular Bay Area-based chain remained extraordinarily busy both days, only becoming remotely approachable when attendees flocked away in droves to watch Rich Brian's mainstage set early Sunday evening. By that time, Boba Guys only had two options left, having sold out of the two more popular drinks hours before.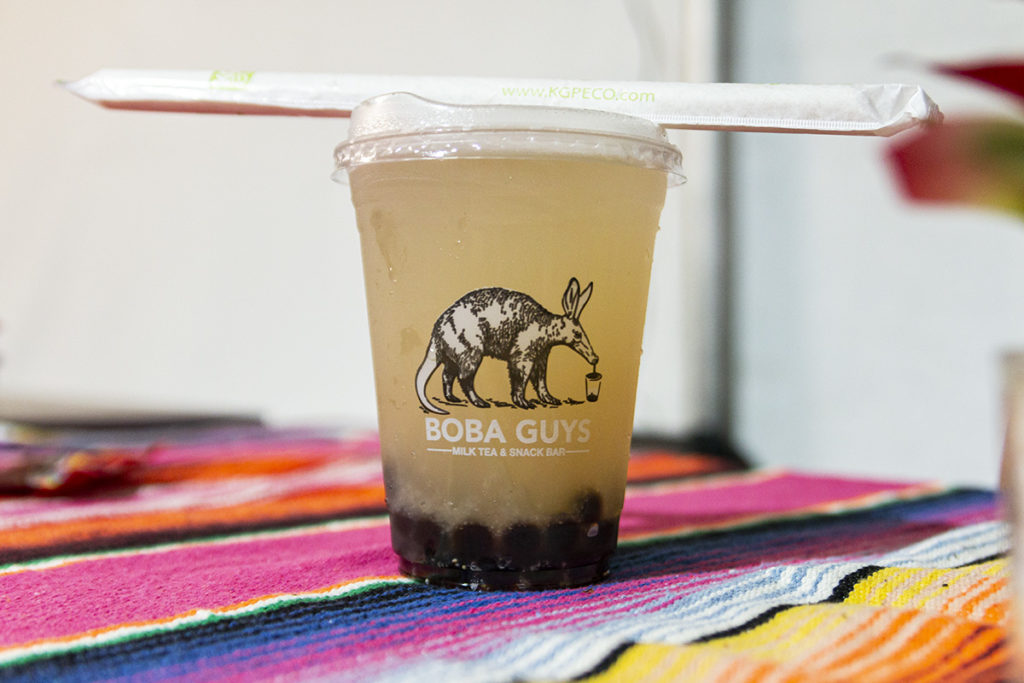 Still, the lychee oolong fresca with boba pearls was a welcome contrast to other savory options. With a light and fresh taste, the herbal drink provided an invigorating and hydrating oasis from the hot August sun. Even though the drinks were pre-made to serve customers faster, the pearls themselves remained soft and chewy. Albeit still on the higher end at $9 for a mere medium-sized drink, Boba Guys surprisingly emerged as one of the few reasonably priced vendors from the weekend.
While the amount – both of food and people in line – may have raised more than one eyebrow, Head in the Clouds ultimately delivered satisfying, if not out-of-this-world, fare to their voracious visitors. Even with prices that might only seem reasonable to hungry, heat-exhausted concertgoers, perhaps the several long lines indicated that some things really are worth waiting for.
Indeed, the medley of fusion fare ensured that attendees were only left hungry for the next artist's set.
Lagrimas is the 2022-2023 lifestyle editor. She was previously an Arts contributor from 2021-2022. She is also a second-year communication and political science student from Temecula, California.
Lagrimas is the 2022-2023 lifestyle editor. She was previously an Arts contributor from 2021-2022. She is also a second-year communication and political science student from Temecula, California.