UC-AFT to hold state-supervised mediation with UC after unresolved negotiations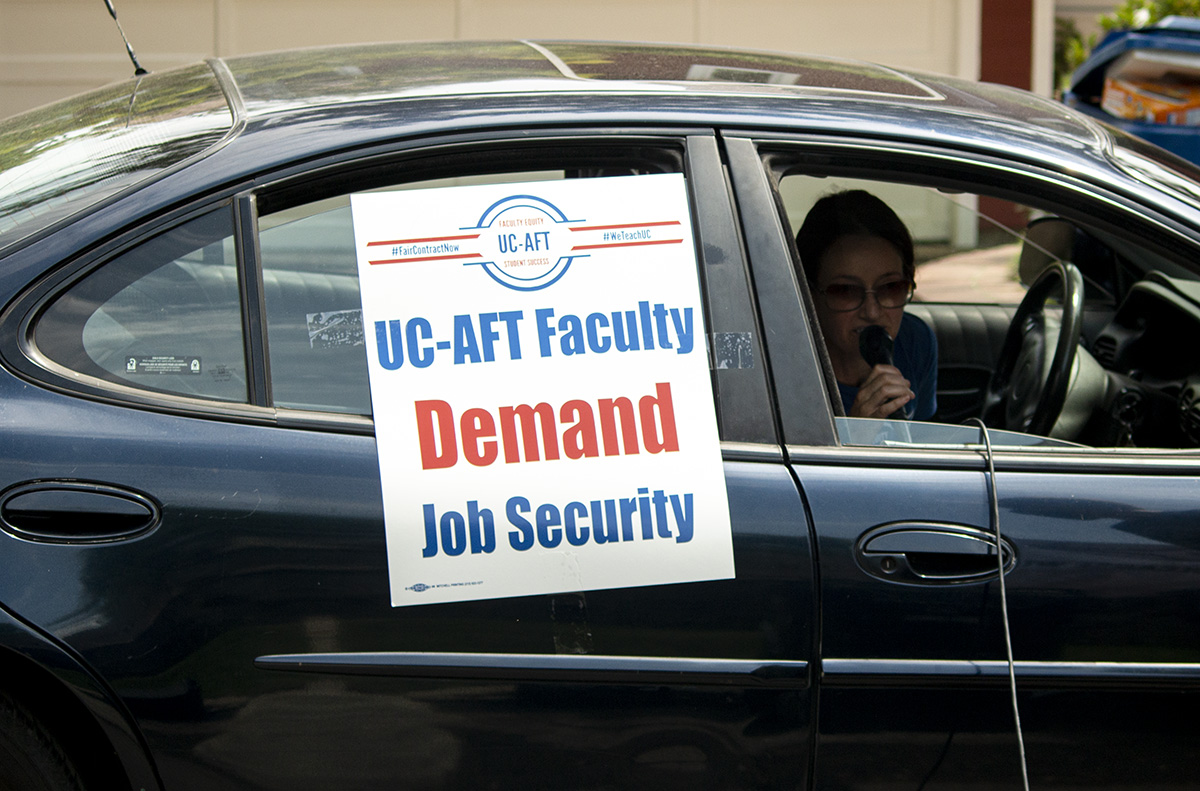 The University Council-American Federation of Teachers can legally go on strike if state-mediated negotiations with the University of California later this month remain unsettled. (Daily Bruin file photo)
Correction: The original version of this article misspelled Daniel Schoorl's name.
This post was updated July 18 at 6:47 p.m.
The University Council-American Federation of Teachers and the University of California are set to hold state-supervised mediations Tuesday and Wednesday after lecturer contract negotiations remain unsettled for more than two years.
On June 18, UC-AFT requested that the California Public Employment Relations Board appoint a mediator to moderate mediations with the UC because of unresolved contract negotiations for UC lecturers. PERB accepted its request June 25 and declared an impasse.
Up to late June, UC-AFT and the UC have been involved in 48 negotiation sessions with a total of 21 issues still remaining in dispute, according to UC-AFT's request for impasse determination. If negotiations remain unresolved after state mediations, UC-AFT said it would be able to legally go on strike.
UC-AFT's demands are divided into three parts, which include reasonable work standards and the elimination of uncompensated workload, fair rehiring processes for lecturers and wages that reflect the rising cost of living in California. UC-AFT has negotiated these demands with the UC since April 2019.
UC-AFT President Mia McIver said for the last two years, UC management has not proposed or considered implementing any reforms to the lecturer evaluation and rehiring process. She added UC President Michael Drake has never responded to UC-AFT's requests to meet.
The union presented its last offer for a full contract May 25, which was rejected by the UC, she said.
"So that stonewalling, that intransigence, that unresponsiveness is the primary motivation (to submit an impasse determination)," McIver said.
UC Office of the President spokesperson Ryan King said in an emailed statement that UCOP welcomes the assistance of a state-appointed mediator.
"We've been bargaining in good faith with UC-AFT for more than two years and have made many concessions throughout our negotiations," King said. "Our focus is on reaching an agreement as quickly as possible and we think a mediator could help facilitate one."
On April 1, UC-AFT adopted a strike readiness pledge, a resolution to hold a strike if the union and UCOP are unable to reach an agreement during the upcoming mediation. As of Thursday, more than 1,070 people have signed the strike readiness pledge.
There are multiple steps before UC-AFT can strike legally, which include the upcoming mediation and a fact-finding process. Fact-finding is a formal process in which each party submits evidence and facts to support their negotiation position when mediation fails to produce any settlement agreement.
According to the UC-AFT website, UC-AFT and the UC will select one person to represent them during the fact-finding process who will work together with the state-appointed mediator to release a nonbinding report to assess the negotiations and offer recommendations.
Caroline Luce, a history lecturer and UC-AFT member, said she is hopeful that the report would encourage Drake and the UC Board of Regents to accept some of the union's proposals.
Based on a UC-AFT strike authorization vote, Luce said, 96% of the union's membership voted yes to the pledge.
"Now as we head into the summer and the fall, we are attempting to reach out to as many people as possible to prepare ourselves for the reality that we may have to strike," Luce added.
With a strike's potential to cause disruption to classes, UC-AFT also plans to reach out to students to discuss the strike.
John Branstetter, president of the UCLA chapter of UC-AFT and a political science lecturer, said UC-AFT is trying to build networks with student organizations and undergraduate student leaders in the fall to explain that a strike is in students' best interests.
Many lecturers face anxiety from high job turnover rates and lack of financial security, which pushes them to teach multiple classes at different campuses, Branstetter said. These conditions have a detrimental effect on the quality of education that undergraduates receive, he added.
"I spent an incredible amount of time – one, applying for other jobs; two, doing other jobs at other campuses; and three, worrying about whether I'm going to have a job," Branstetter said. "And all three of those things distract from my ability to teach the best classes I can."
UC-AFT vice president for legislation ​​and librarian Daniel Schoorl said the lecturers' demands to the UC are not out of scope and are part of standard labor practices that are already implemented at community colleges and California State Universities. Schoorl added a strike would highlight the UC's dependence on the thousands of lecturers who make up the UC system.
"I feel … a deep sense of solidarity with lecturers across the UC who have been without a contract for so long," Schoorl said. "I, myself, have worked six months without a contract before (the librarians) settled on our last contract. And so I can't imagine, especially during a global pandemic … that the university would be so dismissive of their demands and their needs as workers."
Luce said the lack of financial and job security UC lecturers face can make them feel anxious or ashamed, and she hopes a new contract will provide them with the confidence that comes from having one's work appreciated.
"What we hope a new contract might do is make a UC where people don't feel that way, … like a second-class citizen amongst their peers and colleagues," Luce said.