Passing of Proposition 16 marks possible return of affirmative action in California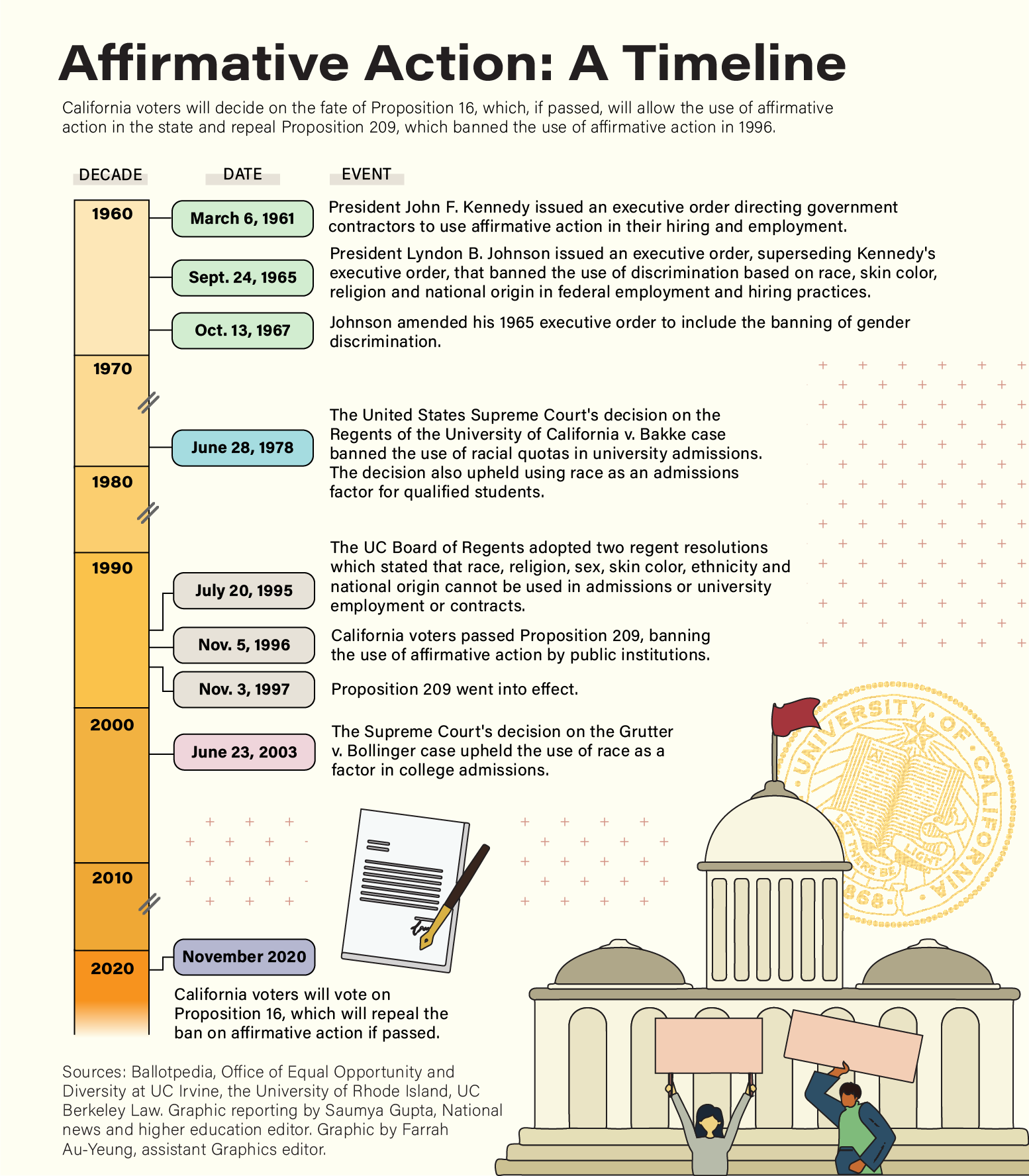 California voters will decide the fate of affirmative action on the November general election ballot, but the measure continues to face controversy.
Affirmative action is the practice of taking into account factors like race and sex in the context of education and employment.
Proposition 16 intends to restore affirmative action in California. If passed, Proposition 16 will repeal Proposition 209, which banned the use of race, sex, color, ethnicity or national origin as bases of discrimination or preferential treatment for public education, contracting and employment in 1996. If Proposition 16 passes, the University of California will be able to use race and sex as factors to determine admissions.
California State Assemblymember Shirley Weber introduced the legislation this year. Weber said while many people assume the proposal was created because of recent social justice movements, such as the Black Lives Matter movement, the discussion for Proposition 16 began last year. The COVID-19 pandemic delayed the initial timeline for the legislation, she added.
"What's going on helps amplify the fact that we have such disparities, but (Proposition 16) was not introduced for that reason," Weber said. "It was introduced because we have felt for many, many years (that) there are issues in … equal opportunity."
Looking Back
Affirmative action can be traced back to civil rights initiatives of the 20th century, said Mitchell Chang, an education and Asian American studies professor. In the 1960s, the federal government pressured universities to admit higher percentages of racial minorities, though the practice has been viewed as controversial, Chang said.
"The U.S. Supreme Court has actually heard challenges to race-conscious admissions on three separate occasions," Chang said. "It's something that continues to be highly contested legally."
Those who do not support affirmative action believe that merit should be the only factor considered in college admissions, Chang said. Another argument is the concept of "reverse discrimination," which refers to the idea that more highly qualified applicants are sacrificed at the expense of admitting underrepresented students, he added.
Admitting a certain percentage of various racial groups is a common misconception surrounding affirmative action, Chang said. Some people assume affirmative action entails choosing set numbers of racial minorities to achieve a sufficiently diverse student body.
However, the practice of enforcing a racial quota is considered unconstitutional, Chang said. In the 1978 Regents of the University of California v. Bakke court case, the Supreme Court ruled that racial quotas – specifically the UC Davis medical school's practice of reserving 16% of its admissions class for racial minorities – are unconstitutional.
"People think affirmative action is a quota system and that's just simply not the case," Chang said. "The Supreme Court has ruled that establishing quotas or a targeted number or even a fixed number of underrepresented students that you want to admit is unconstitutional."
Supporters of affirmative action believe the policy offers a way to adjust for advantages that result from historical and systemic racism, Chang said. The 2003 Supreme Court case Grutter vs. Bollinger upheld the ability for universities to use admissions systems that favor historically underrepresented minority groups.
On the Basis of Race and Sex
Affirmative action provides another way to holistically review an applicant beyond their GPA and test scores, said Anaís López, a recent UCLA graduate and analyst at Latino Decisions, a political opinion research organization started by two UCLA political science professors.
Of California's recent high school graduates who met the UC's requirements for admission, López said 45% were Latino, but only about 25% of UC undergraduate students are Latino. It is extremely difficult to be admitted to a school like UC Berkeley – where Latinos make up about 14% of the undergraduate student population – without meeting the UC's requirements, she added.
"(Affirmative action) will allow schools to take a more holistic review, to understand the fact that many Latinos go to high schools where they're not necessarily prepared … to go into these universities," López said. "(It) embodies no fault of their own and (affirmative action) would allow universities to take these things into account."
If Proposition 16 passes, Weber said she hopes public universities will be better able to integrate diversity into their campuses. Weber added that Proposition 16 can help recruit students of color who are interested in attending university. More underrepresented student groups could be interested in attending public universities because they will not feel like outsiders among their peers, Weber said.
"Many of our students who feel (public universities do) not do enough to not only attract but keep students of color and women in the university are going to other universities," Weber said. "California oftentimes loses a lot of very bright, young people to private universities who still have affirmative action programs."
After Proposition 209 passed, Weber said her team struggled to establish programs that could benefit certain demographics because the legislation banned any consideration of race or sex. For instance, she added her team could not create a STEM program for girls because Proposition 209 would have forced them to structure it for all demographics.
"If we had an issue with race or gender, could we solve that problem by directly addressing it?" Weber said. "No, we could not. We had to try to solve it for everybody even though it's not a problem that everybody had. As a result, many of our programs are unsuccessful."
The Other Side of the Coin
Richard Sander, a law professor at UCLA, said affirmative action can lead to the mismatch effect, which occurs when students enroll in colleges that they may be unprepared to attend. Sander studies affirmative action and previously sued the UC for failing to disclose data about its admissions.
"A variety of national studies have found that students are much more likely to graduate with a degree in a STEM field if they go to a school where their credentials are close or above those of their classmates," Sander said.
Following the passage of Proposition 209, Sander said the UC engaged in new practices like reaching out to disadvantaged communities and better informing prospective students of admissions criteria. These practices, combined with a reduced mismatch effect, benefitted underrepresented groups, he added.
"The numbers really bear out that something positive had happened because Black and Hispanic applications went up, enrollment went up and four-year graduation and STEM completion especially went up," Sander said.
[Related: Decline in UC underrepresented students' retention rates highlights inequities]
The number of Black UC students who received bachelor degrees increased by more than 60% compared to the number of Black students who received bachelor degrees admitted before Proposition 209 was passed. The number of Latino UC students receiving bachelor degrees also increased by almost 100%.
There are alternatives to affirmative action, like socioeconomic preferences, that can increase diversity, Sander added. After Proposition 209 was passed, he and a colleague devised a system of preferences that increased the socioeconomic diversity of the law school without using the old racial preferences, he said.
"We should view racial discrimination as a very last resort, where we have very compelling evidence that it's necessary," Sander said. "I don't think any of that evidence has been produced in the debate on (Proposition 16)."
Come November
In a Sept. 16 poll of likely California voters, the Public Policy Institute of California found that 47% of voters surveyed oppose Proposition 16, 31% would vote for the policy and 22% were undecided.
López said Latino Decisions has found that many people have trouble figuring out what Proposition 16's goal is, since it repeals a previous repeal.
The wording of Proposition 209 can also confuse voters, López added. When people first read Proposition 209, they are initially inclined to support the policy because they do not want to be discriminated against by factors like race and sex. However, after Latino Decisions clarified Proposition 16's potential consequences, more people began to favor it, López said.
"The ballot measure wording is very confusing," Lopez said. "(Proposition 209's wording) is meant to trick voters … it's worded so it's very hard to appeal."
Aidan Arasasingham, a fourth-year global studies student and the Undergraduate Students Association Council external vice president, said his office is co-leading the Bruins for Prop 16 coalition, which he hopes will mobilize student voters to pass the proposition. The coalition is made up of student groups, such as student government organizations and members of the Mother Organizations coalition.
"It'll take a lot of work for us to get there, but I'm confident we'll get it done," Arasasingham said. "But if it doesn't, then we'll try it again in 2022, and we'll try it as long as it takes in order to restore opportunity for all in California."
Come November, Chang said he is uncertain of whether Proposition 16 will pass. While recent civil movements have brought certain inequities to light, it is still difficult to predict what will happen on Election Day, he added.
"I think it was a little clearer to me two months ago, when there seems to have been much more momentum," Chang said. "(But now) it's hard to know."
Xu is the current Music | Fine Arts editor of the Daily Bruin. She previously served as an Arts & Entertainment reporter from 2019-2020. Xu is also a news contributor, writing under the National News & Higher Education beat. She is a second-year neuroscience student from Philadelphia, Pennsylvania.
Xu is the current Music | Fine Arts editor of the Daily Bruin. She previously served as an Arts & Entertainment reporter from 2019-2020. Xu is also a news contributor, writing under the National News & Higher Education beat. She is a second-year neuroscience student from Philadelphia, Pennsylvania.