Gene Block, vice chancellors discuss COVID-19 protocols, campus policing and more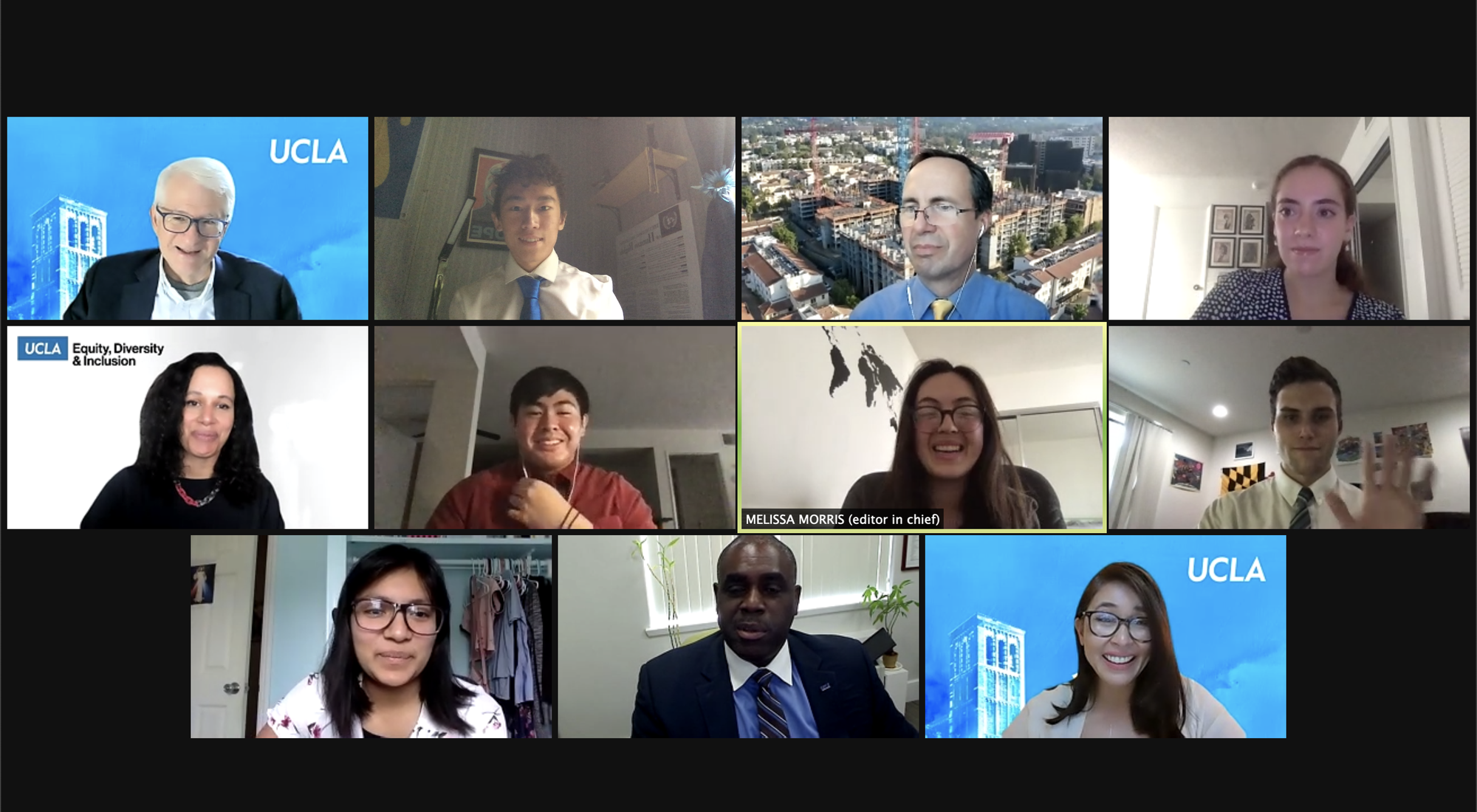 Chancellor Gene Block and other UCLA administrators discussed UCLA's reopening plans and other issues with the Daily Bruin Editorial Board at their quarterly meeting Thursday. (Courtesy of Genesis Qu)
Correction: The original version of this article misspelled Michael Beck's name.
This post was updated Oct. 13 at 12:11 a.m.
Chancellor Gene Block meets with the Daily Bruin Editorial Board every quarter to discuss issues affecting campus and to explain administrative policies. At the Thursday meeting, Block, who was joined by Vice Chancellor for Student Affairs Monroe Gorden Jr., Administrative Vice Chancellor Michael Beck, Vice Chancellor for Equity, Diversity and Inclusion Anna Spain Bradley and Vice Chancellor for Strategic Communications Mary Osako, spoke about the COVID-19 pandemic, UCLA's reopening plans, international students, student basic needs, racial justice and campus policing, reforms to UCLA Health and demands of cost-of-living adjustments from graduate students.
COVID-19 pandemic and reopening campus
Because of the COVID-19 pandemic, UCLA transitioned to remote learning in March. The majority of classes in fall quarter are also being conducted remotely. Only classes preparing students for essential workforces will be taught in person. On-campus housing is limited to students with no alternative housing options or unsafe housing conditions, student-athletes and students with in-person classes.
The university will likely not fully reopen until an effective treatment is available to students and staff, according to the university reopening guidelines.
As of publication, daily new cases of COVID-19 in Los Angeles County average at around 1,000 people, according to data from the Los Angeles County Department of Public Health.
Block said he is not optimistic that the campus can reopen winter quarter because of restrictive guidelines from the LACDPH. He added that he is more optimistic about the campus' reopening status for spring quarter.
Beck, who is the co-chair of the UCLA COVID-19 Response and Recovery Task Force, said the university is considering two scenarios for winter quarter, depending on the severity of the pandemic. The default scenario would have UCLA continue the status of fall quarter, in which almost all classes are conducted remotely, he said. A more optimistic scenario would allow UCLA to hold 15% to 20% of its classes in person, he said.
Beck added the LACDPH will likely not release its instructions for higher education institutions until after Thanksgiving, because it is still evaluating the effects of the flu season and the effects of the return to in-person learning for K-12 schools.
Block said the university will remain in the default scenario if the COVID-19 infection rate in LA increases. UCLA's reopening status will also depend on a sufficient level of testing, contact tracing and the availability of an effective vaccine, he added. Block also said the increase in influenza cases could overwhelm hospitals and make taking care of COVID-19 patients more difficult.
Beck said UCLA will reduce campus activities if:

Local hospitals are nearing their intensive care unit capacities.
UCLA's ability to manage COVID-19 cases becomes limited.
UCLA experiences a shortage of personal protective equipment.
COVID-19 tests experience consistent backlogs or positive cases increase among asymptomatic individuals.
There is excessive noncompliance with UCLA's public health guidelines.

UCLA is studying the reopening of UC San Diego, which has more campus activities and more students living in on-campus housing, as a reference for its own reopening plans, Block said.
UCLA students are fulfilling a key role in the school's pandemic decision-making process, Block said. He added that student leaders serve on COVID-19-related task forces and can give input to the administration via the vice chancellors.
Gorden said the administration consulted students on how to adapt its services amid the pandemic. He added that students can provide feedback to the administration through the Office of Student Affairs and the Office of Equity, Diversity and Inclusion.
COVID-19 testing
UCLA will offer free diagnostic testing to all UCLA students regardless of students' insurance status starting Monday. Previously, students had to pay at least $65 for a COVID-19 test unless they had the University of California Student Health Insurance Plan and had a physician deem it medically necessary for them to take the test.
The university is conducting free weekly asymptomatic surveillance testing for students living in university housing or taking in-person classes, Beck said. Beck also said UCLA is converting a BruinBus to a mobile testing pop-up center so students do not have to come to campus to get tested.
Due to new state regulations, testing for students in on-campus housing was delayed for up to six days, Beck said. Since health officials determined that the risks of infection on campus were low, UCLA released students from their isolation period before they got the results of their second test, he added.
Student-athletes
The Pac-12 unanimously voted to allow football season to return Nov. 6, reverting its earlier decision to postpone all sports until 2021.
Block said the Pac-12 is able to offer all UCLA student-athletes daily COVID-19 tests, which led the Pac-12 COVID-19 Medical Advisory Committee to determine that it was safe for student-athletes to return to playing. Block said students can decide not to compete in the sports season and can still retain their scholarships and a year of eligibility.
Beck said student-athletes must follow rigid security protocols during training and playing. For example, other teams UCLA athletes play against must test negative for COVID-19 within 24 hours of the scheduled game time, Beck added.
Gorden said student-athletes wanted to have a person outside the athletics community who they could report to if they feel they are being pressured to play. Athletes can now report to Maria Blandizzi, the dean of students, he said.
International students
The Immigration and Customs Enforcement agency issued regulations in July that would not allow international students taking fully online classes to enter the U.S. ICE rescinded the restrictions a week later for returning international students, but incoming students taking fully online classes still cannot enter the U.S.
Gorden said UCLA has different plans of support for first-year, undergraduate and graduate international students. He, however, did not comment on the specific plans. UCLA has faced challenges communicating with first-year international students because of changes in federal regulations that forbid these students from entering the U.S. if they are taking fully online classes, he added.
Student Fees
Students will have to pay more than $100 for campus fees, even as the university continues remote operations.
Gorden said UCLA and the UC Office of the President are conducting an audit to see whether certain student fees can be returned to students. He added that it could be challenging to return student fees because UCLA still has to maintain staffing costs even in a remote environment.
Block said he believes that UCLA's fees are lower on average than other UC campuses' fees. He added that UCLA should consider returning fees for facilities that students are not taking advantage of.
Accessibility and basic needs
Students will have access to university grants and technology equipment through the UCLA libraries and other campus resources this fall quarter. The undergraduate and graduate student governments also provided resources to students.
Beck said UCLA purchased 1,000 laptops, iPads and MacBooks and hundreds of MiFi devices — portable hotspots that provide internet access — to distribute to students for free. Students can pick up these devices from the Campus Library Instructional Computing Commons in the library or they can be shipped to anywhere in the U.S. he added. The MiFi devices are available from three different cellular providers, Beck said.
Campus policing
The summer saw nationwide protests over police violence and racial discrimination. Hundreds gathered on campus to protest police brutality in June. The UCLA administration promised in June to expand the Public Safety Advisory Council, which was already in the process of being created, to oversee potential reforms to the university police. In August, student leaders withdrew their support for PSAC and decided to boycott the council.
Block said UCLA is working with UCOP to develop approaches to campus policing. PSAC, which Block said was recommended by UCOP, may have received pushback because of its structure and its composition of participants, he added. Block said he is talking to students, faculty and experts about the issue of policing.
Gorden said he and Bradley will meet with student leaders, including the Undergraduate Students Association Council President Naomi Riley, to discuss the issue of campus policing. He added that he also met with JP Santos, the Graduate Students Association president.
UCLA must maintain its public safety while protecting individual rights, Bradley said. She added UCLA needs to take input from community members who are impacted by policing.
Bradley said she will meet the Equity, Diversity and Inclusion Student Advisory Board as well as faculty members to listen to their concerns.
Block said he appointed Vickie Mays as the special advisor to the chancellor on Black life, who will help the administration communicate with faculty about issues that affect Black lives on campus.
Zoombombing
Several incidents of Zoombombing — when individuals interrupt a Zoom meeting or class with verbal attacks — occurred in March, when UCLA initially made the switch to remote learning. Zoombombings also returned at the start of fall quarter.
Gorden said his team was not able to identify any people who were a part of Zoombombing incidents from spring quarter. The dean of students office contacts the students involved and offers services from UCLA's Counseling and Psychological Services when such incidents occur, Gorden said. UCLA case management officers also provide accommodations to students affected by Zoombombings, he added.
Beck said UCLA has tried to prevent Zoombombing incidents through new Zoom security measures. He added that UCLA worked with the FBI to investigate instances of Zoombombing but was not able to identify the perpetrators. Beck also said UCLA will remind faculty of the procedures to prevent Zoombombing and how to properly respond when Zoombombing occurs.
Gorden added that his office recruited students and professional staff as Zoom lecture assistants who will help faculty navigate Zoom's technical features.
UCLA Health's sexual assault regulations
James Heaps, a former UCLA doctor, is a subject of lawsuits from hundreds of plaintiffs for sexual misconduct from his time practicing at UCLA. Heaps was an obstetrician-gynecologist at UCLA Health from February 2014 to June 2018 and a faculty member at the UCLA David Geffen School of Medicine between 1989 and 2018. Heaps is charged with 20 counts of felony sexual misconduct and is currently released on bail.
Block said UCLA is implementing changes to its health system under the recommendation of a special committee that was formed after Heaps' arrest. He added that UCLA is trying to minimize misbehaviors through training programs and enforcement of guidelines. Block also said the university must identify and act on misbehaviors quickly.
Graduate students and cost-of-living adjustment
In February, UCLA graduate students protested the lack of affordable housing and low stipends. The students also called for a cost-of-living adjustment.
Beck said graduate students represented by a union entered into a contract with the UC, which gives students cost-of-living increases every year.
Qu is the 2020-2021 Assistant News editor for the Campus Politics beat. He was previously a reporter for the National News and Higher Education beat. Qu is a third-year statistics and political science student at UCLA.
Qu is the 2020-2021 Assistant News editor for the Campus Politics beat. He was previously a reporter for the National News and Higher Education beat. Qu is a third-year statistics and political science student at UCLA.