Head in the Clouds 2022: Returning, new artists captivate crowds at Day 1 of festival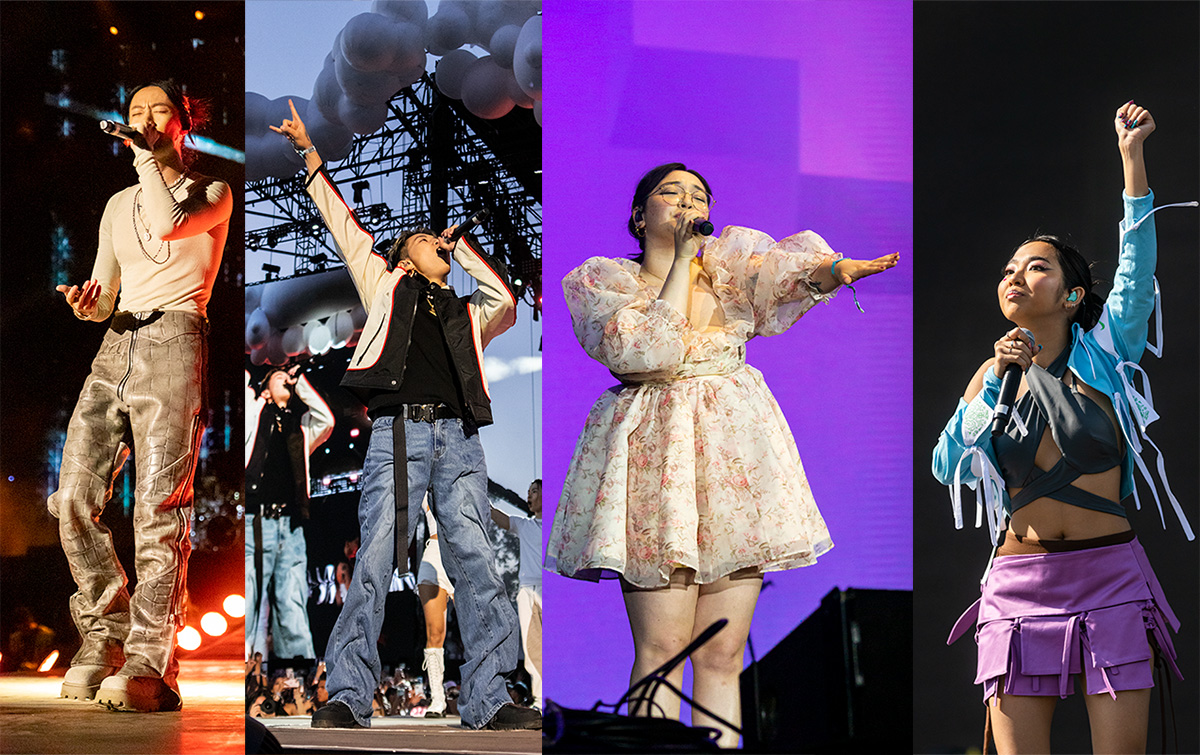 The Head In The Clouds Music and Arts Festival returned to the Rose Bowl Saturday, kicking off the weekend with performances from keshi, Jay Park, mxmtoon and MILLI, pictured from left to right. (Megan Cai/Assistant Photo editor)
This post was updated Aug. 22 at 2:57 p.m.
Head in the Clouds is floating once again.
Hosted by music label 88rising, the Head In The Clouds Music and Arts Festival took over Brookside at the Rose Bowl in Pasadena Saturday and Sunday. From 2 p.m. to 11 p.m., the two-day festival featured a variety of Asian and Asian American artists performing across three stages, in addition to a selection of Asian fusion cuisine curated by the 626 Night Market.
Read on for the Daily Bruin's coverage of day one of Head in the Clouds 2022.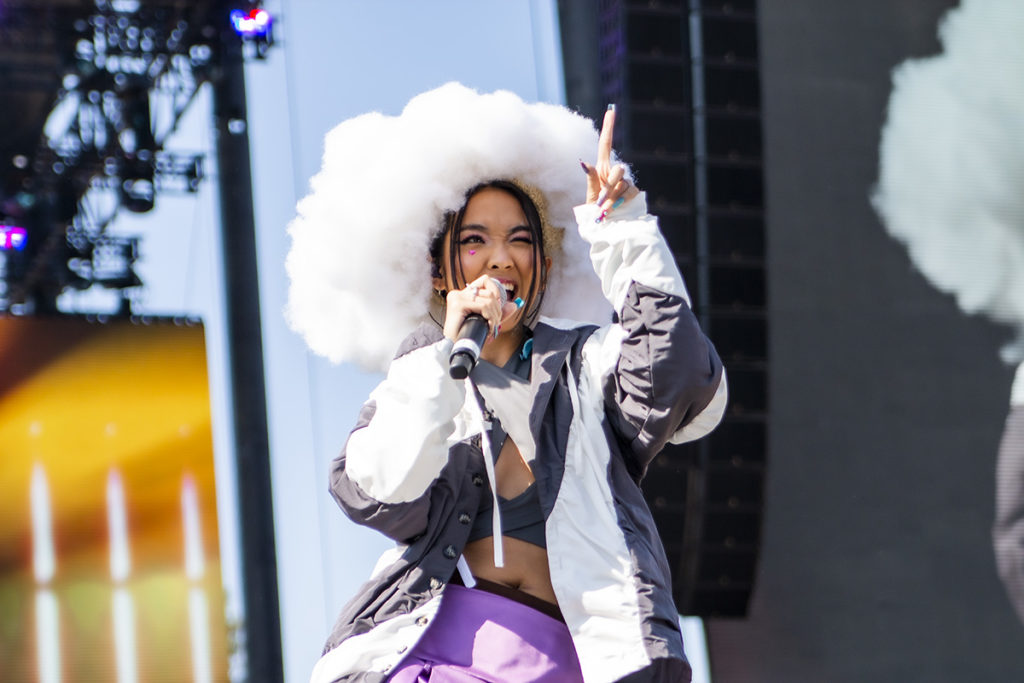 MILLI
With dynamic dance moves, drill beats and colorful visuals, MILLI kicked off her first Head in the Clouds.
The Thai rapper made her Head in the Clouds debut at the 88rising stage Saturday at 4:15 p.m., singing her most popular hits in both Thai and English. Wearing a giant cloud-shaped hat that matched the clouds above the mainstage and clad head to toe in Nike gear, MILLI opened her set with a light pop number that displayed her airy vocals. Following brief technical difficulties at the set's start, she fanned herself as she strutted down the catwalk flanked by two dancers in electric blue and green outfits to a rhythmic, pulsating track.
"Hands up if you're from Thailand, that's my fam!" she shouted to a captivated crowd before launching into her third song, which was punctuated with her rapid flow and modern dance moves.
On both sides of the mainstage, the screens displayed alternately colorful, chromatic visuals of clocks and record vinyls, overlaid with footage of MILLI herself as she swaggered across the stage with her backup dancers. The artist gave a shoutout to Jackson Wang, who will be performing Sunday, and sang their recent collaboration "Mind Games" solo. "Who said I want to think it through?" she crooned while stripping off her electric blue jacket to audience screams.
Throughout the set, the first-time Head in the Clouds artist interpolated audience interaction and expressions of gratitude for their response to her performance. "I'm going to remember this until I die," she said near the end of her set, holding back tears before joking that crying might ruin her "very expensive" makeup.
Based on the crowd's chants, MILLI made her mark as a first-time performer at the festival.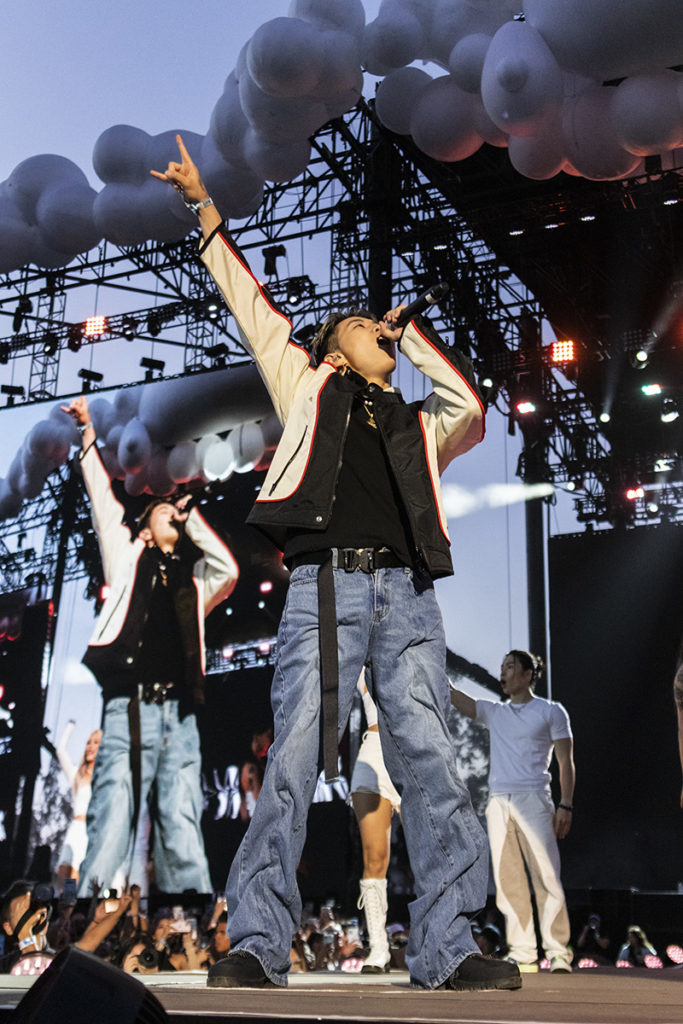 Jay Park
As evening fell over Pasadena, Jay Park brought strobing effects and special guests to light up the Rose Bowl.
The hip-hop artist took to the 88rising mainstage at 7:35 p.m. and was greeted by the crowd chanting his name. Dressed in a simple black and white jacket with red trim, Park launched into the first song of his set, "All I Wanna Do." Accompanied by four dancers dressed in all white, Park told the audience it was his first time back in Los Angeles after three years before performing his second song, "Me Like Yuh."
As Park's set flowed from one song to the next with upbeat tempos, his choreography similarly took him across the catwalk with boy band-esque moves. Backed by beaming laser visuals on the screens and DJ Spray, his verses were well-received by an audience that kept jumping to Park's tunes.
Park didn't stay "SOLO" for long as after he rapped that track, he brought out special guests and past collaborators, Korean rapper Sik-K – donning a crocheted ski mask – and Korean-American rapper pH-1 to join him in on the 88rising stage. The two performed three songs alongside Park, closing with "The Purge" which was backed by a fast-paced beat. Near the end of the set, Park briefly thanked the audience for their time and concluded with a shirtless, gyrating rendition of "MOMMAE," complete with a display of his more sensual dancing skills.
Park's spotlight continued to shine on the audience as the sun went down on his return to LA.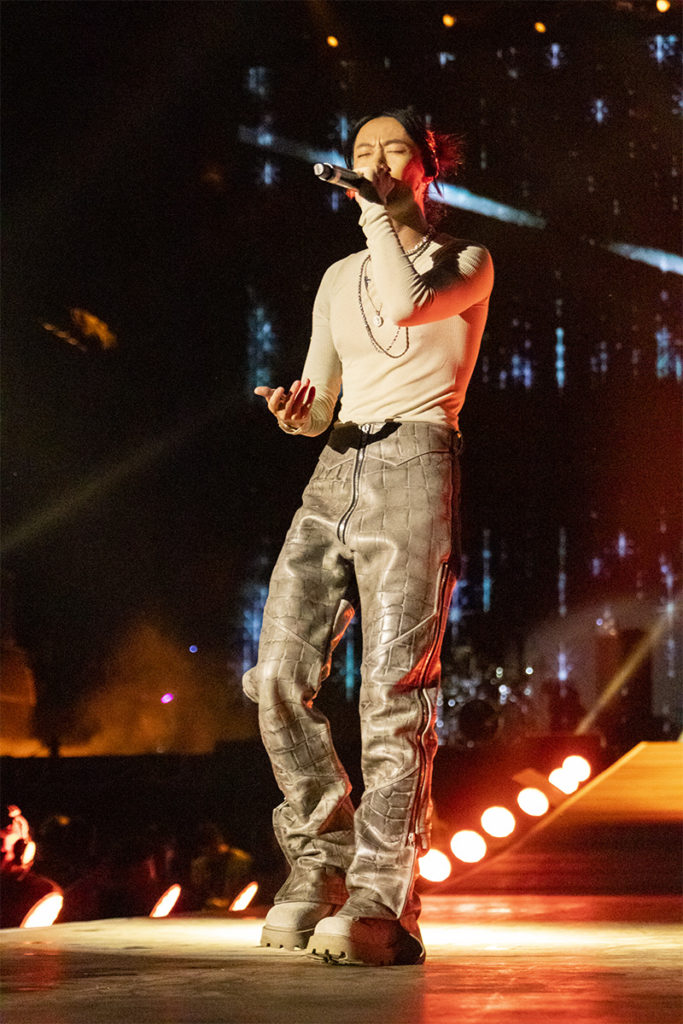 keshi
Despite the short notice, keshi stepped in as Saturday's headliner – and not a moment "2 soon."
Following headliner NIKI's statement on Wednesday that she could not attend Head in the Clouds because of contracting COVID-19, Head in the Clouds alumnus keshi was announced as her replacement. Led by flashing visuals of lightning and an electric guitar intro, keshi left his typical lo-fi beats behind and opened with "GET IT," a fast-paced single from his newest album.
keshi – armed with his distinct falsetto and accompanying fireworks – gave his eager audience a taste of his older hits, crooning "SOMEBODY" and "beside you" into his microphone as fans sang along. Wearing a simple cream-colored long-sleeve, he sauntered about a relatively unadorned stage with only himself and occasionally his electric guitar during "drunk" and "ANGEL."
The pop artist kept interactions with the audience to a minimum and instead maintained musical momentum by only pausing to drink water and highlight his band members as he transitioned from one song to another. As the strobe lights flickered on his audience, keshi closed his set with "2 soon," an upbeat track for which he asked the screaming audience to "put their fucking hands up."
After a high-speed set, keshi reigned in the hyper crowd with a slowed-down serenade to say goodbye.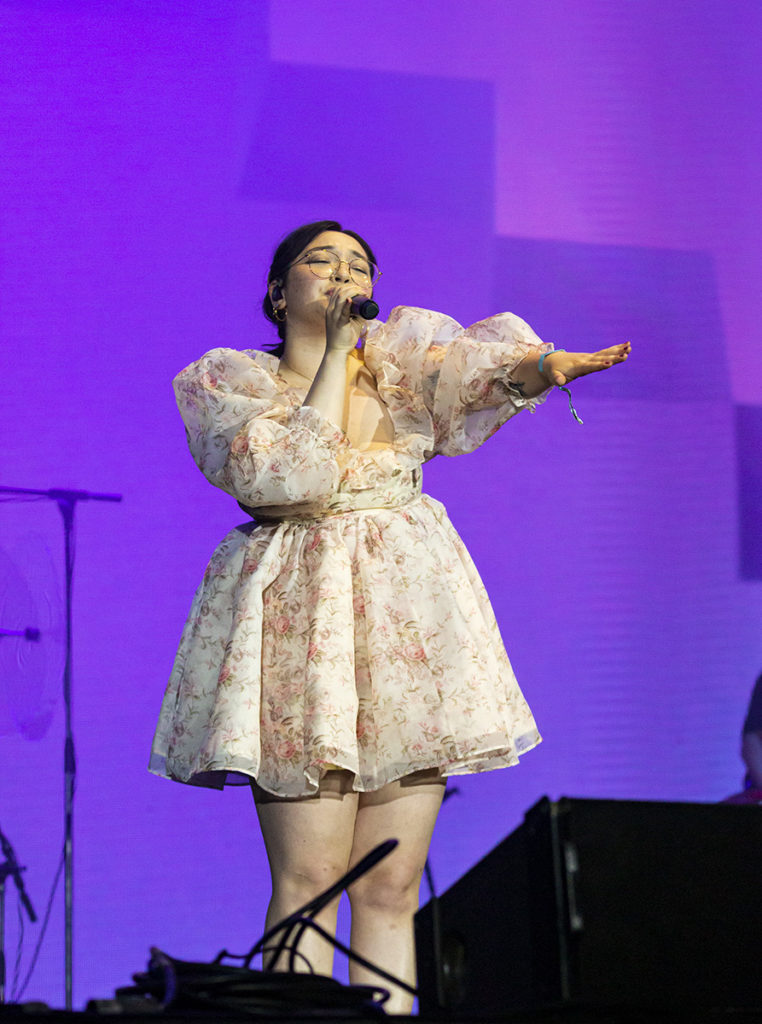 mxmtoon
mxmtoon may have sung about a "sad disco," yet her first Head in the Clouds performance was everything but.
The indie pop singer-songwriter made her Head in the Clouds debut at the Double Happiness stage at 9:15 p.m., backlit by a pixelated animation of a sun setting behind stairs and colorful spotlights. Enveloped in a puffy, pale pink babydoll dress with matching tennis shoes and wired glasses, mxmtoon opened with "Falling for U," a gently paced tune that set the mood for her set.
Despite the size of the festival, mxmtoon addressed the audience as if they were a close friend through casual interactions such as asking the crowd if they wanted to be in her BeReal post and chatting with audience members about the video game "Valorant." She also welcomed new listeners by jokingly promising that they would all know her name by the end of her set time. In a more emotional moment, mxmtoon expressed gratitude for her involvement in the 88rising festival and in particular, its lineup of Asian and Asian American artists.
"To be surrounded by people who are so proud of their culture, to be by people who are so proud of the music that they make, to be with people who are so excited to share that music with each other – thank you so much for being here, this means the world," she said.
Playing upbeat tracks like "fever dream" and "coming of age," the singer twirled and sashayed her way around the stage and encouraged the crowd of festival attendees to turn their phone flashlights into a rhythmic wave of starlight during "bon iver." The performer then picked up a ukulele and led an enthusiastic audience for her breakout hit "prom dress" before ending with the bouncy song "mona lisa" from her latest album.
With the crowd belting back to her, mxmtoon skipped off the stage – no crying contest necessary.