Restaurant review: Bluestone Lane offers a taste of Melbourne's coffee culture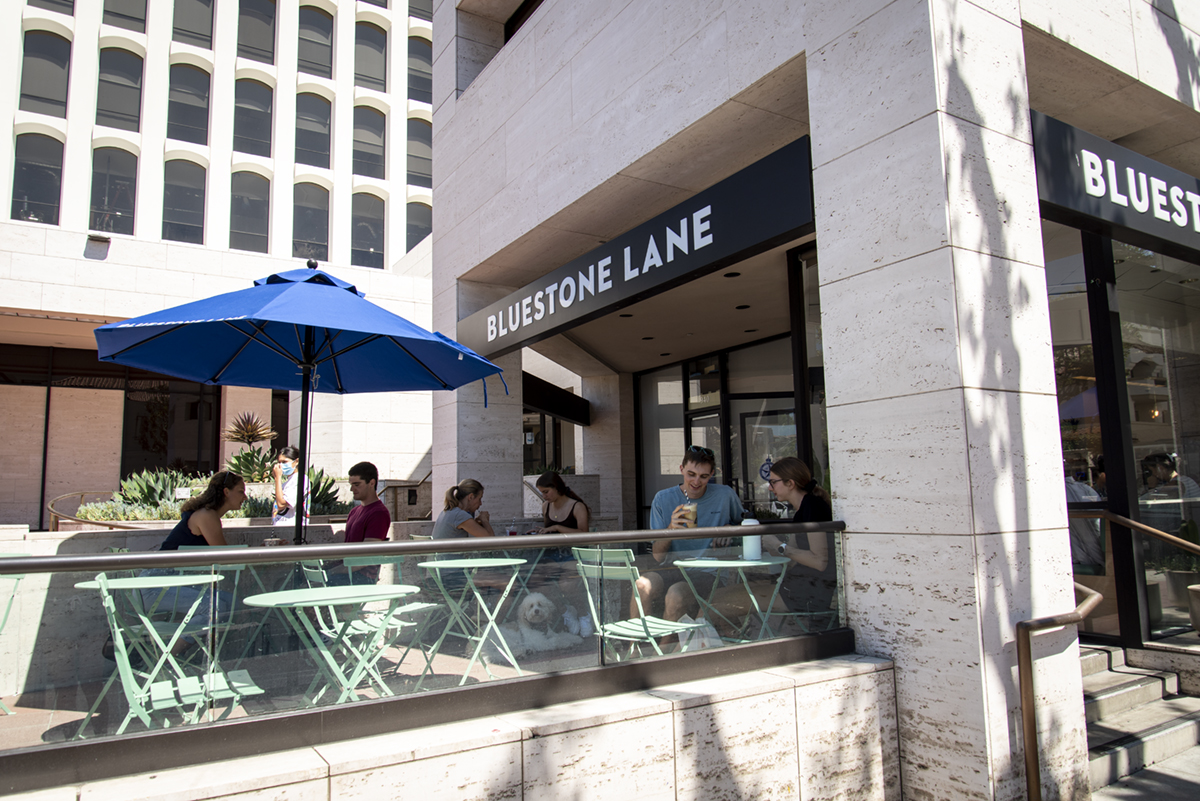 The newest addition to Westwood's assortment of coffee shops, Australian-inspired Bluestone Lane opened Sept. 2. (Anika Chakrabarti/Assistant Photo editor)
Bluestone Lane
950 Westwood Blvd
Los Angeles, CA 90024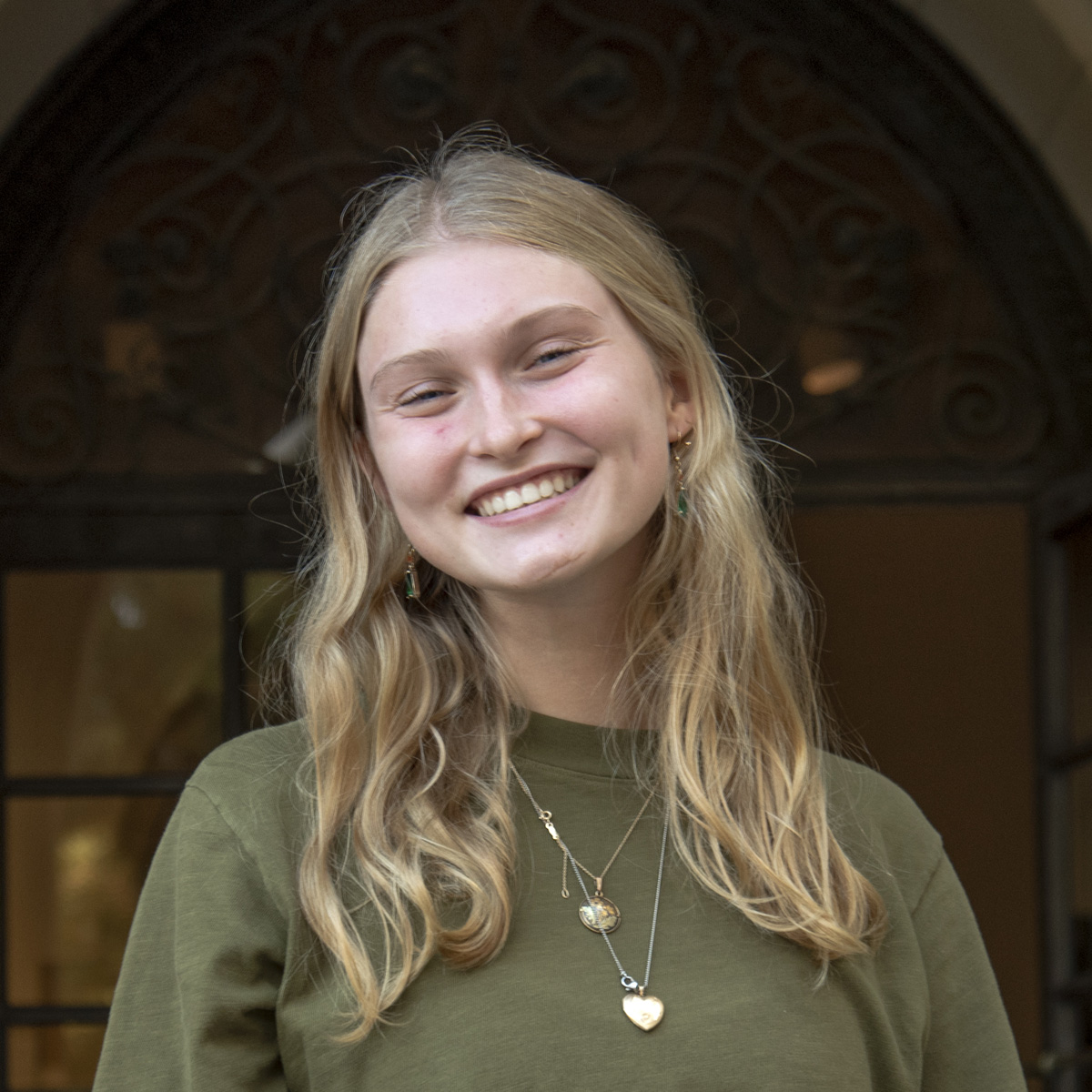 Bluestone Lane is bringing Melbourne's coffee culture to Westwood's streets.
The Australian-inspired chain opened its newest addition to its seven Los Angeles locations on Sept. 2. Located on the corner of Weyburn Avenue and Westwood Boulevard, the cafe features a wide variety of drinks and brunch food. Despite its mediocre meals and low-budget look, Bluestone Lane has a reliable assortment of quality coffee and snacks that can keep Bruins both energized and satisfied.
With a window-filling advertisement boasting free coffee for a week through the Bluestone Lane app, the chain boldly proclaimed its arrival to Westwood Village by appealing to college students' budgets before its opening – yet without the promotion, the offerings are quite expensive. The coffee menu covers all the basics, like cold brews and cappuccinos, but also includes other drinks with a range of caffeine levels, like the two-shot Iced Magic latte that can wake up even the most sleep-deprived Bruins.
[Related: Restaurant review: Alfred Coffee brings original brews but steep prices to Westwood]
Other Bluestone Lane-specific coffees, however, blur the lines between a morning ritual and dessert. Drinks like mochas incorporate muted notes of chocolate, but their heavier ice cream-based coffees aren't practical for the shop's 7 a.m. to 4 p.m. operating hours. With the caffeinated combinations costing upward of $4.25, Bruins could easily go to nearby Sharetea for familiar boba or student-favorite Diddy Riese for reasonably priced ice cream instead.
Instead, the Draught Flat White is well suited for any point in Bluestone Lane's operating hours as a satisfying, filling drink and with a reliable coffee feel. The delicate, balanced cold coffee becomes creamy and sweet when charged with nitrogen, complementing the unsweetened Califia oat milk with an understated flavor profile. The result tastes golden, making the order a standout on the shop's large menu and worth the $5.50 price.
Beyond its large assortment of drinks, Bluestone Lane also serves pre-made and made-to-order food, such as pastries and burritos, respectively. While visually appealing on the app, which customers were encouraged to use by various signs outside the store, the avocado toast did not match the sophistication of its coffee counterpart. The bread is cold and semi-untoasted, with only slightly better-than-average avocados. But with its touch of citrus and red pepper flakes, the plain avocado toast could be redeemed if not for the $8 price tag – a steep ask for something one could whip up at home.
As customers enjoy their coffee and pastry pairing, they can also admire the soft natural light pouring into the store. Because of its corner placement, Bluestone Lane is gifted with two walls composed entirely of windows with views of the street. Both the bright atmosphere indoors and the outdoor seating elevated above the sidewalk make the environment well-suited for studying, but sunshine-seeking customers may have to tolerate a crowded patio.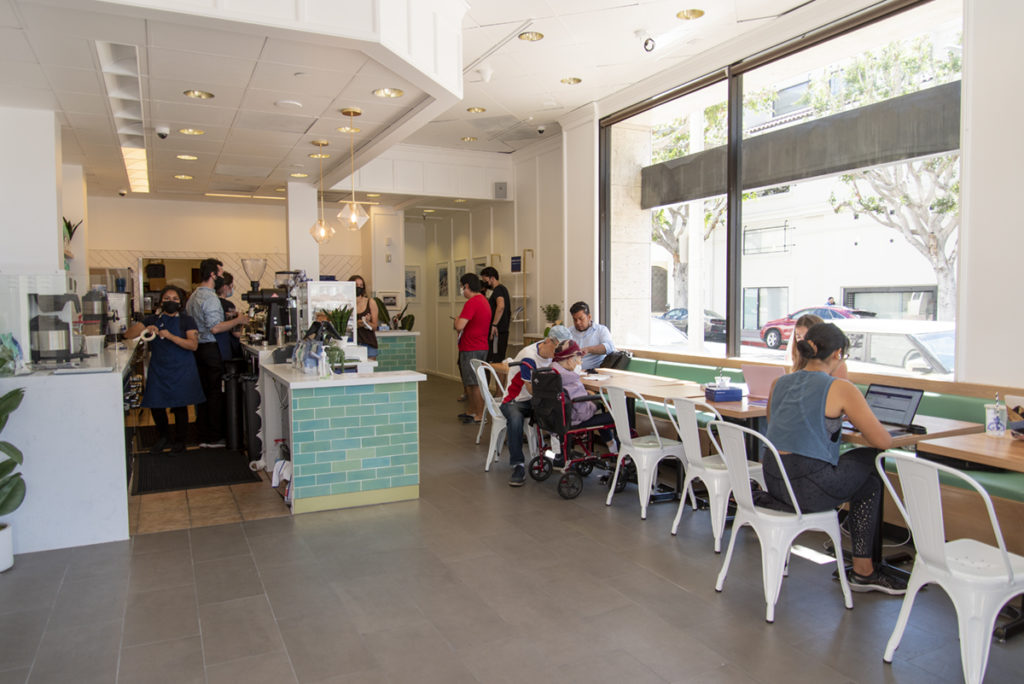 [Related: Restaurant review: Shokugeki BBQ features diverse, affordable Asian cuisine in Westwood]
Yet despite the windows, the store's unique shape is also its downfall. The layout is confusing, with an awkward, spacious entryway and angular quality directing customers to the counter, only for them to find a large gap for the baristas to move through. To reach what appears to be the deserted register, customers have to stand directly in front of the seating that lines one window.
And once there, the lack of a menu is even more perplexing – instead, a visitor must assume they order via the app advertised before entering the building. Or, orders could be taken on two screens bolted to the wall, but once again, no obvious directions fail to make this option clear, unless you have spoken to one of the kind and enthusiastic baristas who are the highlight of the ordering experience.
The unintuitive spatial design doesn't mesh well with what, at first glance, appears to be a minimalistic beach interior design. However, the more time one spends inside, the more the teal accents, white marble wannabe and fake plants meld into a 2016 Pinterest aesthetic rather than achieving the current "Instagrammable" look of Alfred Coffee just down the street on Westwood Boulevard. The atmosphere is sterile, stark and slightly nautical, but the lively background music brings some much-needed warmth and color onto the scene.
Despite its visual faults, the shop does make a convincing argument as a study hub with its understated and well-lit interior, not to mention its dependable coffee. Whether that will be enough to fend off against the three cheaper Starbucks locations it's wedged between or draw students away from trendy Alfred and artsy Espresso Profeta, time will only tell.
But for now, Bruins can determine if the Australian way can join Westwood's tried-and-true favorites.
Durgin is a senior staff writer for Arts & Entertainment. She previously served as the Music | Fine Arts editor from 2021-2022 and was an Arts contributor from 2020-2021. She is a third-year English and geography student from Meridian, Mississippi.
Durgin is a senior staff writer for Arts & Entertainment. She previously served as the Music | Fine Arts editor from 2021-2022 and was an Arts contributor from 2020-2021. She is a third-year English and geography student from Meridian, Mississippi.