Restaurant review: Alfred Coffee brings original brews but steep prices to Westwood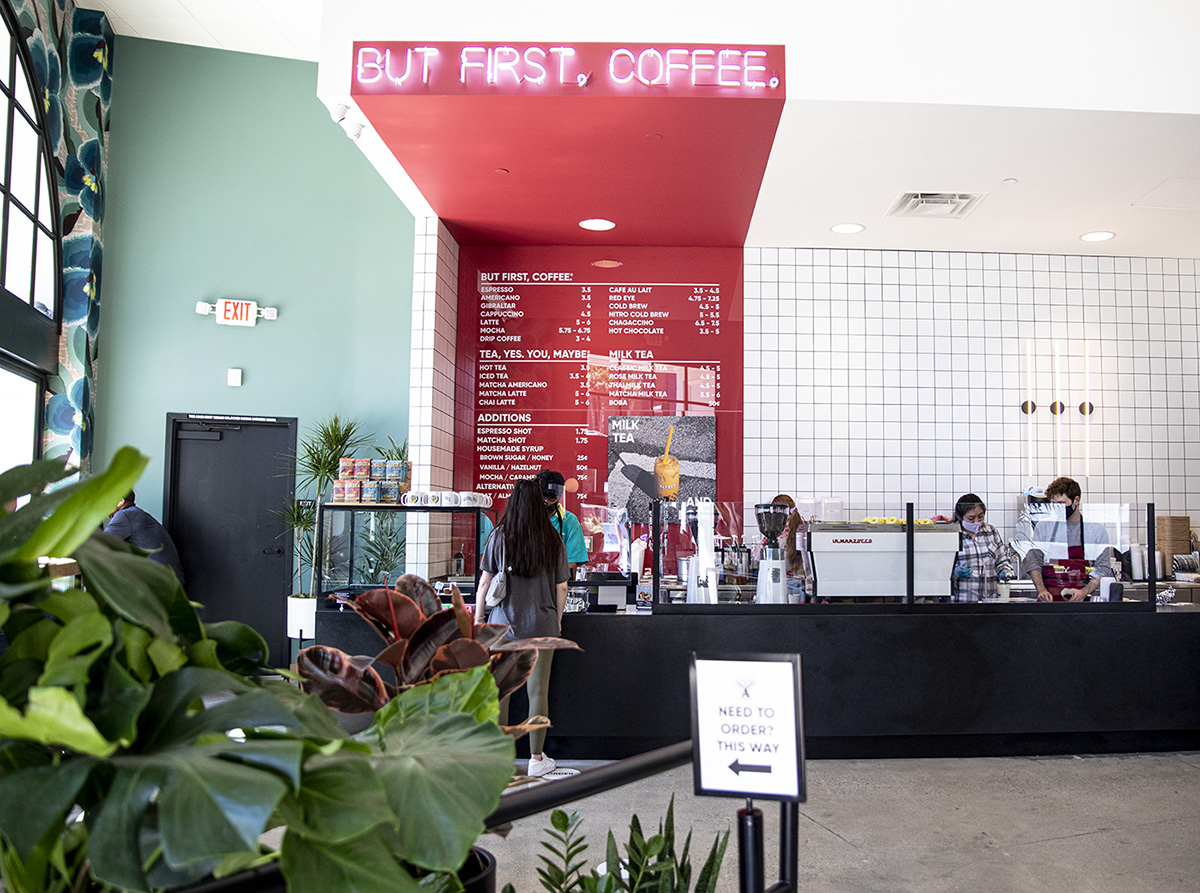 On Monday, Alfred Westwood Village opened its doors and began serving beverages and bold interior design to Bruins. (Ashley Kenney/Assistant Photo editor)
Alfred Westwood Village
1154 Westwood Blvd.
Los Angeles, CA 90024
Toss your Starbucks card – Alfred Coffee is Westwood's hottest brew.

The Los Angeles-based coffee shop chain unveiled its newest Westwood location Monday. Located across from the Hammer Museum, Alfred Coffee brings well-crafted beverages and vibrant interior decor to Westwood Village. Though the area is already saturated with a variety of coffee shops, Alfred provides Bruins with distinctive menu options that are otherwise unavailable.
The brand's first brick-and-mortar location opened on Melrose Place in 2013 and since has expanded to areas like Koreatown in Los Angeles, Texas and Japan. The shops are all well-known for their jazzy interior design, boasting black-and-white monochromatic tiling and floral wallpapers.
The Alfred in Westwood Village follows this decor trend with UCLA blue-and-gold accented orchid wallpaper, ceiling-high arched windows and an extended black-and-white tiled communal table. Resting against an all-white background, the crimson red menu boldly showcases the beverage options, adding an unconventional touch to the overall ambiance. The extensive indoor and outdoor seating provides Bruins with a spacious studying environment compared to the more cramped tables of UCLA's on-campus Kerckhoff Coffee House.
[Related: Restaurant review: Shokugeki BBQ features diverse, affordable Asian cuisine in Westwood]
Though packed with older adults in the earlier hours, a more youthful atmosphere develops the second UCLA students file in. Customers can choose from a variety of seating options such as single-stooled bar seats, two-person study tables or a large communal table at the center.
The newest shop has a relatively wide drink menu, offering items ranging from $3.50 espresso shots to their well-known $7.50 Chagaccino – a drink composed of chaga mushrooms, monk fruit, cacao, cinnamon, vanilla, espresso and milk. The cafe also serves breakfast food including bagel sandwiches, croissants and gluten-free blueberry muffins. Upon walking into the shop, the food is visible through a glass case and pastries that cater to dietary restrictions are distinctly labeled.
In regard to beverages, Alfred's famous iced vanilla latte sells for $6 and can satisfy even the most sophisticated of coffee drinkers. The espresso flavor is perfectly balanced with whole milk, rendering the drink extra creamy. Alfred's housemade vanilla syrup also adds pleasant hints of sweetness that complements rather than overpowers the more bitter espresso flavors.
The pastries, however, reinforce that the coffee is the shop's forte. Soft and buttery on the inside, the chocolate croissant is pleasant enough to finish but not memorable enough to make one consider purchasing again. If heated up, the croissant could leave a more notable impression. However, served as is, the chocolate remained lackluster in both flavor and texture.
For customers who do not prefer coffee, Alfred also offers a caffeine-packed matcha latte. The barista recommends substituting in oat milk, an alteration that balances the bitterness normally found in powdered matcha. The latte tastes earthy but subtly sweet, which highlights the grassy-flavored undertones of premium quality matcha.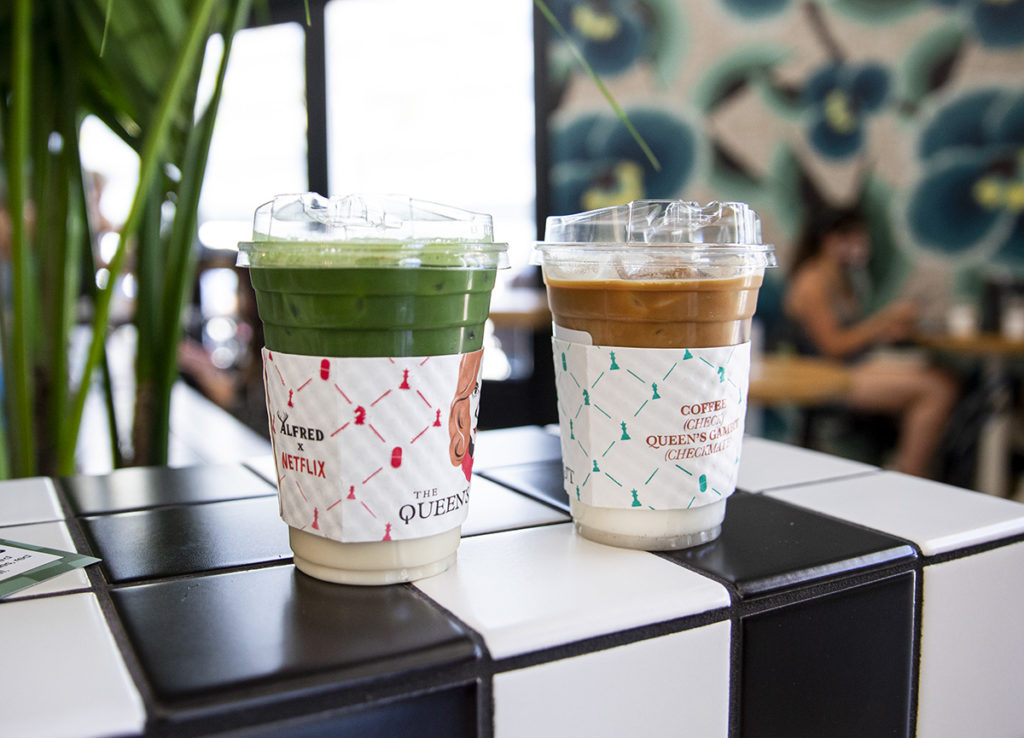 [Related: Restaurant review: Prince of Venice's authentic Italian food makes it a soon-to-be local staple]
Pricing for the standard matcha latte ranges from $5 to $6, but the oat milk substitute adds an additional 75 cents, bringing the total cost to $6.25. Additional add-ons include a $1.75 espresso or matcha shot, house-made syrups ranging from 25 to 75 cents and milk substitutes for 75 cents. These add-ons allow customers to tailor drinks to their liking but are costly when considering the already expensive prices.
While Alfred offers top-quality coffee and tea, the location, lack of power outlets and prices are potential cons for UCLA students. Situated more than a mile from Hedrick Hall, Alfred Westwood Village is not as easily accessible for on-campus Bruins as Upside Down or the Starbucks on Weyburn Avenue. And in terms of pricing, a standard latte ranges from $5 to $6, but additives such as milk alternatives and syrup can skyrocket the cost up into the $7 range.
In addition to a refreshment stop, coffee shops are also a college student's study sanctuary, and power outlets are crucial for maximized study periods. Although the Alfred in Westwood Village has extensive seating options, it has little to no visible outlet sources, which may take lengthy study sessions off the table. However, regardless of its higher prices and inconvenient location, Alfred brings irresistible quality and ambiance that has the potential to become Bruins' new go-to coffee spot.
Coffee is inextricably intertwined with the college experience, and the addition of Alfred Coffee to Westwood will have Bruins suggesting, "But first, coffee."