Editorial: Bruins have an obligation to speak against racial discrimination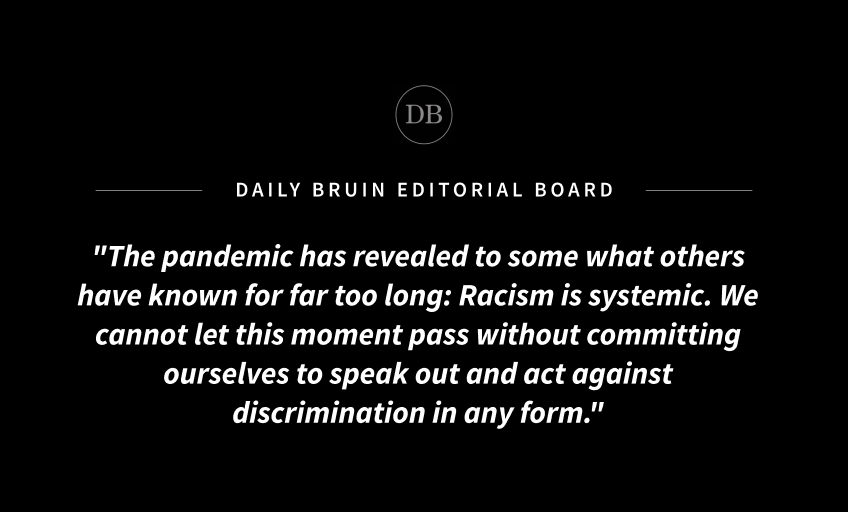 This post was updated July 18 at 4:09 p.m.
Editor's note: Editorials are intended to serve as the jumping-off point, not the conclusion, to discussion. As part of the Daily Bruin's commitment to its readers, the board hopes to present a responsible and clear analysis of relevant events and news items affecting the lives of those we serve, but our editorials are not representative of the Daily Bruin's views on issues as a whole. We encourage all readers to reach out to our board members and to respond to our editorials.
It's an understatement to say the pandemic has upended our lives in every possible way.
Over the last year, we've witnessed racism in its most vile form. Protests against the police murders of Black Americans erupted across the nation as the coronavirus ravaged communities of color. Black and Latina women lost jobs at alarming rates and struggled to bounce back as businesses reopened – a result of what some call occupational segregation.
During a public health crisis that many have blamed on China, it shouldn't come as a surprise that anti-Asian hate crimes have skyrocketed across California. In Los Angeles, the number of such crimes more than doubled between 2019 and 2020, according to the LAPD.
These statistics are alarming, but we should remember that racism is by no means unique to the moment nor limited to acts of aggression. Rather, racism is the way systems intersect to marginalize people of color – so much so that they do not feel safe in a nation built by enslaved people and immigrants.
The pandemic has revealed to some what others have known for far too long: Racism is systemic. We cannot let this moment pass without committing ourselves to speak out and act against discrimination in any form. It's critical Bruins uphold such an obligation because, despite their university's proclamations of equity, UCLA is far from perfect.
While racial justice protests swept the nation last summer, the LAPD used the UCLA-leased Jackie Robinson Stadium to detain protesters, who were handcuffed for hours and denied food, water and bathroom access. Chancellor Gene Block called this a violation of the campus's values, yet it took him and other administrators more than 10 months to commission an investigation into the incident.
We're still waiting on the findings, though the university expected a report to be released by June.
An event of this magnitude is a permanent stain on UCLA's record – and rightfully so. But what may not be as visible is the never-ending battle students of color must wage against administrators for control over their own campus.
The Mother Organizations coalition has accused the administration of the Community Programs Office, which ostensibly supports underrepresented Bruins, of breeding a hostile work environment and failing to maintain financial transparency. Students have gone to university officials with their demands only to be sidelined or ignored.
For all its blemishes, UCLA isn't alone in these problems. Structural violence cuts across the University of California.
Systemwide retention rates for underrepresented students have dropped in recent years while the number of faculty of color remains low. What's more, in clear defiance of students and faculty alike, the UC Office of the President proposed expanding the power of a police force that disproportionately targets people of color.
Clearly, there are issues that won't be fixed in a matter of months or years. But that's no excuse to let them slide. We can't afford it.
Bruins need to push UCLA toward the right direction when those in power refuse to budge. If the pandemic has taught us anything, it's that now is the necessary time to act.