Professors across UC campuses discuss systemwide lack of diversity despite progress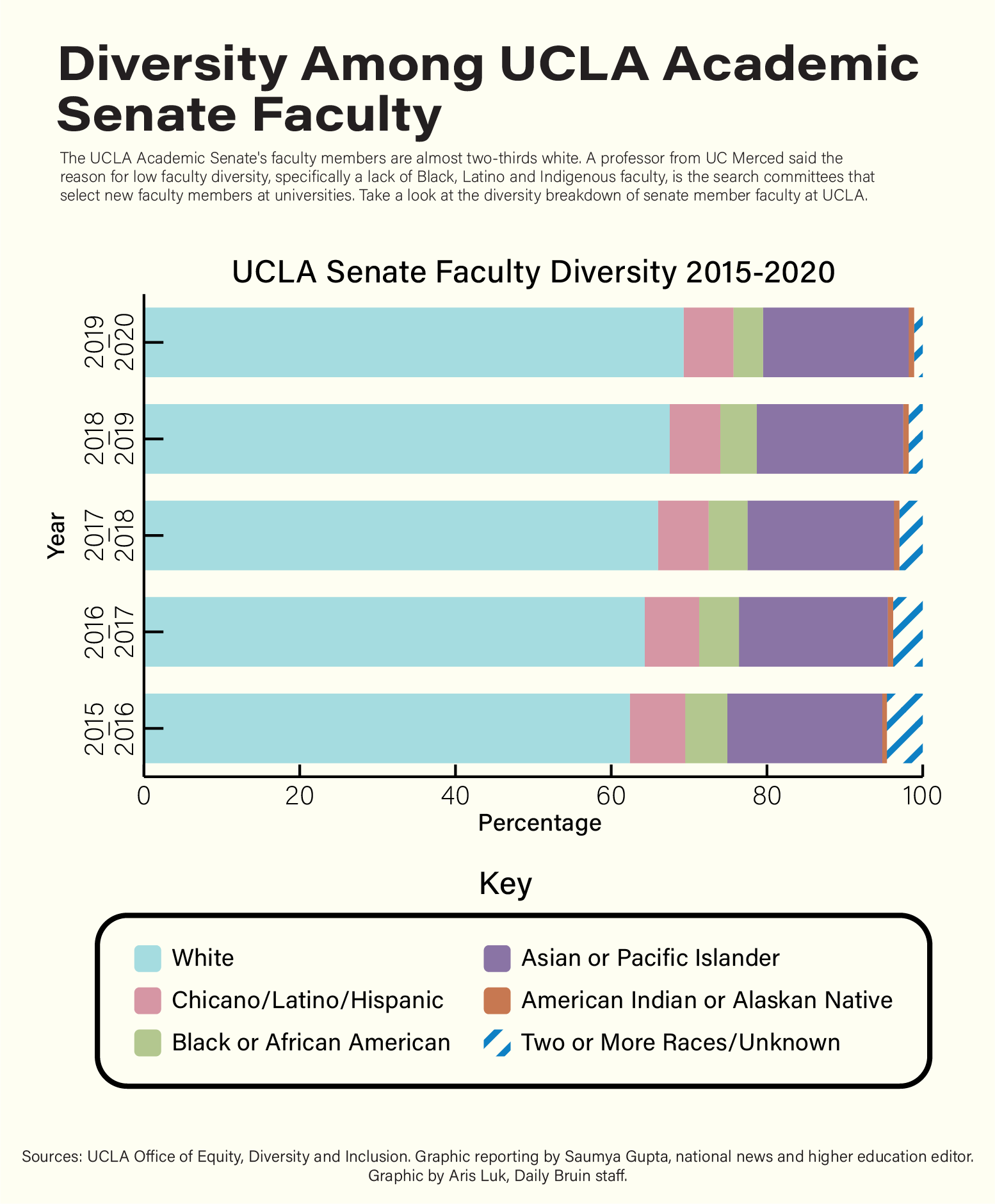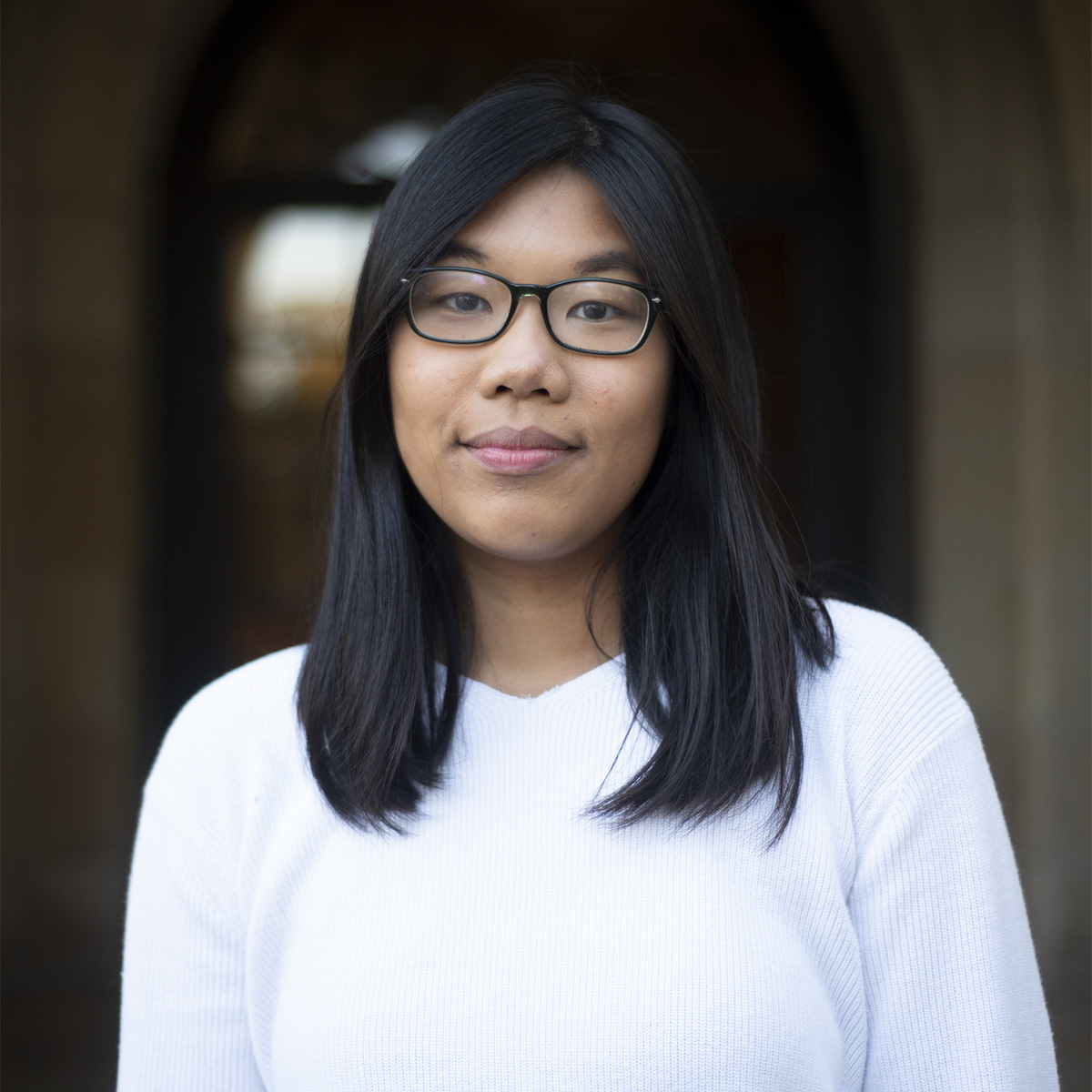 Diversity among faculty at the University of California has made progress, but still lacks systemwide, UC professors said.
In 2020, 55.7% of UCLA's professors and lecturers were white. The remainder of UCLA's faculty workforce was composed of 24.1% Asian, 6.7% Hispanic and Latino, 3.5% African or African American and 0.3% American Indian faculty, with the rest being unknown or identifying as more than one race, according to UC Office of the President's UC workforce diversity data. The proportion of faculty of color at UCLA increased by nearly 3% from 2010 to 2018.
The hiring process begins with a position being advertised through outlets like national journals, according to BruinX, a UCLA Office of Equity, Diversity and Inclusion think tank. There is a screening process that follows where search committees made up of current faculty conduct interviews of qualified applicants, according to BruinX.
Search committees provide advice, but department chairs, deans and the vice chancellor frame the searches and ultimately make the hiring decisions, said Shane White, the Academic Senate chair.
Some UCLA professors expressed disappointment in UCLA's existing proportion of minority faculty.
Tyrone Howard, an education professor, said it bothers him when he attends campuswide faculty meetings and there are only a few people of color in attendance.
"It disturbs me when I have students of color come to my office … and lament the fact that there are hardly any faculty of color," Howard said. "That's sad because I think students of color who want to pursue these fields oftentimes decide against them or may change their majors because they feel like they're just invisible."
Howard added that UCLA needs to work harder to find talent and retain its current faculty of color by matching outside job offers and hiring diverse people in clusters so no individual feels isolated.
The UC isn't as competitive of a recruiter because of cash, White said. State support is needed, and private universities can simply pay faculty more, he said.
Michael Lens, an urban planning and public policy associate professor, said universities' faculty are not diversifying quickly enough because professors stay in their positions for a long time and tend to hire people who look like them.
Lens added there are departments at UCLA whose hirings haven't diversified.
Some departments at UCLA, including ethnomusicology and materials science and engineering, have employed high proportions of minorities over the past 10 years, according to data obtained by the Daily Bruin. However, at least 20 departments had no Asian, African American, Latino or American Indian faculty in the past 10 years.
"It's always difficult to be the only Black faculty member," Lens said. "(My department) just changed that this year, … but being one of two is not that much different than being one of one."
Recruiting diverse faculty starts at the top with deans and department chairs, Howard said. If they don't make diversifying a priority, it's not going to happen, he added.
White professors and lecturers account for around half of the entire academic faculty at all 10 UC campuses, according to UCOP's UC workforce diversity data.
Makeba Jones, an education studies associate teaching professor at UC San Diego, said the lack of diversity among UC faculty has made her stand out among her peers, but her visibility is also a refuge for students of color.
"I've had many students over the years of races and ethnicities talk to me and say, 'I've never had a woman of color as a professor at UCSD,'" said Jones, who is part of the 1.9% African American faculty at UC San Diego. "'I've never had a Black professor before. (It's) so nice to see you.'"
UCLA has a mandated diversity training that includes a briefing, a discussion session and exercises before serving on a search committee, White said.
"I think it makes faculty open their eyes a little wider," White said. "To make sure that they're not accidentally excluding folks and are understanding better the implementation and value of diversity."
Tanya Golash-Boza, a sociology professor at UC Merced, said in an emailed statement that as a faculty equity advisor, she found implicit bias training only works when faculty are committed to reducing biases and fairly evaluating candidates.
Jones said it would be more effective to institute ongoing implicit bias training throughout the year instead of holding one workshop.
If search committees' final candidates are all white, they need to stop and go back into process, Howard said. Committees have to be more intentional in seeking out qualified candidates of color, he added.
UCLA currently implements a faculty affirmative action program that identifies where minorities and women are underutilized and encourages diverse hirings in lacking areas. UCLA is a federal contractor and complies with federal regulation that allows affirmative action plans in employment, according to UCLA Campus Human Resources.
The university's Office of Equity, Diversity and Inclusion also promotes diversity by placing faculty equity advisors in each department and providing faculty online EDI resources, said UCLA spokesperson Bill Kisliuk in an emailed statement.
Kisliuk added that UCLA leaders also committed to hiring 10 tenure-track faculty members with research related to Black experiences over the next five years. The Ralph J. Bunche Center for African American Studies is working to hire more diverse assistant professors in the biostatistics and community health sciences, civil and environmental engineering, gender studies and social welfare departments, he added.
The UC has also expanded its diversity efforts through programs, including the President's Postdoctoral Fellowship Program Initiative, which provides professional development support for women and minority scholars, according to UCOP.
Higher education research shows that diverse student and faculty bodies make for a better society, and there is a pool of diverse talent the UC has not tapped into yet, Jones said.
"The UC has an amazing reputation and we do so much in terms of advancing knowledge and science, and to not have talented diverse faculty as part of that power at work makes me really sad," Jones said.
Tran was the 2021-2022 national news and higher education editor in addition to being a contributor for Enterprise. She was also a fourth-year political science student at UCLA.
Tran was the 2021-2022 national news and higher education editor in addition to being a contributor for Enterprise. She was also a fourth-year political science student at UCLA.