Album review: Olivia Rodrigo's sweet songwriting delivers tale of teenage heartbreak in 'SOUR'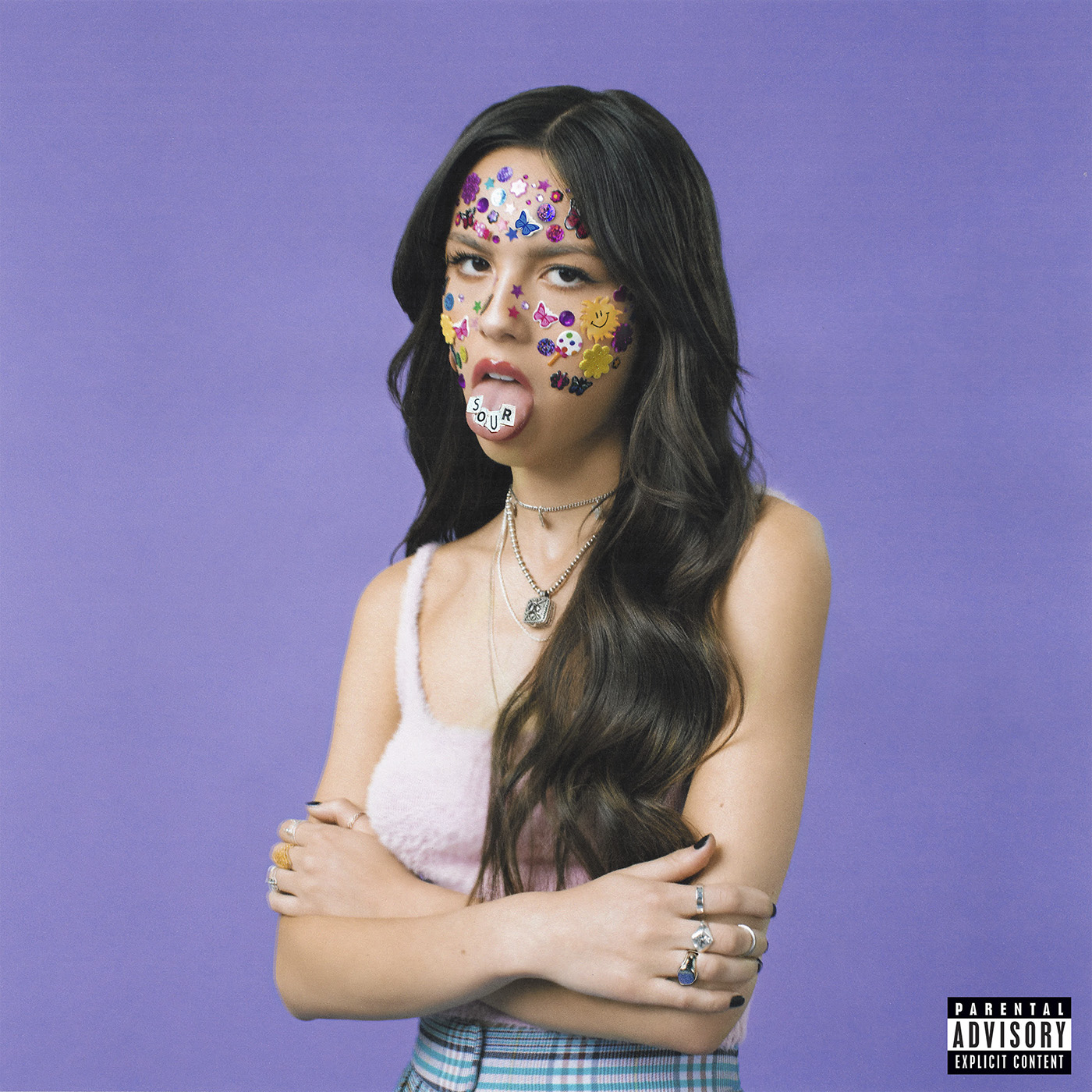 (Courtesy of Geffen Records)
"SOUR"
Olivia Rodrigo
Geffen Records
Released May 21
This post was updated May 23 at 7:03 p.m.
Olivia Rodrigo is sour with a sweet aftertaste.
After her record-breaking hit "drivers license" blasted through car radios around the nation, Rodrigo has officially released her debut album "SOUR" on Friday. Rodrigo's outstanding songwriting paints the stages of a brutal breakup, with 11 songs that sail through the rough tides of a teenage heartbreak.
The album opens with a few seconds of heavenly tune in "brutal," soon contrasted by heavy guitar grungy vocals as Rodrigo "want(s) it to be like, messy." The artist opens up her project with the many complaints she has about the hyperbolized teenage years. The track sheds light on a normal teenager life but contradicts the album's central story – the rollercoaster of emotions after a devastating heartbreak.
The calm pace that ends "brutal" continues on "traitor" with a choirlike symphony which echoes the opening in Lorde's "Ribs." Rodrigo recounts the moments leading up to her breakup and her partner betraying her for another girl. The track evokes sympathy for Rodrigo as listeners hear her internal monologue when she sings, "Now you bring her around/ Just to shut me down/ Show her off like she's a new trophy."
[Related: Album Review: Dodie's debut album showcases artist's honesty, musical growth]
Following the melodramatic "drivers license," "1 step forward, 3 steps back" exemplifies Rodrigo's long-standing admiration for Taylor Swift by interpolating "New Year's Day" from Swift's album "reputation." She finds herself questioning her lover's confusing intentions as she sings, "Like, which lover will I get today?/ Will you walk me to the door or send me home crying?" Unlike the rage that dominates "good 4 u," this track has Rodrigo singing in a lower, peaceful voice with the accompanying presence of birds. The piano ballad acts as a place of rumination for Rodrigo as she is juggling her mixed emotions.
While Rodrigo shows her vulnerability in the beginning tracks, she switches it up with "deja vu" where she reveals newfound feelings of her ex-lover reusing their same shared moments with someone new. Her annoyance with her former partner's actions appears when she exclaims, "Strawberry ice cream in Malibu/ Don't act like we didn't do that shit, too / You're tradin' jackets like we used to do." The transition from the soft ice cream truck tones at the start grows efficiently with the synthesizer and screaming background vocals to highlight the fury and pity Rodrigo has for her ex-lover and his "brand new girl."
The temper Rodrigo ends with on "deja vu" keeps its momentum on "good 4 u," as she plays with early 2000s rock using strong vocals, drums and bass guitar. Rodrigo again talks about the disparity in her post-breakup behavior by emphasizing, "Well, screw that, and screw you/ You will never have to hurt the way you know that I do." With a different tempo and vibe from the melancholic "drivers license," the track has the potential to be a summer breakup anthem with an upbeat tempo and catchy chorus.
[Related: Album review: 'Chemtrails Over The Country Club' is Lana Del Rey's most personal album yet]
Rodrigo gives listeners a break to regroup from the previous adrenaline rush with "enough for you," an acoustic guitar performance with emotionally vulnerable lyrics switching the blame of the breakup to her ex-partner. The track complements "1 step forward, 3 steps back," with Rodrigo's soothing voice returning while she realizes it's her ex-lover's fault for being unsatisfied and confusing in the relationship. The transition to Rodrigo's awareness from previous tracks of confusion, reminiscence and rage is thought out excellently on this song as she proclaims, "'Cause someday I'll be everything to somebody else/ And they'll think that I am so exciting/ And then you'll be the one who's crying."
Aside from the mischiefs of love, the artist ends her debut album with "hope ur ok" – a heartfelt letter to her past childhood friends and her well wishes to them. Accompanied by Rodrigo's soft vocals, the track addresses two of her old friends who dreamed of an escape from their abusive households, spurring listeners to reminisce on past friendships and seek reconnection.
All in all, with the release of "SOUR," it's safe to say Rodrigo won't be driving alone past the success she will gain with her detailed songwriting. Although a heartbreak caused an emotional storm in her life, Rodrigo tells a well-rounded story of a complicated teenage life, the ups and downs of a relationship and an ode to lost friendships.
Although there's a long road ahead of her, it's always one step forward with Rodrigo and three steps more with her talent.