Dozens call on US to take stronger stance on Myanmar coup at Orange County rally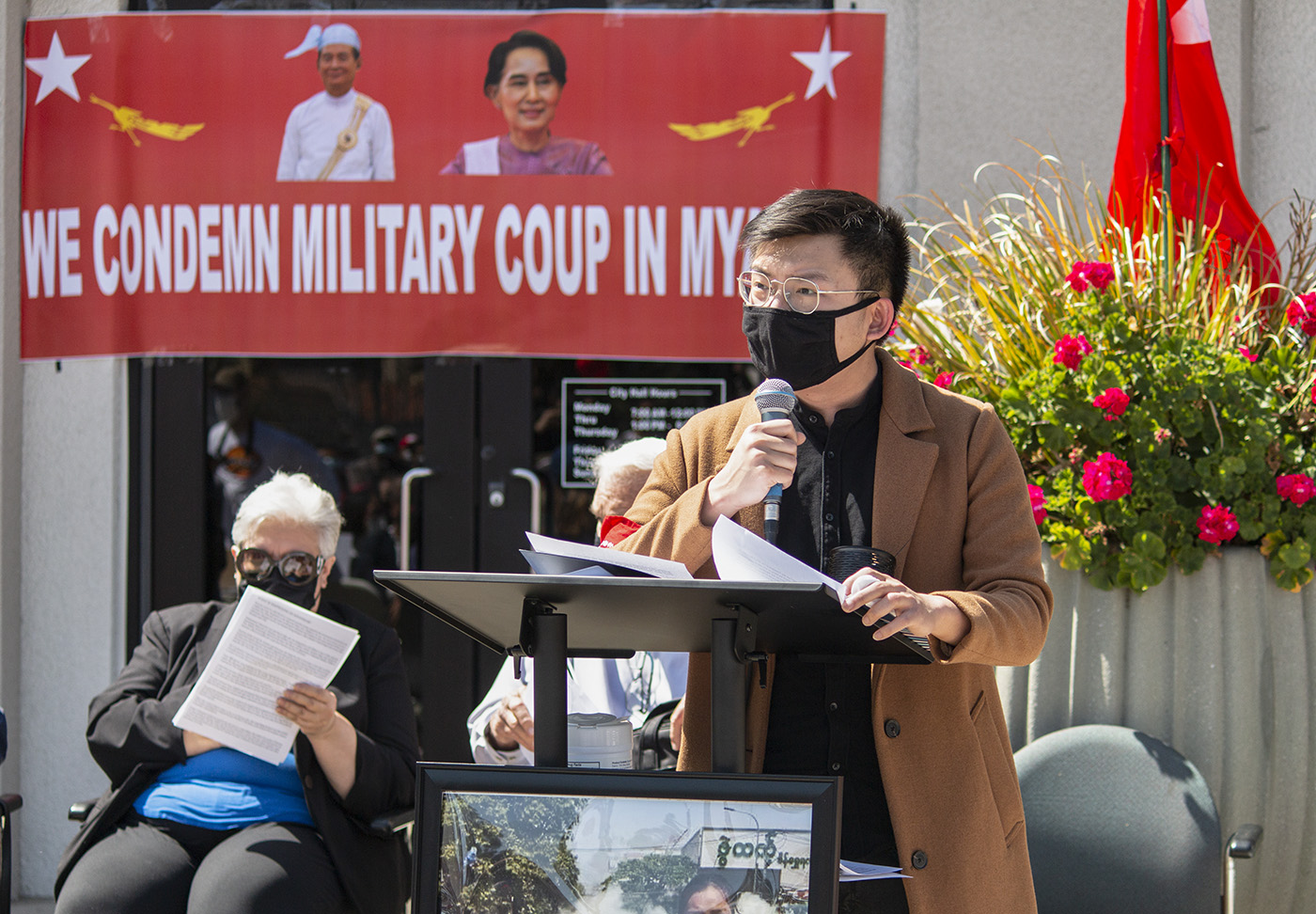 Thet Lin Tun, a fourth-year economics and political science student, speaks to the crowd at a rally in Orange County. (Bernard Mendez/Daily Bruin senior staff)
March 21, 2021 12:33 p.m.
This post was updated March 21 at 7:24 p.m.
STANTON, Calif. – More than a month after a military coup in Myanmar, Burmese students at UCLA are continuing to raise awareness on the state of their country.
The Burmese Student Association at UCLA organized a rally Saturday in Stanton, a city in Orange County, along with other Los Angeles-based Myanmar advocacy groups, to support the protesters in Myanmar and call on the U.S. government to take a stronger stance against the coup.
Dozens of Burmese Americans, along with dozens of other supporters, gathered in front of the Stanton City Hall. Government officials from the city, state and federal level – including Stanton Mayor David Shawver and Congressman Lou Correa – condemned the coup and pledged support for the protests in Myanmar.
Thet Lin Tun, the president of BURSA who helped organize the event, said he chose to organize an event in Orange County because it has a large Burmese population. Although he lives in Westwood, he hoped to organize the event wherever he could to raise awareness for Myanmar, he said.
BURSA also organized an anti-coup protest in Westwood in early February and has made social media outreach to increase awareness on the events in Myanmar. The organization lobbied for an Undergraduate Students Association Council resolution in February that condemned the coup and called on the UCLA administration to provide financial and academic support to students affected by the coup.
Protests in Myanmar have been driven by a younger, college-aged demographic, said Ii Maung, an organizer with the LA Myanmar Movement. Maung added that she thinks it is important for youth in the U.S. to also play a role in Myanmar advocacy.
"To be honest, in the beginning I thought these Gen Z kids just spend time on their phones and video games," she said. "That's what I thought in the beginning, and my opinion (changed) tremendously right after they showed their bravery."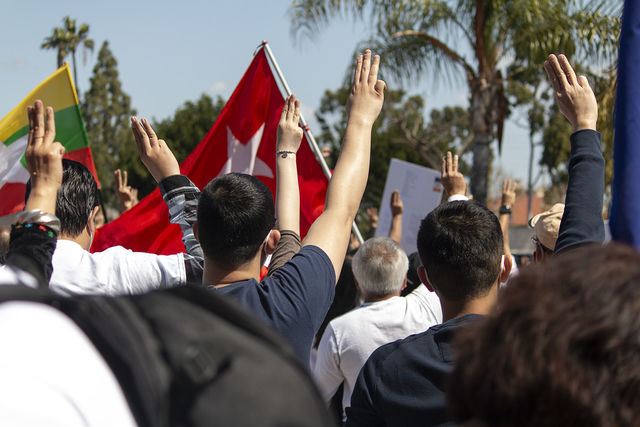 The protests began in February after the country's military forcibly seized power when its favored candidate lost a national election, claiming there was mass election fraud. But it is part of a history of Myanmar's military reasserting its power when it feels threatened, according to UCLA professors.
The Myanmar military, also called the junta, has used violent means to suppress protests. At least 247 protesters in Myanmar have been killed as part of the coup, according to the Assistance Association for Political Prisoners, an organization that has been tracking protest-related arrests and deaths in Myanmar.
Several Burmese students who attended the event said they think that advocacy in the U.S. is an important way to support protests in Myanmar.
"Someone doing what I'm doing right now back in Myanmar has to do so while fearing for lives," said Tun, a fourth-year economics and political science student, in a speech at the rally. "That's why it is my duty, it is our duty and it is everybody's duty here to speak up and spread awareness to help our country."
Calvin Chen, a fourth-year mathematics of computation student, said coming to a rally is the least he could do considering protesters in Myanmar are protesting in the face of persecution and possible death.
Ethan Myint, a fourth-year philosophy student and a member of BURSA, said that advocating for Myanmar during the school year has been difficult, but said he thinks it is necessary.
"Grades are grades, it's important for our future," Myint said. "But this is bigger than my grades or myself."
Mendez was the 2020-2021 News editor. He was previously a staff news reporter for the Science & Health beat and a developer for The Stack. He is also a third-year math student at UCLA.
Mendez was the 2020-2021 News editor. He was previously a staff news reporter for the Science & Health beat and a developer for The Stack. He is also a third-year math student at UCLA.