USAC recap – Feb. 2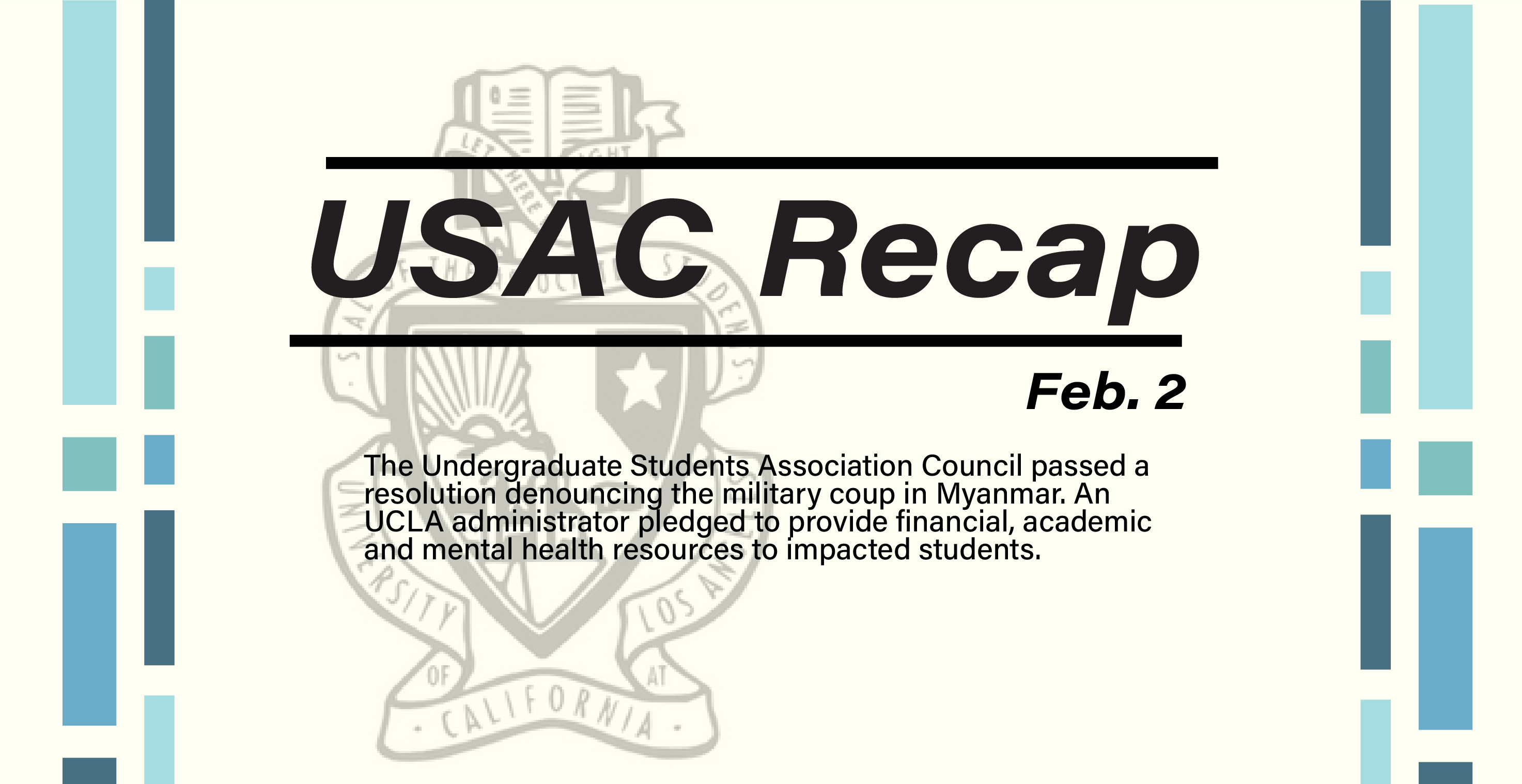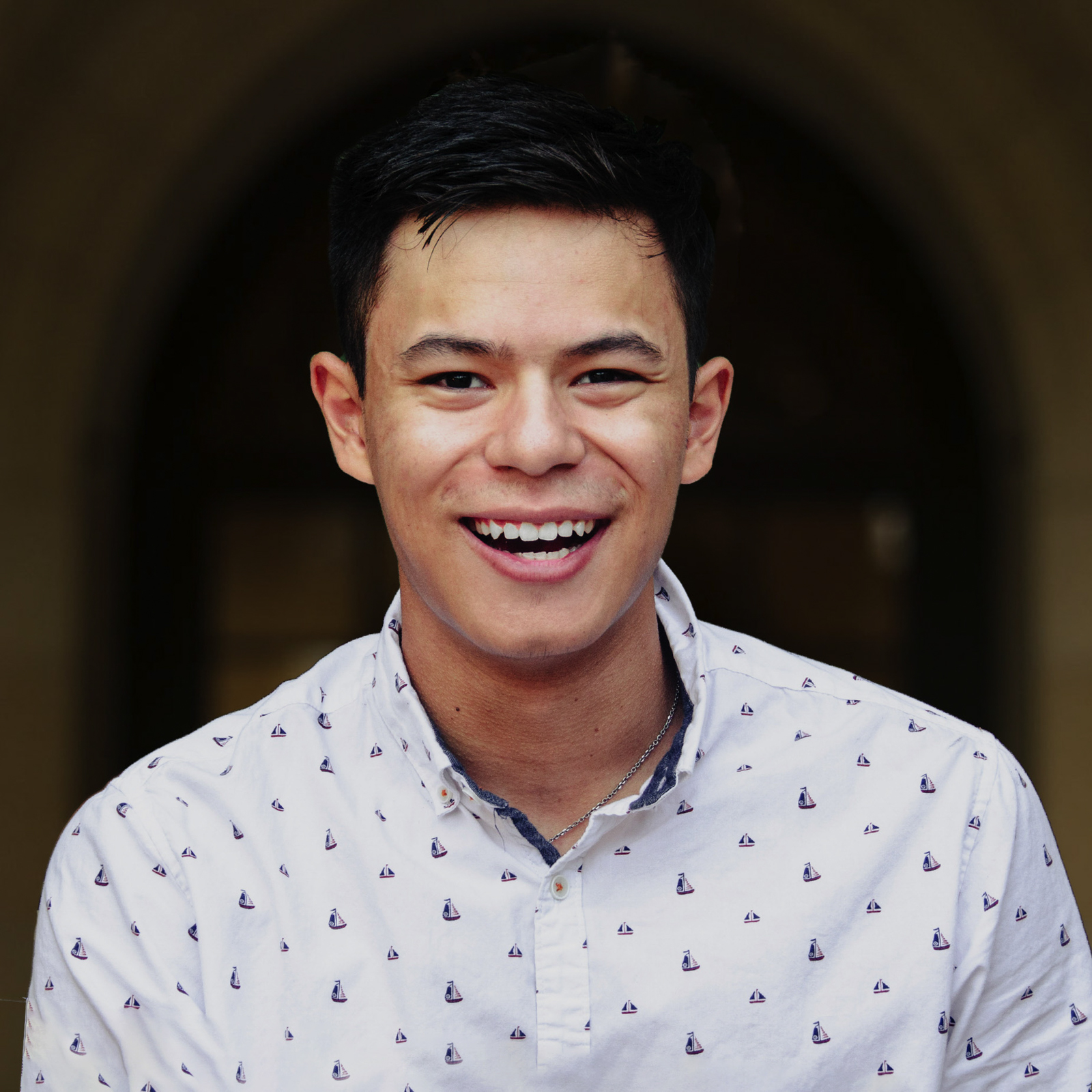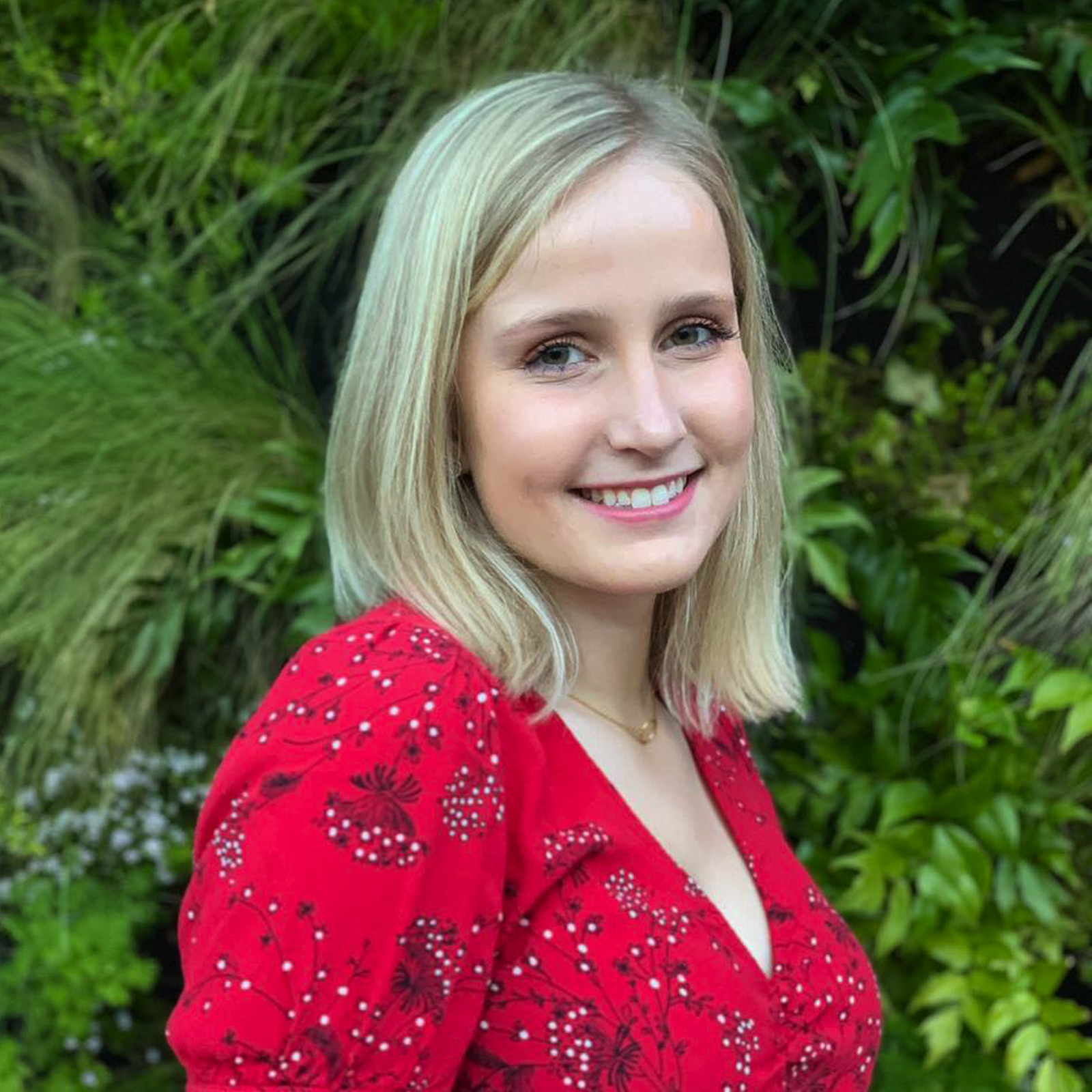 The Undergraduate Students Association Council passed a resolution denouncing the military coup in Myanmar. An UCLA administrator pledged to provide financial, academic and mental health resources to impacted students.
Public Comment:
Alfred Tun, the president of the Burmese Student Association, said USAC should be aware of the current political situation in Myanmar, where the Myanmar military arrested civilian leaders and disrupted telecommunications, internet and electricity after the military disputed the outcome of the November election. Tun said the military government froze financial transactions and implemented a curfew on Myanmar's population. He said the situation has made it more difficult for Burmese students to study at UCLA, particularly for students living in Myanmar. Tun said he wants USAC to stand in solidarity with BURSA by approving a resolution that condemns the military coup and supports Burmese students.
Swan Htut, a fourth-year sociology and global studies student and the external vice president of BURSA, said students in Myanmar are uncertain when they will have access to the internet and electricity and may not be able to access remote learning. Htut also said he has not been able to contact his sister in Myanmar because of the internet shut down.
Kyi Ther Min, the finance director of BURSA and a third-year biology student, said BURSA members in Myanmar need to be careful with what they say and post on social media because their online speech could lead to their arrests. She said the gravity of the situation makes it difficult for students to focus on their academics.
Aye Pyae, a second-year business economics student and the director of marketing of BURSA, said Burmese students need USAC to support their calls for empathy, mental health resources, academic leniency and financial aid for students affected by the situation.
Garmani Kyaw, a second-year molecular, cellular and developmental biology student, said the banks in Myanmar suspended transactions. Because the military temporarily disrupted telecommunications networks, banks suspended transactions and people in Myanmar are unable to withdraw funds from their accounts. He said students living in the United States cannot receive financial support from their parents in Myanmar. He added that he cannot receive funds from his parents and is concerned about his finances.
Jason Vu, a fourth-year global studies and Asian American studies student and the president of the Vietnamese Student Union, said he stands in solidarity with Burmese students and called on USAC to support a resolution that condemns the Myanmar military coup and supports Burmese students.
Kristi Mai, a fourth-year Asian American studies student and the external vice president of VSU, said she supports Burmese students and the resolution condemning the military coup. She called on USAC to vote in favor of the resolution and advocate for more support for those affected by the situation.
Laura Gong, a third-year molecular, cellular and developmental biology student and the undergraduate representative for the Research Continuity working group, said 11 more people in the UCLA research community tested positive for COVID-19 since late January, bringing the total to 94. She added that while the University of California has released plans to vaccinate all UC employees, she does not know when UC will vaccinate undergraduate students.
Max Grollman, a third-year human biology and society student, said UCLA should begin preparing a comprehensive plan for its expected fall reopening. Grollman said UCLA should focus on keeping records of students who have received vaccinations and develop new technology to make the reopening process easier. He added that UCLA could mandate that only vaccinated students can access shared spaces, such as lecture halls and libraries, by requiring students to scan their BruinCard at the door.
Special Presentations:
Tun, who is also the USA elections board chair, said the board has not experienced any technical issues in the signature gathering phase of the election season. Candidates hoping to run in the 2021 spring USAC election must gather 50 signatures to qualify for their candidacy. Tun said the elections board gave students a personalized link to gather signatures. Tun added that students can submit signatures through MyUCLA and the potential candidate can see the number of survey responses without seeing student signatories' UID or names. He said MyUCLA forms have been working well because they protect privacy of student information. Tun said the elections board will host a candidate info session Feb. 3 at 7 p.m. to cover eligibility checks, signature petition tips, Adobe resources, calendar overview, spring quarter election events and a campaign season overview. He added there will be two information sessions on Feb. 11 and Feb. 18 about the roles of different USAC offices. Tun said the elections board reached out to student organizations and sent a campuswide email to encourage students to run for office.
Allocation:
The council allocated $600 to Hip Hop Congress, an organization supporting hip-hop entertainment and education on campus, for a Black is Visionary film screening and panel.
The council allocated $512.27 to Beta Alpha Psi, an accounting honors society, for a paint night.
The council allocated $750 to Bruin Republicans for registration to the Conservative Political Action Conference.
The council allocated $100 to Net Impact UCLA, an undergraduate student-run social impact consulting club, for a sustainability panel.
The council allocated $100 to the Taiwanese American Student Association for a Chinese New Year event.
The council allocated $533.33 to the Union Centroamericana, an organization that empowers Central American students in the U.S. through activism, education and organizing, for its Central American Counterspaces: Healing in Resistance event.
The council allocated $252 to the Bruin Film Society for an email marketing Mailchimp subscription.
The council allocated $600 to Med X International at UCLA, a pre-professional organization that provides resources and mentorship to international students who are interested in health professions, for a panel.
The council allocated $500 to UMMA Volunteer Project, a project committed to providing preventative health education to students in South Los Angeles, for a food fair.
The council allocated $270.85 to exploretech.la, an annual event that helps high school students from underserved communities in the greater Los Angeles area explore computer science, engineering and technology.
Jonathan Wisner, the Community Service commissioner, said the Supplemental Fund for Service allocated $781 to two groups outside of the Community Service Commission.
Christina Read, the Student Wellness commissioner, said her office allocated $377.90 from the SWC programming fund to GlobeMed at UCLA for a virtual movie night and to the Ballet Company at UCLA for a ballet masterclass.
Promise Ogunleye, the Cultural Affairs commissioner, said the Arts Restoring Community Fund allocated $13,390.17 for nine events.
Sachi Cooper, the Facilities commissioner, said The Green Initiative Fund allocated $868.38 to E3: Ecology, Economy, Equity and Bruin Home Solutions.
Resolutions:
The council unanimously voted to approve a resolution supporting Burmese students and condemning the military coup in Myanmar. The resolution said the newly installed military government shut down telecommunications, causing banks to freeze financial transactions. The resolution said students and their families are unable to access funds. It added that the military government imposed a communication blackout, in part by cutting off internet connection, making it difficult for students to access course materials. The resolution called on academic departments and other UCLA entities to give support to affected students. It called on the Dean of Students Maria Blandizzi to offer Burmese students financial and mental health support and called on the Academic Senate and academic departments to provide academic flexibility.
Agenda
Roy Champawat, the student union director, said USAC cannot remove its appointees to the UCLA Communications Board because the board is independent of USAC. He said the communications board is a legally protected board of directors and is not an advisory board.
Internal Vice President Emily Luong said her office wants to launch a campaign to end the relationship between Counseling and Psychological Services and UCPD.
Blandizzi, the UCLA dean of students, said she supports USAC's resolution that advocates for Burmese students. She added that UCLA is working to fulfill the actions that the resolution calls for by providing mental health, financial and academic resources for affected students. She said she will reach out to professors of affected students to emphasize the importance of academic leniency. She added that her office is providing mental health resources to impacted students. Blandizzi said students whose bank accounts have been frozen can receive funds from UCLA. She also said because her office does not have data on which students are a part of the Burmese diaspora, she encourages these students to reach out to her.
Appointment:
The council unanimously voted to appoint Laura Laubach, a third-year political science transfer student, as general representative 1.
Reports:
President Naomi Riley said she represented UCLA students and their concerns at a UC campus safety symposium about the future of policing and campus safety. She added that her office is preparing to hold a panel discussion on the COVID-19 vaccine during week six.
Internal Vice President Luong said her office will co-host a vaccine webinar with the Office of the President, the Office of the External Vice President and the Student Wellness Commission on Feb. 11. She said her office will update the student resource guide soon and host a student worker town hall Feb. 12. She added that her office will hold the True Bruin awards ceremony on Feb. 16. She also said her office hosted a Campus Safety Alliance meeting Sunday to discuss COVID-19 and a proposed campus safety ambassadors program.
General Representative 1 Laubach said her office will focus on a Bruin reintroduction program, which will include re-orientation events for students, town halls that encourage student engagement and a project for students to design and distribute campus culture roadmaps.
General Representative 2 Justin Rodriguez said in a written report that his office will release the Student Worker Resource Guide with new information in the next week. He added that his office will release a Buy Your Values survey in the next week to understand the types of products Associated Students UCLA purchases. He also said he is working on an outline for a mental health project that is culturally accessible and is training his staff in conducting focus groups.
Student Wellness Commissioner Read said in a written report that her office is evaluating applications to the SWC's Basic Needs Subsidy program and will begin sending allocations this week.
Transfer Representative Zuleika Bravo said she sits on a search committee that will interview candidates for a new transfer student director. She said her office will meet with the UC Office of the President to discuss the cost of attendance for parenting students and financial aid reforms. She also said the UC Basic Needs Committee launched a dashboard to track what resources students experiencing homelessness or food insecurity need most. She also said her office created a UC-wide survey on how the UC can best support transfer students and will present the results to the UC Board of Regents.
Community Service Commissioner Wisner said his office is finalizing a letter about commencement to let seniors know how they can be a part of the commencement process.
Academic Affairs Commissioner Breeze Velazquez said her office is working on an outreach program with high schools in the LA area to provide a workshop series about college counseling, career centers, financial aid, transfer pathways and admissions. She also said her office will send out its first mental health newsletter this week. Velazquez added that her office updated BruinOpp, an online database that lists jobs, internships and scholarships for undergraduate students, with summer internship and job opportunities. She said AAC will hold an academic dishonesty workshop during week seven.
Cultural Affairs Commissioner Ogunleye said her office is coordinating several events to celebrate Black History Month and Hip-Hop Appreciation Month. She added the theme for this year's Black History Month is "Black Is," highlighting different aspects of Black culture.
International Student Representative Bakur Madini said his office worked with Dean Blandizzi to facilitate accommodations for Burmese students. He added that the Academic Senate Committee on International Education sent a letter to the chair of the Academic Senate calling for tangible accommodations for international students. He also said his office completed its survey on the effect of the pandemic on international students.
The Undergraduate Students Association Council is the official student government representing the undergraduate student body at UCLA. Council meetings take place every other Tuesday at 7 p.m. during winter quarter and are open to all students. Winter quarter meetings will take place virtually on Zoom; links for the meetings can be found on the Internal Vice President's Facebook page. Watch a livestream of the meetings on the USAC Live! channel on YouTube.