Movie review: 'Raya and the Last Dragon' fuses fantasy, friendship but with flawed culture blend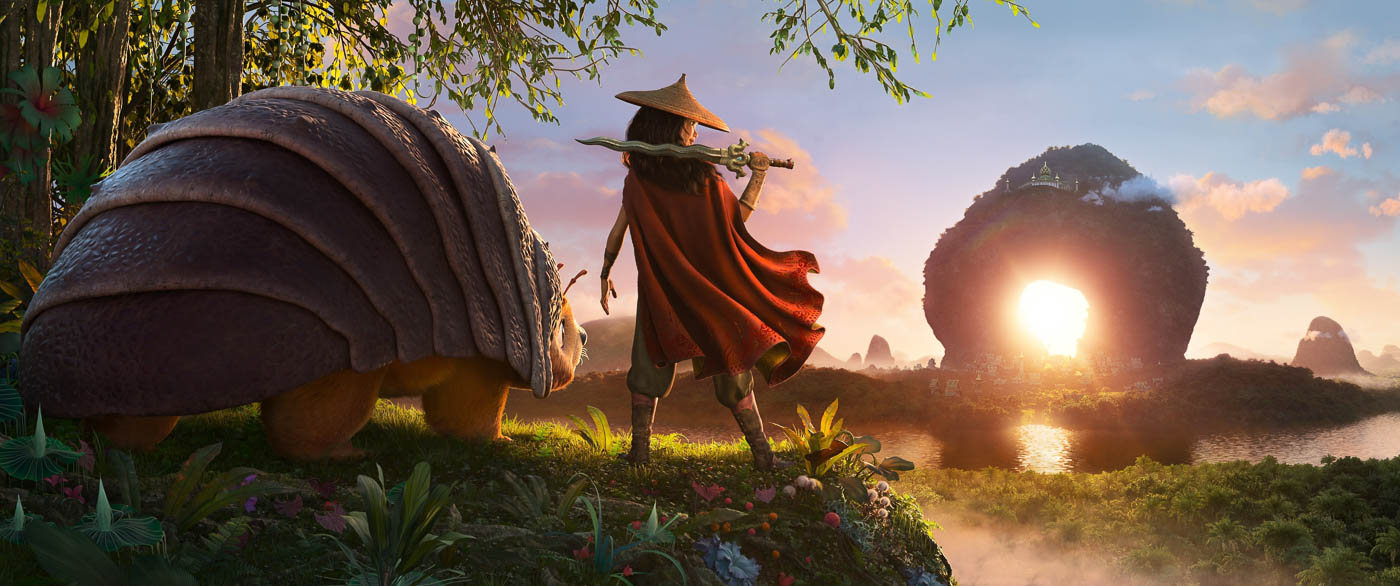 "Raya and the Last Dragon"
Directed by Don Hall, Carlos López Estrada, Paul Briggs and John Ripa
Walt Disney Studios Motion Pictures
March 5
This post was updated March 7 at 4:22 p.m.
One live-action remake after another, Disney finally returns to its roots.
Released on March 5 in theaters and Disney+ Premier Access, "Raya and the Last Dragon" is the studio's latest 3D-animated outing, telling a wholly original story set in Kumandra – a fantasy world inspired by several Southeast Asian cultures. In its past globally centered narratives, Disney has struggled to sensitively mesh its magical brand of family-friendly whimsy with cultural nuance and accuracy. And although the film is not without its flaws, it is another step in the right direction that joyously brings the first Southeast Asian Disney princess to life.
An opening based on Indonesian puppet theater effectively immerses viewers into the film's inspired lore, recounting how dragons once brought bountiful prosperity to Kumandra. But when a plague-like spirit called the Druun began turning people to stone, the dragons altruistically channeled their remaining magic into an orb that the five warring tribes soon fought over.
[Related: Q&A: Kelly Marie Tran discusses Asian representation in 'Raya and the Last Dragon']
Five centuries later, Raya (Kelly Marie Tran) and her father chief Benja (Daniel Dae Kim) of the Heart tribe become guardians of the dragon orb. While Benja tries to extend peace toward their adversaries, Raya is deceived by Namaari (Gemma Chan), her warrior princess rival from tribe Fang – unleashing the Druun once again when the orb is accidentally fractured. Six years later, it's up to Raya to awaken the last dragon of legend Sisu (Awkwafina) and journey across the land to reassemble what was broken.
Unlike movies where the amorphous, world-ending threat poses no tangible stakes, the film portrays an environmentalist consequence to humanity's discord. The image of loved ones frozen in stone across the land is a haunting one, and the subtext of the disease-like Druun feels all too timely.
But while the film isn't afraid to cement the gravity of its narrative, it balances such darkness with humor and heart.
At the movie's emotional center is Tran, who impressively breathes strength, charisma and vulnerability into Raya's character. An early scene where Raya breaks down after searching years for Sisu is especially moving, contextualizing her arc with a relatable feeling of guilt. Orphaned heroes have become an exhausted trope in Disney princess backstories, but Tran's passionate performance helps the film explore grief as an active part of the narrative.
Raya is similarly spared a romantic subplot, as the film refreshingly centers female friendship based on genuine support. Unlike most comedic relief sidekicks, Sisu's lighthearted personality isn't likened to ditziness, nor is it a character flaw that derails the plot into shallow hijinks. Instead, her belief in the goodness of others is grounded in a sincere bond between her lost siblings and treated as a crucial foil to Raya's internalized mistrust, driving the latter's arc toward reevaluating the antagonistic but nuanced Nimaari.
In playing Sisu, Awkwafina continues to show her penchant for sharp comedic timing. While some of her modern slang feels like obligatory emulations of past Disney comic relief characters, Awkwafina finds her own voice in the role, proving Sisu isn't just Mushu 2.0.
Along the way, the pair assemble a motley crew of allies from the various tribes, who add more comic flavors to the mix while also sharing in moments of emotional sincerity. In the floating marketplace of Talon, for instance, a seemingly innocent baby cons Raya, leading to a hilariously high-octane chase – a clever subversion that's punctuated by the somber realization the toddler is fending for herself after the Druun took her family.
The film also features more intense action, as the hand-to-hand combat and swordplay sequences are visceral and fast-paced, honoring martial arts like Muay Thai, Arnis and Pencak Silat. The freedom of movement provided by the animation medium also allows the kind of fluid angles and visual clarity frequently absent in stunt double-reliant fights.
And as expected from the studio behind visual marvels like "Frozen," the animation is first-rate, depicting Kumandra with sheer beauty – from sprawling desert landscapes to the nearly photorealistic rivers.
[Related: Movie review: 'Frozen II' is the next right thing in Disney's unique approach to princess sequels]
But for all the movie's visual splendor, the decision to depict Kumandra as a hodgepodge of several Southeast Asian cultures without distinction sends a mixed message. As a caveat, the broad incorporation of Southeast Asia allows more audiences to potentially feel seen on screen, speaking to a literal melting pot motif of cultural connectivity. With screenwriters of Southeast Asian descent penning the story, it's evident Disney rightly went out of its way to deliver more authentic cultural details in the garments, cuisine and dragon mythology, where films like 2020's "Mulan" failed.
However, these silver linings are weighed down by the larger issue of Asian cultures being continually homogenized as a monolithic community, ignoring the rich cultural diversity between countries like Thailand, Vietnam and the Philippines – an interchangeability seen in the film's predominantly East Asian cast as well.
Storywise, the film's fast-paced script also disappointingly skips a few beats. While the film follows Disney's recent trend of more ambiguous narratives where there is no clear villain, early themes of classism among Heart and its rival tribes are glazed over in the film's ultimate resolution, reducing an otherwise challenging lesson.
Despite the movie's shortcomings, "Raya and the Last Dragon" epitomizes the kind of films Disney should continue making – original, witty and moving. The film subverts many cliches while bringing more background cultural elements front and center.
Progress may not be a straight line when it comes to Disney, but "Raya and the Last Dragon" manages to make noteworthy strides given the tough burden of representation.