Q&A: Kelly Marie Tran discusses Asian representation in 'Raya and the Last Dragon'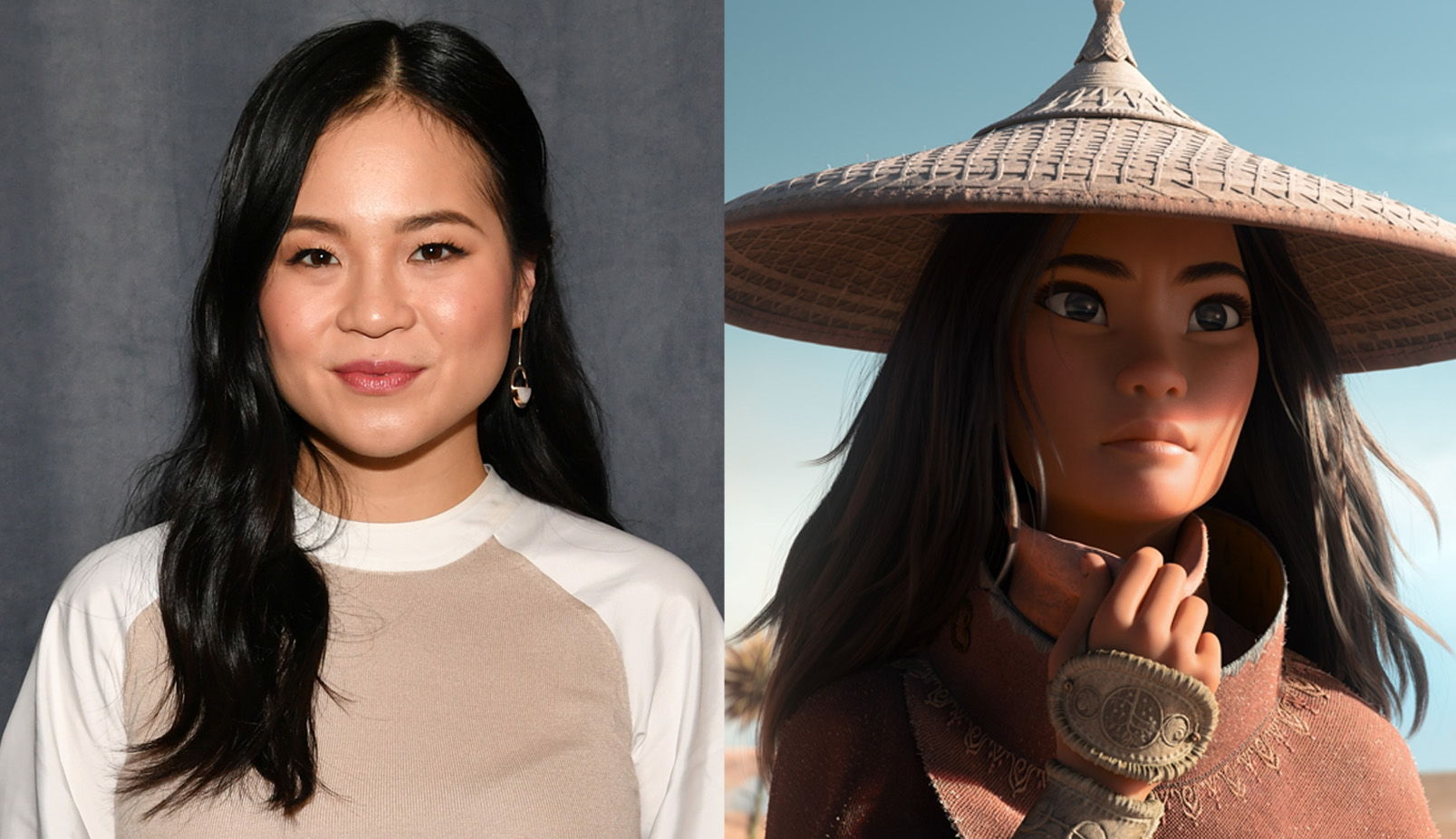 (Left to right: Courtesy of Slaven Vlasic/Getty Images, courtesy of Disney)
This post was updated March 7 at 4:52 p.m.
Kelly Marie Tran is redefining what it means to be a Disney princess in 2021.
The alumna stars as the titular warrior princess in Disney's latest animated film "Raya and the Last Dragon," which releases Friday in theaters and through Disney+ premiere access. Set in Kumandra – a fantasy world encompassing several Southeast Asian countries – the film follows Raya as she awakens Sisu (Awkwafina), the magical dragon of legend, to help overcome an ancient evil that has swept through the land.
Daily Bruin's Matthew Chu spoke with Tran about becoming a part of the Disney canon, the representation of Southeast Asian culture and the movie's timely resonance.
[Related: Q&A: Randall Park reflects on how his time at UCLA shaped his career in acting, writing]
Daily Bruin: You've talked about growing up as a huge fan of Disney films, especially "Mulan." How does it feel to know that a generation will grow up with Raya as the first Southeast Asian Disney princess?
Kelly Marie Tran: It's really exciting. It means a lot to me to be part of something that feels like it is changing the way that we view the words "hero" and "princess." A lot of us grew up in a generation where it felt like there was a very narrow perception of what people conveyed as a princess or a hero in terms of what a princess looks or acts like. And I think with this movie we're really changing that in a really cool way.
DB: How did your time at UCLA impact you and influence your decision to go into acting?
KMT: I had so much fun there. I was in an a cappella group, and I really feel like it was the first time where I let myself even consider pursuing acting. Before that, I just felt like it was such a crazy dream that was absolutely impossible and not even worth pursuing. But being at UCLA and spending a lot of time performing with my friends really changed the way I viewed what was worth risking for.
DB: With the opportunity to play a culturally specific role, how did you trust that Disney would authentically depict Southeast Asian culture?
KMT: What really comforted me was there was a lot of conversation around having a story trust and making sure that a lot of people behind the camera were of Southeast Asian descent or experts in those specific cultures. Two of our writers are specifically Southeast Asian – Qui Nguyen is Vietnamese and Adele Lim is from Malaysia. Our head of story is from Thailand.
Having their expertise behind the camera in addition to having the (Southeast Asia) Story Trust shows how meticulous everyone was … to make sure they were authentically representing this part of the world. And that is seen throughout the movie, not in just the food, but also the specific style of martial arts (and) the fabrics the different clans are wearing.
DB: Since you recorded your lines remotely, was it more challenging or creatively freeing?
KMT: Probably a little bit of both to be honest. The challenges were having to figure out all the technical stuff of recording yourself in addition to internet cutting out (and) the sound of construction happening outside. But at the same time, we were able to find a happy balance, and (directors) Carlos (López Estrada) and Don (Hall) were so amazing to work with. They really were patient with all of us actors in terms of making sure we were comfortable enough to be able to just play and be creatively collaborative with them.
[Related: Second Take: Golden Globes' foreign labeling of 'Minari' discounts complex Asian narratives]

DB: One of the main themes of the film is learning to build trust with others in a fractured world. How has this part of Raya's journey resonated with you personally?
KMT: Anyone can relate to the idea of being a really hopeful kid and then having a horrible thing happen to you (that) changes the way that you view the world. There are many times in my life where I have experienced things that change the way that I interact with the people around me and the world as a whole. But I think the lesson that Raya learns is a really important one, and it's that … you can let your anger and your pain really blind you or you can recognize there is still good and that's worth fighting for.
DB: "Raya and the Last Dragon" arrives during a period of heightened discrimination against Asian American communities. What does it mean to you for this movie to be coming out right now?
KMT: It means a lot. When you make something like this, you really can't control when it comes out into the world. So to be part of something that is so resonant and timely while also having the themes be so universal is really awesome.
The lessons that Raya learns are lessons that I feel are really pertinent to what's happening in the world. We're living in a world that tells us we should be ashamed or afraid, (so) to have something like this coming out is a moment of joy and pride for (our) community. Recognizing that feeling joy and pride in a world that tells you (to) be afraid is an act of rebellion in itself. It's a really heavy (time), but I hope that people are able to resonate with this movie and celebrate it for what it is.