Alumni couple cultivates online community around Filipino Instant Pot recipes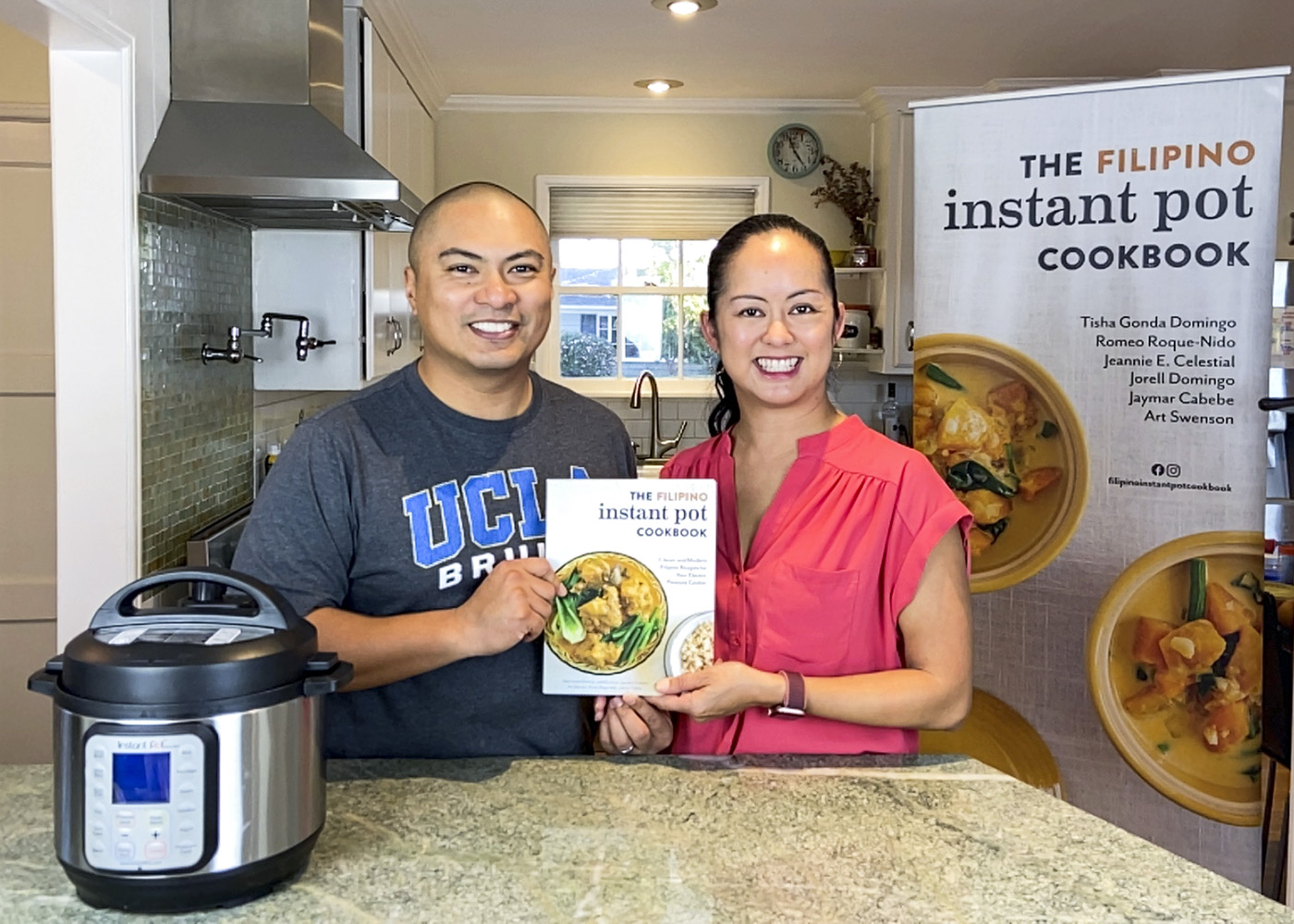 What began as a Facebook group by alumni Tisha Gonda Domingo and Jorell Domingo to fill the void of Filipino recipes online has now turned into a cookbook co-authored with four other writers. (Sakshi Joglekar/Daily Bruin staff)
Tisha Gonda Domingo and Jorell Domingo are co-founders of the largest Filipino Instant Pot community on the internet.
The married UCLA alumni made their Facebook group, Filipino Recipes Instant Pot Community, in 2018 with the hopes of creating a space for people to learn about and enjoy Filipino culture, Tisha said. The idea originated when the couple was first learning how to use the Instant Pot electric pressure cooker while working from home, and Jorell said they soon wanted to fill the void of Filipino recipes online. As second-generation Filipino Americans, the pair felt responsible for the preservation of their heritage, Tisha said.
"I started looking for recipes online, and eventually on Facebook, I found a bunch of groups – Italian food, Vietnamese, Korean food," Jorell said. "But there was none for Filipino food."
After gaining thousands of new members on the page, the couple wrote a cookbook after mutual friends suggested the idea to them, Jorell said. The community they built online showed their excitement in the news, further motivating the pair. Published in October 2019, Tisha said "The Filipino Instant Pot Cookbook" incorporates both classic and modern Filipino dishes that are easy, time efficient and budget friendly. They specifically highlighted meals that fit these categories because they wanted their recipes to be accessible for all readers, regardless of their economic background, Jorell said.
[Related: Student uses YouTube channel to showcase her family's Korean recipes]
Co-authored with four other writers, the book includes more than 75 Filipino recipes, each spread over one to two pages. And while the authors have kept their writing styles and format consistent, Tisha said they each had the opportunity to write a headnote in their own voice, leading each author to include an anecdote associated with the dish of their choice at the top of each recipe.
"For the readers, at least what I've heard from some feedback, they kind of enjoy those little stories," Tisha said. "Growing up, everybody has food memories. … I think that's something that is pretty universal for everyone."
While they aren't renowned chefs, Tisha said the book's "cooking made easy" impression makes it relatable for the average home cook. It also includes a section for frequently asked questions about the Instant Pot, detailing the different pressure releases and modes to pay attention to. Serving as a guide for individuals of all experience levels and backgrounds, Tisha said the authors introduce essential ingredients in a Filipino pantry like annatto powder, bagoong and calamansi for readers who are unfamiliar with the cuisine.
Roy Ramirez, Jorell's college roommate, has been a longtime friend of the couple since meeting them in Samahang Pilipino, a Filipino organization on campus. He said the cookbook's specificity makes it especially easy to follow. Although experienced chefs might eyeball measurements and still end up with great results, he said the book provides guidance that others need.
"My wife is the type of cook that has the talent to just be able to try things and throw things in there," Ramirez said. "This is coming from an engineer standpoint, … I usually like to start off with a recipe, a formula."
When cooking, Ramirez said he uses the Instant Pot multiple times a week, even preferring the device over the stovetop in most cases. Jorell and Tisha's cookbook was his main source of help when learning how to use the pressure cooker, especially because his first attempts on his own were very discouraging. When cooking adobo with it, he said he ended up with a watered down version.
While Ramirez admits he didn't foresee the couple's cooking endeavors, he was not surprised by any means. During their time in college, he said Jorell was constantly trying new foods, leading to the running joke between the friends that, "With Jorell, we eat well."
"Even back then we knew we always ate well with him, so it's sort of funny that years later, he gets involved in something culinary," Ramirez said. "It was always like there was trust in his choices, so it made referencing the cookbook an easy choice."
[Related: Alumnus dishes on unexpected culinary career after following a pre-med track at UCLA]
Currently, the alumni's Facebook group has more than 88,000 members, giving them the audience to lead several demos on Facebook Live, Zoom and with the UCLA Pilipino Alumni Association. Although many have been socially distancing during the COVID-19 pandemic, Tisha said it has been a relief to virtually interact with their followers.
Reflecting back on their time at UCLA more than 20 years ago, Tisha said the making of their cookbook reconnected them to the idea of community. At UCLA, Jorell said the two were involved in Samahang Pilipino and UniCamp, and the values of these organizations have come full circle for them even decades later in their personal and professional lives. Hoping to recreate this sense of community in person, Jorell said the two are looking forward to meeting members of their Facebook group soon.
"That's the great thing about UCLA – it's such a huge school, but there's so much opportunity out there," Tisha said. "When you're able to seek these different groups and clubs, it makes the world feel smaller, and you just feel very connected."