Alumnus dishes on unexpected culinary career after following a pre-med track at UCLA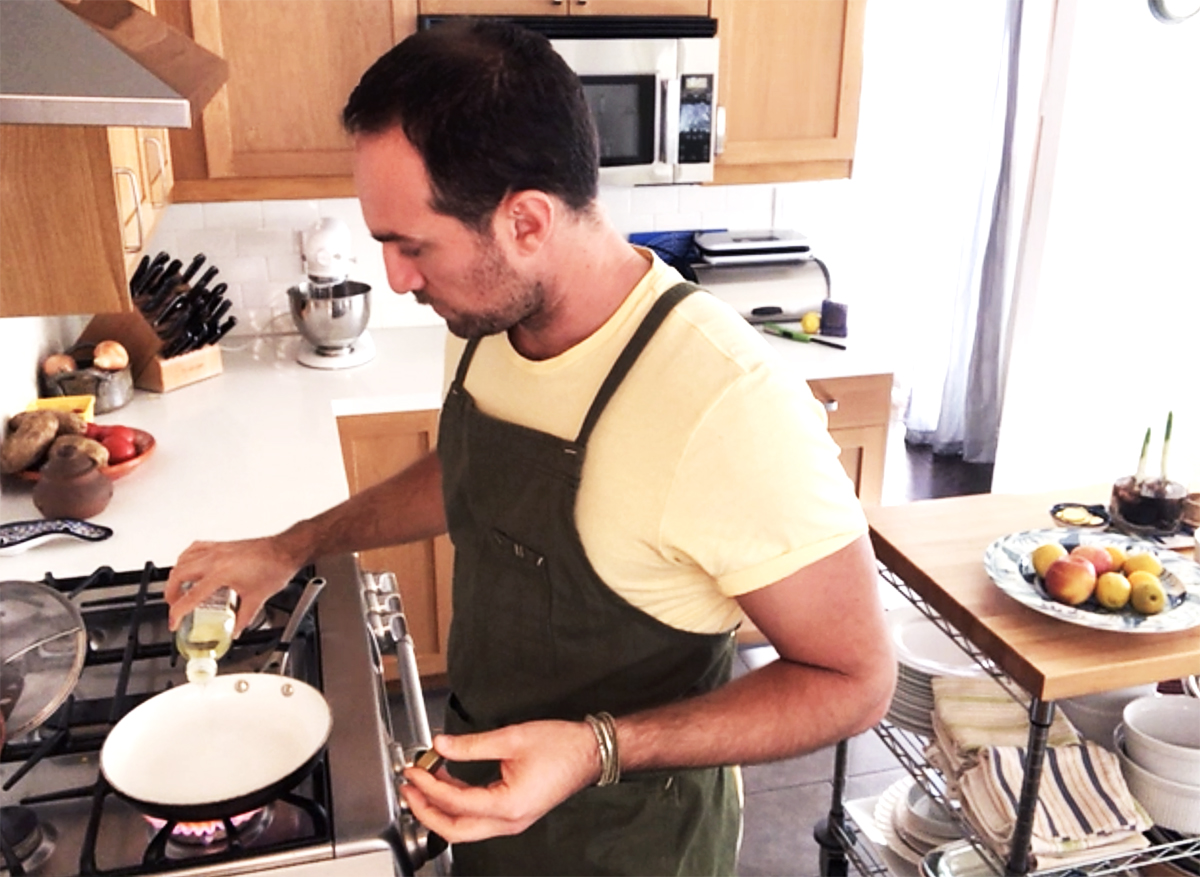 UCLA alumnus David Kianmahd originally planned a career in medicine and nutrition but has now spent over a decade as a chef and restaurant manager after following his passions in cooking. From attending culinary school in New York City to managing Violet Bistro in Westwood Village, Kianmahd said he is now in the beginning stages of opening his own business in the food industry. (Kristin Pischel/Daily Bruin)
David Kianmahd never anticipated a career in the culinary industry.
The UCLA alumnus said he actually spent much of his time in college preparing for medical school. During his time as an anthropology student, Kianmahd said he had always been interested in science and nutrition, but he began to reevaluate his future trajectory as graduation neared since he simply didn't feel passionate enough about a medical profession. Now, with over a decade of experience as a chef and restaurant manager, Kianmahd said he is grateful he took the leap of faith required to pursue his true passion.
"Being a doctor wasn't really calling to me," Kianmahd said. "I was kind of close to graduating, and I decided … I wanted to do something else."
After receiving his diploma, Kianmahd said he wanted to explore options in the restaurant business. Growing up in an Iranian Jewish family, he said he has fond memories of cooking with relatives at family gatherings throughout his childhood, and it was this upbringing that motivated him to seek out professional opportunities in the culinary world.
"I walked into a few different restaurants around LA and I offered to work there for a couple weeks for free," Kianmahd said. "Just to see if I liked being around food."
From there, Kianmahd landed his first job in the restaurant business at a casual fare eatery in Santa Monica called Violet, and it was here that he learned the ropes of the food industry under head chef Jared Simons – whom Kianmahd credits for fostering his early interest in the profession. The energetic yet educational atmosphere of the restaurant kitchen appealed to Kianmahd, and he said it made him excited to continue working in similar environments.
[Related: Alumna brings wine expertise to San Diego's only Michelin-starred restaurant]
As an academic, Kianmahd said he felt the natural next step for him was to ground his passion for food in education. After researching and visiting different culinary schools, he enrolled in the Culinary Institute of America in Hyde Park, where he spent his days cooking and building connections with classmates and his evenings exploring New York City dining and nightlife.
Once he gained this experience from established chefs, Kianmahd said he was inspired to continue his own culinary career in the Los Angeles food scene. After exploring a few different options, he began working at Street – a restaurant specializing in street food from all around the world. Here, Kianmahd worked under chefs Susan Feniger and Kajsa Alger, who he said made instrumental impacts on his career in terms of innovative culinary skills and compassionate leadership styles.
"It was a women-led restaurant, which was really important to me," Kianmahd said. "The vibe if a woman is running the restaurant is very different from the traditional male chef. It was much more collaborative and supportive and a lot more teaching was involved."
Courtney Storer, Kianmahd's close friend and longtime colleague, said she agrees with him on the value of cultivating supportive kitchen environments. Because the restaurant industry can be stressful and unpredictable, Storer said they both always strive to bring positivity to the workplace.
"The biggest thing for me is learning how to bring out the best in people by training," Storer said. "Positive reinforcement works way better than negative reinforcement because positive reinforcement builds morale."
After spending about a year at Street, Kianmahd felt prepared to move on to a new setting and was recruited by the Hillstone Restaurant Group for its culinary manager position. However, the experience was interrupted by the economic recession of 2008, which he said caused him to spend a year working part-time at Hillstone in order to help with his father's business before returning as a full-time manager. Although Hillstone's organization taught him to have integrity in his work, Kianmahd said the structured environment led him to look for roles that gave him more options for creativity and innovation.
"It's really hard to be an individual when you're a cog in a machine by design," Kianmahd said. "So while I really appreciate the learning that I got, I also knew (Hillstone) wasn't for me forever."
Kianmahd said he went on to explore different opportunities in the culinary world, including a brief stint in catering, a job as general manager of the restaurant Jon & Vinny's, and most recently, the position of general manager at Violet Bistro, a restaurant and cooking school that opened this year in Westwood Village.
[Related: Required Taste: Discovering our ancestry and culture starts at the family dinner table]
In all of these roles, Kianmahd has prioritized building positive connections with his colleagues. His coworker from Violet Bistro, chef Camden Hershberger, said he shares this mentality as well. Hershberger said he has found that maintaining relationships with co-workers is a valuable skill that can assist in finding work in the restaurant industry and beyond.
"Having positive relationships with colleagues has oftentimes led to opportunities," Hershberger said. "The better foot you leave on, the more likely you are to have opportunities."
However, Kianmahd said his partnership with the new establishment was brief – Violet Bistro opened just one week before COVID-19 resulted in California's shelter-in-place orders. The situation caused Kianmahd to spend much of his time at Violet Bistro adjusting its business model to adapt to social distancing requirements before ultimately deciding to leave the bistro in pursuit of more fulfilling opportunities.
As he moves on to new ventures, Kianmahd said he is in the beginning stages of several new business ideas – all of which are in the realm of the food industry. While starting these ventures, Kianmahd intends to be involved in the decision-making processes and take on more of an ownership role, leading him to newfound excitement for his future roles and projects.
"I'm so excited," Kianmahd said. "I've never felt more engaged in my business than I do now."