'WandaVision' season 1 recap – episode 8: 'Previously On'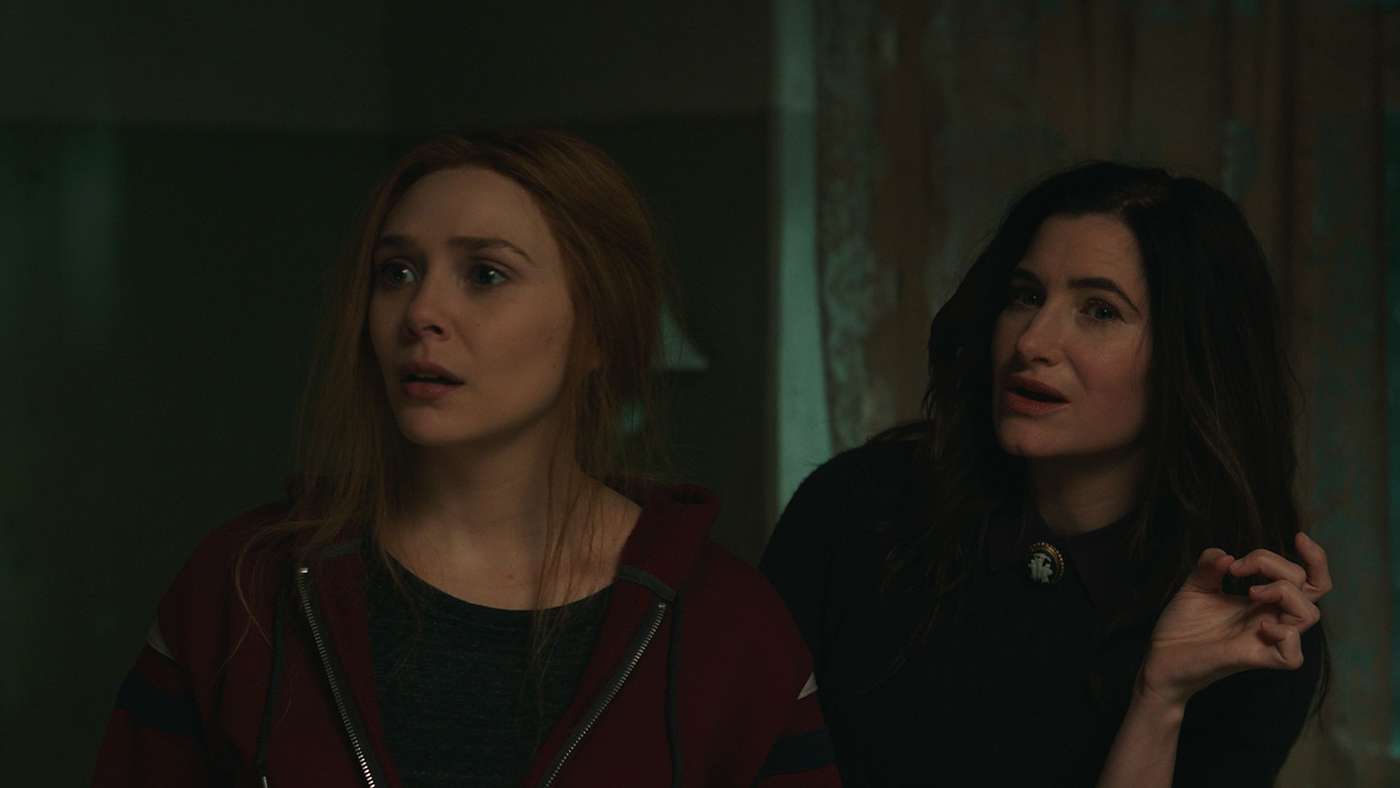 (Courtesy of Marvel Studios)
"Previously On"
Directed by Matt Shakman
Disney+
Feb. 26
Warning: spoilers ahead.
The Scarlet Witch is finally canon – and the name-drop is fully earned.
After seeing glimpses of Wanda's (Elizabeth Olsen) present state of mind through the sitcoms of weeks prior, the eighth installment of "WandaVision" delivers her backstory that was never properly articulated in the Marvel Cinematic Universe films. Events that were previously footnotes in Wanda's biography become emotional anchor points for her character, contextualizing the creation of the Hex with heartfelt pathos. Viewers may have expected more of a high-stakes storyline for the penultimate episode, but the subdued character study of Wanda's origins provides wholly satisfying answers to lingering questions – and it doesn't skimp on the surprises.
The episode first provides a brief background for Agatha Harkness (Kathryn Hahn), who was revealed last week to be a powerful witch responsible for many a magical anomaly in Westview. In fact, her use of dark magic dates back to 1693 Salem, Massachusetts, where her coven nearly executed her for such transgressions, but she overpowered them by seemingly draining their life forces. Hahn brings equally wicked energy to her present-day scenes as Agatha sardonically psychoanalyzes Wanda, envious of her magical talents.
[Related: 'WandaVision' season 1 recap – episode 7]
With the latter at her mercy, Agatha forces Wanda to relive traumatic moments of her life that ultimately culminated in the creation of the Hex, beginning with the death of her parents when Stark Industries bombs destroy their Sokovian flat. However, the tragic turn of events is preceded by nostalgic memories, as Wanda's father brings home DVDs of sitcoms like "I Love Lucy" and "The Dick Van Dyke Show" to watch together as a family. As her last moments with her parents happened to be in front of the TV, the scene effectively establishes Wanda's connection to American sitcoms, which develop into a relatable source of escapism for her during times of heartache.
Agatha further reveals that Wanda disarmed a missile as a child using a hex, suggesting her magical powers are innate when they were previously thought to be the result of experimentation by HYDRA. Wanda's ill-defined powers have always stirred some confusion, but through Agatha's knowledge of sorcery, viewers acquire a lexicon to understand such abilities – like mind control and transmutation – eventually learning how special her gifts truly are.
Flashing forward to adulthood, Wanda's latent powers are fully unlocked via the Mind Stone in a haunting sequence in which she is mesmerized by a silhouetted vision of herself dressed in her comic book outfit. Accompanied by the chilling musical motif heard during each episodes' credits, the scene intensely conveys the grandeur of Wanda's powers through a connection to larger cosmic mythology.
But tragedy strikes again as Wanda mourns the death of her brother Pietro at the Avengers Compound, where she explains to a then-alive Vision (Paul Bettany) how sitcom slapstick is funny because the pain isn't actually real. Just as this idea helps the Synthezoid access new emotions, Vision – lacking loved ones of his own – reframes Wanda's grief as "love persevering," supporting her with his innocent yet profound point of view. Wanda's connection to the Mind Stone – which became part of Vision himself – has always justified their romantic pairing, but the beautifully written scene serves as a microcosm for why the couple truly rounds each other out as people.
Such a genuine bond between the pair naturally leads to Wanda's horrified reaction in the wake of Vision's death as she visits his body at S.W.O.R.D. headquarters, only to see it being dissected by scientists. The poignant scene not only continues to humanize Wanda's struggles but also reveals that S.W.O.R.D. acting director Tyler Hayward (Josh Stamberg) lied about Wanda stealing Vision's remains in a fit of emotional rage when the reality is that she left the scene having accepted his death. Yet this knowledge also implies that the Vision living in the Hex is something different altogether.
[Related: 'WandaVision' season 1 recap – episode 6]
And so the origins of Westview are finally revealed as Wanda drives to the New Jersey town, discovering a plot of land Vision had bought for the couple to build their life together. In a moment of pure catharsis, Wanda unleashes her powers like never before, recreating Vision's body from nothing while transfiguring Westview into the 1950s sitcom world of episode one.
By championing intimate, character-driven vignettes throughout the episode, Wanda's creation of the Hex isn't reduced to the emotional fallout from her lover's death, but an accumulation of lifelong grief, as her support systems were tragically stripped from her one after another. Playing Wanda throughout vastly different stages of life, Olsen continues to wonderfully channel pain, nuance and darkness – showing her versatility in performing both spot-on sitcom impersonations and Wanda as her most vulnerable self.
The drama crescendos in the final scene as Agatha holds Wanda's children Billy (Julian Hilliard) and Tommy (Jett Klyne) prisoner, revealing that because the Hex was conjured by a power called chaos magic, Wanda is the fabled Scarlet Witch. Given the importance of superhero identities, hearing Wanda receive her official comic book alias is a thrilling reveal for fans. Because Marvel was legally barred from references to her mutant origins until the recent Fox-Disney merger, the studio utilizes the long-awaited name-drop to creatively elevate the title with a sense of mythological weight.
Episode eight's powerful ending speaks to the awe-inspiring spectacle of the superhero genre, all while grounding this world of chaos magic with a rich emotional center.