'WandaVision' season 1 recap – episode 6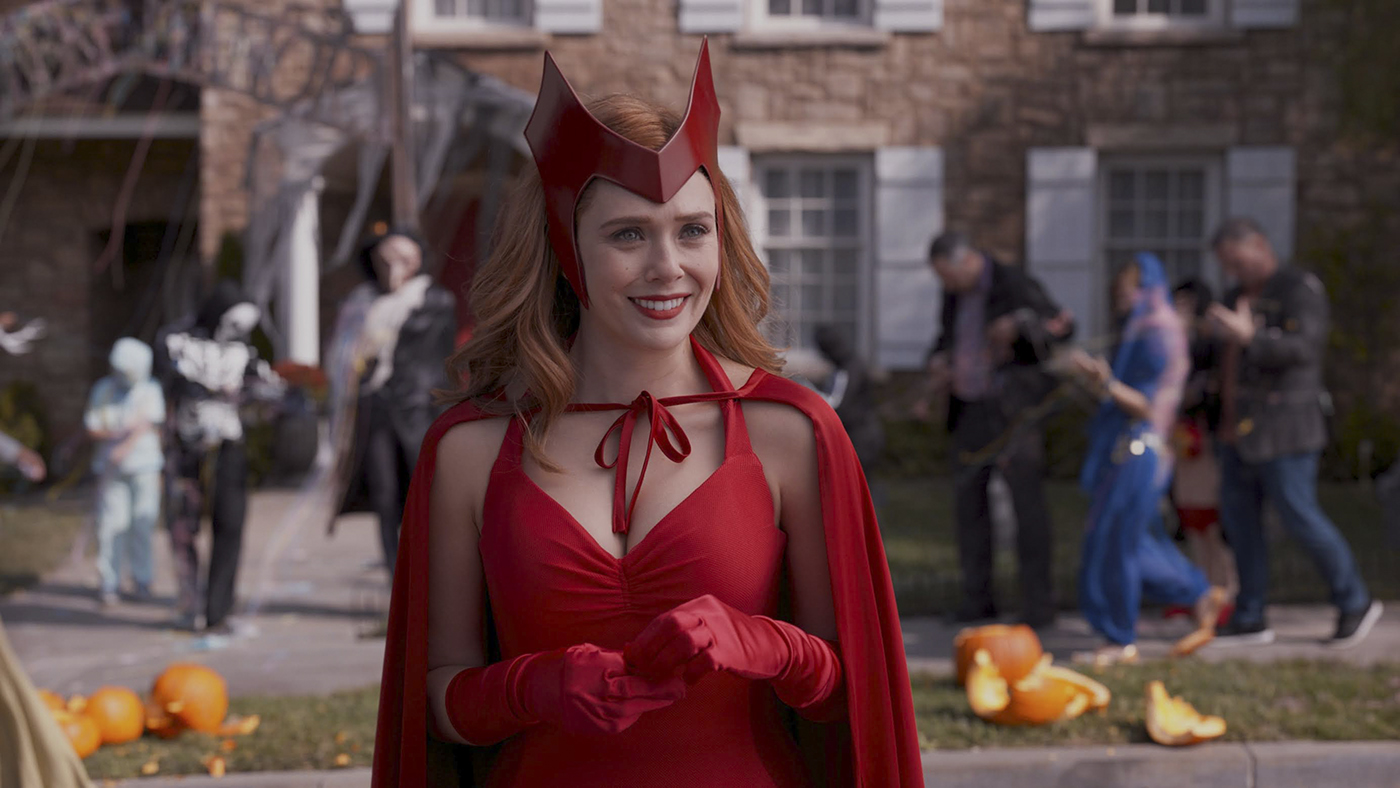 (Courtesy of Marvel Studios)
"All-New Halloween Spooktacular!"
Directed by Matt Shakman
Disney+
Feb. 12
Warning: spoilers ahead.
Westview just got a whole lot bigger.
For all the multidimensional possibilities opened up by the reveal of Pietro Maximoff (Evan Peters) last week, "WandaVision's" sixth installment opts to raise more questions than it answers and adds new layers to the established mystery. The episode continues to successfully balance the sitcom and S.W.O.R.D. storylines as it significantly rearranges the show's power dynamics moving forward.
As always, Westview enters a new era of television sitcoms – this time in the late '90s and early 2000s. Lacking the cheesy retro factor of the previous homages, the turn of the millennium is harder to encapsulate stylistically, but the energetic editing and cutaway gags reminiscent of "Malcolm in the Middle" result in some nostalgic familiarity. It's also fitting that as the sitcom format approaches present day, the characters are able to speak closer to their real selves because of more subversive writing and modern forms of expression.
The episode takes place on Halloween, as Wanda (Elizabeth Olsen) makes plans to take the twins Billy (Julian Hilliard) and Tommy (Jett Klyne) trick-or-treating. This holiday setting inspires some cheeky costume design as Vision (Paul Bettany), Wanda and Pietro wear brightly colored, homemade outfits based on their original comic book attire. The same goes for Billy and Tommy, whose powers eventually manifest in the episode, referencing their respective comic book counterparts – Wiccan and Speed.
However, Vision's plans to patrol the streets with the neighborhood watch prevent him from joining them, so Pietro takes up the father-figure reins. The X-Men franchise's comedically-oriented Pietro fits right into the sitcom format as the quirky, avuncular character who is idolized by the young twins.
Yet his penchant for breaking the fourth wall – questioning inconsistencies like the siblings' disappearing accents – also highlights that in Wanda's world, he is ultimately a square peg in a round hole. Pietro doesn't seem to remember how he arrived in Westview and neither does Wanda, which challenges the extent of Wanda's control over the neighborhood. This idea is later reinforced as she admits to her brother that she doesn't know how Westview came into being despite her overt influence over it.
[Related: 'WandaVision' season 1 recap – episode 5]
This lurking mystery is also explored during the commercial break, which depicts a boy on a stranded island being saved by a talking shark who brings a yogurt snack called "Yo-Magic." The claymation, surf music and bizarre premise perfectly epitomize early 2000s' snack commercials, but the boy's inability to open the yogurt lid leads to a deeply unsettling ending where he starves and decays into a skeleton. And unlike the previous commercials, this latest one is seemingly more symbolic of Wanda's present than her past, projecting many possible interpretations.
Meanwhile, as Vision treks to the edges of Westview, he encounters disturbing sights like frozen trick-or-treaters and a woman stuck in cyclical motion as a single tear falls down her face. After Vision's psychological crisis last episode, his discovery of Westview's trapped citizens feels a tad redundant. Nonetheless, his plotline conveys that he's learned how to go off script despite Wanda's weekly resets – essentially improvising a new storyline to secretly find answers.
Outside the sitcom world, the drama escalates at the S.W.O.R.D. camp where Director Hayward (Josh Stamberg) banishes Monica (Teyonah Parris), Jimmy (Randall Park) and Darcy (Kat Dennings) for their insubordination to his aggressive methods against Wanda.
Thankfully, the trio manages to sneak back inside the camp, where it makes new critical discoveries and plans for reentering Westview. Namely, Darcy learns that passing through the town's hexagonally shaped wall altered Monica's biology on a cellular level, which could hint at a potentially super-powered future for her – and perhaps for anyone who has entered Westview.
[Related: 'WandaVision' season 1 recap – episode 4]
Additionally, Monica plans to rendezvous with an unnamed aerospace engineer who can help her reenter the town. The return of Peters' Quicksilver seemingly opened the door to crossover characters from Disney's recent merger with 21st Century Fox. As such, any cameo appearance – from properties like X-Men and Fantastic Four – could fill the role of Monica's contact, which should definitely excite Marvel fans.
The storylines also finally converge as Vision pushes through the Hex and pleas for the S.W.O.R.D. agents to help the people of Westview. As Vision struggles against the Hex's pull, his body begins to tear apart – a state of despair the Synthezoid never seems to escape from despite his resurrection. As Hayward refuses to help Vision, Bettany drives home the upsetting scene with an emotionally pained performance that showcases Vision's unwavering compassion to help others despite his own suffering.
But on the brink of death, Vision is saved by Wanda, who freezes the people of Westview and significantly expands the borders of the Hex to restore her husband's body. The expansion of Westview has severe consequences moving forward as the S.W.O.R.D. camp transforms into a circus and Darcy ironically becomes part of her cherished sitcom. A close-up of Wanda's eyes, fuming red with cosmic energy, punctuates the episode on a dour note and emphasizes the increasing severity of lengths Wanda will go to preserve her reality.
So while episode six may break the fourth wall quite a bit, it still can't manage to penetrate Wanda's magical Hex.