Student's TikTok feed shares snapshot of daily life at UCLA during pandemic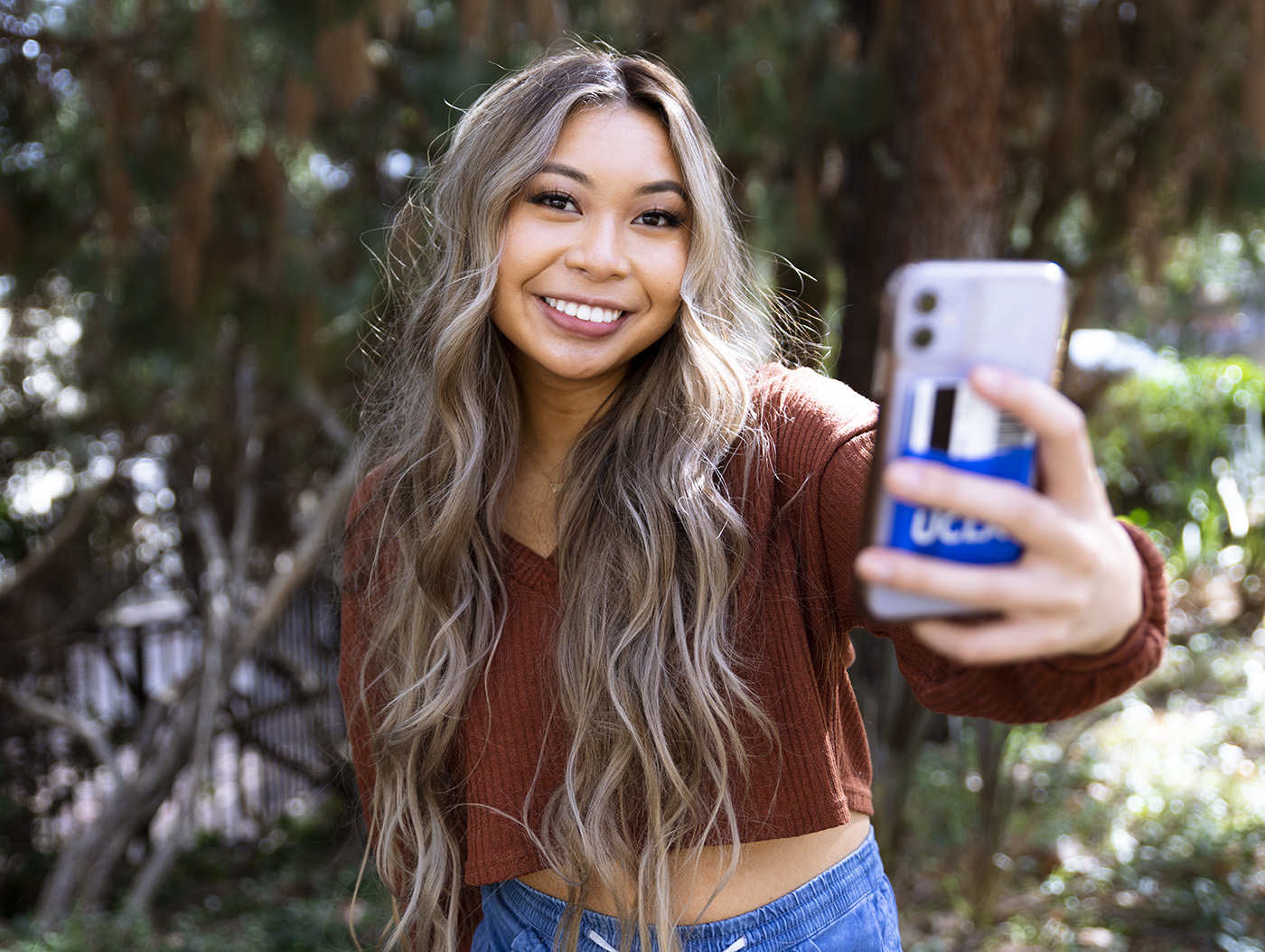 What started as an attempt to keep track of college acceptance letters on TikTok has become a way to document university life during a pandemic for first-year pre-communication student Darlene Hoang. (Ashley Kenney/Assistant Photo editor)
Darlene Hoang's mundane moments in her dorm room caught the attention of millions.
The first-year pre-communication student said she started making TikTok videos at home in March to keep track of her college acceptance letters. Within the past year, Hoang has gained more than 24,000 followers and 2.5 million likes across her videos. She said she originally started her most popular series, "What I Eat in a Day at UCLA," while she was quarantining in her dorm after moving in for the first time and a few videos have reached up to 2 million views. Since then, Hoang has been creating content for her growing audience, which she said mostly includes middle and high school students.
"That's when I realized that I should take it a little more seriously," Hoang said. "I think it makes me more aware of what I post and the image I give off on social media."
[Related: Student records rendition of 'Godspeed' after cover gains popularity on TikTok]
While her newer content ranges from fashion hauls to workout videos, she said her main aesthetic falls under one of the platform's many niche subgroups, CollegeTok. Hoang said she makes TikToks about everything a high school senior might be interested in when choosing where they want to attend college, especially because many of her followers can't get those experiences in person. She documents her daily life at UCLA, including dining hall food reviews, midterm week, dorm room decor ideas and the online sorority rushing process.
By giving her young audience a more intimate look into what college life has been like during the pandemic, Hoang said she has been able to connect and grow with her following. As her account grew, Hoang began receiving sponsorship deals and now considers herself a micro-influencer. While she needs to follow certain professional guidelines from companies she works with, such as Niche, most of her content is casual and lighthearted, Hoang said.
"Sometimes it's hard to think of new ideas and posts," Hoang said. "Trying to find time to create content has been super hard, but I've been doing what I need to do in between class time."
Occasionally, Hoang said she also features her friends in her videos and receives inspiration from them for many of her posts like her UCLA campus tour video. Although first-year physiological science student Mika Millan does not have a TikTok account herself, she said she enjoys the fun of making them with Hoang. Millan said she believes in romanticizing their lives for Hoang's followers, especially during such unpredictable and challenging times. It is important to show the small aspects of their lives that can be taken for granted sometimes, she said.
"I think a lot of college students forget that they are living the dream that so many people cannot, and (Hoang)'s TikToks show that in some way," Millan said. "Quarantine meals may not be that special, … but these videos encourage people who might not be motivated to go to school or are curious about a certain school."
[Related: 'Ratatouille: The TikTok Musical' ushers in new form of musical theater]
As someone who recently downloaded TikTok, first-year political science student Jayda Jackson said she began seeing Hoang's videos pop up on her "For You" page – the app's main page where content is curated specifically for each user. Although many high school seniors were upset about the timing of the pandemic, Jackson said she hopes Hoang's content will stir some excitement in them.
"Seeing someone who is being optimistic about college despite the challenges that the class of 2020 had to go through, I think I'd just be more excited about attending college," Jackson said. "She makes everything seem so interesting and fun, and her videos really inspire a lot of people."
While Jackson drew ideas from Hoang's TikTok to decorate her own dorm, Hoang said Jackson also serves as a source of her inspiration. When scrolling through her "For You" page, Jackson said she makes sure to send any new trends, dances or college-related videos to Hoang for reference. And when the pair explore Los Angeles with other friends, Jackson said she always tells Hoang to document new places to post on TikTok like cafes, the Hollywood sign and views by the beach in Malibu. While Hoang feels like she is just sharing small moments of her daily life, Jackson said her experiences also promote motivation for her viewers.
"A lot of people will comment on her TikToks expressing how excited they are to attend UCLA or move to LA, and I feel like (Hoang) makes people feel like they can attain their dreams," Jackson said. "That's a really, really good message that she puts out there for prospective students."