'Ratatouille: The TikTok Musical' ushers in new form of musical theater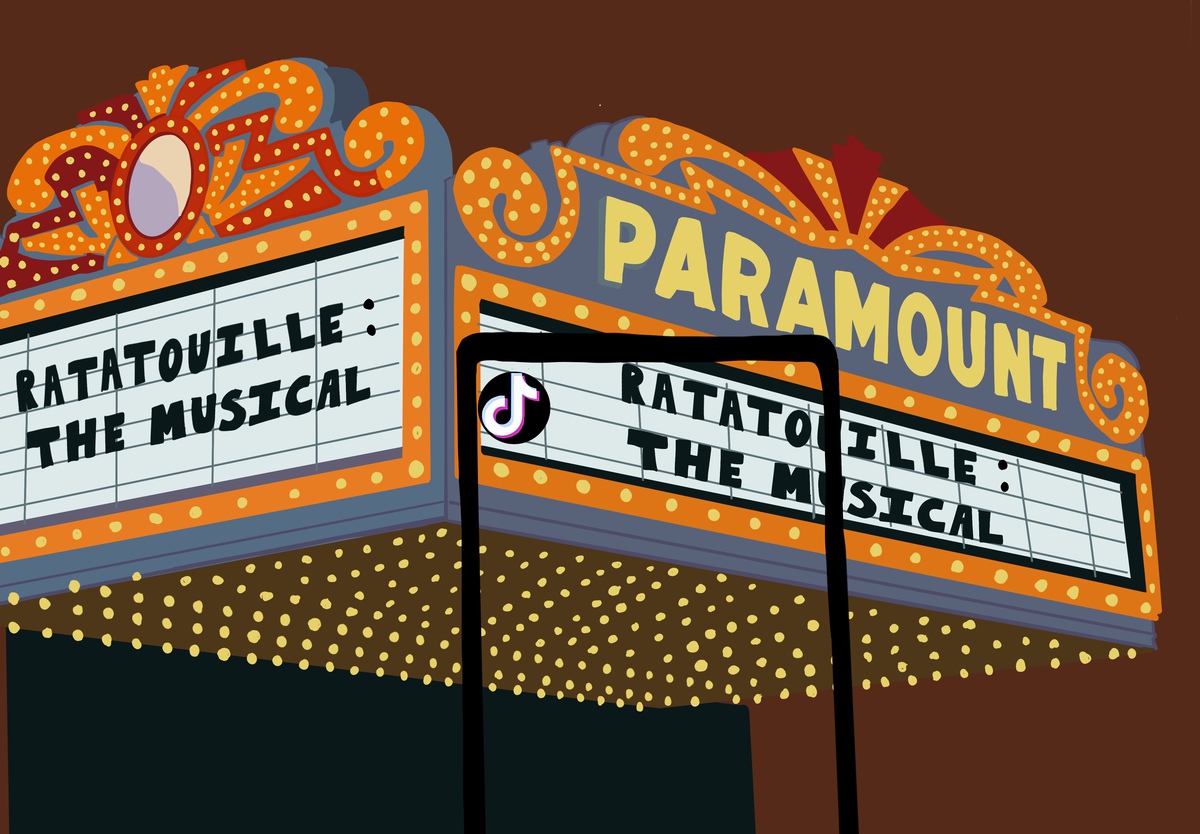 (Emily Dembinski/Daily Bruin)
Musical ingenuity and virtual collaboration have led to one of TikTok's most creative developments.
A crowdsourced production of "Ratatouille: The TikTok Musical" was released Jan. 1 on the theater ticketing platform TodayTix and streamed live Jan. 10 on TikTok. Adapted by Michael Breslin and Patrick Foley, the musical features original songs from musicians and TikTok users like third-year global jazz studies student, Sophia Wackerman, along with a cast and Broadway orchestra. Foley said the adaptation was inspired by the early stages of the musical concept, with songs like Wackerman's "I Knew I Smelled a Rat" circulating on the social media platform.
"Especially as a musical theater fan, I was really excited by this new TikTok platform and mode of musical theater lovers connecting," Foley said. "We asked ourselves, 'How does this, our eyes and our ears, mesh with our feelings about the film?'"
[Related: Outfest aims to increase accessibility to LGBTQ+ programming with streaming service]
After Greg Nobile, the CEO of Seaview Productions, invited Foley and Breslin to begin drafting a treatment for the musical in late 2020, Foley said the duo started thinking of individuals to join the team in directing, choreographing and music supervising. Theater director Lucy Moss and choreographer Ellenore Scott were two of his and Breslin's top choices for the project and who ultimately helped execute the crowdsourced musical.
Aside from his excitement in working with Moss and Scott, Foley said building off the musical numbers from TikTok and the playbill mock-up was a creative and collaborative learning experience. While the original songs provided a general structure for the musical, the question of how to adapt certain film elements like the chase scenes and cooking sequences was still in the air, Foley said.
"Something really exciting about the film that I wish we had been able to explore further is that the film is actually really chock-full of action sequences," Foley said. "There are all of these physical kinetic movements to the film that we hinted at in a lot of (Remy's) language, but we weren't able to recreate on the budget and time constraints that we had."
But he said the difficulties in translating certain action scenes ultimately helped refocus his creative vision for the musical. Rather than directing all of his energy toward resolving these challenges, Foley said his new goal was to bring the attention back to the musical numbers from TikTok. He added that without the distractions of chase scenes and side plots, the characters' voices were able to shine more clearly for the audience.
One of the spotlighted voices is Chef Skinner, the scheming head chef critical of Remy's culinary abilities. Wackerman, who goes by the stage name Sophia James, said her musical background helped her translate the chef's emotions and condense many of Skinner's film scenes into a jazz-inspired number. Aside from composing and singing "I Knew I Smelled a Rat," James said the project was especially noteworthy for its gender-bending casting, as the male chef is played by actress Mary Testa.
"I have never heard of such a collaborative phenomenon such as this, and especially one born out of social media," James said. "I think that TikTok was the best platform for this to all begin because it provides a space for those who wouldn't necessarily be given the time of day by musical theater authorities otherwise, and also really fosters a space for collaboration."
[Related: Screenwriting alumna explores complexities of race with levity in upcoming film]
Such appreciation for TikTok's ability to propel artists of varying backgrounds into the spotlight is a shared sentiment among the musical's creative team, James said. As original songs and duet covers of "Ratatouille: The TikTok Musical" pieces grew in popularity, she said collective efforts to engage other aspects of the concept like set design and playbill covers increased as well.
Kenji Miura, a third-year chemistry/materials science student, said TikTok's engaging interface and customized "For You" page helped the musical's original songs gain traction across many audiences including himself. One of the positive aspects of the platform is its ability to foster creativity and promote lesser-known artists – such as those sharing their songs for the musical – into virality, he said.
"From my perspective, I do see these creators on TikTok as not established or well-known, so the bar was low, so to speak," Miura said. "(But) what they created was just amazing to me, and I was so blown away."
The well-received reactions of "Ratatouille: The TikTok Musical" from viewers like Miura illustrate the captivating engagement of the project, as the musical has raised $2 million for The Actors Fund. The inventive musical compositions, creative set designs and lively choreography lent themselves to demonstrating the power of technology in bringing people together toward a common passion, Foley said.
"I think theater authorities should definitely be paying attention to what's going on here with the 'Ratatouille' musical, especially considering the pandemic and how we've all had to adapt around it," James said. "I think it's definitely plausible that theater generated through social media can be part of the future of musical theater and other forms of media as well."