Student records rendition of 'Godspeed' after cover gains popularity on TikTok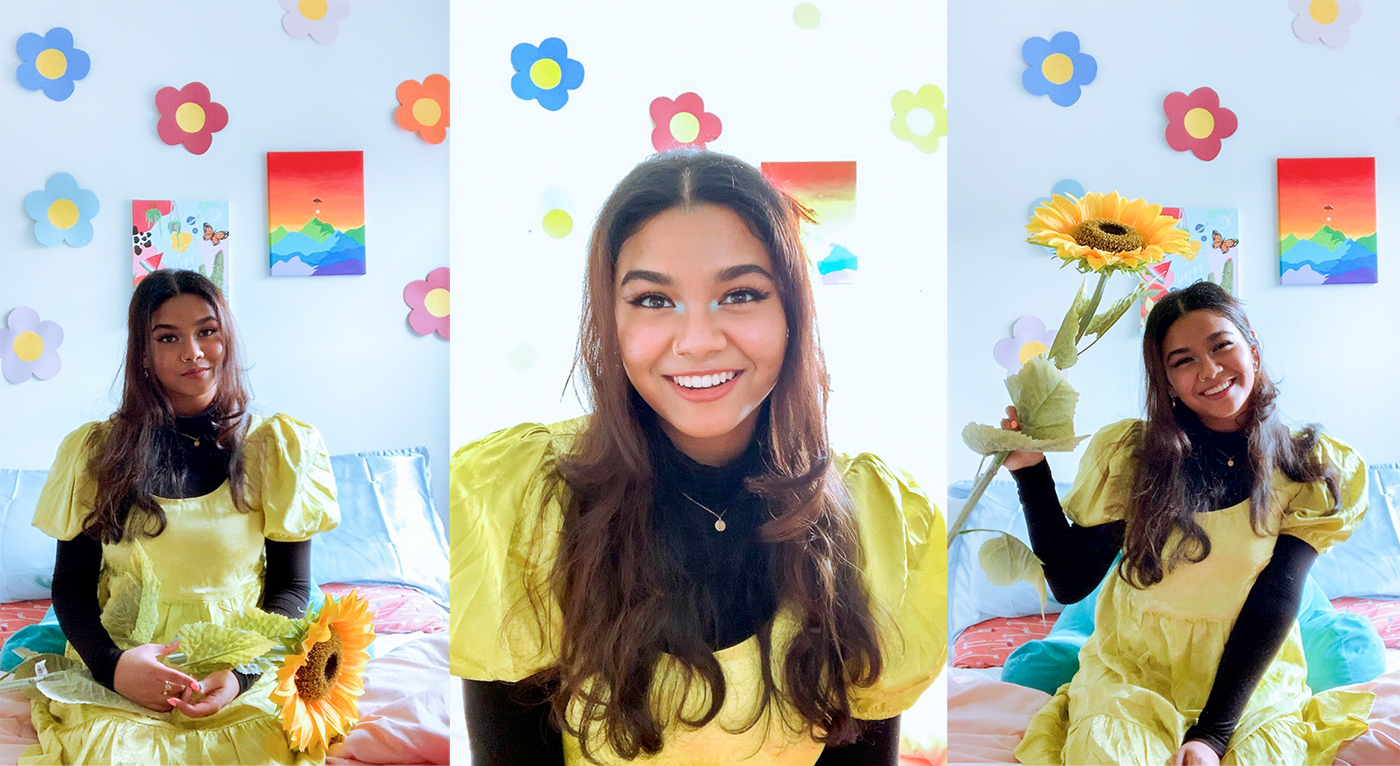 Second-year theater student Paravi Das recently released her cover of Frank Ocean's "Godspeed." The cover originally gained traction on TikTok, where Das has close to 450,000 followers. She hopes to use her platform to amplify the voices of Desi women. (Kanishka Mehra/Photo editor)
Paravi Das' low timbre paves her ascent to prominence.
The second-year theater student officially released her version of Frank Ocean's "Godspeed" on Jan. 22 to various streaming platforms after seeing the cover's success on TikTok. Prior to the release of her Frank Ocean cover, she released her rendition of BØRNS' "Electric Love" and Harry Styles' "Falling," which both went viral on the social media app. Though Das was initially hesitant to post her singing videos on the platform, the overwhelming support she said she received for her cover inspired her to partner with U.K.-based company frtyfve Records to relicense her own rendition of "Godspeed."
"One night, I posted a one-minute cover of the beginning of 'Godspeed' and I was away from my phone for a few hours," Das said. "And then I come back and it's blown up. It's already at 100,000 views in two hours and then the next day it hit a million, and it just kept growing from there."
Raised in a creative household, Das said her foundation in the performing arts stems from her training in Indian classical music. Growing up, she said she spent her time honing her skills in Bollywood dance and Bharatanatyam, as well as Indian theater and classical voice. It wasn't until later in her adolescence that Das said she began exploring mainstream pop music.
Das primarily posts content on TikTok, where she now has more than 440,000 followers. Her TikTok journey started in early 2019 when she posted a college-related skit, Das said. Feeling bored of the app thereafter, she said she stopped posting TikTok content for a few months and only began to post regularly again when she sang a snippet of Y2K and bbno$'s "Lalala" with her friends, which also went viral with more than 2 million likes and 12 million views.
"I never really went in with the mindset of 'I want to be famous,'" Das said. "As long as you're putting out stuff that you're proud of, that you had fun making, that you love to do, you're going to find your people eventually – it's going to happen."
[Related: Student releases studio single following success of musical content on TikTok]
Das began diving deeper into the music industry by releasing music covers, and she said she drew inspiration from female artists like Adele and Beyoncé, who sing in the lower part of their vocal registers. However, Das said the process of releasing "Godspeed" was particularly stressful. Juggling her responsibilities as a content creator, graphic designer and student, she said she sought to complete the track before music streaming services halted submissions for the holiday season. Das collaborated with producer Anwar Sawyer, who said she recorded the vocals remotely.
"Unfortunately, (Das) had to do it in a literal home setup using GarageBand, and we definitely went through some difficulties," Sawyer said. "A lot of the vocals have this loud, air conditioning sound. To me, that was so hard to mix out."
Luckily, Das said she was able to finish the song on time because of the collaborative nature of the project. Her close friend Xander Ambrose, a second-year theater student, provided the piano accompaniment for the track. Despite the difficulties with working remotely, Ambrose said Das' professional demeanor helped ease the production process.
"Because this is a cover of Frank Ocean, (I wanted) to honor the music (since) the song is really powerful when done well," Ambrose said. "My only stress was to make sure the piano accompaniment carried that cinematic musical aesthetic in her music and in her art."
[Related: Alumna navigates death, grief and the afterlife in self-produced debut EP]
But Das said the purpose of finishing and polishing up the project went beyond meeting the winter deadline. "Godspeed" is dedicated to her brother, who she said was feeling glum during the pandemic. Compiling VHS tapes of them as children, Das said she was inspired by their familial love and wanted to incorporate the theme in the music video.
"I decided that I would dedicate (Godspeed) to him, which is why he's on the cover," Das said. "I know that 'Godspeed' can be taken in a lot of different ways, but I really wanted it to be about family and about how we're always going to be there for each other no matter what."
Following her steady growth on her social media platforms, Das said she aims to bolster the presence of people of color – especially Desi women – in the media. She said the lack of diversity in the entertainment industry perpetuates stereotypical depictions of people of color and thus affects the way they think of themselves. Because she didn't grow up seeing someone that looked like her on television, Das said she wants to be a figure for a younger generation to look up to.
"I think I'd like for (everyone) to take away that you're not supposed to raise an eyebrow when you see a brown girl like me coming up on your (TikTok 'For You' page) or on your Spotify playlist," Das said. "One day that's not going to be a surprise. That's not going to be something that you'll lift your eyebrow at."