Editorial: After MLK Day message, UCLA needs to deliver on promises of Black Resource Center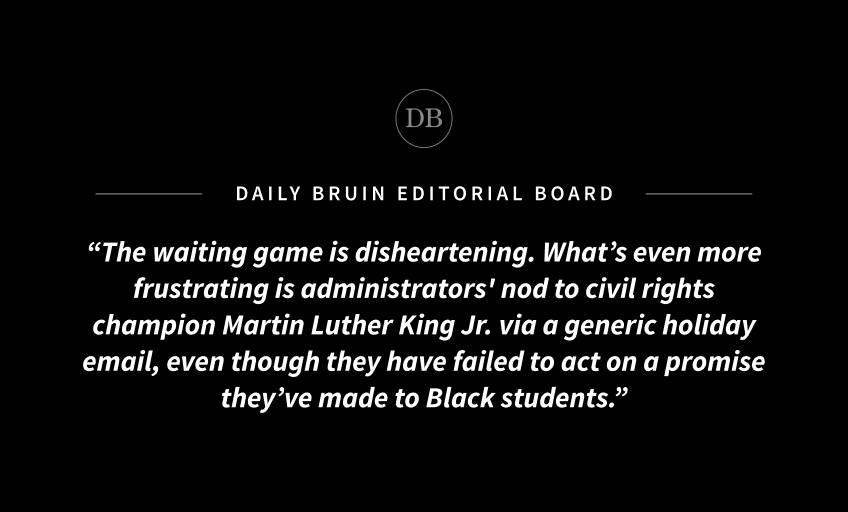 "The time is always ripe to do right," Chancellor Gene Block quoted in his Martin Luther King Jr. Day email statement to students.
Yet, ongoing delays of the promised Black Resource Center on campus serve to seriously undermine the credibility of Block's message.
In June, UCLA announced it would fund a fully staffed Black Resource Center, set to open in the fall. Such a space would have programming designed by students in partnership with Student Affairs, according to Block's statement.
We're nearly one full month into winter quarter, and administrators haven't said anything about the center since September. Their silence is deafening.
But for many, it's probably not surprising.
A Black Resource Center has long been the ever-elusive support system for Black students. It was part of the Afrikan Student Union's list of demands to UCLA administration in 2017, and it wasn't until November 2019 that the school decided on establishing it at the Undergraduate Writing Center office on the Hill. Clearly, this never came to fruition, leaving students without a resource they've been advocating for since the 1990s.
The waiting game is disheartening. What's even more frustrating is administrators' nod to civil rights champion Martin Luther King Jr. via a generic holiday email, even though they have failed to act on a promise they've made to Black students.
UCLA knows a Black Resource Center will be an invaluable resource for Black students, who currently make up just 6% of the student population. But despite this awareness, it's refused to go beyond lip service.
The administration can, at the bare minimum, provide regular updates each time the promised center is continually delayed.
In his Jan. 18 letter, Block wrote that "responding to society's great challenges also requires personal commitment" – a commitment the university seems to expect from its students, but not from itself.
Underrepresented students across the University of California have historically faced lower retention rates, difficulties adjusting to campus life and financial challenges. This doesn't even begin to capture the worrying instances of biases against underrepresented communities that have plagued the university.
In 2018, an employee at University Apartments South questioned a Black student for being there – an act that caught the attention of Block, who released a statement to the campus community about implicit biases a few days later. And before the pandemic burned a hole in the university's wallet, the Office of Equity, Diversity and Inclusion defunded the Bruin Excellence and Student Transformation Grant Program – an initiative that aims to uplift and empower marginalized communities.
To be fair, the COVID-19 pandemic certainly hasn't helped with the university's finances. UCLA is dealing with a $635 million deficit as of September, making it understandably more difficult to find the necessary funding for campus resources. And more than a year of work-from-home most likely didn't help in establishing an on-campus resource either.
But even considering all possible explanations for the delay, the establishment of the Black Resource Center is not just a task to be crossed off a list – it's a crucial step administrators must take to address the systemic suppression of Black voices on campus.
Lateness is not up for interpretation. It's time for Block to listen to his own advice.