Afrikan Student Union releases list of demands for UCLA administration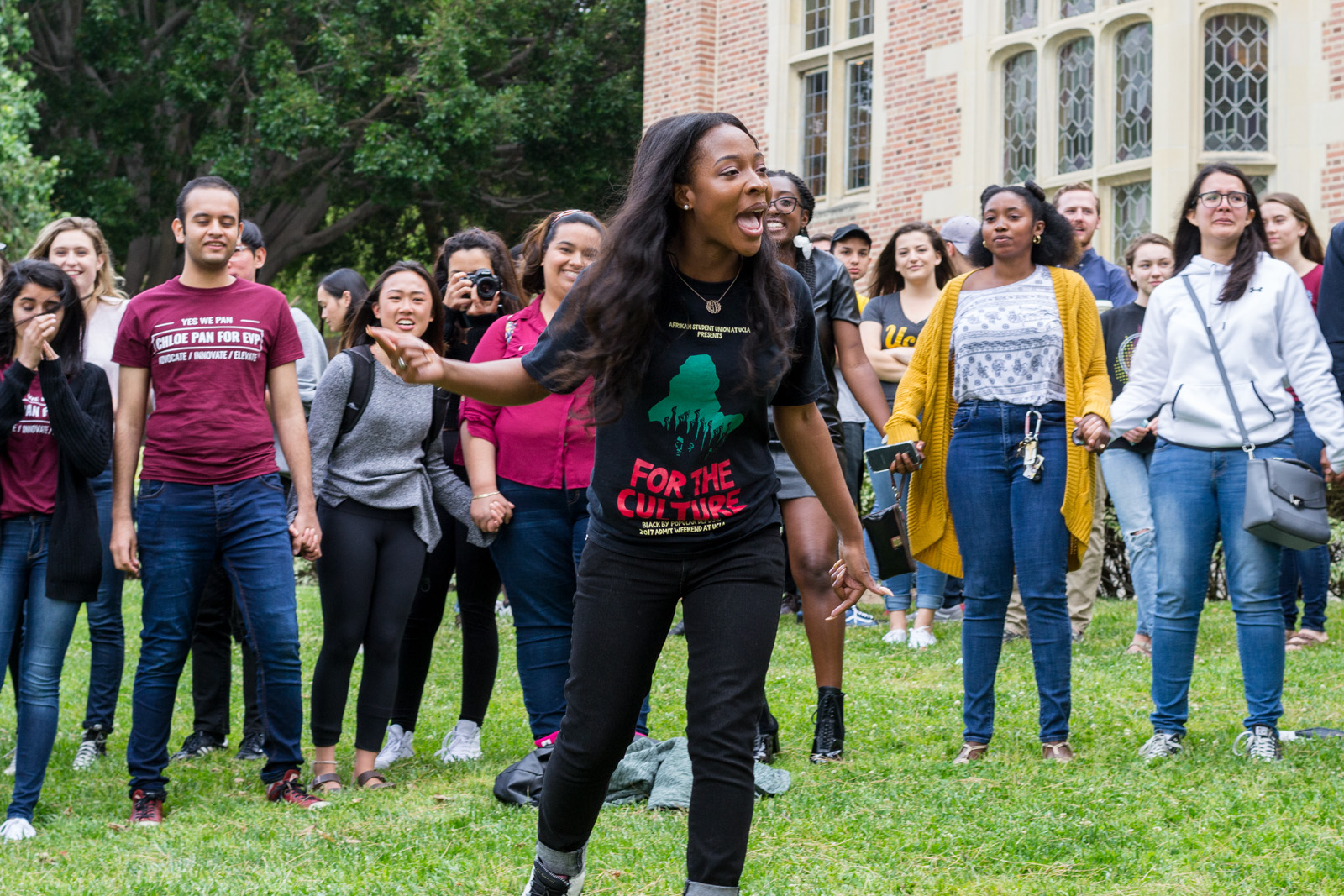 Afrikan Student Union Chair Alicia Frison said the group has been working on a list of demands from the university and decided to release the list in light of the recent student government elections. (Axel Lopez/Daily Bruin)
The Afrikan Student Union called on UCLA to create a Black Resource Center and a $40 million endowment to address African-American underrepresentation on campus in a list of demands it released Thursday.
Fourth-year philosophy and African American Studies student and Afrikan Student Union Chair Alicia Frison said the group worked on the demands throughout the year and decided to release the list now in response to recent incidents affecting African-American students.
"This year will be the 51st year the Afrikan Student Union is on campus," ASU wrote in a statement, "however, 50 years later we are struggling with many of the same issues as our ancestors and elders dealt with in 1966. This is unacceptable."
There are 1,485 African-American undergraduate students at UCLA, which is 4.8 percent of the undergraduate population.
On April 30, a picture that showed USAC President Danny Siegel holding up a gang sign was leaked, and on the same day there was a shooting near University of California, San Diego targeting African-American individuals. ASU also cited racist stickers posted around the offices of the Academic Advancement Program as a reason for releasing its list of demands.
"The demands are not really a response to Danny Siegel – there's been a lot going on recently, and it felt like the right moment (to release the demands)," Frison said.
Frison said that many of the demands build on the requests the ASU made in 2015 after the Sigma Phi Epsilon fraternity and Alpha Phi sorority held a "Kanye Western" theme party that many students said was racially insensitive.
Frison said she thinks most of the demands, including the $40 million endowment and the Black Resource Center, are feasible because they have been implemented in other universities, such as UC Berkeley.
"$40 million is just a drop in the bucket for the university," Frison said. "Berkeley already has a $30 to $40 million endowment even though they have less African American students."
The Black Resource Center would house meeting and safe spaces for ASU and its projects, such as the Academic Supports Program, Students Heightening Access Performance through Educations and the Afrikan Education Project. Frison said ASU spoke with African-American students at other universities that have similar centers when developing this demand.
ASU also demanded that the university create anti-discrimination policies against prejudiced behavior. For instance, the group requested that all incoming students, UCPD officers, faculty and staff go through anti-discriminatory competence training.
Additionally, ASU said the university should establish the position of Black Student Financial Aid Officer, someone who would advocate for financial aid for previously dismissed students and ensure four years of housing for black students.
Frison said that although the Community Programs Office has received more funds following the passage of the Social Justice Referendum from 2016, ASU's SHAPE project, which is part of CPO, has not been able to hire more students. One of ASU's demands is for SHAPE to receive funding from the administration.
"We've been denied new positions on our projects," she said. "The climate in CPO is very stressed right now."
Frison said ASU is giving the administration until May 18 to respond to their demands and schedule a meeting with Chancellor Gene Block.
"Recent events have awakened a lot of people's attention to the campus climate," Frison said. "I am hopeful all the demands will be met."
UCLA spokesperson Brian Haas said the administration is reviewing the ASU's list of demands. He added that minority student enrollment at UCLA has increased by 13 percent since 2012 and the university has improved its anti-discrimination procedures in recent years.
Bharanidaran was the News editor from 2017-2018. He was previously a news reporter for the campus politics beat, covering student government and the UCLA administration.
Bharanidaran was the News editor from 2017-2018. He was previously a news reporter for the campus politics beat, covering student government and the UCLA administration.