Top Stories of 2020: Remote instruction, protests against police brutality and testing policy changes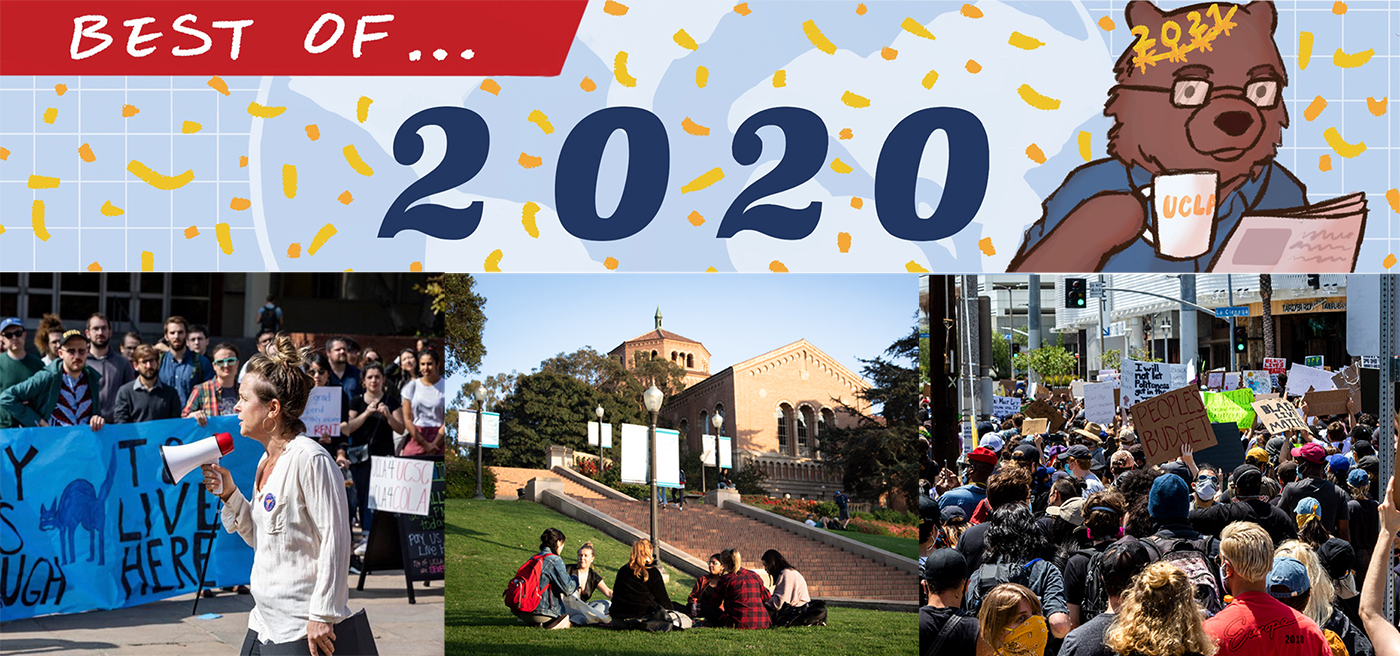 (Left to right: Lauren Man/Assistant Photo editor, Daily Bruin file photos)
From reimagining the college classroom to the name of a beloved landmark, Bruins witnessed UCLA adjust to the tides of 2020. Students didn't remain motionless against these waves either – they gathered to advocate for social justice and their livelihood. To recognize this tumultuous year, here are Daily Bruin's top stories of 2020.
UCLA students and faculty members rallied Feb. 19 in support of graduate students at UC Santa Cruz striking for cost-of-living adjustments.
Led by Ucla4Cola, students staged a "sick-out" at the Court of Sciences to call attention to the lack of affordable housing and low wages offered to teaching assistants.
Despite widespread student and faculty support, the strikes were met with no University of California action. Then-UC President Janet Napolitano said in an open letter to the UCSC community that the strikes must come to an end and striking teaching assistants could get their contracts terminated.
Under Armour attempted in June to leave a 15-year, $280 million sponsorship deal with UCLA near the beginning of its fourth year.
Soon after, UCLA Athletics said in an emailed statement it would work hard to retain its deal with Under Armour and remain committed to providing student-athletes with the best quality products.

Despite the department's hopeful approach, Under Armour chose to officially discontinue its partnership with the university after June 2021.
The university announced a six-year partnership with Nike and Jordan Brand on Dec. 8 after months of searching for a new sponsor.
Starting July 1, 2021, Nike will outfit all varsity athletic teams except for football and men's and women's basketball, which will have products supplied by Jordan Brand.
SAT, ACT test scores no longer required in UC admissions process
The University of California Board of Regents voted 23-0 on May 20 to effectively suspend standardized testing requirements for UC admissions through 2024.
The standardized tests, including the SAT and ACT, will be made optional through 2022 and be fully suspended by 2024, as recommended by then-UC President Janet Napolitano. UC will take a test-blind approach in fall 2021 admissions.
Many of the regents' concerns with the tests came from what then-Alumni Regent Christine Simmons said were exclusionary and discriminatory characteristics.
UC will work on a new standardized test to potentially be available to California high school students by 2025. If the project doesn't come to fruition by then, the SAT and ACT still will not be included in the admission process.
Protestors took to the streets of West Hollywood in response to the death of George Floyd, a Black man who died in police custody May 25.
Daily protests continued for more than a week. Protestors chanted in demand of defunding the police and holding police officers accountable. Police officers retaliated to property damage with rubber bullets and tear gas.
On June 1, LAPD detained dozens of protesters for hours without food or water in the UCLA-leased Jackie Robinson Stadium parking lot.
Chancellor Gene Block said UCLA officials were aware of LAPD using the stadium parking lot as a staging area but were not informed of its use to process arrests.
"We were never informed that it would also be used to process arrests," the chancellor's statement read. "But allowing the LAPD to use the space even for staging during these recent protests was a mistake."
Gordon Klein, a lecturer in the UCLA Anderson School of Management, was put on paid leave June 3 after the university found his email to a student regarding exam accommodations to be insensitive.
Klein denied a request from a group of students for a no-harm, shortened final exam with extended deadlines in light of the protests regarding George Floyd's death happening all over the country.
Students posted his email response on social media and garnered signatures from nearly 20,000 people on a petition requesting the professor's removal.
After he was asked to leave, another petition circulated the internet, urging UCLA to apologize to Klein and reinstate him as a professor. Klein was notified June 21 that UCLA was reinstating him and the next day that UCLA Discrimination Prevention Office would not pursue a formal investigation against him.
The Undergraduate Students Association Council unanimously voted July 28 to pass a resolution in support of renaming Janss Steps to Tongva Steps.
The decision came after a resolution from the North Westwood Neighborhood Council and 21 student organizations endorsed the rename.
This name is meant to honor the Indigenous Gabrielino-Tongva people, who inhabited the present-day southern and eastern Los Angeles County and the islands of Santa Catalina and San Clemente. The history of racially biased practices by the Janss Investment Company in the 1920s was also cited as a reason for the rename.
Student leaders later revised their plan for naming the steps in November, now using the name Kuruvungna Steps to more accurately represent the tribe.
Kuruvungna is a word taken from the original Gabrielino language and is also the name of the Gabrielino village that inhabited the land that UCLA and Westwood are built on, said American Indian Student Association Vice Chair Desirae Barragan.
Executive Vice Chancellor and Provost Emily Carter said in an emailed statement Aug. 21 that UCLA would conduct all-remote instruction except for a select few essential in-person classes for the fall quarter.
The decision followed the Los Angeles County Department of Public Health directives to restrict campus activities to minimum operations and limit on-campus housing eligibility to students with no alternative options.
Carter said students who live in unsafe housing or housing without adequate accommodations for students with disabilities will have access to on-campus housing. Ineligible students had their housing contracts canceled.