Op-ed: UCLA must divest from systems of policing, adopt new model for safety and justice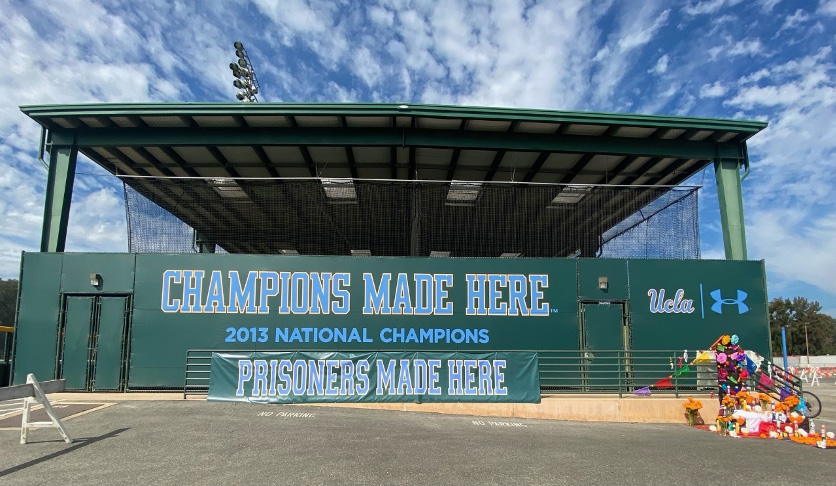 Members of the Divest/Invest UCLA Faculty Collective are calling for accountability and responsibility on behalf of UCLA administration for the June detention of protestors at Jackie Robinson Stadium in efforts to promote racial justice and minimize institutional complicity. (Courtesy of Divest/Invest UCLA Faculty Collective)
An open letter to UCLA administration:
Dec. 1 marked six months since LAPD, aided and abetted by UCLA, turned Jackie Robinson Stadium into a field jail to detain hundreds of protesters arrested for curfew violations during the George Floyd uprisings in Los Angeles. On Nov. 1, we, the Divest/Invest UCLA Faculty Collective, along with Black Lives Matter LA, Los Angeles Community Action Network, Stop LAPD Spying Coalition, White People 4 Black Lives, Ground Game LA, Ktown for All, NOlympics LA, People's City Council LA, Anti-Eviction Mapping Project, Westside chapter of the LA Tenants Union, Justice LA, No UCPD Coalition and Cops Off Campus, organized a collective remembrance at this space of detention.
Detainees, including UCLA students and alumni, provided testimony, and Melina Abdullah, co-founder of Black Lives Matter LA, was the keynote speaker. Art and music were an integral part of the remembrance, as we laid down 2,000 tiles printed with handcuffs and honored lives stolen by state terror at a Dia de los Muertos altar.
We invite you to view our three-part video series, "Abolition Reels," which includes "Prisoners Made Here," "Stolen Lives, Stolen Land" and "We Keep Each Other Safe." Various abolitionist thinkers and organizations, including the Know Your Rights Camp founded by Colin Kaepernick, have come forward to help us disseminate these videos to the world at large. We also invite you to read our opinion essay in KnockLA and to view the gallery of photos created by the Daily Bruin.
As some of you already know, our Nov. 1 gathering faced significant harassment from various police forces including the Department of Veterans Affairs Police, LAPD and UCPD. The irony is not lost on us: As we gathered to honor the detainees held on June 1 at Jackie Robinson Stadium on prison transport buses, police forces brought out a prison transport bus to prepare for our arrest. It is especially revealing to us that a few days later we were contacted by Nicholas Entrikin, chief liaison for UCLA/Veteran Affairs, who sought to clarify "jurisdictional issues" defined by the UCLA/VA lease, and in further communication, conveyed a warning from Dr. Steven Braverman, director of the VA Greater Los Angeles Healthcare System, that "future unauthorized gatherings on the (Greater Los Angeles VA) campus would be subject to VA regulations and these would be enforced by the VAPD."
This raises the following question: How is it that the VAPD and UCPD, whose officers were overly vigilant about a gathering of art and music on a Sunday afternoon at the stadium's parking lots, were unaware of, and uninvolved in, the use of the same site as a vast field jail with hundreds of protesters held for seven to eight hours in prison transport buses June 1?
UCLA has also not addressed the fact that the Jackie Robinson Stadium sits on the unceded territories of the Tongva people. In addition, the property is governed by the mandate that the VA and all lessees use it to provide health care to veterans. The stadium lease was declared illegal in a 2013 court ruling on a lawsuit brought against the VA by homeless veterans, a decision to which UCLA reacted by expressing concern that its baseball team will be "homeless." As scholars committed to racial and social justice, our concern is for people actually experiencing homelessness, including the makeshift shelters of houseless veterans at the fence of the VA campus.
When UCLA's lease for the stadium was under legal scrutiny, the administration responded through a frenzy of naming ceremonies, anointing 22 facilities with Jackie Robinson's name and unveiling a monument with his famed number, 42. Today, once again, UCLA is resorting to gestures of racial justice rather than undertaking the difficult but necessary work of divestment from policing.
The matter of housing precarity is closely connected to structures of policing. The Undergraduate Students Association Council recently advocated for a safe parking program for students experiencing homelessness. When students posted the Daily Bruin article about the program on Instagram, UCPD officer Larry Johnson mocked students for asking for "free housing." His post concluded thus: "I guess everything should be free for everyone, anyone want to pay my mortgage for me?" As Ucla4Cola graduate student organizers have noted about this post, "We do pay your mortgage, Larry."
By continuing to invest in policing, UCLA chooses to ignore the community that is its students. By collaborating with systems of policing and exclusionary forms of urban development, such as LA28, it chooses to "forfeit student needs," as convincingly argued by this Daily Bruin editorial on UCLA's partnership with the Olympics.
As clearly stated in our "Divestment Now" letter of June 11, we argue that racial justice requires an end to institutional complicity in all of these dimensions of racialized violence. We renew those demands including the following: accountability and repair for the university's actions in connection with the detention of protesters at Jackie Robinson Stadium; ending UCLA's relationship with LAPD and other police departments and security agencies; defunding the UCPD; and reinvesting resources from policing toward teaching, research and community initiatives that support Black life and racial and gender justice.
Now that the Public Safety Advisory Council has been rejected as a viable institutional framework by students and faculty, we remind you that our letter of July 7 provides an alternative model for community safety and transformative justice, the Divestment/Investment Council.
The urgency of adopting such a model is apparent.
Sincerely,
Divest/Invest UCLA Faculty Collective