Video game review: New 'Immortals Fenyx Rising' incorporates humor in thoughtful quests, visuals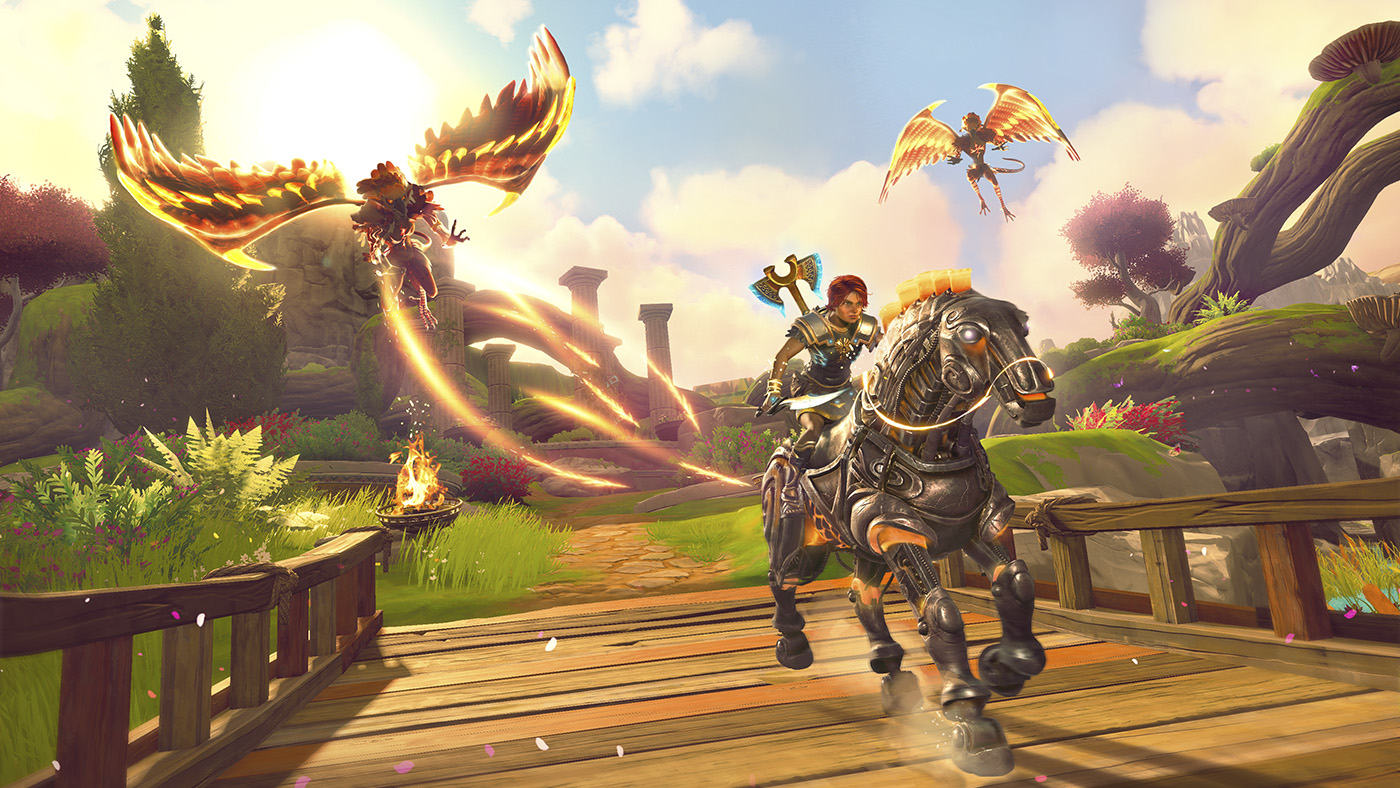 "Immortals Fenyx Rising"
Ubisoft Quebec
There are few stories as reused as those of Greek mythology.
"Immortals Fenyx Rising" understands this perfectly and in its own Greek retelling, Ubisoft Quebec's newest open-world role-playing game refuses to tread the same ground as countless other books and movies. Released Thursday, the video game builds off its many predecessors while still feeling like one of the freshest new entries in years. "Immortals Fenyx Rising" mixes a beautiful open-world map with intriguing puzzle mysteries and strategic, physics-based combat – tying it all together with a witty and whimsical story that places a lighthearted spin on tired mythology.
At its core, the game tells the story of Fenyx, a mortal soldier in ancient Greece who enters the world of Greek mythology and has to free the gods from imprisonment. After choosing Fenyx's gender, the player is given various godly tools to assist in their fight against monsters, corrupted soldiers and aggressive wildlife. While the story sounds quite dire, the tone of the game is lively and humorous. In dialogue, Fenyx is jokingly self-aware and plays off the mythical environment with hilarious bafflement. The Greek gods themselves – like the story's narrators Zeus and Prometheus – are quirky and comical, providing a refreshing take on a group typically depicted as prideful and larger-than-life.
[Related: Video game review: Storyline, improved combat make 'Assassin's Creed Valhalla' best of series]
The vibrancy of the story bleeds into the game's massive world as well. Players can venture between four main areas that are each the domain of a different god. Each space is lush and beautiful with bright color palettes – a far cry from the more subdued tones of other recent Ubisoft games like "Assassin's Creed Valhalla" and "Watch Dogs: Legion." To navigate through the bright landscape, Fenyx has a variety of traversal options, including mythical mounts and a pair of wings from the inventor Daedalus that are used to glide through the air. The multitude of travel opportunities allows the player to take in the lush scenery and explore the world's secrets to their own luxury.
With no shortage of interest points throughout the world, Fenyx has a variety of activities to tackle. In addition to main questlines, the map boasts challenges such as archery tests, minibosses and pocket dungeons leading into "Vaults of Tartaros" – a series of physics-based puzzles that test the player's ingenuity. The level designs in these small dungeons are well-crafted and present a complex series of obstacles that make strong usage of the internal mechanics of the game.
While these types of dungeons aren't necessarily new or innovative – in fact, they are incredibly reminiscent of the shrines found in the 2017 game "The Legend of Zelda: Breath of the Wild" – they are a welcome change to the brand's usual formula of brute strength. Instead of fighting their way through, players will need to get creative to finish these vaults.
[Related: Design media arts student hopes to better represent mental health in new video game]
Of course, there are still plenty of enemies for the player to fight and not every problem in "Immortals Fenyx Rising" requires the same level of ingenuity. The game's hitbox-based combat system is very similar to Ubisoft's "Assassin's Creed" series, in which the player can combine light attacks with Achilles' Sword, heavy attacks with Atlanta's Axe and ranged attacks with Odysseus' Bow.
But the game is also mindful to introduce mechanics that spice up the combat loop – including an ability to carry and throw environmental projectiles, a skill to toss enemies into the air and create mid-air combos and a power-up that freezes opponents in place later on in the game. While these abilities may seem like simple gimmicks, they do enough to make "Immortals Fenyx Rising" an enjoyable fighting experience and provide incredible combat possibilities. In fact, the entirety of "Immortals Fenyx Rising" is a seemingly simple facade that masks phenomenal complexity. From its puzzles to its world, the game showcases tremendous thoughtfulness on the part of its developers.
With its identity as brand new intellectual property and with clear influences from spiritual predecessors, "Immortals Fenyx Rising" and its lighthearted romp through ancient Greece are the most entertaining and creative game Ubisoft has put out in recent years.