Video game review: Storyline, improved combat make 'Assassin's Creed Valhalla' best of series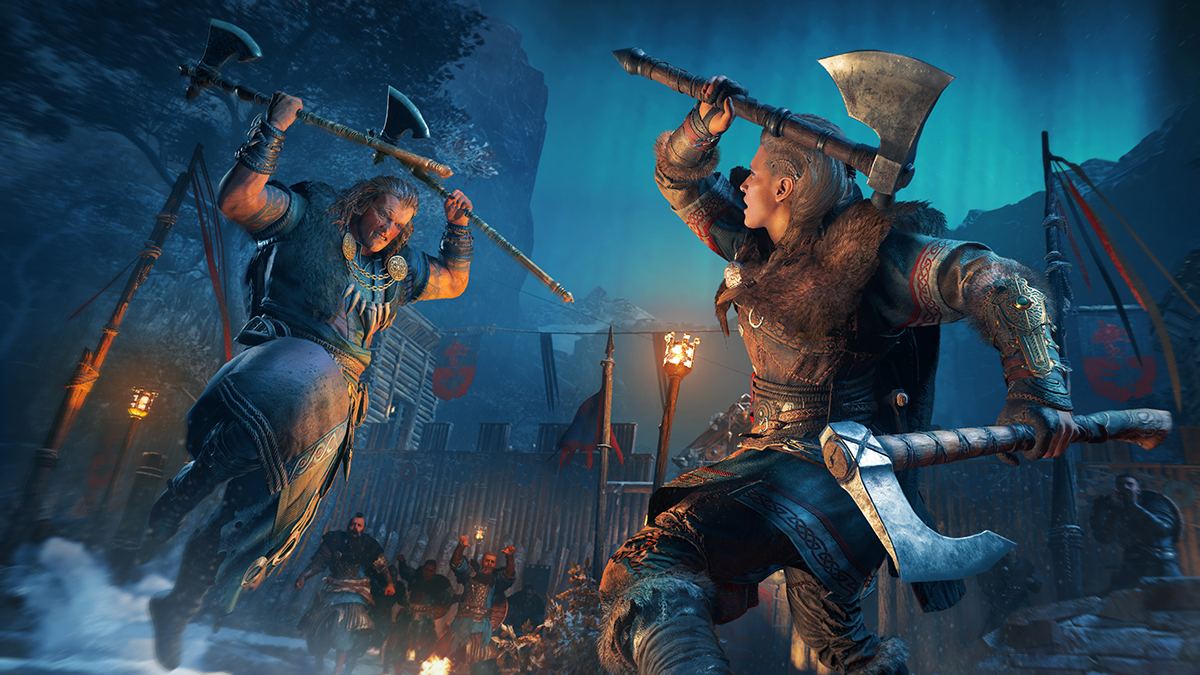 "Assassin's Creed Valhalla"
Ubisoft
This post was updated Nov. 15 at 6:09 p.m.
Eat, raid and plunder.
These central tenets of Viking life are recreated faithfully and grandiosely in "Assassin's Creed Valhalla," in which players live out the violent and exploratory lives of Scandinavian warriors in full detail. The Ubisoft-developed game, set to release Nov. 10, continues the long-running "Assassin's Creed" franchise – which in its 13-year history has perfected a very specific formula in both gameplay and story. The newest installment sticks with the proven schema of pairing an expansive map with a semi-fantastical story set hundreds of years in the past. To upgrade the game from its predecessor, "Valhalla" fine-tunes its open world, role-playing game mechanics and historical narrative while still introducing smaller novel elements.
Set in the Viking Age, the game's fictional tale balances its predecessors' story and its new historical context equally well. The narrative – centering around a young Viking named Eivor during the invasion of England – demonstrates a well-researched and nuanced understanding of Norse culture while also providing greater insight into the established central conflict between the Assassin Brotherhood and the Knights Templar. The dual focus on history and lore is a welcome change from the 2018 game "Assassin's Creed Odyssey," which, while extremely fantastical, barely touched on the themes and beliefs of the Assassin Brotherhood.
The diligence in integrating history and general "Assassin's Creed" lore bleeds into the game's mechanics and combat systems as well. While "Valhalla" retains the same hitbox combat from more recent installments, it also makes assassinations and stealth tactics – a key component in earlier games – much more viable.
[Related: Book review: 'God-Level Knowledge Darts' humorously shares life lessons from the Bronx]
An entire skill tree, the hierarchical list of abilities players unlock as they level up, is dedicated to stealth attacks which allow players to use the franchise's iconic hidden blade for the first time in three years. Additionally, high-level enemies can now be one-hit assassinated if a quick-time button prompt is input, amending a major flaw in previous installments where assassinations barely damaged certain enemies.
In conjunction with revamped assassinations, other combat styles remain viable and even improved. The game's melee and ranged combat systems now have new, smaller adjustments for greater variety. For example, melee players can now choose an off-hand weapon for dual wielding, and bow users can spot enemy weak points to target for both massive damage and a chance to stun. The upgrades might seem small, but they grant "Valhalla" players more flexibility and creativity in combat.
Players are also given plenty of chances to test these combat mechanics in the game's open world. The map of "Valhalla" is populated with an unprecedented variety of enemy types as players have the opportunity to visit a vast swath of old Norway and England. The larger setting is meticulously designed with secret treasures, major landmarks and self-contained events littered throughout. The beauty and scope of the playable area is incredible and ambitious – even for an "Assassin's Creed" game.
But while "Valhalla" makes some sizable improvements, there remain some recurring issues. The map's size, for example, can be a hindrance. Points of interest are spread relatively far apart, and once an area is explored, there is usually little incentive to return. "Valhalla" attempts to mitigate the issue through the introduction of the "settlement" feature – a village the player character oversees and returns to. The feature grounds explorations in a home base, but it still leaves the rest of the map as a foreign expanse with an excess of empty space or water.
[Related: Students create Japanese language-learning game geared toward gamers]
The game also falls short in its traversal system. In-game movement is more weighty and clunky, parkour is slower and deliberate and even sprinting adds little speed to the character. This may be because the player is constructed as a tough and sturdy Viking, but it nevertheless hinders gameplay satisfaction and leaves one less excited to explore Norway and England on account of the sheer time spent moving around the map.
In addition to traversal issues, "Valhalla" failed to troubleshoot some user interface and bug mistakes. Looting for items has become difficult because lootable markers are hard to spot and the item-finding sixth sense doesn't work as well as it did in previous games like "Odyssey" and "Origins." Additionally, conversations in "Valhalla" can be incredibly buggy with voices lagging and overlapping during dialogue. However, the issues are relatively minor, especially when paired with Valhalla's otherwise strong improvements.
Ultimately, "Assassin's Creed Valhalla" is the epitome of the franchise's winning formula – with enough improvements and passion to drive it forward as one of the best "Assassin's Creed" games yet.