Student's craft business offers personalized necklaces, custom LED acrylic lights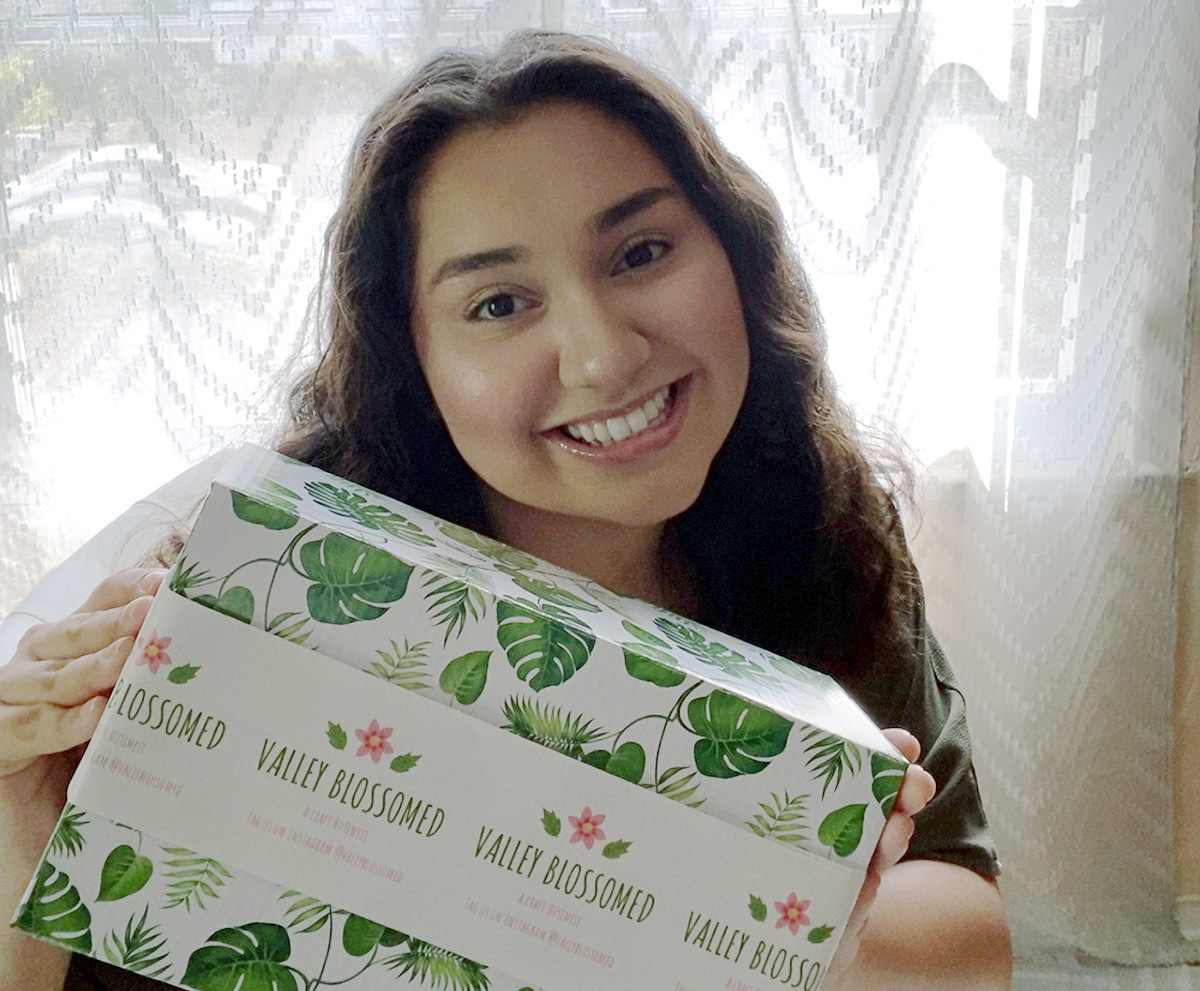 Fourth-year geography and environmental studies student Yasmin Olvera said her journey to creating her own business began with a machine. The Cricut is what has allowed her to craft her popular LED acrylic lights, she said. (Sakshi Joglekar/Daily Bruin staff)
Yasmin Olvera's high school entrepreneurial dream came true – now, she ships out craft orders to people all over the country.
The fourth-year geography and environmental studies student said her initial idea for her craft business originated when her coworker introduced her to the Cricut, a machine used to cut through all kinds of materials. While the machine is quite expensive, she said she decided to make the investment and offset the cost by selling personalized Starbucks cups. Olvera said she launched her business, Valley Blossomed, after returning home from campus in March. This simple product idea became more complex as Olvera expanded her inventory – creating custom necklaces, stickers and her most sought after product, LED acrylic lights.
"(The LED acrylic lights) really took off after I posted them on Twitter, and people were really nice and started reaching out saying they really enjoyed my work," Olvera said. "At first I assumed they would mostly be UCLA students, but now I get customers from other states."
[Related: Student raises funds for BLM movement, Yemen crisis through commissioned artwork]
Because each of her products are personalized, Olvera said she spends time communicating with her customers before the crafting process even begins. The LED acrylic lights feature a clear, acrylic panel that Olvera engraves with lines. The panel connects to an LED light at the bottom, which outlines the engravings to reveal the image her customers chose etched onto it. Olvera said she either creates an original design or uses ideas from her previous work, and uploads it onto her iPad before redrawing the final concept.
She then uploads it onto her Cricut software, where she is able to include any extra details – such as hearts, phrases and even anniversary dates. To finish the product, she said she engraves the complete drawing onto the acrylic panel using the cutting machine and assembles the light before packaging everything for it to be shipped out.
"Sometimes customers give me full trust to bring their vision to life, while other customers might ask for previews along the way," Olvera said. "I think with the LED lights, it really allows me to build this personal connection with my customers just because I have to be in constant contact with them."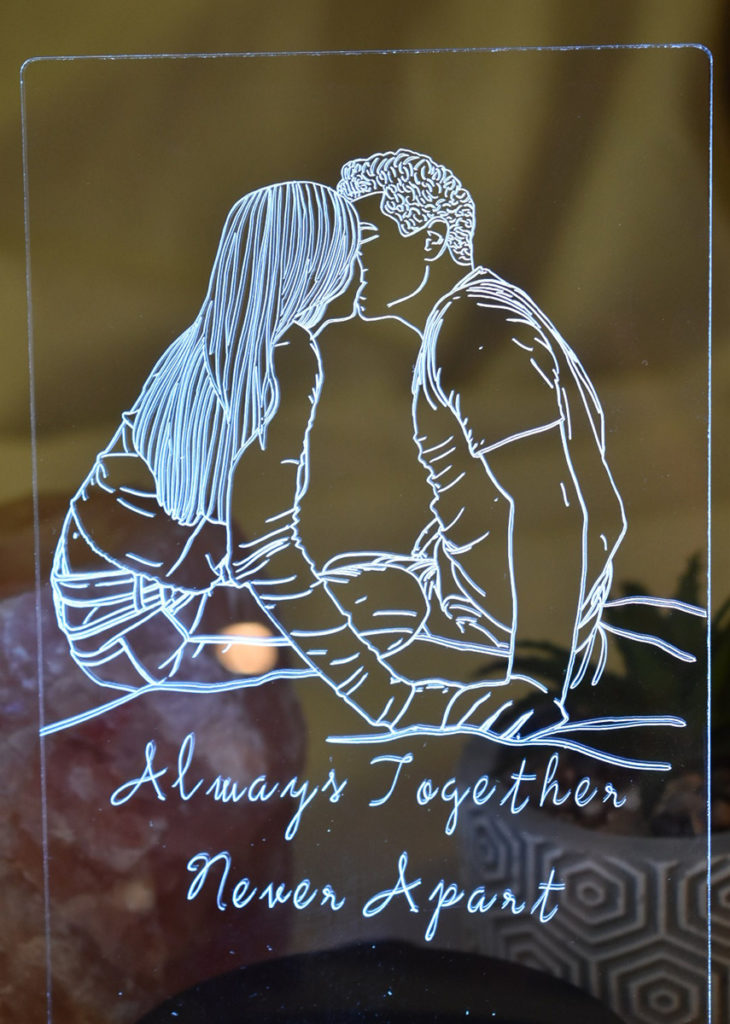 [Related: Student launches jewelry business to support women, mothers via doula training]
Customers are not the only people Olvera is able to connect with through her business either, as she said she reached out to an old high school friend, Melissa Macias-Flores, for advice at the beginning of Valley Blossomed. Olvera said it was Macias-Flores who actually recommended the Cricut machine to her, as Macias-Flores was already using it for her own business.
Macias-Flores said she was able to recommend which model to purchase and what types of materials to use for Olvera's projects. While Macias-Flores' Cricut can only cut through thin materials like vinyl and card stock, Olvera's model is able to withstand tougher materials like leather and wood for Valley Blossomed's versatile product selection.
Since teaching Olvera the ropes of the craft business, Macias-Flores said she has been working on her own products while exchanging inspiration and resources with Olvera. She said they help each other find vendors for shipping materials, purchase scales to weigh their products and suggest new craft ideas that they come across on social media. Through this collaboration, Macias-Flores said she was the reason Olvera became immersed in creating her LED acrylic lights.
"I came across a TikTok of someone making an LED light and sent it over to (Olvera) because her Cricut machine is able to do that," Macias-Flores said. "Knowing that she's deterministic and detail oriented, I knew it was something she would be able to do."
As someone who has run a small business herself, Olvera's aunt, Wendy Martinez, said she is surprised at how Olvera is able to manage handling Valley Blossomed on her own. Martinez said she was moving out of her family home when she ordered one of Olvera's LED acrylic lights as a parting gift for her mother.
"I know how difficult everything is, even managing the social media pages," Martinez said. "College alone is difficult … we're all so proud of the fact that she's handling everything at once."
Although Olvera admits the crafting process is stressful at times, she said her customers and their stories are what keep her motivated. Whether it's for a holiday, anniversary or any other celebration, customers oftentimes are purchasing an LED light for a loved one. She said she often thinks of her customers' reactions and personal connections while creating her products whenever things get overwhelming.
With more availability in her schedule because of online learning, Olvera said she was itching to manage something that she could call her own, especially because she can't actively participate in campus organizations this quarter. She said developing her brand alone taught her life lessons and skills that she can put to use in the future, because being persistent in her goals has allowed her to progress even through the many trials and errors of launching Valley Blossomed.
"It really makes me happy knowing I can be a part of that moment, or part of that special occasion, where they can make someone they love happy," Olvera said. "I always wanted to start something like this, but I never had the time. … It's definitely something good to come out after being stuck at home."