Student launches jewelry business to support women, mothers via doula training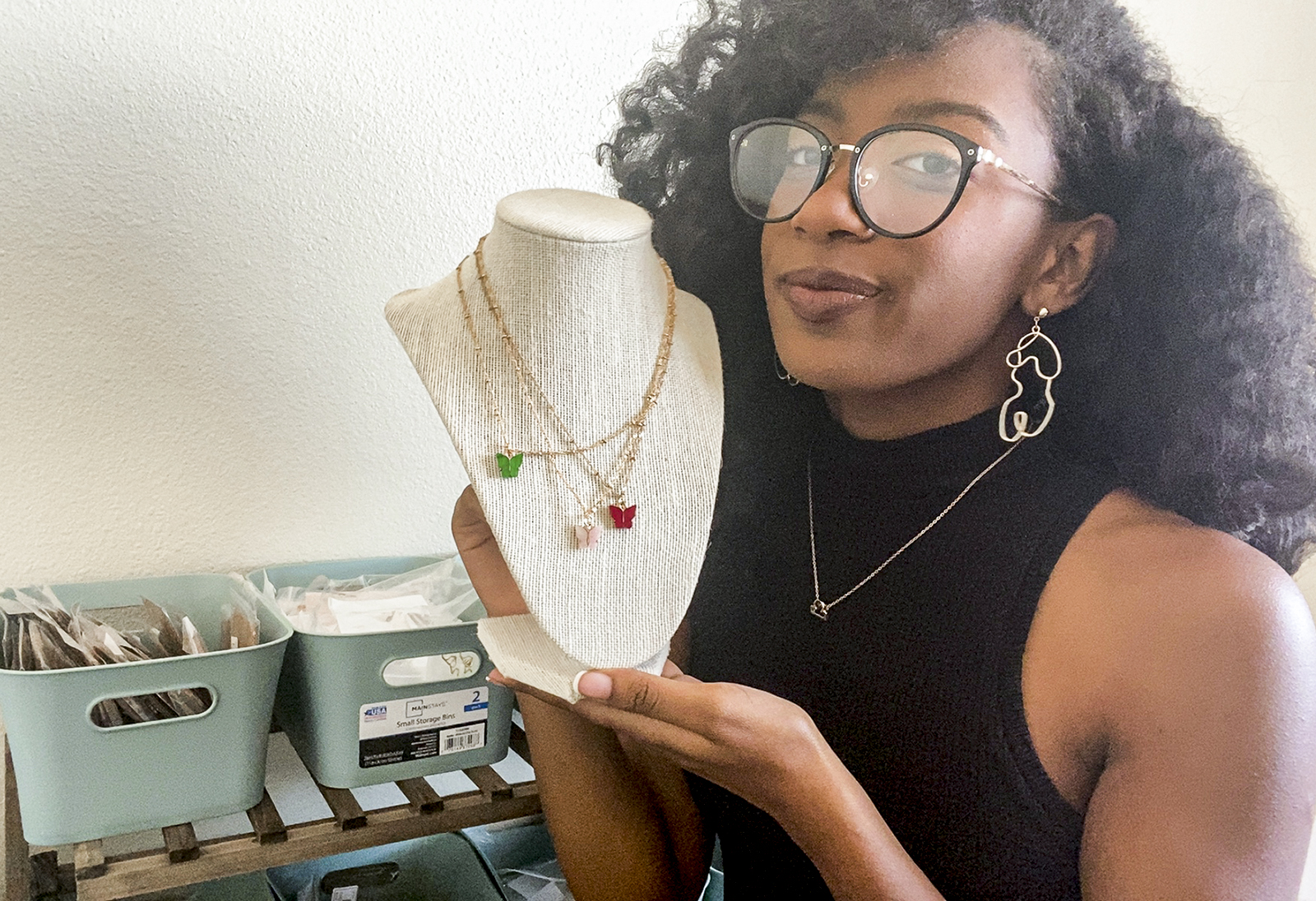 Third-year human biology and society student Tayloneei Jackson launched Aphrodite Accessories in July and sells nature-inspired dainty jewelry. Named after the Greek goddess Aphrodite and her respective planet Venus, which represents fertility, the business funds Jackson's goal of becoming a certified doula. (Sakshi Joglekar/Daily Bruin)
Embodying your inner goddess has never been more effortless.
Tayloneei Jackson, a third-year human biology and society student, said she takes inspiration from the Greek goddess Aphrodite and the planet Venus to create dainty jewelry pieces for her business, Aphrodite Accessories. The company website promises to "bring venusian beauty to your jewelry," which Jackson said refers to the planet that represents otherworldly beauty in mythology. Featured are a variety of accessories ranging from classic gold and silver minimalist earring designs to woven rattan creations and accessories personalized with years, initials and Zodiac signs.
"Venus is known as the planet of love and beauty, and Aphrodite is the goddess of love and beauty," Jackson said. "So when people wear my products, I hope that they feel beautiful and like they're embodying those attributes."
While the business takes the name of a Greek goddess, Jackson's product designs, packaging and overall aesthetic incorporate elements of nature, florals and greenery. Jackson said those attributes are what she believes makes Earth beautiful, thus incorporating Aphrodite's embodiment of beauty in more ways than one.
[Related: Student starts jewelry, body care business inspired by memories of her grandmothers]
The Greek goddess Aphrodite and her respective planet Venus also represent fertility, which Jackson said further encapsulates the overall mission of Aphrodite Accessories. The business directly funds Jackson's goal of becoming a doula – a trained companion who provides emotional and physical support to a mother during birth. Jackson said the profits from her sales go toward her doula certification courses, as well as her goals as an aspiring OB-GYN and advocate for reproductive justice.
"I felt like I wasn't doing enough to dismantle those systems where it's okay for black women to die at disproportionate rates giving birth," Jackson said. "So this was the pivot for me to actually work toward dismantling those systems early and getting ahead of the curve."
The idea for founding Aphrodite Accessories originated when Jackson and her mother, Toni Jackson, sat down to brainstorm ways to fund Tayloneei Jackson's doula goals. Although Tayloneei Jackson had experience running a small time-management consulting business through her own study blog TayStudies, jewelry stood out to her as a more exciting business to launch because of her own passion for accessorizing and fashion.
"I can't leave a house without wearing a pair of earrings and an anklet," Tayloneei Jackson said. "Jewelry means a lot to me as the way I express myself, and I like a more expressive business model where I can show my personal style through my products."
With her mother's help, Tayloneei Jackson said she was able to find vendors to produce and supply her products. Meanwhile, she developed her site and employed her social media and graphic design background to market her products. Aphrodite Accessories launched in July and Tayloneei Jackson said she can now afford multiple doula certification courses. Although she expected her business to stay within her close circle of family and friends, Tayloneei Jackson was surprised to have received over a hundred orders from people all over the nation.
[Related: Student seeks to spread aloha spirit in Hawaiian-inspired line of wire jewelry]
Tayloneei Jackson's mother assists her with many of the day-to-day operations of Aphrodite Accessories – especially when Tayloneei Jackson is busy with school and her other extracurriculars – and Toni Jackson inspired the business' health-oriented mission, as well. After Tayloneei Jackson learned about her mother's tubal pregnancy, Toni Jackson said her daughter researched about her mother's past reproductive health problems to help Toni Jackson understand why it might have happened.
"After the problems I've had, Tayloneei just took that and ran with it, and now she wants to help other women," Toni Jackson said. "So I helped her. I invested in her."
Toni Jackson's experience as a Black teen mother facing social stigmas and the healthcare system was a catalyst for Tayloneei Jackson's involvement in women's health, Tayloneei Jackson said. Seeing firsthand how medical racism played a role in her family's life compelled Tayloneei Jackson to make a change.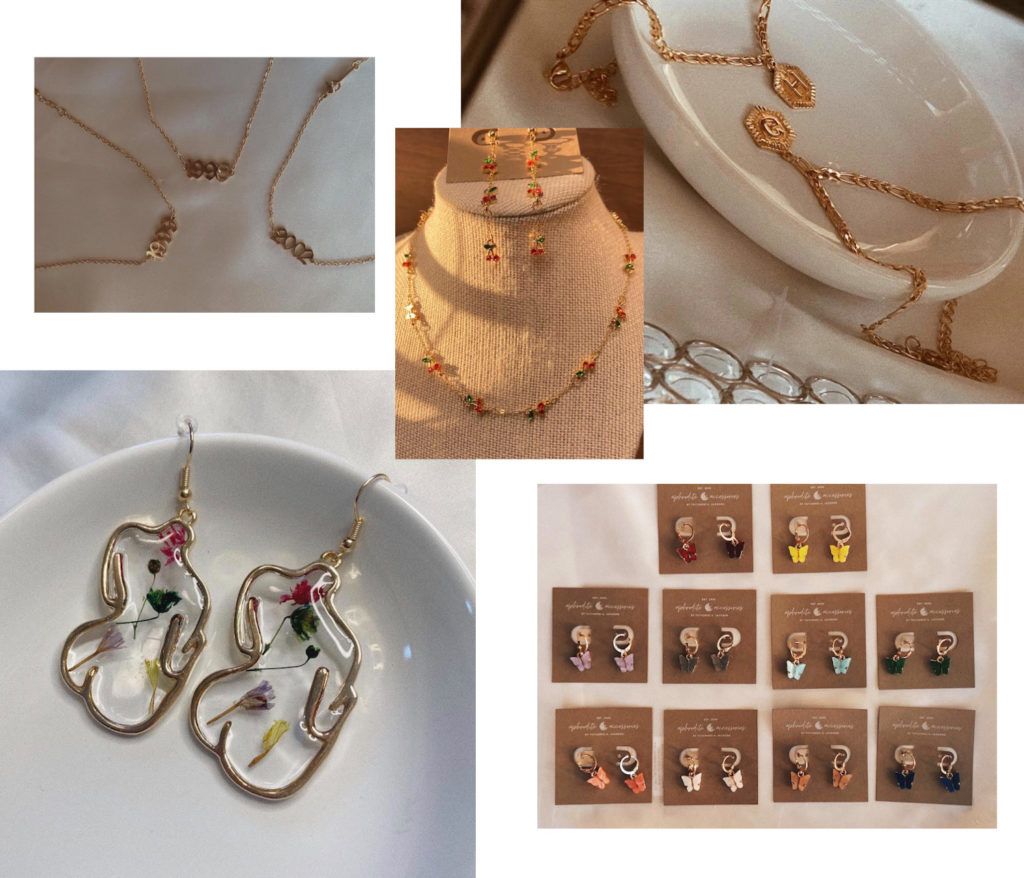 As Aphrodite Accessories opened its virtual doors, alumna Mahal Williams said she was looking for Black-owned businesses to shop at and took the opportunity to support Jackson's business. She said the brand's pieces are timeless, elegant and can be used for years to come.
"I liked that she had a range of different types of jewelry, and accessories as well, to fit different types of styles," Williams said. "I think that it's important as a business owner to understand the diversity of your customers and different styles."
Moving forward, Tayloneei Jackson said she has begun to work with custom jewelry and hopes to incorporate it into her site into the future. She also plans to donate 10% of Aphrodite Accessories' profits to organizations centered around reproductive justice and women's health once she has completed her doula training. Regardless of whether her customers are aware of Aphrodite Accessories' mission, Tayloneei Jackson said she hopes her unique designs help her customers feel beautiful and confident as they incorporate her products into their wardrobe.
"Every aspect of my business is to help black and indigenous moms through my doula work," Jackson said. "So everything, every penny, is either going back into the business or to help me help moms."