The Quad: Weighing the pros and cons of on-campus versus off-campus living this fall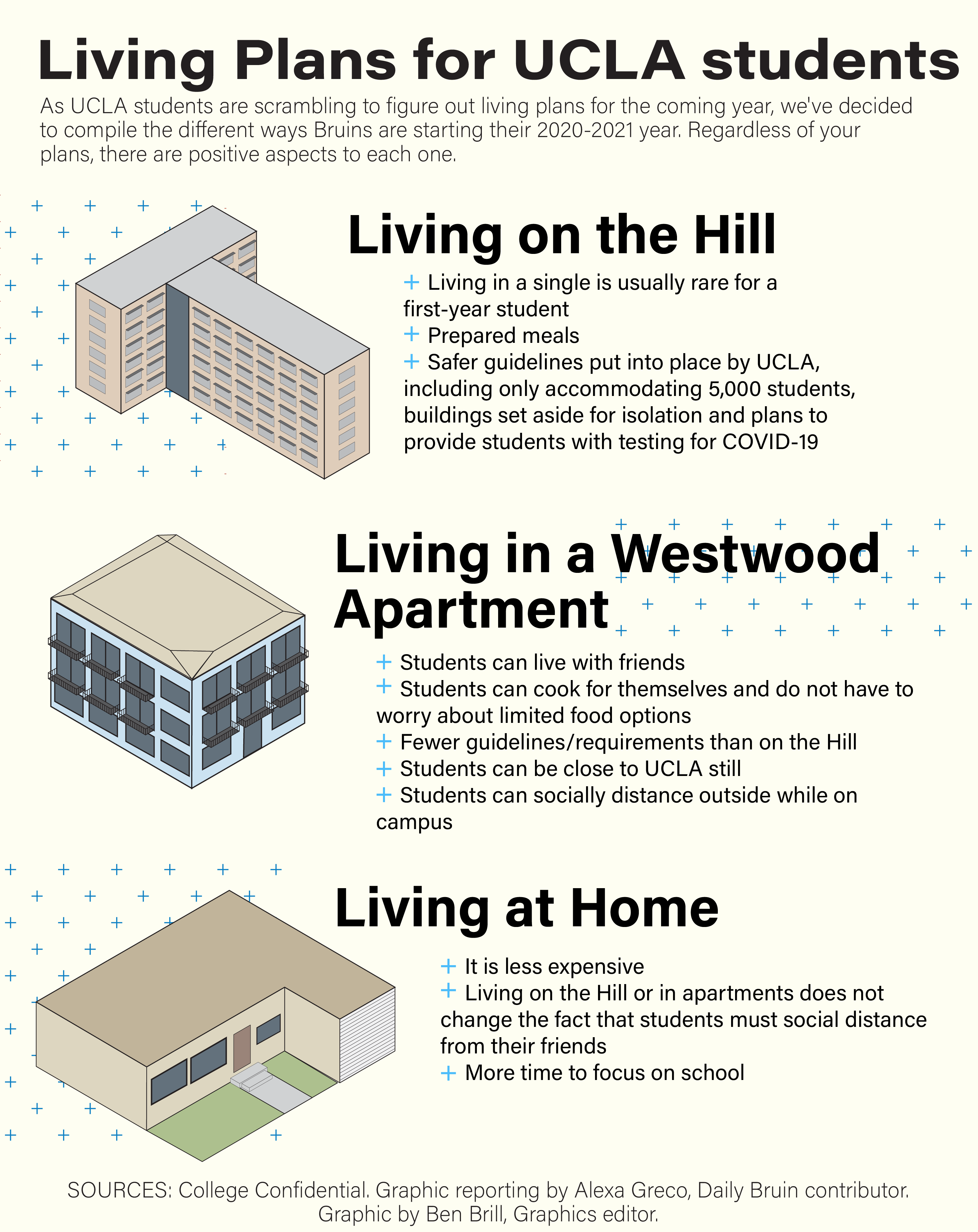 The Hill is going to look a bit different this September.
In light of the COVID-19 pandemic, only single-occupancy rooms will be offered to students this fall – filling UCLA housing to less than 40% capacity and leaving many students scrambling to figure out other living options.
But don't fret, new Bruins. Here at The Quad, we believe that though no living option is perfect, each option will have its own unique set of perks and drawbacks this fall.
For students who received or will receive housing offers and are deciding whether to live on the Hill, there are a number of benefits and downfalls to consider.
Besides the obvious positives of experiencing the beauty of campus and the fun of college dorm life, living in a single is relatively uncommon for first-year students. One major perk, however, is that students living in singles can skip out on the experience of waking up to your roommate's 10 alarms at the break of dawn in a classic triple.
Denise Montes, a second-year nursing student who will be living on the Hill this fall, said that living at school may also help students get in the best headspace for studying.
"Not very many second-year students were offered housing," Montes said. "I can't really focus on schoolwork at home, so living at school was the best option for me."
In terms of safety, UCLA has put into place planned guidelines for living on the Hill, including only accommodating about 5,000 students in singles in the residence halls, setting buildings aside for isolation and testing all students living on campus for COVID-19.
However, some students living on the Hill during this past spring quarter found it to be lonely to live in a single room and to have little social interaction.
"What a lot of students will be struggling with is the mental health aspect of it all," Montes said. "Everyone is going to be locked in rooms alone at school in the middle of a pandemic."
In the fall, the Hill will continue to serve prepared meals for takeout, relieving students of the duty of having to buy groceries and cook for themselves. But this time around, students will still be able to enjoy the famous UCLA dining food – without waiting in long lines.
There may be fewer shared bathrooms open in the dorms, meaning that some students must ride the elevator to another floor to use the bathroom, as was the case in the spring.
Though living on the Hill may have unique drawbacks this fall, students who were not offered university housing are left scrambling to look for other living options, like a Westwood apartment. But this solution has its own strengths and weaknesses, too.
An apartment allows students to live with friends and to be around others who are in an academic mindset. In addition, students can cook for themselves and don't have to worry about limited food options.
Choosing to live in an apartment may be a good option for students who want to be close to campus and safely enjoy all it has to offer.
Tessa Azani, a fourth-year public affairs student who transferred to UCLA last fall, has chosen to live with 10 of her closest friends in an apartment for the upcoming school year.
"I will definitely spend a lot of time walking to (Janss Steps) and studying outside on campus in the fall," Azani said.
Nevertheless, she also mentioned she is nervous about certain aspects of living in a building filled with other UCLA students, such as the fact that many people come in and out of the apartment building and make her feel more unsafe.
Sharing a living space with many other students may also cause issues if online class times overlap. There are no separate study areas in most apartment buildings, so roommates will have to delegate who gets private space in the apartment at a certain time.
"We have one communal living space, but if all 11 of us are in class at the same time, I don't know how that will work," Azani said.
Finally, students choosing to stay home for fall quarter also have a number of factors to consider when deciding where to live.
Jalen Stevenson, a third-year sociology student living at home with his family for fall quarter, said his decision is a financial decision to save money.
"It just didn't seem like an investment to be in LA without being able to enjoy all of its perks," Stevenson said.
Stevenson also said that this decision will allow him more time to focus on schoolwork without the distractions of extracurriculars and hanging out with friends. And with the pandemic, time spent with others may already be limited in order to follow Centers for Disease Control and Prevention guidelines.
In the end, first-time Bruins will be navigating many unprecedented situations this year – housing being only one of them. As the entirety of UCLA continues to navigate the uncharted waters of a pandemic, know that there is at least one veteran Bruin in similar shoes, or closets, to you.