Alternative comedy show UnCabaret to celebrate inclusivity at its silver jubilee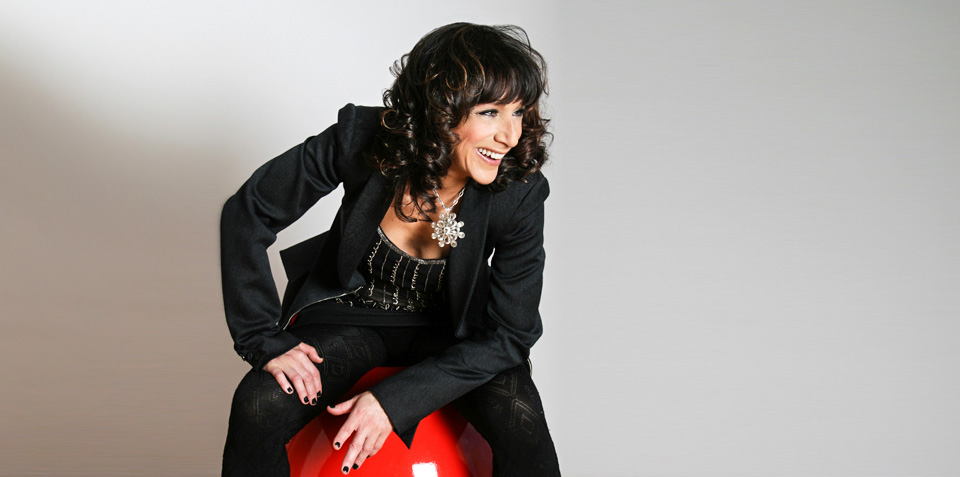 Beth Lapides is the host and creator of UnCabaret, a comedy live show that is performed every Sunday at the Theatre at Ace Hotel. Lapides said they will celebrate their 25th anniversary Sunday, with storylines and stream-of-consciousness comedy techniques instead of standard punchlines.
(Courtesy of Stephen Blaha)
UnCabaret: 25th Anniversary Show
The Theatre at Ace Hotel
Sunday
Prices vary
Beth Lapides performed at The Woman's Building in Downtown Los Angeles over 25 years ago. The building is known as a hub for artists advocating self-determination, gender equality and social justice, according to the Los Angeles Conservancy.
"When was the last time you laughed?" Lapides asked the crowd. She said it seemed as if the audience had never heard a joke before.
A few people in the crowd said they never visited comedy clubs because they were made fun of for being women, artists and lesbians, she said. Lapides said she decided she was going to make a show for all people, where everybody would have the opportunity to speak freely.
"It will be be unhomophobic, unxenophobic, unmisogynistic. It will be UnCabaret," she said in an interview with LA Weekly.
As the host and creator of UnCabaret, a live comedy show in which members can perform comedy in a nonjudgmental environment and audiences can let go of worries surrounding judgment, Lapides said she believes in a world of change. The show will be celebrating 25 years of performance Sunday at the Theatre at Ace Hotel as part of an event hosted by the Center for the Art of Performance at UCLA. Lapides said she wanted to make changes to discard limitations in the ways artists were able to express themselves, and in how comedy was experienced by both comedians and audiences. The purpose of the show is to create humor unlike the humor of mainstream stand-up, aiming to avoid punchline formulas and instead to utilize storylines and stream-of-consciousness techniques throughout the show, she said.
"There was no place like this 25 years ago," she said. "There was no place that was female-friendly, LGBTQ-friendly, but also very high-caliber comedy."
Since the day Lapides performed at The Woman's Building, she has hosted UnCabaret every Sunday night. Each show happens only one time, meaning the exact same story is never told again. Unlike other comedy shows such as stand-up, UnCabaret breaks free from the standard setup of having laughs scheduled at a certain pace, and instead is able to talk about complex and experimental topics. However, seven years ago, Lapides said she became gradually less interested in continuing the show. She said this was due to other obligations and a feeling that she had already done enough to accomplish her mission of creating an entertaining space without the restrictions of the typical comedy club. Mitch Kaplan, who has been the musical director of UnCabaret for the past seven years, helped Lapides revamp the show, moving it to the new Ace Hotel venue.
Lapides said Kaplan's enthusiasm was infectious. His ideas led to the involvement of new performers apart from just comedians, including musicians and writers. Lapides said that Kaplan helped her recognize that her mission for inclusivity in the comedic industry called for more work.
"I thought it was the perfect space," he said. "We added music to the show, had original singer-songwriters and a house band, and this all led up to the 25th anniversary this Sunday."
With the addition of other artistic performers, the show has become even more inclusive, Kaplan said. Whether it's Maria Bamford speaking about mental illness awareness or Greg Behrendt on his experience writing his book, "He's Just Not That Into You," each performer in the show discusses topics they care deeply about. With the guests' variety of interests displayed in UnCabaret, audiences are able to learn more about their own passions, Lapides said.
"I think it's important for a young person to fill up. You really are what you eat," Lapides said. "If you take what you eat as your culture, (UnCabaret is) a great place to be inspired by people who have worked hard to create a culture of intelligence and openheartedness."
Julia Sweeney, a guest performer on the show, said she believes UnCabaret is the beginning of the alternative comedy scene. She said in UnCabaret, performers are given the chance to be more honest in their storytelling rather than focusing so much on a punchline or a joke to get the crowd going – and this chance is exactly what alternative comedy entails. Many traditional comedians overlook alternative comedy, but the performers of UnCabaret have explored the many ways of embedding humor in a story. While comedy clubs have a certain routine in sequence, alternative comedy never has preset expectations, and the spontaneity of each alternative comedy show is what keeps the audience returning.
Although the silver jubilee will be a one-time-only event, UnCabaret expects to be going on tour in the near future, Kaplan said. He said they will be expanding the show to continue the tradition of their Sunday night performances in different places. Since Kaplan's suggestion to continue the show seven years ago, Lapides has been motivated to continue and expand her work in changing the status quo by challenging mainstream comedy.
The celebration of UnCabaret's 25th anniversary will be different from the normal weekly shows in that it will be longer and, due to the increase in the number of guest performers, each set will be shorter than usual. Lapides has also made sure to ask guest performers to tell specific stories even if they are repetitions from the past, because those were the most popular. Other bonuses include a nine-piece house band instead of the normal three-piece band, and the addition of video works by some guests.
"I wanted a big expression that change in the world is possible," Lapides said. "Whether you change it on your own or with a group, it is possible to shift things. I think it's important to do that right now."