Gamer's Guidebook: Best tabletop games have both competition, collaboration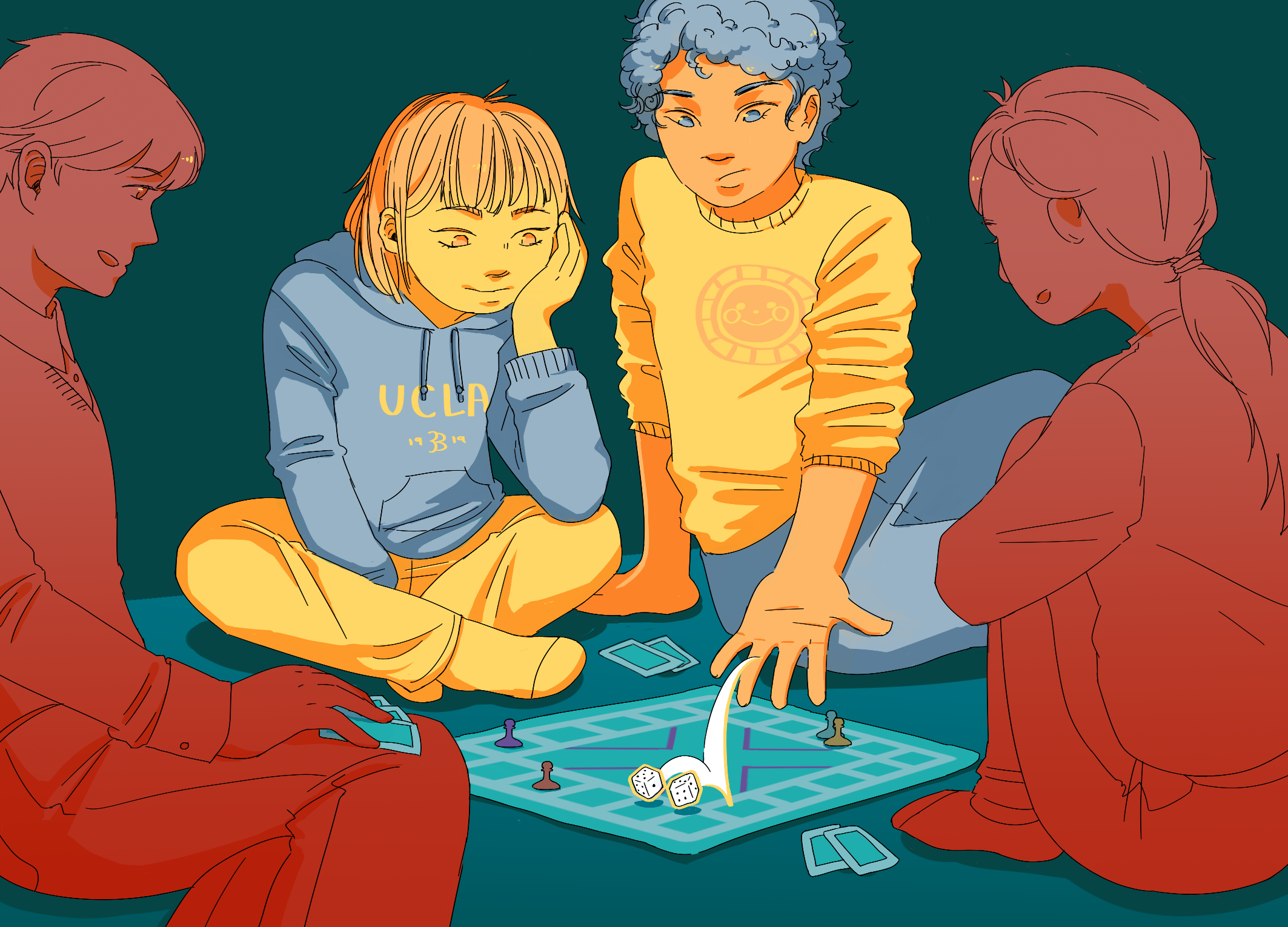 Games have always been a huge part of the entertainment industry, but what makes them entertaining? Game-makers expend significant effort making design decisions that people often don't think about when they're playing each game. Each week, columnist Evan Charfauros will examine the pros and cons of different game mechanics as seen in the modern gaming industry.
Many associate tabletop gaming with an overwhelming urge to throw a Monopoly board across the room and skulk away, leaving their probably now-former friends to clean the dollar bills and game pieces scattered across the floor.
Luckily for those of us who want to maintain healthy relationships, a subset of modern board games exists that forgoes the competitive aspect of gaming. In the collaborative-game genre, players tend to work against the game itself to achieve a common goal, which means they all win or lose together. It's a refreshing and fun take on tabletop gaming that has grown popular in recent decades, but has yet to reach its full potential.
In one of the best-known collaborative board games, Pandemic, players work together to eradicate four deadly contagious diseases before they wipe out humanity. It's a race against the clock as players attempt to gather cards and traverse the world map in search of cures before the spreading diseases unleash too many epidemics and cause all the players to lose.
I've played Pandemic plenty of times, and I can attest that its problem-solving aspect is fun. But there's an element of tabletop gaming that's lost in many collaborative games – the importance of each individual. Yes, each player technically controls a separate pawn with a unique ability, such as temporary control of other players' pawns, but none of the decisions that any player makes have to be made alone.
In any given playthrough, the veterans who have played before end up directing the newer players on their turn. At its core, Pandemic boils down to an elaborate logic puzzle that can be solved by a single player controlling all four pawns while the other people at the table take their afternoon naps.
And the players' potential for idleness is not just a problem with Pandemic. A similar game called Forbidden Island forces players to navigate across a game board that "floods" as time goes on. The characters have to work together to collect four treasures and escape the flood before the board disappears completely. The lack of individual decision-making made my experience playing the game feel like a bunch of people playing a really fancy version of solitaire together.
And hey, really fancy solitaire is fun. But games like Pandemic and Forbidden Island lack a dimension of strategy that competitive board games have. The issue stems from a shared perspective: In many collaborative games, all players have access to the same information. By contrast, you can't tell what your opponent is thinking in a competitive game, and it's an obstacle opposing players have to work around.
Game-makers have tried different strategies to achieve the camaraderie of collaborative gaming while retaining the importance of each player and their choices. Their efforts resulted in the subgenre of semicollaborative games, in which players still work toward a common goal – but with a catch.
One common version of semicollaborative games involves the introduction of a traitorous player. In the game Betrayal at the House on the Hill, players work together to explore a randomly generated haunted house until a dice roll turns one player's character malevolent. The second half of the game introduces new rules for the traitor and the innocents, but the innocents don't know the traitor's new objective and vice versa. The elimination of shared perspective adds a layer to Betrayal that other collaborative games lack.
Another traitor game, Dead of Winter, has perhaps the best use of hidden information I've seen. Players work toward a common objective in the middle of a freezing zombie apocalypse, but each player must additionally complete their own secret objective for individual wins. There is also a sizeable probability that one player's secret objective requires them to sabotage the main objective.
The possibility of a traitor leads to a gameplay experience in which players hold each other in suspicion. However, it's also possible the game doesn't contain a traitor and that the players' paranoia is unfounded, which presents a psychological component and requires each player to fully engage in the game.
While both games improve on the collaboration mechanic, they have their own flaws. The randomness of Betrayal can make it much easier for one side to win, and Dead of Winter's traitor can too easily ruin everyone else's game. But Dead of Winter's secret objectives are a huge step in the right direction for collaborative tabletop games.
I love collaborative games, which is why I'm determined for them to get better. Maybe I just haven't found one with the right balance of collaboration and competition yet, or maybe it hasn't been made. Either way, game developers in the future can take some pointers from semicollaborative games. Until then, I'll make do with really fancy solitaire.