Marvel breathes new life into former Image Comics character Angela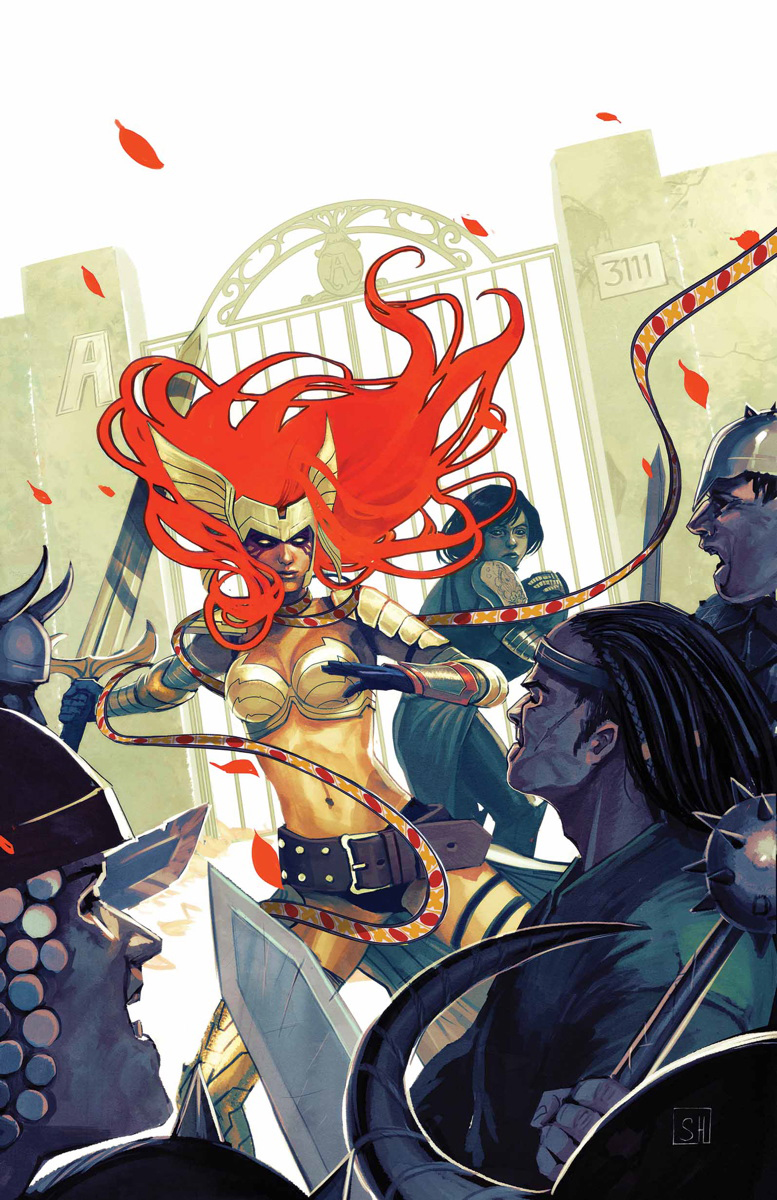 Angela originally debuted in the Image Comics series "Spawn," but is now a part of the Marvel Universe after co-creator Neil Gaiman sold the rights to Marvel. (Marvel Comics)
April 29, 2015 12:25 a.m.
Marvel Comics has seen an increase in mainstream popularity with the recent release of several box-office hits such as "The Avengers." Since its inception in 1939, the comic book company has created thousands of characters. While not all of them may get their due publicity because of a lack of exposure on the silver screen, each has interesting stories to tell in the print medium.
I don't know much about the Image Comics "Spawn" series, or what kind of a role Angela played in it, but the point is I don't really need to know much.
The bounty hunter angel first came to life when comic book artist Todd McFarlane and fan-favorite writer Neil Gaiman collaborated in 1993 to create an angel antagonist for the hellborn hero, Spawn. Several years and lawsuits later, McFarlane ended up ceding the rights for Angela's character to Gaiman in a settlement.
From a personal perspective, Angela's arrival in the Marvel Universe in 2013 gave me a reason to invest in a reinvented version of a popular character whose stories I had access to. But from a broader perspective, it's a first for Marvel.
Characters such as Shazam and The Question show that a larger company like DC Comics acquiring the rights of characters from other publications isn't anything avant-garde. But according to Marvel's chief creative officer Joe Quesada in an interview with Entertainment Weekly, Angela is Marvel's first acquired character in the company's 76 years.
Twenty years after her first appearance for Image Comics, the red-haired angel debuted again, this time for Marvel in "Age of Ultron" – the comic book, not the upcoming movie. Without going into too many spoilers, the time traveling in "Age of Ultron" created an opening to the dimension of angels, Heven, releasing Angela into Midgard, the realm us mere mortals usually live in.
Angela's story continues in "Guardians of the Galaxy" – again the comic book, not the movie – where she becomes a member of the team.
It's not until "Original Sin: Thor & Loki: The Tenth Realm" – no Marvel movie confusion here – that we realize Marvel didn't just transplant the "Spawn" character over, it reimagined her in a way to help fit with its universe.
The series starts with Thor returning to Asgard to discuss his visions of a new realm that houses a long-lost sister. Thor's stepmother, Freyja, dismisses Thor's claim since she saw her daughter die at the hands of the Queen of Angels. A recalcitrant Thor storms off, saying there's still one person he can count on: Loki.
We learn through Thor and Loki's adventures in Heven, the new realm, of how Asgardians and angels were once allies, but after the Queen of Angels accepts a bribe from the Giants to turn on the Asgardians, the two factions engage in an all-out war.
The angels in Marvel are no angels in the traditional sense. Instead, they are depicted as a female race of winged sellswords who value ideals such as "assassination, sabotage (and) deception."
It turns out Angela is no angel either, literally, and her name is kind of a misnomer. It's revealed that her real name is Aldrif Odinsdottir – if the name vaguely sounds familiar, that's because she's the long-lost sister of Thor Odinson.
I don't feel any guilt spoiling the fact that Angela is Thor's sister because the red-haired Asgardian on each cover of the five-part series should serve as enough red flags to the reader.
Angela's origin story ends with the Queen of Angels sparing Angela for her service as a hunt-mistress, not before calling her "Aldrif Odin-spawn" – definitely not a coincidence. Now, no longer associated with angels, and refusing to join the Asgardians, Angela ends the series with a segue for her solo series, "Angela: Asgard's Assassin."
While I have read Angela's Marvel backstory, I don't know much about Angela's run in "Spawn" just because the series never appealed to me. I give credit to McFarlane for creating a franchise that in its heyday outsold many Marvel and DC Comics titles. I was just never sold on the dark and grotesque series, and always opted for the traditional Marvel and DC superhero format.
The character's first appearance in a "Guardians of the Galaxy" story turning into a rousing success – it was the top-selling Marvel book of July, only falling short of DC's "Superman Unchained" and "Batman" titles – could definitely be a portent of more horizontal integration of characters on Marvel's part.
Maybe rein in any enthusiasm about seeing Batman and Superman jumping ship to join Angela in the Marvel Universe anytime soon.
Who's your favorite Marvel superhero not seen on the silver screen? Email Yeo at [email protected]