Sustainability, personality drive alumnus-run fashion business allisunny designs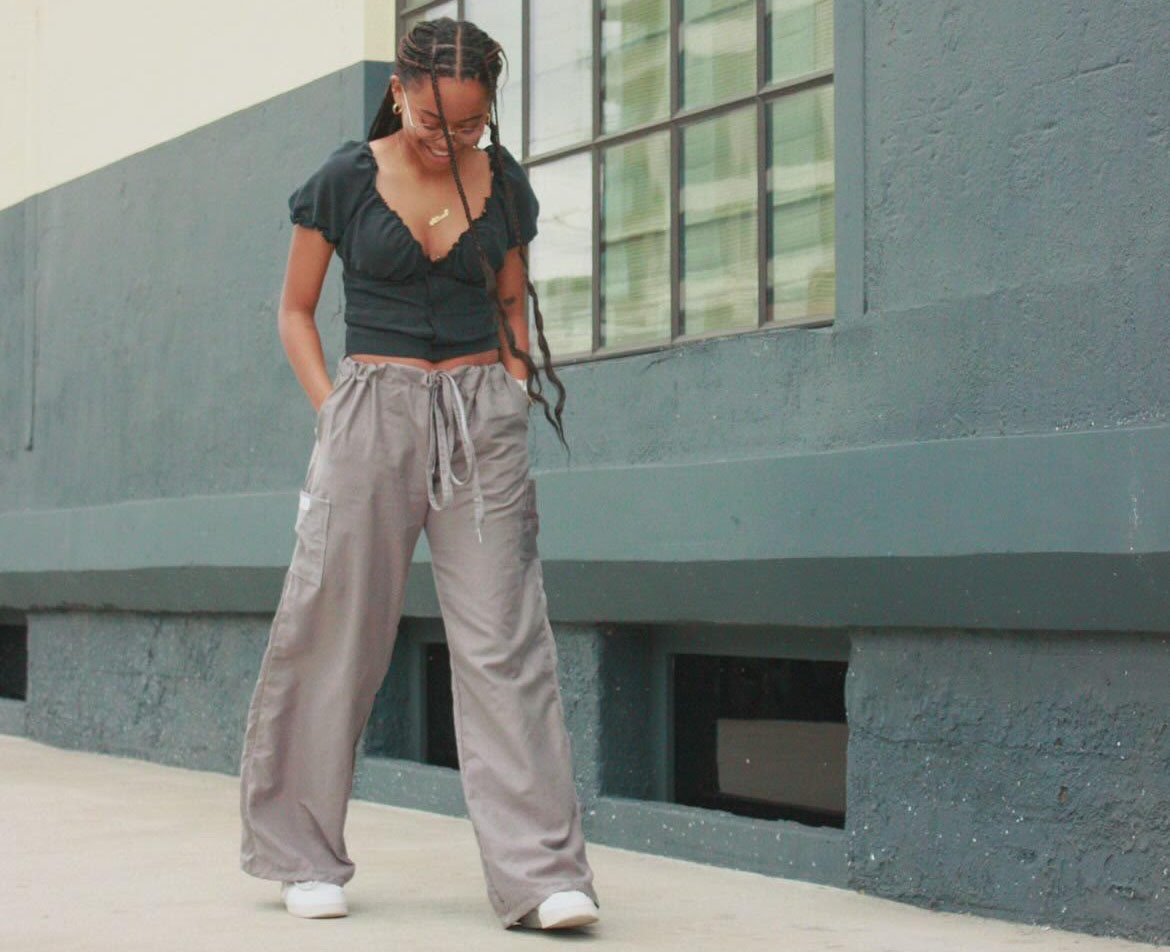 Donning one of her pieces, Allison Scott smiles as she looks down. The alumnus runs the clothing line allisunny designs. (Courtesy of Allison Scott)
This post was updated Oct. 8 at 8:20 p.m.
Allison Scott is running a one-woman show over at allisunny designs.
The alumnus-run clothing brand aims to provide sustainable yet trendy designs to consumers seeking to break free of larger corporations such as Urban Outfitters and Zara, Scott said. Aesthetically, she said her designs are born out of a desire to feel more feminine. After browsing the catalogs of fast fashion brands, she said, she gives the trends she sees her own personal twist.
"We shouldn't have to support that fashion to be able to fit in with the trends," Scott said.
[Related: FAST 2023: Kristi Le's 'Encore' collection delivers timeless, sustainable looks]
Scott's passion for all things fashion sparked during the COVID-19 pandemic. Like many others who were quarantined and isolated for the first time in their lives, Scott said she struggled with ways to fill the seemingly endless days. After stumbling across her grandmother's old sewing machine, she said a new hobby – soon to become a full-fledged business – came to be.
Scott said she originally canonized her work on an Instagram handle dedicated to showcasing her designs which is now her business' official account. She said she was surprised to see people outside of her inner circle of friends following and commenting on her posts, giving her vastly positive feedback. Chloe Wang, a fellow alumnus and Scott's longtime friend, said even prior to creating her own designs, Scott had an eye for standout pieces. The pair would often go thrifting together, which Wang said she believes segued into Scott creating her business.
"Ever since meeting her, I've become a lot more conscious of where my clothes are coming from," Wang said. "I'm always wearing at least one thing that I thrifted, got at a consignment store or has been handed down to me. … That's how she's influenced me."
Wang said watching Scott grow into her roles as a businesswoman and a designer has been a highlight for her. During their time at UCLA, both were members of the dance team NSU Modern, she said. Through Scott's role as a leader and choreographer, she expressed her artistic agency prior to her interest in fashion, Wang said. That self expression translated over to allisunny designs, she said.
"Because she is having this creative small business brand, you can tell it's very distinctively 'Allison,'" Wang said. "Just like you can tell the way she danced and choreographed was very 'Allison.'"
[Related: Student organization RefineLA promotes environmentally conscious fashion at UCLA]
Despite having achieved numerous goals she set for herself, Scott said the journey has not been without challenges. The dichotomy of her roles as both the business owner and designer often come into conflict, she said. Scott added that refusing to sacrifice her design visions in the name of profit has been essential to keeping her fulfilled in both roles.
Catherine Vo, who has known Scott since their ninth-grade geometry class, said the most difficult challenge she believes Scott has faced since allisunny designs' inception is marketing and promotion. In order to compete with fast-fashion brands, Scott had to reevaluate her marketing tactics and the pricing of her items, Vo said. The struggle lies in people being unaware of the amount of time put into one of Scott's handmade designs, she said.
Looking toward the future, Scott said she hopes to expand her platform and build up her name within the Los Angeles fashion scene. After getting her business license this past year, she said her next goal is to launch her storefront and make allisunny designs her full-time job. However, she said she does not feel she needs to rush herself or remain on a strict timeline.
"I had a professor who would always talk about how your career doesn't have to be linear, and it doesn't have to just go in one direction," Scott said. "I don't think that I would be as inclined to be this deep into fashion if I hadn't heard that it was okay to not have a linear path."