FAST 2023: Student Kristi Le's 'Encore' collection delivers timeless, sustainable looks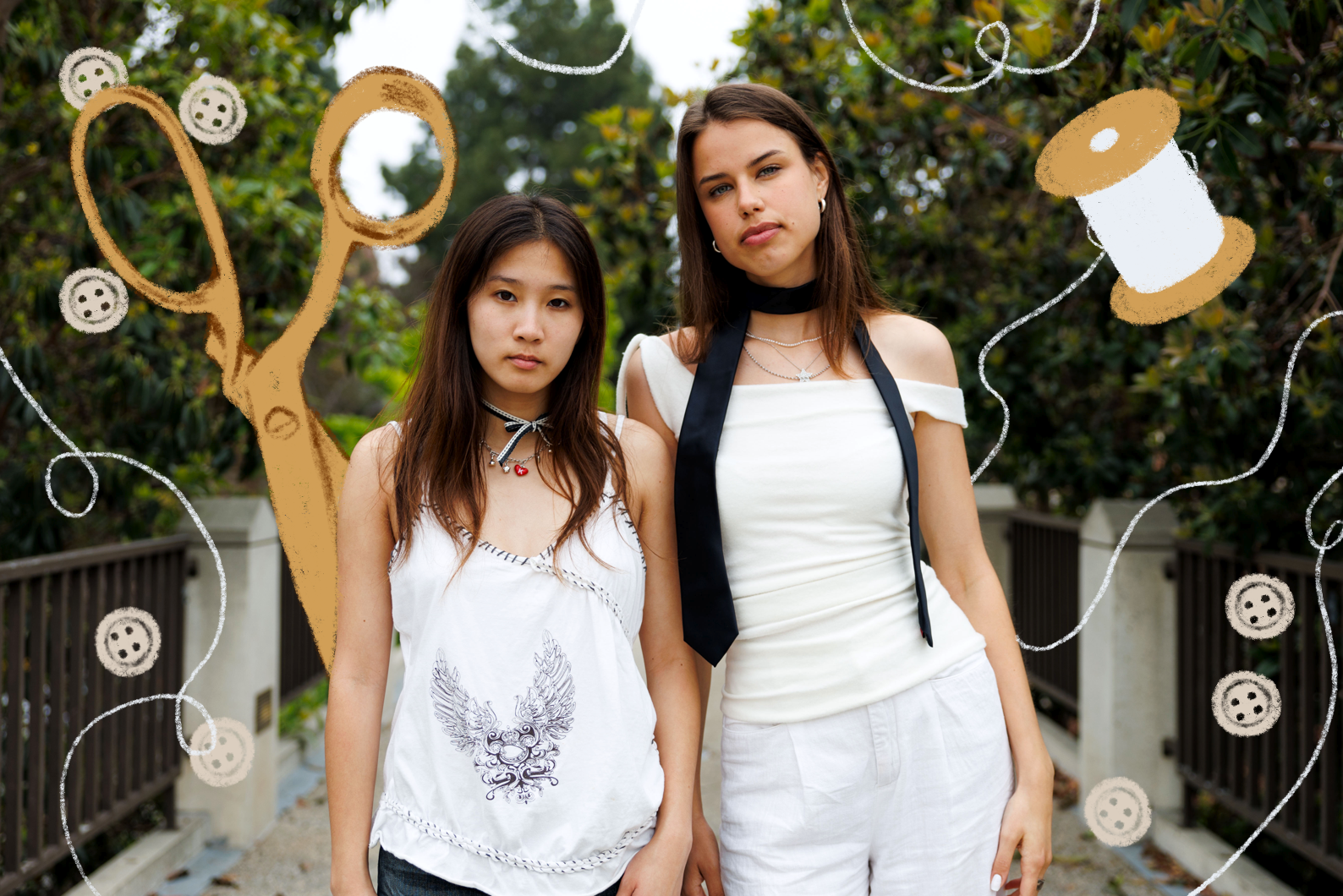 Kristi Le (left) and a model (right) pose together in white. "Encore" is Le's first collection. (Photo by Anika Chakrabarti/Photo editor. Photo illustration by Isabella Lee/Illustrations director)
As the countdown to Fashion and Student Trends at UCLA's annual runway ticks down, Kristi Le's collection has all the time in the world.
The first-time designer and fourth-year computational and systems biology student said her collection will walk FAST's annual runway Friday at Pauley Pavilion while conveying a message of sustainability. Her formalwear collection, titled "Encore," uses a neutral color palette with longer hemlines and secondhand materials to create six rewearable dresses that feel timeless and elegant, she said. This concept was a result of Le's passion for both fashion and nature – despite the industry's pollution and harmful relationship with the environment – and the designer said she chose to focus on event attire since it's often worn only once.
"The idea that I'm trying to portray is that you can still have that (Cinderella) moment where you're the it girl: Everyone's paying attention to you, looking at your beautiful self in your beautiful dress, but you still don't have to be the most flashiest outfit in the room," Le said. "Something that is versatile, timeless, simple can also have an allure and magnetism about it."
Drawing inspiration from the '90s and early 2000s fashion houses, including Chanel and Prada, Le said her idea of timelessness is not one distinct look that persists throughout time but rather places an emphasis on basics that can outlast multiple trend cycles. Most of her own wardrobe includes her mom's hand-me-downs, and she said clothing that has been passed down can take on a new sentimental value as it reminds the wearer of their loved ones.
"In today's age, timeless isn't even that long, (which) is the upsetting part," Le said. "This collection is a pushback more against fast fashion and a very, very short life cycle of fabrics and clothing. To me, if something can even be kept in your wardrobe for a couple of decades, that's pretty timeless."
Beyond her design, Le opted for thrifted materials like curtains and tablecloths to further her sustainable vision, and she said these fabrics could have gone to waste if no one bought them. Fourth-year psychology student and "Encore" model Queena Chu said that during one of her fittings, Le formed her dress out of a single piece of repurposed fabric with gold embellishments as opposed to sewing together multiple pieces.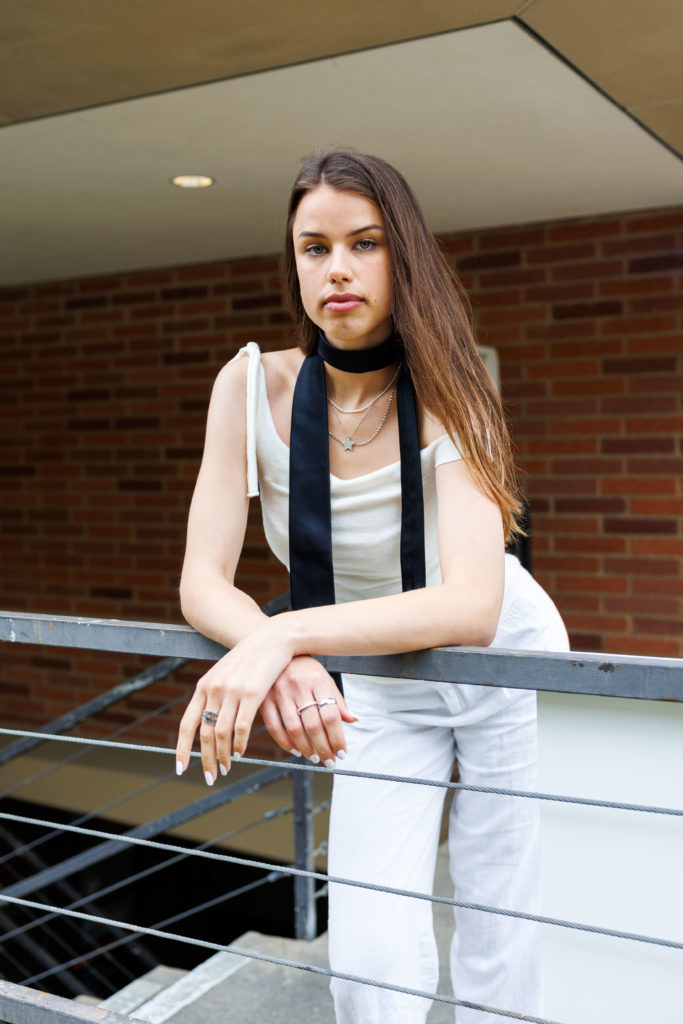 As for the color, Le said the collection's black-and-white palette was chosen because of its ability to survive ever-changing trends. This is in contrast to seasonal hues such as coral and neon green whose brightness hinders the longevity of clothes as the shades become outdated, she said. Furthermore, the designer said she has begun to reflect more on her relationship with fashion after shopping at malls earlier in her life.
"Now when I walk into malls, everything is just super bright and flashy and meant to immediately get a person's attention," Le said. "Fashion … should be about longevity and really buying pieces that you're going to keep in your wardrobe for a long time. … Sustainability is literally one of the most pressing issues of our time."
Outside of her new role as a designer, Le said the past two years she's modeled and worked on production for FAST. This year, Le continues to model, which she said has helped her figure out how to work with models as a designer. For instance, she said comfortability is a priority both during fittings when measurements are being taken and in the design for each model so that their outfits make them feel good.
"It (sustainability) is something to consider because everyone has to wear clothes for the rest of their lives," Le said. "We need to rethink the way that we feel good and clothing because people always think that they feel the best and like their newest purchase or something like that, but wearing something that you've worn for a really long time and have worn again and again can make you feel more comfortable in it."
First-year business economics student and "Encore" model Carmela Vargas-vonBreymann said working with Le taught her how to navigate the measurement process during a fitting. Furthermore, Vargas-vonBreymann said she strives to act as a blank canvas in order to place the focus on the statement behind Le's designs.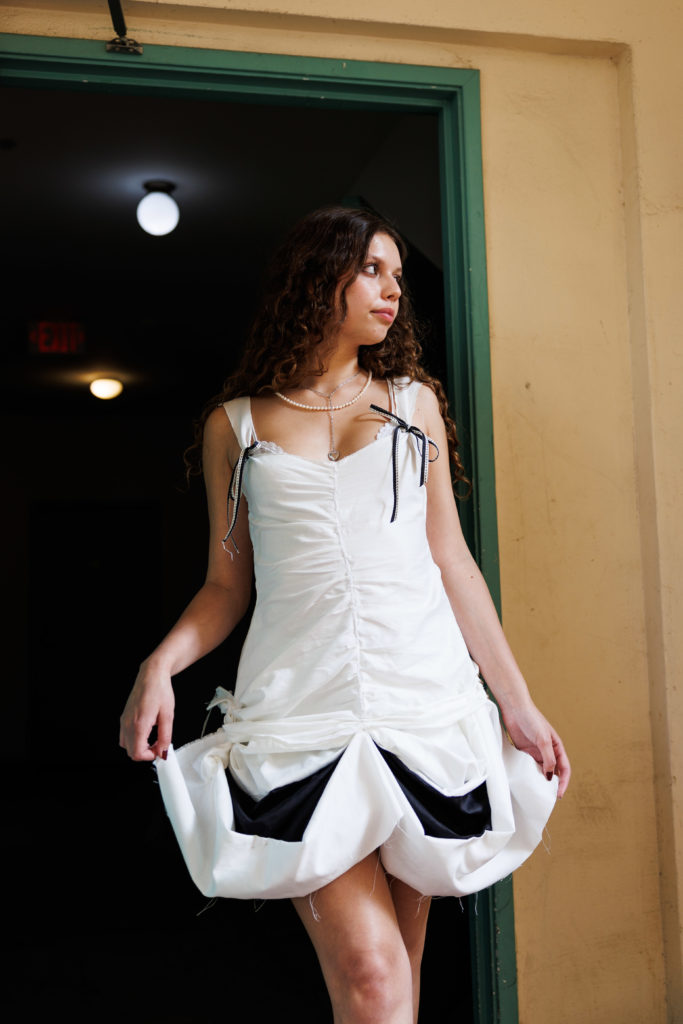 Le said she chose "Encore" – the French word for "again" – because it encapsulates her mission of rewearing clothing. Though she chose the French version of the word because of her experience traveling abroad in France and as an homage to French fashion houses, Le said she enjoys the duality of the word across languages. Even though English speakers may think of an encore in the concert setting, she said this still connects to her vision.
"That's (an encore is) sometimes the most breathtaking and enchanting part of the whole night," Le said. "Just because you've seen this person performing for like two hours wearing that thing before again – it doesn't lose its star power."