Student organization RefineLA promotes environmentally conscious fashion at UCLA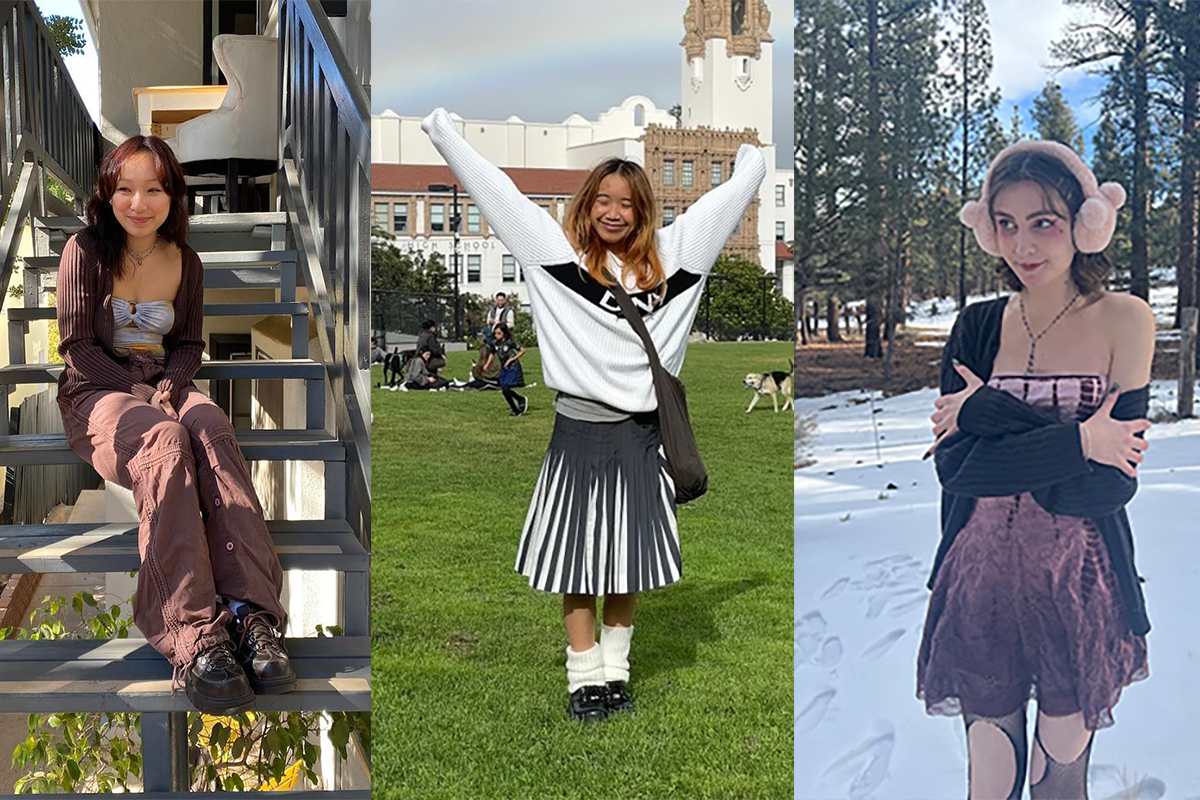 Alyssa Vu, Faith Yuan and Sheridan Ohlinger wear their favorite outfits. The three students are a part of RefineLA, a campus organization that focuses on sustainability in fashion. (From left to right: Courtesy of Alyssa Vu, Courtesy of Faith Yuan, Courtesy of Sheridan Ohlinger)
Style and sustainability are being redefined at RefineLA.
Led by fourth-year statistics student and club president Sheridan Ohlinger, RefineLA is a student organization devoted to making environmentally conscious fashion easily available to both UCLA students and the greater Los Angeles area. The club hosts pop-up shops across campus, selling clothes donated or sold to them by UCLA students as well as clothing thrifted by the organization's members themselves. Its apparel ranges across styles and generations, complete with both the latest trends and vintage, versatile items, Ohlinger said.
"(We're) making sustainable fashion, specifically thrifted fashion, vintage fashion and secondhand clothing accessible to everyone," Ohlinger said. "A lot of our members would agree that they work really hard to put on their heart on their sleeves to really show their authentic selves through sustainable, successful fashion."
Ohlinger said members of RefineLA use what they learn from the organization by incorporating sustainability into their own fashion choices. One example includes upcycling, a process through which damaged or tattered clothes are reborn as upgraded pieces through dyeing, embroidering or turning them into a tote bag, they said. Their anti-waste attitude also extends deeply, she said, as many members use worn-out clothes as dish rags.
Numerous RefineLA events involve cross-club collaboration, Ohlinger said. The club has worked with other student organizations such as Unravel at UCLA, another environmentally oriented fashion group, said fourth-year chemical engineering student and product team member Alyssa Vu. One such collaboration is "Sustainability Days," which Vu said invites members of the UCLA and LA communities to upcycle their clothes using fabric and tools provided by the two organizations.
[Related: Student Simona Konstantinovskaya's passion for thrifting inspires clothing business]
RefineLA also partners with other LA-based organizations promoting sustainability across different spheres of fashion. Partnerships span across varying organizations, said social impact director and fourth-year computational and systems biology student Faith Yuan. Yuan said these events include inviting speakers to panels, discussing the ecological footprint of individual fashion choices and attending events at local sustainable institutions.
Looking forward, Yuan said the organization plans to partner with fellow UCLA group BruiNecessities, which provides free basic-need kits to students at their pop-ups. These kits will include personal hygiene products to boost the sustainable, accessible message RefineLA is devoted to spreading, Yuan said.
Furthermore, Ohlinger said RefineLA is planning to collaborate with the Student Committee for the Arts in the spring for a sustainable fashion show and a lookbook showcasing affordable ways to incorporate environmentally conscious decisions into fashion is in development. All these events relate to the club's ultimate goal of shattering the notion that good quality clothing is only accessible to the wealthy, they said.
"Those (the fashion industry) are areas that people see as elite," Ohlinger said. "We want to break down that barrier that (fashion) is exclusive to crazy expensive designer items that are made in terrible conditions for workers."
[Related: Student-run shop Bruin Vintage blends sustainability with fashion-forward clothing]
While advancing sustainable fashion is RefineLA's core mission, fostering individuality also plays a focal point in the organization, Ohlinger said. Because of the role fashion plays in both dismantling societal norms and representing identity, the organization strives to create a familial environment that encourages self-expression, she said. Individuals who come from stricter, conservative backgrounds, they said, are able to transcend their preconceived notions of gender, style and fashion.
Yuan said they have felt the effects of RefineLA and fashion on their life outside of the organization. A long journey involving the destruction of prejudiced notions against thrifting allowed her to reach a place of comfort in what she wears, she said. Their style can, at times, lean toward being more androgynous or masculine, they said, which they express through baggier or entirely different clothes.
"Self-discovery has evolved through my sense of style," Yuan said. "(Fashion) helps you break gender norms, or norms you feel about yourself. … I think that's one thing that's really beautiful about fashion and styling yourself."
For Vu, the organization influenced both her stylistic choices as well as her relationships. After joining the club as a freshman, Vu said she created close relationships with her fellow RefineLA members, eventually deciding to live with some of the members in her senior year. Through the organization, she said, fashion has evolved into a community for her, a medium through which people can share their stories and personal interests.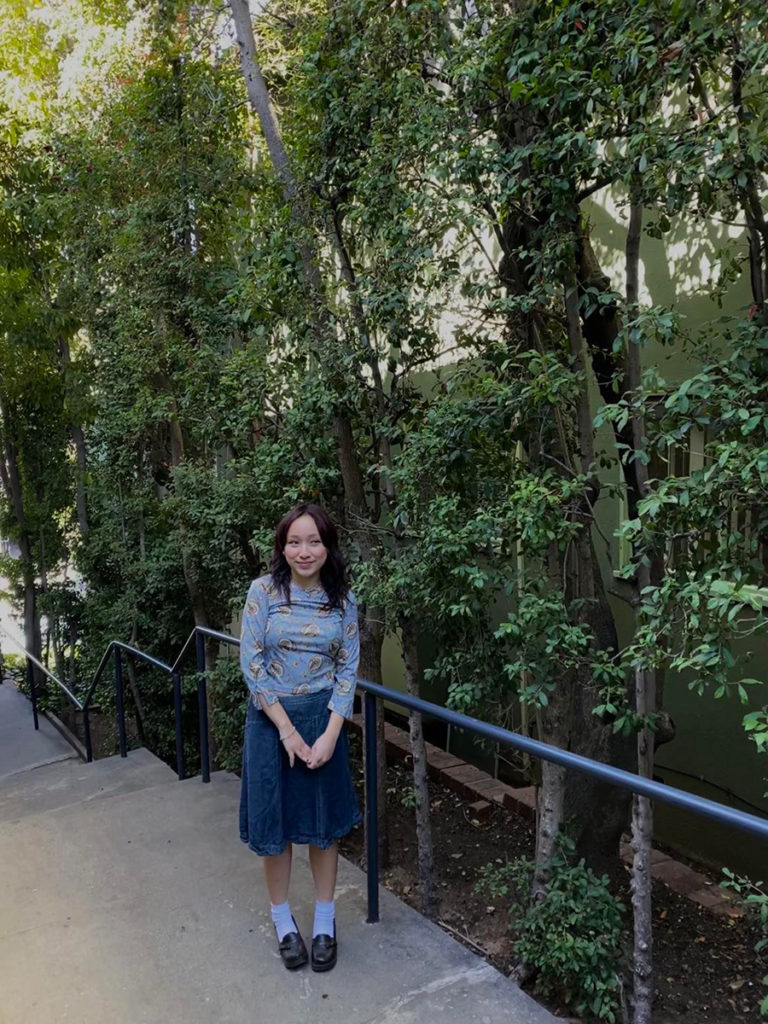 RefineLA's endless array of styles gives consumers discretion in communicating their identities rather than solely latching onto the latest trends, Ohlinger said. Since what is considered in style changes so rapidly, they said the organization curates items that could appeal to various senses of style. For Ohlinger, RefineLA members showcase authentic versions of themselves through their fashion.
"I think people really underestimate how much style can impact people," Ohlinger said. "It's not just about your mood of the day. It goes deeper and allows us to reflect our identities and our personal struggles."