Q&A: Stop-motion film 'The Inventor' presents Leonardo da Vinci to modern audiences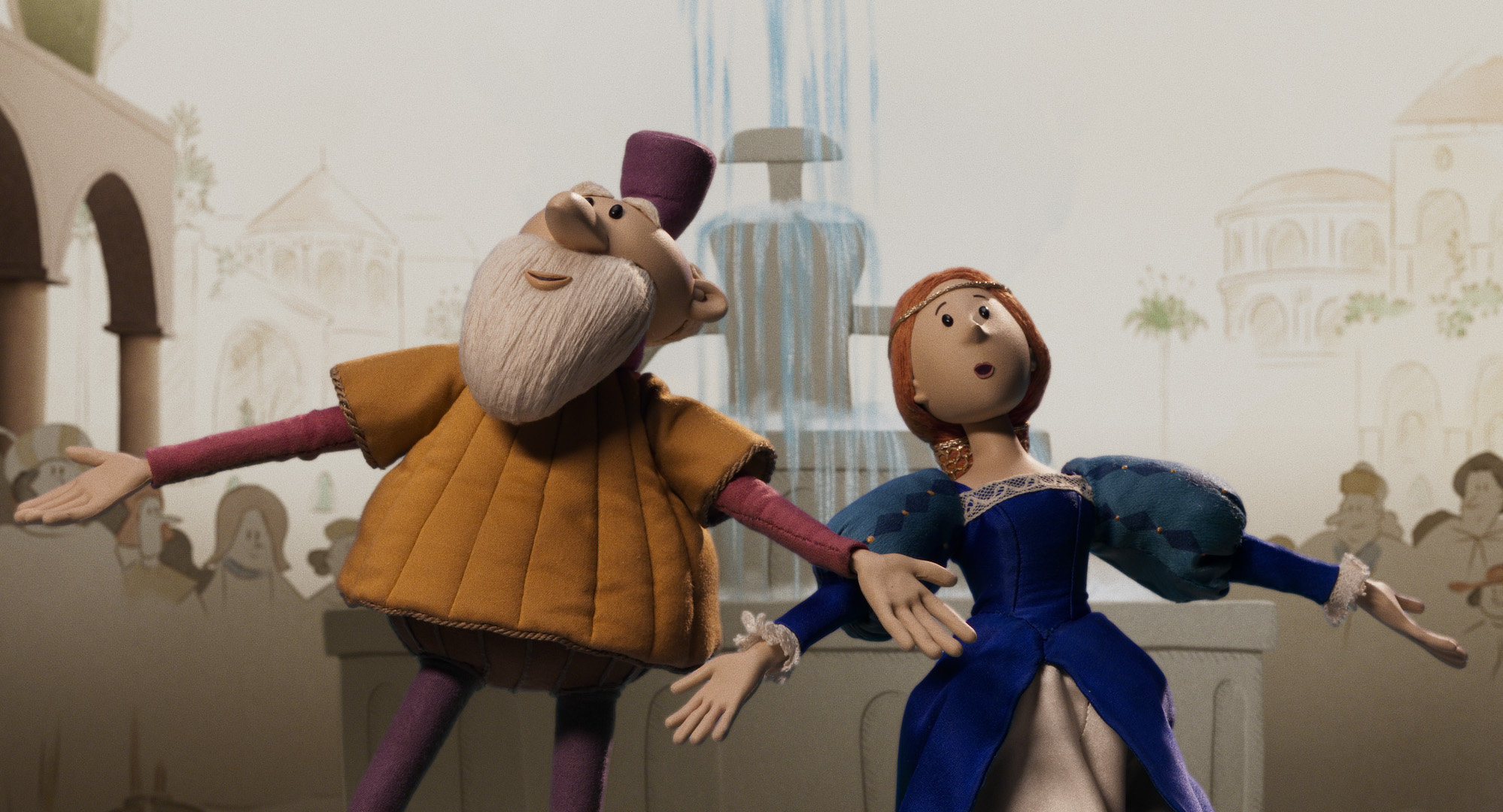 Stephen Fry and Daisy Ridley voice Leonardo da Vinci (left) and Princess Marguerite de Nevarre (right) in "The Inventor." Directed by Jim Capobianco, the stop-motion film will premiere Sept. 15. (Courtesy of Curiosity Studio)
"The Inventor"
Directed by Jim Capobianco
Blue Fox Entertainment
Sept. 15
"The Inventor" is animating the reinvention of an artistic legend's story.
Set in the Renaissance age, the stop-motion film follows Leonardo da Vinci (Stephen Fry) in his quest to understand the human soul. As he transitions from Italy to the French court in the later portion of his life, the insatiable artist meets the intrepid French Princess Marguerite de Nevarre (Daisy Ridley). Together, the duo paints a whirlwind of revolutionary ideas and bold experiments on the medieval canvas, unknowingly discovering the meaning of life along the way.
Before the film's release Friday, director Jim Capobianco and music producer Alex Mandel spoke to the Daily Bruin's Puja Anand about the thought process behind the film's creation and their hopes for its reception by modern audiences.
This interview has been edited for length and clarity.
[Related: Q&A: Emma Seligman shares evolution of 'Bottoms' from pure camp to the middle ground]
Daily Bruin: In "The Inventor," Leonardo da Vinci chases the meaning of life. What propelled you to choose this deep, soul-searching theme?
Jim Capobianco: In researching this time in his life, he's older, he moves to France … and we know from history this is where he's going to die. So I'm like, "What does that mean as a story for Leonardo da Vinci?" It's about legacy. Leonardo da Vinci, in a way, is the perfect embodiment of that idea because … we still read books about him, talk about him all the time. So that aspect was interesting to me – legacy. What does legacy mean? It's like what you leave behind for everyone and how you touched people through your life.
To me, that was a great story I'd love to tell, and I believe in it. In researching it (his life), I learned that he had this belief that the soul existed inside the body, and that was sort of a belief in the Renaissance. For me, it seemed like that was a nice encapsulation of him as a character and a story to tell.
DB: How does the film's soundtrack support and uplift the narrative and themes of the film?
Alex Mandel: When we started, there was going to be one song, and there wound up being nine. In the songs, you have both the music itself but also the lyrics, and so each song had a little melody which was attached to an idea, like a little motif from the song – a slice of the theme. The idea is that you subconsciously hear it (the melody) throughout the film so that in the last song, it doesn't feel out of nowhere. There's some part of your brain, hopefully, that's like, "This feels familiar," and you don't know why. And then there were some themes that were separate from the songs. There was an authority theme that the Pope has, and the queen has an authoritarian kind of theme. The score is there to help support the storytelling and hopefully add some emotion to the moments.
JC: I think the advantage of, you know, "Why would you put songs in it?" – there's an immediacy to the emotions. You can cover more ground. In a film that's only an hour and a half, you need to use all your time well, and so by using some songs, it helps move that along.
AM: Film is a relatively new medium. Art – the kind of art that Leonardo da Vinci did – and music are much older. It's cool to bring in these older things that can go to the older part of the brain.
DB: How do you envision your film and this historical tale resonating with today's generation? What do you hope audiences take away from your film?
JC: The themes we're touching on here – the ideas of the ideal city and that Leonardo has this dream of a cleaner city and a city that functions for the people – it feels very modern today with our climate change and the focus on liveable cities. The aspect of how we treat each other is really important today. What do you want to leave behind? Do we want to leave behind a world that's unlivable? Or do we want to leave a world that we pass on to the next generation that's beautiful and what we want it to be? I think that's the most important aspect of the film, and I hope people take that away with them.
The thinking in the music was to try to give it a feel of time but also a modern aspect to it and not be afraid of that. We thought of Leonardo and Marguerite as being representative of a modern way of thinking that gave us license to play with the music in that sense too. We were very conscious of trying to appeal to a modern audience, even with the Marguerite character. She's very modern in the way she approaches authority and is trying to break out from the strictures of the time and be a modern woman in a sense, and Leonardo passes the baton to her to carry on in the future. I think all of that is pointing to our time.
[Related: Alumnus' animated film foregrounds enduring importance of friendship, compassion]
DB: "The Inventor" touches upon themes of loneliness. Why is this an important aspect of the story?
JC: With the Leonardo character, I always feel like if he walked into a room, he'd be the smartest guy, but he'd also be the loneliest because who would he talk to about these ideas? To me, there's a loneliness in there – how does he operate through the world? He's at the end of his life, … there's a sense he wanted to know everything, but he will not. And he wrote this in his writing. He said, "I don't have the time; life's too short." So there's that aspect of it too that's wistful and lonely. Definitely, there's a tragedy in that.
AM: Something you kept saying is, "I want to make Leonardo da Vinci approachable because he's always held up as this genius." What I love about the way you structured the story is, which is relevant to the current time, the older, wise man does teach Marguerite, but she also teaches him. To me, that's relevant because there's often this tension between the elders and the young generation. We experience it with our kids, teenagers. So it's nice that their friendship transcends generations.
I think that Mona Lisa song is a scene that many people can relate to, particularly anyone who's trying to do something creative. That feeling like, "No one understands me. I hit a dead end, there's nowhere to go," and then in the next scene, he gets the invitation to France. Hopefully, the message is even Leonardo da Vinci felt lonely, even he felt desperate and depressed – but hope was around the corner.