Q&A: Emma Seligman shares evolution of 'Bottoms' from pure camp to the middle ground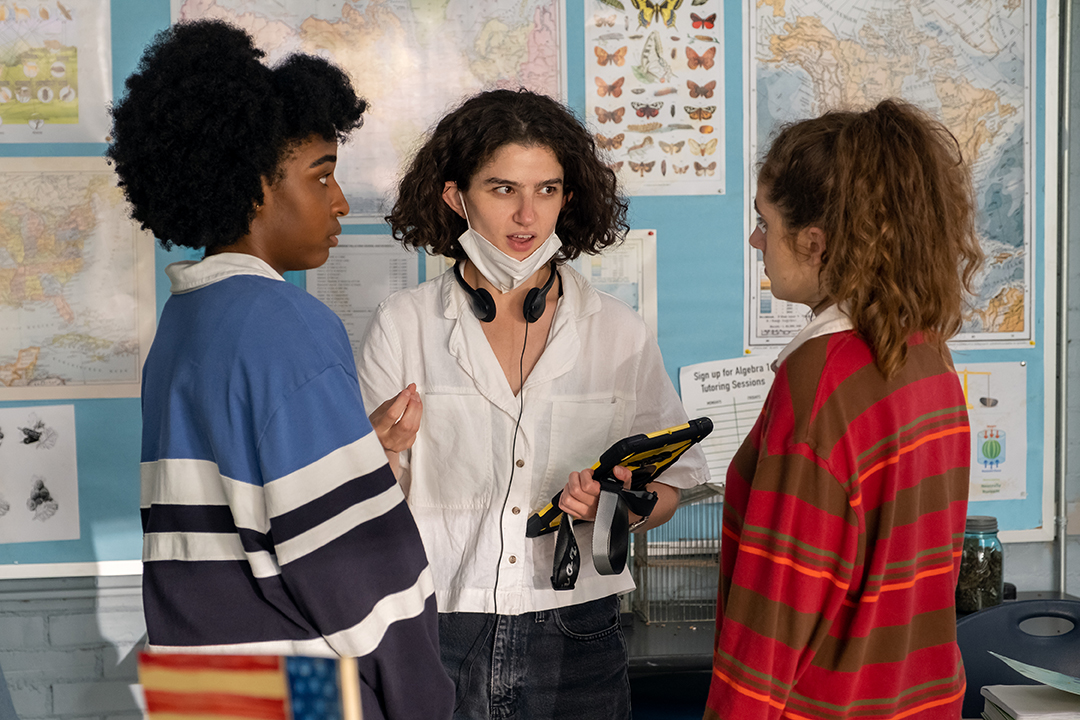 Emma Seligman, the director and co-writer of "Bottoms," speaks to actresses Ayo Edebiri (left) and Rachel Sennott (right) on set. Co-written by Sennott, the comedy premieres Aug. 25. (Courtesy of Metro-Goldwyn-Mayer)
"Bottoms"
Directed by Emma Seligman
United Artists Releasing
Aug. 25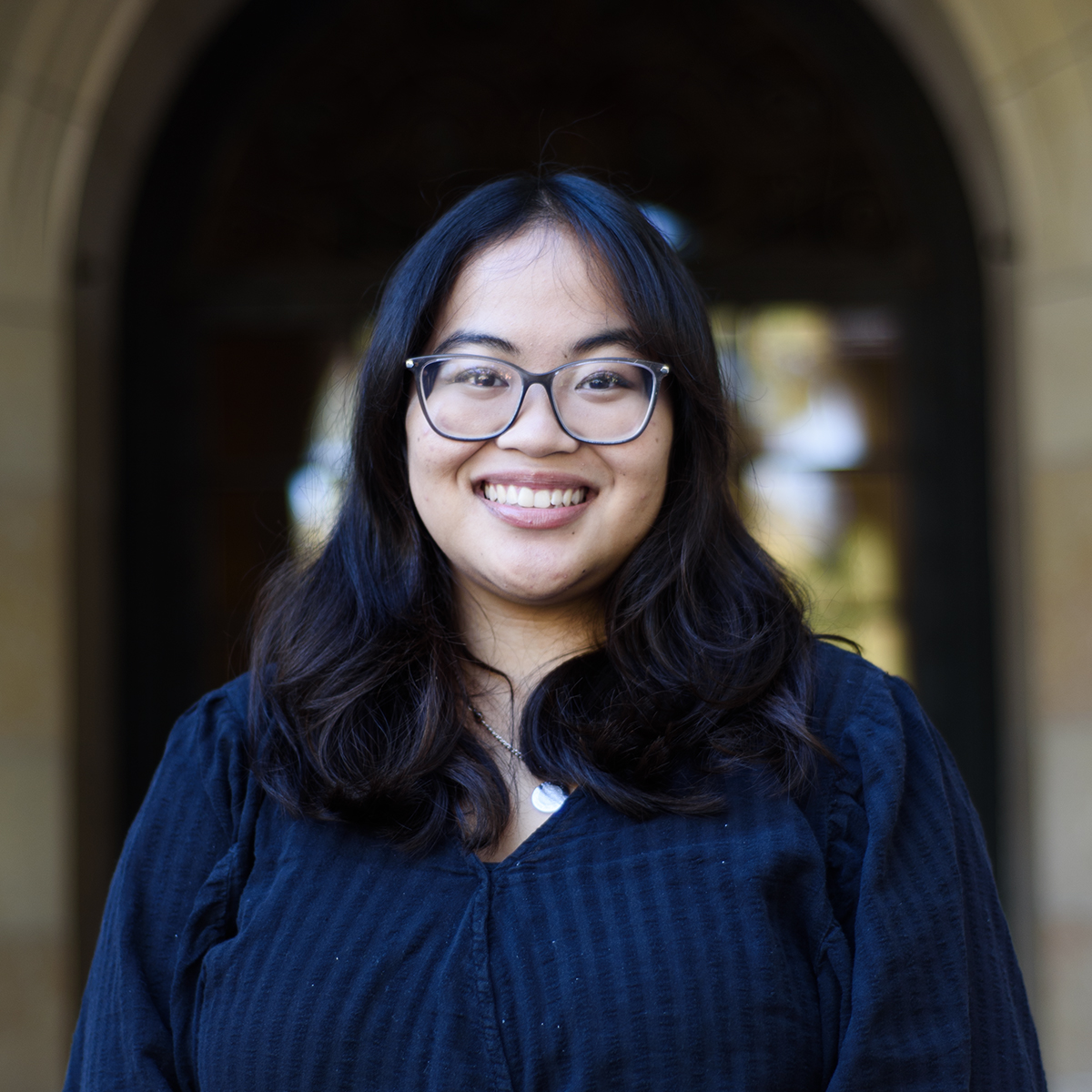 This post was updated Aug. 27 at 11:01 p.m.
"Bottoms" is coming to top high school comedies with a bloody twist.
The film, which is directed by Emma Seligman and co-written by Seligman and Rachel Sennott, focuses on two queer high schoolers, PJ (Sennott) and Josie (Ayo Edebiri). With hopes of seducing two popular cheerleaders, the girls start a female fight club under the guise of empowerment and self-defense to help their scheme. However, when it begins to work too well, Josie and PJ must find a way to keep their plan under control.
Before the film's release Friday, Seligman spoke with the Daily Bruin's Dannela Lagrimas and other college journalists in a roundtable organized by MGM about the inspirations behind "Bottoms," their thoughts on queer representation in media and the movie's evolution.
This interview has been edited for length and clarity.
[Related: Q&A: Alumnus-directed film 'The Woman King' empowers by reframing historical accounts]

Daily Bruin: "Bottoms" strikes a balance between the campier, laugh-out-loud moments as well as the emotional, grounded beats. Did you take inspiration from other media or your own experiences to help you find this tone?
Emma Seligman: The tone was something really hard to navigate throughout making the whole movie from beginning to end, like when it came to writing it and directing the performances to find that balance that you're speaking to. But I kept on turning back to movies when I was struggling with the tone, like "Bring it On" and "Mean Girls" and even "Superbad," where there's a lot of heart to the movie and you care about the characters, but also they're able to get away with a quite a bit of camp and raunch. Even like "Zoolander" or "Anchorman" — you still care about the characters, even though those movies are ridiculous.
DB: A lot of queer media tends to focus on either tragedy or super sanitized depictions. "Bottoms" is a lot more irreverent and distinct from those two ends of the spectrum. When you were developing this movie, was it your intention to diverge from the trend and show realistic queer teenagers?
ES: Definitely. I'm glad that in terms of even the sanitized representation, there's been some positive representation in the last six years since we started writing this at all. But also, I think that there's more room for middle ground kinds of stories, so that was an intention for sure.
DB: Audiences might be surprised to see how intense and bloody the film gets. What was your favorite part of filming those fight club scenes and the related stunts?
ES: I loved watching the actors get really good at doing the stunts. They had little boot camp classes, and I would watch them at the end of each day and see what they had learned. It was really cool seeing them get better and better, and it was really rewarding when we were shooting it on set and it looked cool. I was really proud of them, of me, of my cinematographer Maria (Maria Rusche), of our stunt coordinator Deven (Deven MacNair) and of the whole team.
[Related: Q&A: Rebel Wilson discusses '90s nostalgia, new creative role in 'Senior Year]
DB: You mentioned that you started developing "Bottoms" about six years ago. Has there been anything that surprised you about the final product, compared to when you began developing it?
ES: Something that definitely wasn't there at the beginning that has sort of emerged slowly is the humanity and the emotions of the movie. At first, we didn't want to write characters that you needed to care about at all because we were really tired of seeing female characters that needed to be understood and treated like fully well-rounded humans, where we need to understand their backstory in order to know why they're being selfish or shallow – they should just be allowed to be all these negative things.
But we were slowly encouraged to ground it a bit and care more about the characters and therefore have it be funnier in a way because you believe them and you're supporting them. I think that's something that changed – how much I hope the audience feels for their characters and is interested in their friendship.
Lagrimas is the 2022-2023 lifestyle editor. She was previously an Arts contributor from 2021-2022. She is also a second-year communication and political science student from Temecula, California.
Lagrimas is the 2022-2023 lifestyle editor. She was previously an Arts contributor from 2021-2022. She is also a second-year communication and political science student from Temecula, California.